(Photo by Andy Buchanan)
By Alex Myers
Welcome to another edition of The Grind, where we're honored to have been up close for such an epic battle. One man looked to have the clear edge, but his competitor put up a game fight over the next few hours. A 20-minute delay and a drop also factored into this duel before the original favorite finally flashed his dominance and took hold of the situation for good. Yeah, I really (eventually) showed this 7-year-old trying to take the armrest on my flight who's boss.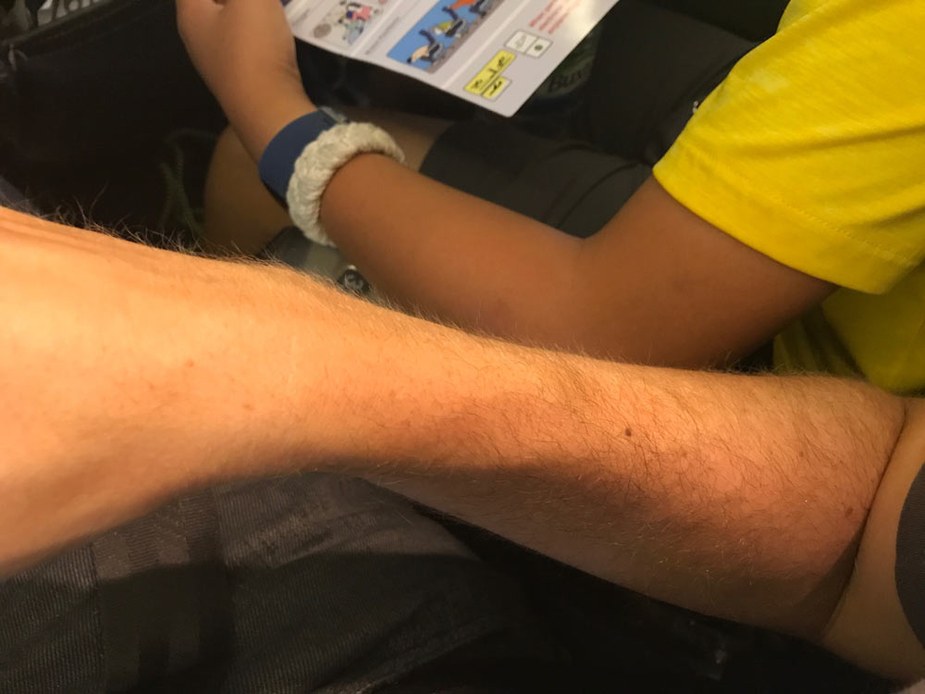 Ohhh, you thought I was talking about something else? Yes, it was also a terrific week at The Open. Let's get to it.
WE'RE BUYING
Jordan Spieth: In becoming the second-youngest to get to three different major titles – and by doing it in the manner he did – the legend of Jordan Spieth grew. Spieth didn't have it and was headed for another crushing collapse – until he had it as much as anyone ever has with a birdie-eagle-birdie-birdie run that wrapped up the claret jug. Here's a photo I snapped of him as he looked at his shiny, new trophy and started to plan what he'd be drinking out of it a few hours later: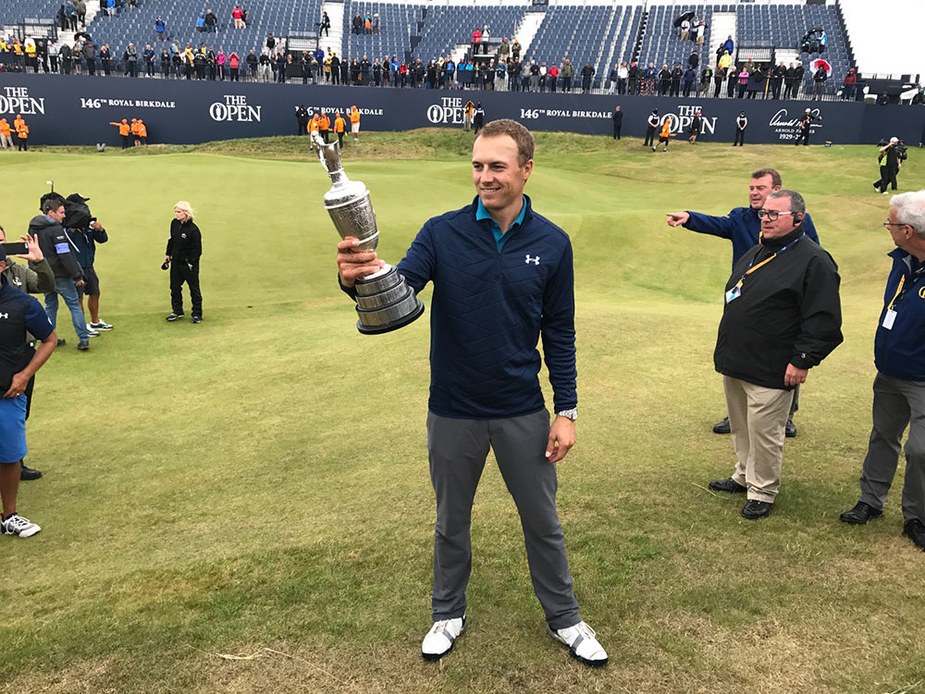 The party plane with his friends took off that night and with Spieth's 24th birthday on Thursday, the celebration might just go through the weekend. But then it's back to work. Spieth has a career Grand Slam to try to finish off in a couple weeks. It's way, way too early to start thinking about his place in golf history, but whoever is carving the theoretical Mount Rushmore of golf might want to wait to see how this guy's career plays out before finishing the job.
The 13th hole: I'm still not quite sure how it took so long to play out, but boy, was that crazy and dramatic. Seriously, I half expect John Feinstein to write his next book on the ordeal. Spieth's tee shot was so far right that he hit a fan who wasn't even watching the hole; he spent 21 minutes figuring out what to do next; he took a penalty; and somehow he walked away with just a bogey. Just look at how he and his caddie described it for the official post-round notes!
And it all set up arguably the most impressive four consecutive holes of golf that anyone has ever played.
Matt Kuchar: The 39-year-old remains without a major title, but what a gutsy effort he put forth on Sunday at Royal Birkdale. Kuchar applied pressure early and late, even briefly taking the lead following Spieth's wild 13th hole. If not for one of the most cold-blooded runs in golf by Spieth (Kuchar went two under during that stretch and got dusted), Kuchar would be doing naughty things to the claret jug right now. You know, like eating cereal out of it. With whole milk.
Chocolate in the UK: I went in thinking I'd eat a ton of Kit-Kats, but these Cadbury milk chocolate bars new to the media center (on the right) were out of this world: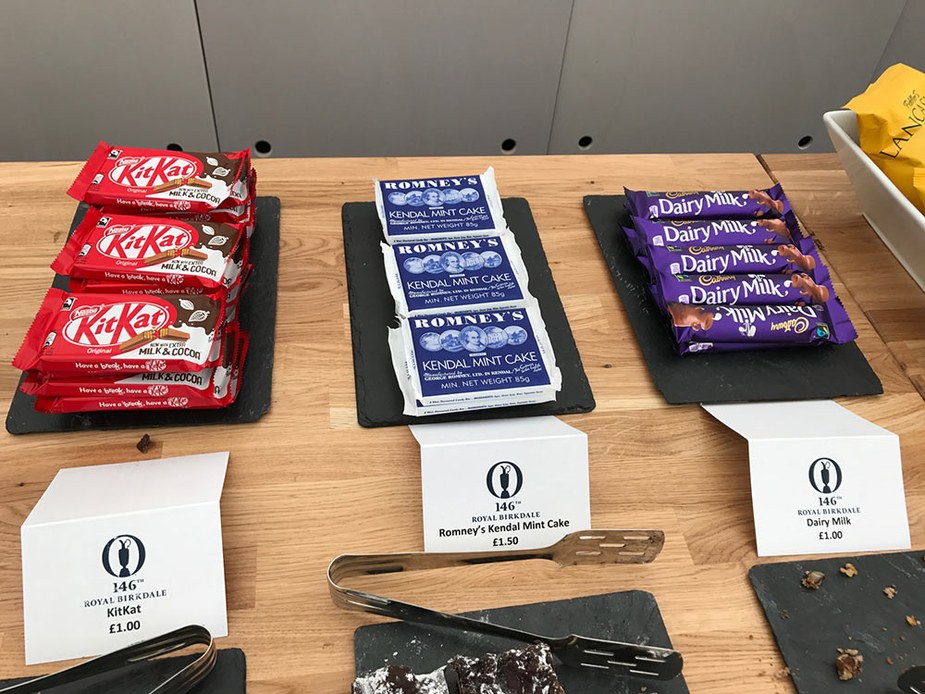 Apparently, the secret is in how much milk and cocoa is used. In Britain, chocolate has a higher content of both, while in the U.S., more sugar is used. Sadly, Hershey's blocked British-made Cadburys from being brought into the U.S. a couple years back. What a travesty. In any event, well done, Britain. I also have to hand it to the Open catering company, which stocked the pressroom cafeteria with these – and as usual, Kit-Kats – all week. You guys were the real tournament MVP.
WE'RE SELLING
Soda in the UK: Like the beer, it's never quite cold enough, and the carbonation is just a bit weak. And then I came across this ad in Birkdale near where we were staying: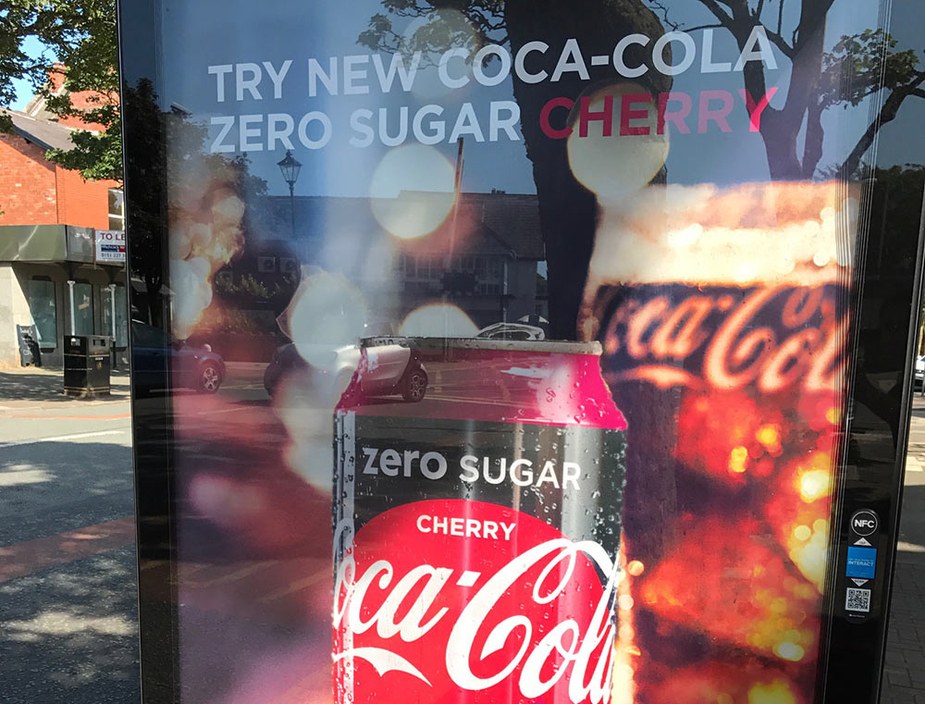 Cherry Coke Zero, arguably the greatest beverage creation in history since the creation of soda itself, is "NEW"?! These poor, deprived people. On the other hand, the Brits get bonus points for selling Jack and Coke (and other cocktails) in a can in local grocery stores.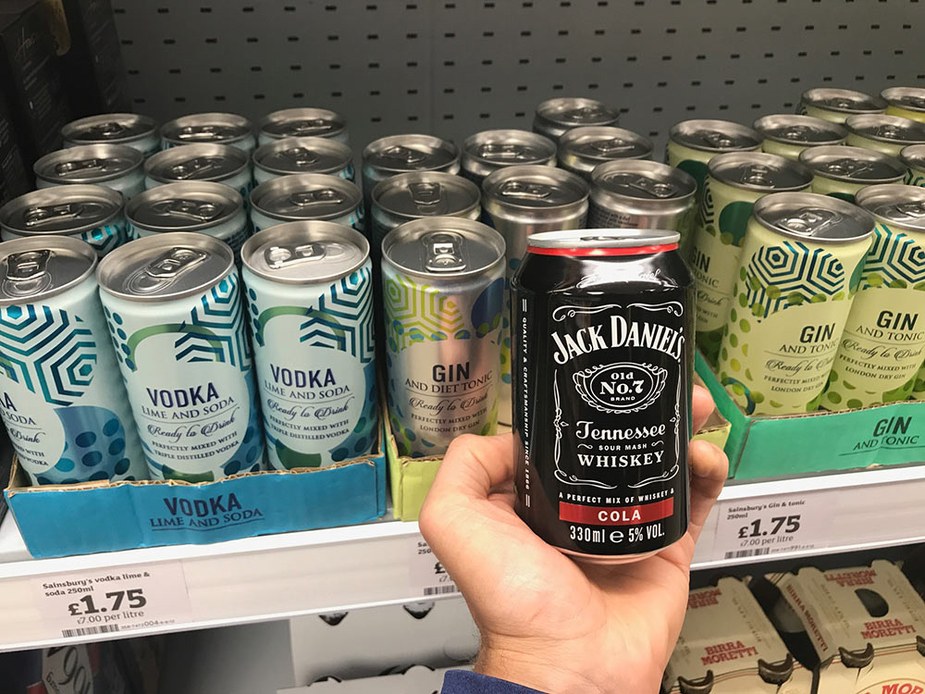 Aggressive.
Branden Grace's 62: The South African seems like a lovely guy and he played a lovely round, but it's a pity that the lowest score in men's major championship history will wind up being just a footnote. And yes, it came on a day when even Grace admitted par was more like 67, and happened the day before Haotong Li fired a final-round 63 that at least, for a moment, looked like it might play a factor in determining the winner. Also, Grace admitted he had no clue that 62 was a major record. How is that possible?!
My British Open bets: I wrote about wasting £60 on bets before the Open, but that's really what they amounted to. Actually, five of my six guys made the cut, but none even sniffed finishing in the top six to win my "each way" (top six) wagers. The saddest part? I listed Jordan Spieth No. 1 in my best bets ranking for a month leading up to the tournament, but at the last minute, didn't bet on him. What a stupid I am.
ON TAP
The PGA Tour heads from the UK to the Great White North for the Canadian Open. It's been awhile since I've been to Canada so I'm not up on the chocolate and soda situations there, but the players should be in good hands when it comes to maple syrup.
Random tournament fact: Seventeen years ago, Tiger Woods hit one of the most famous shots of his career, a 6-iron from a fairway bunker over the water to wrap up a win at the 2000 Canadian Open. Unfortunately, the only news Woods is making these days involves his rec room:
New cloth for the pool table. pic.twitter.com/ARcsiGNmuH

— Tiger Woods (@TigerWoods) July 21, 2017
Sigh.
RANDOM PROP BETS OF THE WEEK
— We will see a bogey-birdie-eagle-birdie-birdie stretch like that EVER again: 1 MILLION-to-1 odds
— Tiger's pool game is better than his golf game right now: EVEN odds
— Tiger's rec room is better than mine: LOCK
PHOTO OF THE WEEK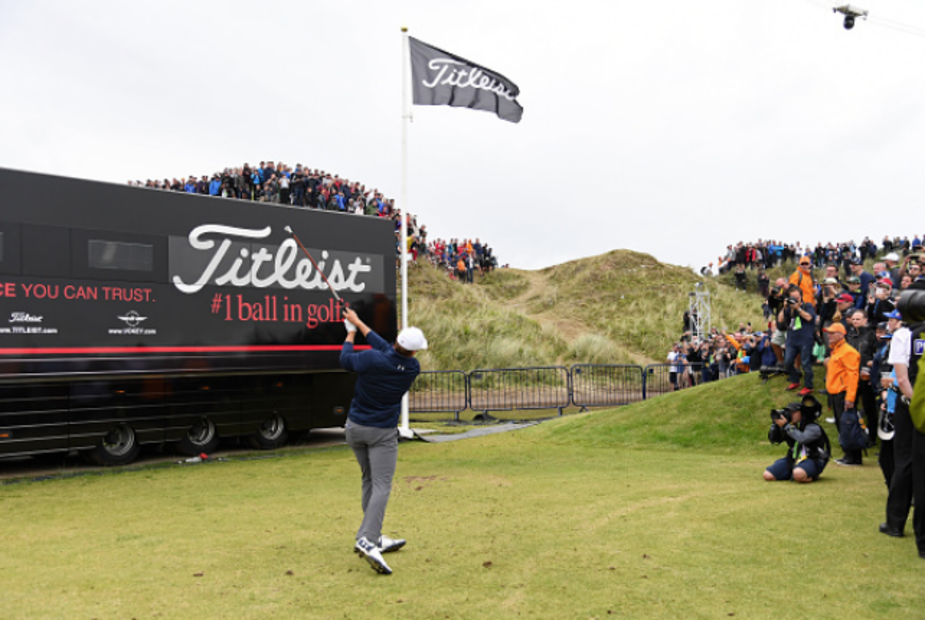 Talk about staying on brand.
INSTAGRAM OF THE WEEK
Well played, Lexi.
VIRAL VIDEO OF THE WEEK
Sometimes you just get lucky when you whip your cell phone out and start filming post-tournament celebrations. At the Ryder Cup, I stood behind Jordan Spieth and Phil Mickelson as they sprayed celebratory champagne, and at Royal Birkdale I caught a celebratory high-five fail miserably.
Jordan Spieth just did a victory lap, and one fan got a little too excited… pic.twitter.com/XUAOdfAG3Y

— Alex Myers (@AlexMyers3) July 23, 2017
My apologies to this fan for catching him in this embarrassing moment, because this thing kind of blew up. I was even notified that I was "trending in Liverpool."
Alex Myers, @alexmyers3 is now trending in #Liverpoolhttps://t.co/RCpkfxZpbc pic.twitter.com/HDNegmGyxm

— Trendsmap Liverpool (@TrendsLiverpool) July 23, 2017
The lesson? Always have your cell phone ready. Oh, and don't fall on your face trying to get a high-five from a major champ.
QUOTE OF THE WEEK
Justin Thomas: "How does it taste?"
Jordan Spieth: "FANTASTIC!"
And some more party pics:
THIS AND THAT
Grayson Murray won his first PGA Tour title at the Barbasol Championship. It's nice to see the talented rookie making news for something other than his Twitter feed. . . . Not only does Cameron McCormick coach Jordan Spieth, but he's also the swing coach for 20-year-old amateur Austin Connelly, who finished T-14 at the Open, and Noah Goodwin, who won the U.S. Junior on Saturday. It was a good week for Cameron McCormick. . . . I.K. Kim held off Lexi Thompson to win the LPGA Marathon Classic. We're happy anytime Kim, who famously missed a 15-inch putt to lose a major, wins. . . . And finally, this was the mob scene going through customs at JFK: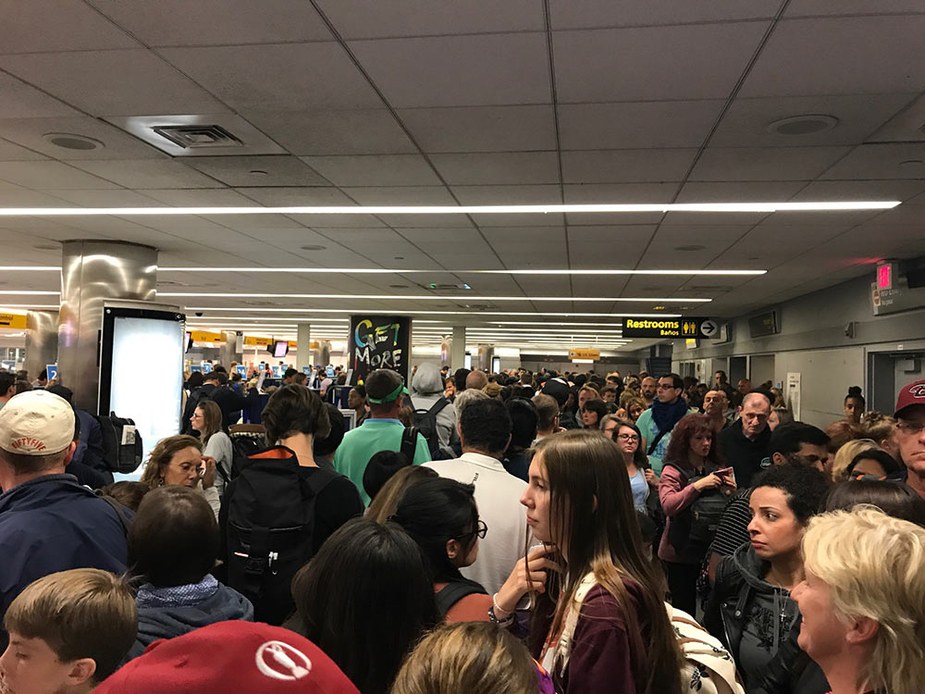 And I thought that 13th hole took a long time.
RANDOM QUESTIONS TO PONDER
How many majors will Jordan Spieth wind up with?
Did Jordan Spieth have to declare the claret jugs at customs?
Is there a black market for British-made Cadbury bars?