There's a round to go, but it can still be called The Comeback.
Which is also hard to say about someone who has finished second, first and second in three previous Masters.
On the other hand, it is appropriate for a player who just two days ago was coming off two consecutive rounds at Augusta National containing quadruple bogeys.
Going into the Sunday's final round, after a tightly managed 68 on Saturday, Spieth sits at four-under-par 212, two strokes behind leaders Justin Rose and Sergio Garcia, and a stroke behind his Sunday playing partner, Rickie Fowler.
It's not clear exactly when in the last two days the 23-year-old Texan regained his mojo as Master of the Masters. But after his 9 on the par-5 15th hole in his opening-round 75, he went eight under for his next 36 holes, with no bogeys.
The run began with a 7-iron to two feet on the par-3 16th immediately after his water bedeviled trauma, and ended when he three-putted the 16th on Saturday, his fourth three-putt of the tournament. Still, when he finished with two pars, it added up to a round that was nearly the equal of the superb second-round 69 in heavy wind that got him back into the tournament on Friday.
In other words, just when it looked like things could all go south—not just this tournament, but the aura he built during his magical two-major 2015 season, and his confidence for the foreseeable future—Spieth dug deep and got it back.
If he goes on to win, history might look back at the 2017 Masters as the moment that Jordan Spieth validated his greatness.
Not that Spieth is playing particularly well. His driving has been plagued by enough flares to the right to see him hit only 54.8 percent of the fairways (T-45 in the field), while averaging only 273.6 in driving distance (T-40 in the field). His greens-in-regulation percentage of 72.2 (39 of 54, ranking eighth) is his best stat and shows that his course management remains well tuned.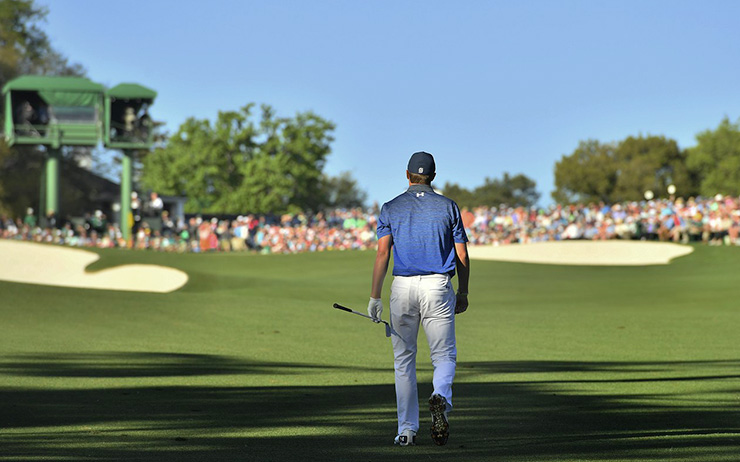 Oddly, his putting has been, for him, below average. Spieth's total putts per day have been 31, 30, and 30 (the 91 total ranking T-26), well behind the pace of the 108 (third in the field) he had in 2015, or the 112 (second in the field) he had last year.
"I thought my speed control is not ideal right now, not where we're used to having it out here," Spieth said on Friday. Those four three-putts so far are already a lot for a potential Masters winner.
Another number not in Spieth's favor in winning: the quad. No Masters champ has ever made a triple bogey or worse at any point over 72 holes.
But it always gets back to intangibles with Spieth. In short, he fights, and has by acclimation the strongest mind in golf. On Saturday, incessant short practice swings reflected his intensity and focus before his biggest shots of the day. He made great up and downs on the fourth, 10th and 12th holes for pars, and on the par-5 15th for birdie. He also hit the par-5 13th in two with a gutsy 228-yard 4-iron from the pine straw.
On that shot, when caddie Michael Greller was advising a layup, Spieth, whose view of the green was blocked by a tree, decided that fortune favors the bold. "What would Arnie do?" he asked Greller rhetorically, before sending a right-to-left bullet through a spray of straw to leave himself a 25-foot eagle putt he barely missed, setting up the easy birdie.
"I thought," Spieth said afterward, "that in order to win this golf tournament—I hit my favorite shot I've ever hit in competition in my life on that hole going for it when we had that decision in 2015—so there's just good vibes. 'What would Arnie do?' was my way of expressing it."
Spieth's streak of 11 straight rounds in which he had been in the lead at least once may have ended on Thursday. But if he wins on Sunday, he will be the only player in Masters history to ever lead the tournament at some point every year for four straight years.
There is still a test. If he's in the hunt (or in the lead) on the 12th tee, shades of last year's forever infamous water-logged quad will be stronger than they've been all week. And the 15th hole now has become another potentially bad memory. But Spieth, ever positive, is taking heart from having three players in front of him.
"[It's a] new experience for me, coming from behind on Sunday at the Masters, which is kind of fun to say," he said. "Tomorrow, it might free me up a bit, being behind. I plan to play aggressive because at this point, it's win or go home. Finishing fifth versus 10th doesn't mean much to me."
Spieth will wake up Sunday morning facing his fourth straight Masters final round with a serious chance to win. But perhaps because of the comeback he made from Thursday's apparent disaster, he expects to be more relaxed than he has on the three previous occasions.
"I didn't know going into my first one if I would have five chances in my life—so it's awesome," he said. "There might be a time tomorrow where the momentum goes on my side, but being able to continue that momentum and swing freely and hit the shots necessary just by focusing on where I want to hit it versus focusing on the entire round, that's what is such a challenge, and that's the challenge I'm looking forward to."
Based on the way he's already recovered from two big-number traumas that would have felled lesser men, challenges are what Jordan Spieth thrives on. – By Jaime Diaz