By Alex Myers
As Justin Thomas broke Johnny Miller's record for low score in relation to par at the U.S. Open, people far and wide made cracks about the NBC announcer not enjoying the moment. Turns out, they weren't too far from the truth.
Thomas shot a third-round 63 at Erin Hills — punctuated by an eagle on No. 18 — to match Miller's famed final round score from the 1973 U.S. Open. But his nine-under-par total was one better than Johnny's eight under at Oakmont.
Yet Miller seemed to pour some cold water on JT's record-breaking round when Golf Channel's Ryan Lavner spoke to him on Saturday evening:
"Taking nothing away from nine-under par — nine under is incredible with U.S. Open pressure," Miller said. "But it isn't a U.S. Open course that I'm familiar with the way it was set up." Hmm. . .
Of course, Miller has a point. Erin Hills, which is hosting its first major championship, has yielded unusually low scores for a U.S. Open. In addition to Thomas' 63, there have already been four other rounds of 65, and more players broke par on Saturday than during any previous third round at the tournament. But. . . he still comes across as slightly bitter.
Although, Miller's mixed reaction (he did give Thomas credit for going that low under U.S. Open pressure) shouldn't come as a surprise. NBC booth partner Dan Hicks said during a recent Golf Digest podcast that Miller wasn't too thrilled about Henrik Stenson shooting 63 in the final round of last year's Open Championship. Not that we blame him. And he's certainly not the first athlete to root against young whippersnappers coming after their predecessors' records.
On the bright side for Johnny, he didn't have to sit in the booth and analyze Thomas' round on live TV. And we're pretty sure this is the first time he's ever trended on Twitter.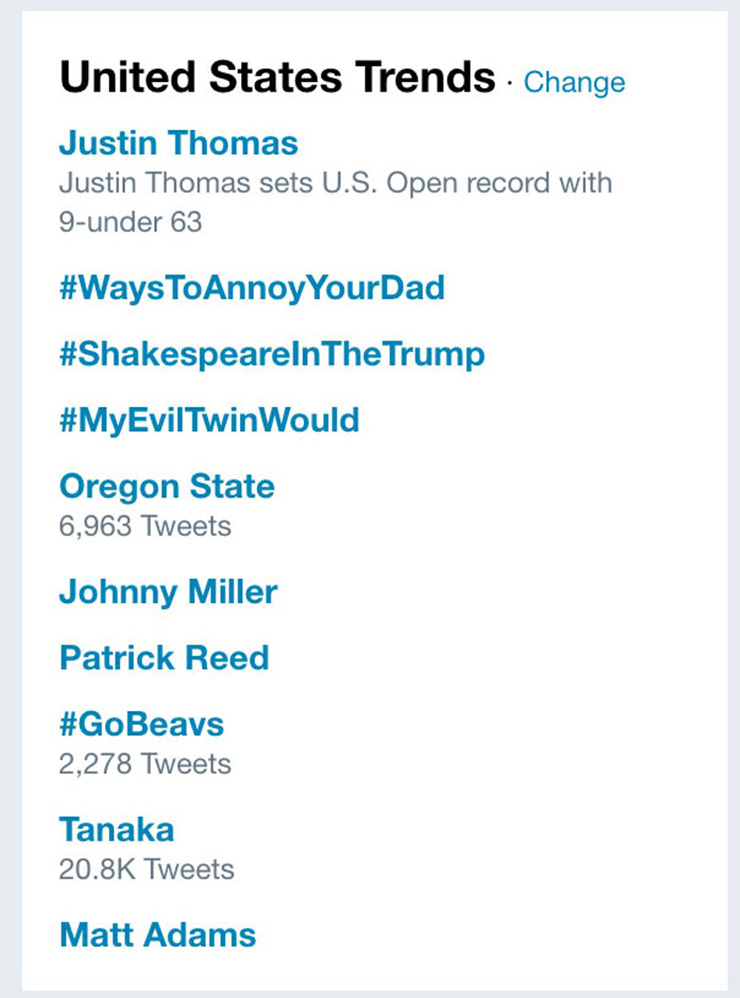 Silver linings, right?