Josh Burack, the Chief Executive Officer of the Asian Tour, has had to hit the ground running since coming on board in October 2016. His experience in sponsorship, media rights and broadcasting will  be fully utilised in the demanding role.
Edited by Ju K. Tan
What is your background and how did you end up on the Asian Tour?
I've been working in the sports marketing industry for about 25 years, starting out as a TV producer and director. During the last 20 years I've lived and worked across the Asia Pacific region in Hong Kong, Australia, Thailand and Singapore.  In 2000, I moved into marketing and sales for media rights and sponsorships when I came out of the production side of things. In the early part of my career, I was a TV producer with World Sports Group and produced a weekly programme called The Asia Sports Show that was broadcast around the world. World Sports Group at that time was the commercial agency for the Asian PGA, and I used to include golf highlights of tournaments on the show. I later moved to another company called International Events and Communication (IEC) in Sports and that's where I made the move into the commercial side of sports marketing. I started IEC's sports business in Asia and we grew the business over the next 12 years. Then we sold the company to Lagardere Group – who also bought World Sports Group – and was rebranded Lagardere Sports.
At age 40, I took a sabbatical of about a year and a half and got my MBA at the National University of Singapore. After that, I worked as Senior Vice President of Dentsu Sports Asia in Singapore for four years, working on the Olympic Games, FIFA Club World Cup and other interesting projects. I was subsequently contacted by a recruiter and was asked if I would be interested in this Asian Tour role. It was certainly interesting since golf has been my big passion since taking up the sport. One thing led to another and here I am.
How long have you been playing golf?
I love playing golf. It's my favourite thing to do apart from spending time with my family, of course. I don't play as much golf as I would like, and certainly less now that I've joined the Asian Tour. I was a competitive tennis player in my junior days and played tennis for the American University team during college. I only took up golf when I was 40 years old and studying for my MBA.  I'm currently a 20 handicap, but hope to improve in the years ahead!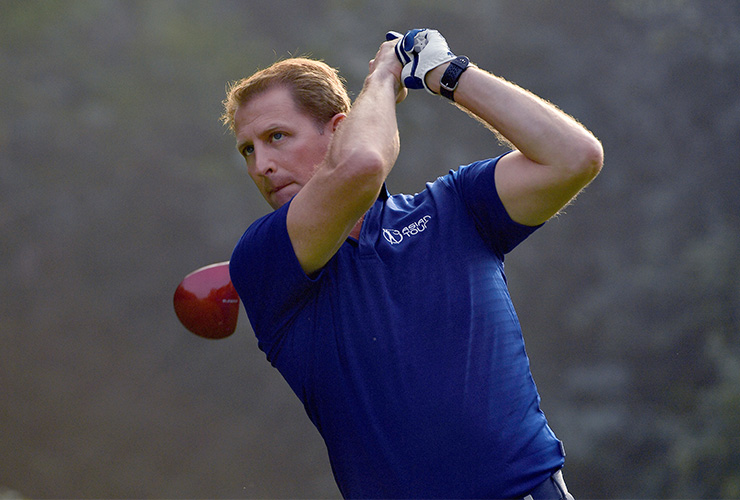 What are some of the things that you hope to achieve at the Asian Tour?
The Asian Tour, in my opinion, is full of potential, which is why I took the job. I do feel that, at a macro level, it is undervalued. The first and primary goal is to create more tournaments and playing opportunities to expand our schedule. We hope to go from playing about 26 weeks a year to ideally on a weekly basis like the European Tour or the US PGA Tour. So that's the long-term goal. How we get there, we are now charting that path. It's been a really busy first six months in which we've been making some organizational changes with the existing staff.
On the commercial side, we've hired two sales people and moved a sales executive from Malaysia back to Singapore. And we're in the process of identifying a Commercial Director to join us. We're also working closely with the European Tour. They've moved a few of their staff into our office and we're trying to integrate as much as we can to have a platform of men's golf to sell together. Some of this will be co-sanctioned in tournaments, others will be our tournaments and others will be theirs. But at the same time both of us are in the market fishing for tour partners. Whether that's the official ball, official car, official airline of the Asian Tour, the European Tour, you name it.
So we're putting a lot of emphasis on revamping the business development side of the Asian Tour. Additionally, what will be vital to us reaching the ultimate goal of increasing our tournaments is to elevate the brand image of the Asian Tour. Our communications team is constantly promoting the Tour and men's professional golf as a whole.  We're also launching an e-commerce platform for Asian Tour merchandise that we're selling on our website.
But that's obviously on top of the existing global television distribution, digital promotion, and regular communications work that we're doing on a daily basis. We've spent the last few months on identifying how best we can utilize the people we have and what personnel we need to add, in order to grow the Asian Tour.
Recently there has been talk of the Asian Tour and the European Tour coming together here in Asia. Where does this stand?
In late 2016 we have concluded a strategic alliance and signed a contract, which outlines the terms of that, and in my opinion that has been the best move for the Asian Tour and the European Tour. Our members who own our organization, want to be an independent body, and I very much support that.
The Asian Tour, going back to the Asian PGA days, has a 23-year long and proud history. Now we have the best of both worlds in that with the European Tour alliance, we can tap on them as a larger tour. We're trying to adopt some of their best practices and at the same time, Europe has always been the natural path for our players when they move on.
With the alliance, any new tournament that the European Tour wishes to stage within Asia they must do it with us. So we're guaranteed that if a new tournament is created with ET, we have 50 per cent of the field, which is superb because this will create further playing opportunities for our members. We've already seen the first fruit of this alliance through the launch of the Philippine Masters which will take place in early 2018.
We view it as a great benefit because they are, as everyone knows, rapidly expanding around the world so it's helpful to be closely aligned with an organization that has the ability to scale quicker than we can.
On a day-to-day basis, we've developed a brilliant relationship with European Tour CEO Keith Pelly, COO Keith Waters and Ben Cowen who is in charge of their international policy. We're working on a daily basis trying to develop new tournaments.  And now we're collaborating commercially in terms of looking for new sponsors together. So, for the Asian Tour, as the smaller entity within that relationship, we definitely benefit a great deal.
What does the European Tour get in return?
They get access to our local know-how throughout Asia. They will get a lot more interest in tournaments we stage together than they would with sending a group of European Tour players only here. They're getting a foothold into the Asian market, which is what they want, which is what the US PGA Tour wants, which is what the other entities want as well. The European Tour essentially is the global tour and operates in over 25 countries around the world. For us to be aligned with the most international of the tours is important, while at the same time we can never forget our own identity, that we control without any influence from them. At the end of the day, the Asian Tour are an autonomous Tour and we make the decisions that are best for us. We do feel though, that the relationship with the European Tour is very valuable to us.
How else are you working with the other professional tours around the world?
We're actually looking to enhance our alliances with as many of the other tours as possible. The most logical path is to become closer with the other major members of the International Federation of PGA Tours. We have been working hard to expand our relationship with JGTO for the Japan Tour, and the PGA Tour of Australasia. At the same time, we have a good relationship with the US PGA Tour, whom we've worked together with on the CIMB Classic in Malaysia over the last few years. We have also have a strong relationship with the Sunshine Tour and co-sanction one tournament with them as well and this will grow to three tournaments shortly.   
What we're trying to do now is strengthen relationships with a lot of the regional golf associations, and with some of the tours that are not part of the international federation. Recently, I went to Korea and met with the Korean PGA and Korean Golf Association whom we are planning cooperation. And in March, we announced a major development with the Chinese Golf Association (CGA) where we plan to launch some new co-sanctioned tournaments between the Asian Tour and the China Tour.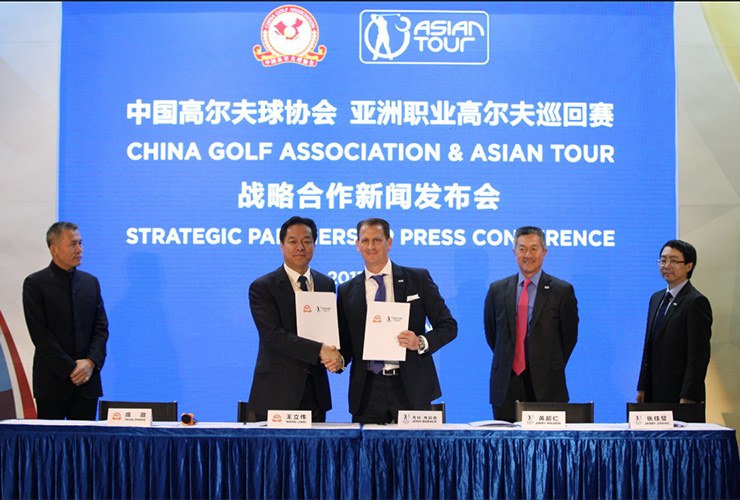 Please talk about the relationship with the CGA?
I want to give majority of the credit to where it belongs, which is to Zhang Lianwei, who is one of our board members and is obviously a legend in Chinese golf and a long time member of the Asian Tour. Zhang, with assistance from his associate Jarby Zhang, helped re-open the door to the CGA for us. Together with our Chairman Jimmy Masrin, they started engaging with the CGA one year back. When Jimmy took over as Chairman, he made it a priority that we needed to re-establish cooperation with the CGA.
Since then, we've many trips back and forth to China to rebuild trust and to explain that we both share the same objective which is to grow the game across Asia, and that China is a vital part of that. Having been out of the Chinese market for eight years, we're delighted that the CGA have the trust and the faith in the Asian Tour to work with us.
Initially we agreed that up to four of the co-sanctioned events on the China Tour will be with the Asian Tour. We also know that they plan to work with the European Tour for some other co-sanctioned events, which we're very supportive of since ET is our partner. I don't know if any of the other federation tours will also join, but for this stage at least the European Tour and the Asian Tour are very supportive of the China Tour. We'll each be having events with the Chinese as part of that collaboration.
What is your sense of the potential of golf in China?
There are some brilliant players coming out of China, with Wu Ashun and Li Hao Tong winning European Tour events this past year. There are a lot of talented players in China and we feel that there is a huge number of guys who haven't even emerged largely because they haven't had the pathway to show their talent.
Now that the China Tour will be let's say re-established we think that we're going to see a lot more top players coming out of China. With this Tour, the Chinese players have the opportunity to become associate members of the Asian Tour. If they perform well in our tournaments in China, they can earn a full Asian Tour  card.  And of course if they win a co-sanctioned China Tour-Asian tour event, they get a "winners status" on the Asian Tour which is our best category. And having a card on the Asian Tour doesn't mean you only get to play on the Asian Tour, you can play in six co-sanctioned tours with European Tour, it means you can play in four co-sanctioned tournaments on the Japan Tour, and a few co-sanctioned events with Sunshine Tour and PGA Tour of Australasia. So we believe that now our involvement working with CGA on the China Tour is going to give the top players in China a chance to come through in a faster way to the international stage.
How do you see the Asian Tour being in five or ten years' time?
When I joined, we were at 24 tournaments per year. The total prize money was close to US$36 million. I would like to see us steadily increasing our tournament schedule year on year. Our goal for 2018 is to have over 30 tournaments, so that would be a good accomplishment. We're in discussions in most markets across Asia to develop more events. We aim to eventually reach over 40 tournaments with prize purses that continue to rise annually. Now our average prize purse for the Asian Tour is around US$750,000, so I hope our average purse size would be double that by the end of five years.
What are some of the challenges regarding tournament sponsorships?
The good thing for us is that most of the C-Level decision makers tend to be golfers who understand that the principles of our sport are founded on integrity, sportsmanship and high ideals. People recognise golf as being a very classy sport that has great brand association from the outset. Especially within Asia, a lot of business is done on a personal level and we feel that golf is perfect for that.
We have a fantastic international platform. Our television distribution is nearly at the same level of the US PGA Tour. Our events are broadcast in over 180 countries around the world, most of them live, and you're talking about the volume of content, which gives you the return on the investment. If you're looking at the media valuation report, it's very high. Let's say if you're the NBA or the English Premier League, an individual game is two hours or so, in our case we're on air four days in a row, live for four to five hours a day. Those are the areas that we talk to brands about.  Partnering with us is not only great from an aspect of being associated with such a terrific sport, but at the same time there's a tremendous opportunity for their business to leverage upon the huge global brand exposure that our TV and digital platforms deliver.
How do you feel about new formats in professional golf?
I think we need to adapt the game of golf with the times. It will always be a fundamental part of the Tour that the majority of our events will need to be standard 72-hole stroke play events. But if we want to keep golf up to date and in people's minds, especially with the younger generation, we must create new and exciting shorter format events. The ISPS Handa Perth Super Six was a brilliant example of that, where we combined the first 54 holes as stroke play with a final day of match play.
At the moment we only have that one special event. But if we were playing golf for 50 weeks out of 52, it would be preferred to have some of the tournaments be in different formats than just traditional stroke play.
Now to achieve that is the same challenge we have with growing the Tour. We need partners who support golf and can help us create these tournaments. We're very open to new formats, so even with all the discussions we're having now with various promoters and sponsors I would say our style has become more flexible from that in the past of the Asian Tour. We now go in and say "well this is our tournament, however if you want to do a match play, or a sixes format, or if you have a new idea that you want to bring it to us, we're open for business." We're here to adopt any good format that is possible to stage successfully.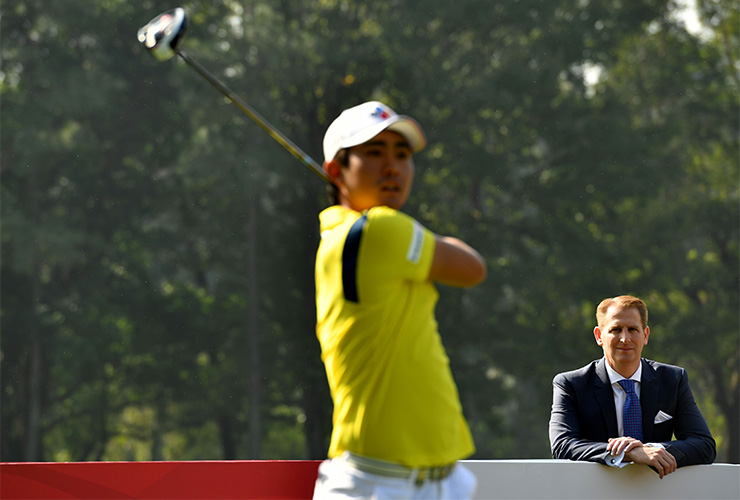 What do you feel has changed in the media universe?
With the convergence of both traditional and digital media in the last several years, the need for content to be repackaged and repurposed across multiple platforms is totally different from the old days. Today there are so many options for someone to view your content. That can be on any device, at any time, anywhere.  So you need to be producing and distributing the content across more platforms to reach your audience, as the market is more fragmented today.
We'll always have long format distribution of our live events covered over four days broadcast on television to wide audiences. At the same time though, we're constantly adapting, and producing more short format content, because everyone is viewing video at any time. We have put a lot more emphasis on our Communications Department posting video contents to all the major digital platforms you would expect from Facebook, Instagram, Weibo, Wechat, you name it, as well as our own website and the Asian Tour app.
Recently, we took the decision to start streaming Asian Tour events live on our website.  However, we geo-block the content in markets where there is an exclusive deal.
Convergence has provided a million avenues that were never here before. So as a rights holder we're now delivering content to as many major outlets as possible. We repurpose the content and adapt each video so that it can be relevant for each platform.  With that you need the knowledge of what is the best format to disseminate the contents to each platform.  This is an important function for promoting the Asian Tour.
With this convergence do you see more challenges or more opportunities?
The more players there are, the more competition there will be, and with more competition the value of the rights will increase. So there are definitely more opportunities and we have seen the media rights value rising year to year for the Asian Tour, which is definitely a good thing.  The gaming rights are another opportunity.  If you look at tennis and other sports that are monetizing their betting rights, there is a lot of revenue being made. In the future, at some stage, we believe that all of the Tours within the international federation will start to unlock the gaming rights for golf. It's a sensitive topic because we need to first and foremost focus on the integrity aspect of the sport.
So if we do this, obviously we need to ensure that we work closely with the betting partners to monetize those rights. But I do think that's a natural step that we and the other federation Tours need to take. Because the reality is, whether we like it or not, people are already betting on golf today.
Wouldn't it be better to do it in a way that we can at least control it, and can reap the benefits of the revenue so that we can reinvest back into the game? At the end of the day, we are, as a members' organization, a non-profit sports federation.  So any surplus that we make is reinvested back into golf, whether that be increasing prize purses or creating a new tournament.
For us, gaming rights can be a future revenue stream that we believe, if done properly, will be very helpful to the growth of the Asian Tour.