By Kent Gray
She answers to Olivia, Liv or OJ and is happy for you to take your pick. Whichever you prefer, prepare to become increasingly familiar with Olivia Jackson and the winning game that goes with her multi-faceted name.
The 23-year-old Englishwoman slipped into Dubai earlier this year with quite the pedigree after accepting a teaching internship at Emirates Golf Club.
COVID-19s problematic spread meant there was a slight delay between her January 3 start and last month's date with destiny on the Faldo when Jackson's talent became evident to a wider Middle East audience. Shooting a 67 on The Faldo to become the first woman to win on the UAE PGA Tour, by three strokes no less, certainly is a fun way announce your arrival.
"I had no clue how significant my win was until after I'd finished playing," said Jackson whose role at Emirates G.C. was teed up by Nick Huby, her coach at the Peter Cowen Academy in Rotherham, with a handy assist by Cowen himself who now has academies across the Dubai Golf network.
"I had a few lessons [to deliver] after the tournament and after the third lesson in the afternoon, I went to check my phone and had over 85 notifications. I was shocked to see how many people had reached out and congratulated me. It was pretty surreal."
It turns out we shouldn't be surprised at all by the historic win last month. Jackson's talent has already taken her all the way to the U.S. to play division 1 golf for the University of Tulsa Oklahoma, to a Faldo junior series title before that and more recently to the 2018 Yorkshire County Championship. Few can lay claim to a course record at the Home of Golf but Jackson has that on her CV too, a giddy waltz around the New Course in 67 strokes, eight-under.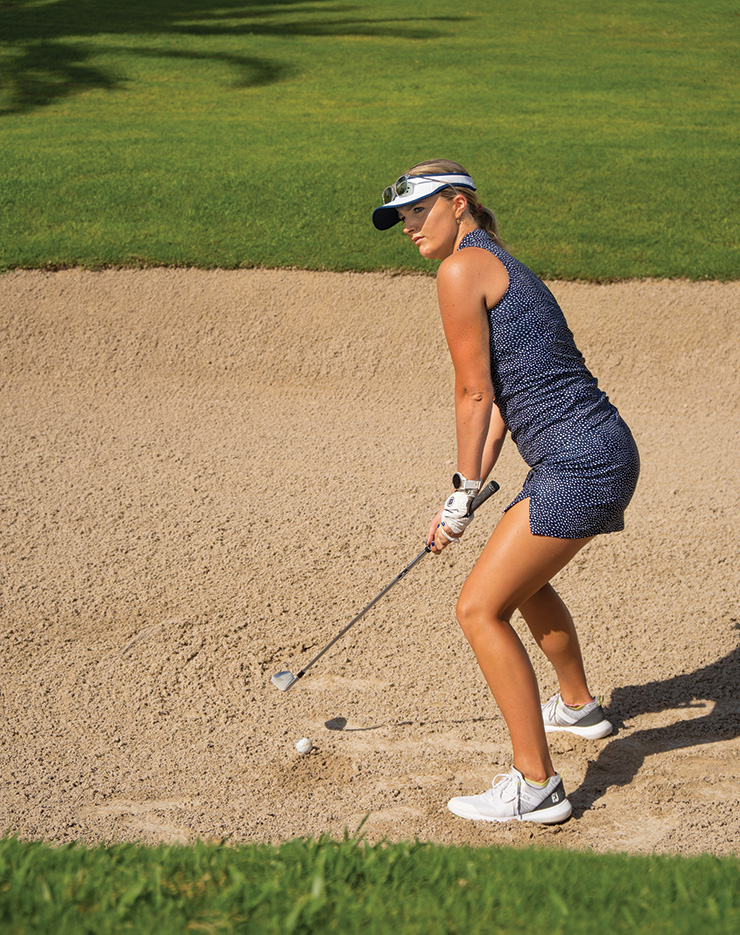 What didn't surprise Jackson was her ability to compete with the male members of the UAE PGA.
"I don't think gender matters. I had been prepping for it as I would usually do for a tournament and in the end it's you against the course. It's great to see that I can put myself up against the guys."
Jackson intends playing all the 2020-21 UAE PGA Tour events her work commitments will allow and, all going well, breaking another barrier by making the Pro team for next year's Dubai Trophy. The pros could do with the help after losing the last five editions of the Ryder Cup-style matches to the EGF's leading amateurs.
Next up though is a return to the Faldo for the OMEGA Dubai Moonlight Classic. Jackson is "super excited" to take up an invite to represent Motivate Media Group, publishers of Golf Digest Middle East, in the Nov. 4-6 day-night Pro-Am.
"It will be a great week," said the LPGA Tour teaching apprentice. "I hope to learn from some of the best in the game and connect with some great people. It will be interesting to see how I perform against the tour players and where I can improve as a player."
You could even call the inside the ropes opportunity at the Ladies European Tour event a dress rehearsal for the real thing.
"I still have aspirations of playing professionally but I get a huge amount of enjoyment growing the game and seeing people fall in love with it like I did," said Jackson who was introduced to the game by her father at age 11.
"I would love to make my position here more permanent. Dubai is awesome and I can see myself coaching and playing here for a very long time. I could never imagine throwing my coaching shoes in."
Jackson is working towards an LPGA-sanctioned coaching qualification. When she's not logged into the online lessons being delivered from LPGA headquarters in Daytona Beach, Florida, or delivering lessons at Emirates G.C., you'll find Jackson hard at work on her own game. Even between lessons you'll likely find her on the range or in the gym.
"I try to practice as much as I can. It's about finding the time even when you don't necessarily want to or don't feel like doing it. I definitely feel like university prepared me for this, in being good with my time and trying to prioritise the right things."
That discipline paid dividends in the UAE PGA event with Jackson able to claw her way back two over through four holes.
"The best part of my game is probably my driving, I rarely miss a fairway. But I would say I'm very good at grinding through a game. I know even when I'm not hitting it great I can still get it round and score.
"The worst part of my game is probably staying in the moment. Sometimes I tend to get ahead of myself instead of focusing on what I need to do. It's something I'm constantly working on."