Trump Dubai club champions Josh Hill and Denise O'Brien.
By Kent Gray
You get the feeling members will survey the honours board at Trump International Golf Club Dubai in years yonder and nod a knowing nod when they came across the name of the club's second senior club champion.
What probably won't be inscribed alongside Josh Hill's name is the ease with which the 14-year-old won the 2019 title even if his mightily impressive six-under-par aggregate of 136 is noted. With rounds of 70 and 66, the stardom bound, Dubai-based England age-group international waltzed to a mammoth 14-stroke victory over runner-up Craig Vance.
Add the recent Al Ain Men's Open title (below) to his overflowing trophy cabinet and it's easy to see why there are big hopes for the reigning Emirates Golf Federation Order of Merit Champion as he heads into another European summer campaign.
Hill is also right in the mix in his thus far thoroughly impressive rookie MENA Tour season, second behind countryman Curtis Knipes heading into the second half of the 10 event season which resumes in September.
Back at Trump Dubai, meanwhile, and Denise O'Brien was just about as emphatic in victory in the Ladies Club Championship, rounds of 85 and 93 for a total of 178 giving her a seven-stroke victory over Maren Elliott.
In the Net Division, Thomas Dawson was victorious with scores of 67 and 77 to post a two-over total of 144. Claudine Kingston was the ladies winner with consistent scores of 76 and 75 for a 151 total.
2019 Trump International Golf Club Dubai – Club Championship winners:
• Men's Club Champion – Josh Hill
Runner Up – Craig Vance
Third Place – David Voller
• Ladies Club Champion – Denise O'Brien
Runner Up – Maren Elliott
• Men's Net Champion – Thomas Dawson
Runner Up – Russell Stewart
Third Place – Dean Stothard
• Ladies Net Champion – Claudine Kingston
Runner Up – Siti Latifah
JUMEIRAH GOLF ESTATES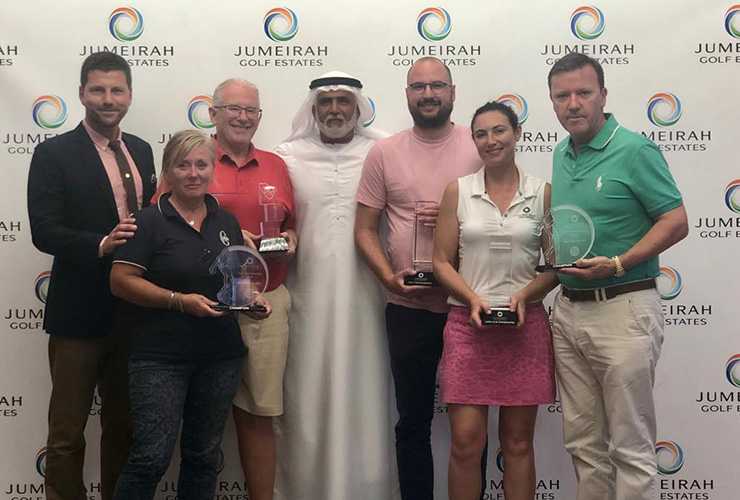 Drew Foxcroft mastered the blustery conditions at Jumeirah Golf Estates to claim the open men's club championship in late March.
An opening 72 on the Fire course saw Foxcroft take a three-shot lead into day two from David Marshall with Paul Anderson with Danny Williams a further four shots back.
A 75 on Earth saw Foxcroft extend his lead to seven strokes over eventual runner-up Marshall while David Eustace took third, but only on a countback.
James Finnigan cruised to the net title, also by seven strokes from Robin Bellings with Liam Kivlin third, 10 shots adrift.
Michelle Walsh-Hall is the 2019 JGE Ladies Club Champion by four shots from Gabby Greipel while Ornella Parigi was crowned net champion after edging Mitsuko Emmerson.
Martin Vertigen won the senior men's title for the second year in succession while Rob Duce held on to win the Seniors Net Championship.
Have you won your club champs? Get your club to contact Golf Digest Middle East today and we'll share it with our Middle East-wide readership.