Competitors—and our author—explore the game's true essence by going to Scotland and competing in a pair of hickory golf tournaments
By Curt Sampson
Machrihanish Golf Club sits by the sea at the bottom of a wildly beautiful and lightly populated peninsula on the ragged west coast of Scotland. With its whistling wind, its remoteness and mist rolling in on its dramatic links land, Machrihanish is a dream course. Which was a good thing for the 40 hickory-golf nuts who convened there earlier this month, all of us trying to channel Bobby Jones.
We wore what the elegant three-time champ of The Open wore: Dress shirts and ties over conservatively colored plus-twos or plus-fours, the number referring to the inches of drape below the knee. And we played what Bobby played, approximately: Mesh-patterned, 50-compression balls that wobbled in the wind—when you could get the damn things airborne—hit with pre-1935 clubs with leather grips and wooden shafts. We'd have two big competitions: the Hickory Grail, the bi-annual Europe-USA team match, and the Scottish Hickory Championship.
More than one of us had a flask in his bag, but these were serious tournaments, neither an early Halloween party nor Civil War re-enactment. And these were serious players, too. With their solid hitting and under-control short games, you wouldn't want to challenge some of us with your TaylorMades and Titleists. Jonas Fack and Henrik Peyron, a pair from Helsingborg, Sweden, for example, slammed slowly rising tee balls that spun sharply left at the summit, a ball flight seldom seen nowadays. With a bit of roll, they hit it about 230 yards. Fack's driver was made by 1904 Open champion Jack White. Jones used the same make and model, and the club was so dear to him that he gave it a name: Jeanie Deans.
But Jeanie must have looked like yesterday's news when Bobby teed off in his final Open, at Royal Liverpool, in June 1930, his Grand Slam year. During the previous December, after 64 Opens contested with wooden sticks, the R&A approved the use of steel shafts (the USGA had given thumbs up to metal in 1924). Jones played against high-tech adopters all year. Only one beat him: Horton Smith and his steel-shafted irons took down Jones, by one, in February, in Savannah.
The King of Golf flipped to steel after he won the Slam (and retired from the competitive game), by endorsing a line of modern Spalding clubs. But a lot of the hickory players in Scotland have enjoyed bouncing in the opposite direction. Answering the obvious question, they sounded like they'd taken the podium at an AA meeting.
"May 2006," said Chris Deinlein, a retired business owner, and a member of Sedgefield Country Club in Greensboro, N.C., site of the PGA Tour's Wyndham Championship.
"December 2014," said Mark Wehring, a Houston-based corporate compliance officer, and the best player among the American contingent.
Those weren't dates of last drinks. Both Deinlein and Wehring had Tennent's ale in their recent past and near future. They were instead the month and year they'd last hit a ball with what Ingvar Ritzen of Stockholm disparaged as "hollow clubs" (Ritzen joined the woodmen in 2011). Why, oh why, I asked, are you—all of us—making a hard game harder? Some pointed out recent offenses: the preposterous sight of a player looking at a topo map instead of the ground before a putt. How 460cc drivers obliterate the traditional size ratio of clubhead to ball. No matter how much bodacious Brooks Koepka's biceps bulge, when an average drive in the U.S. Open is 392 yards, or whatever it was, something ain't right. It's time to turn back the clock, the uber-traditionalists agreed, to remember why the ancient Scots picked up a club in the first place.
"Hickory makes it like a game again," said Carolyn Kirk, of Ganton, England, the lone woman on either Hickory Grail team. "You do it all by eye, you bump it in. You get huge pleasure when you hit a good shot and when you don't, well, it's a hard game anyway."
So, to Machrihanish (pronounced MO-KRA-HON-NISH). To get there, one flies to Glasgow. You might then take the once-a-day puddle jumper south and west and arrive a scant two miles from The Ugadale, the area's only hotel, which is known for the excellent water pressure in its showers. You could also play Trump Turnberry and borrow the Donald's helicopter for a quick trip over the island of Arran and the Firth of Clyde to the uvula-like Mull of Kintyre. We—Vermonters Matt Dodds and Scott McAllister, and Rick Wolffe of Baltusrol and the Benevolent and Protective Order of Elks—drove. They say you can get there in three hours, but you'd better figure on four. This allows for construction delays and a stop for honeycomb or Scottish tablet ice cream at The Sweetie Jar in Lochgilphead. The two-lane road narrows to one at intervals, then to one only, then to a cart path. The scenery is spectacular.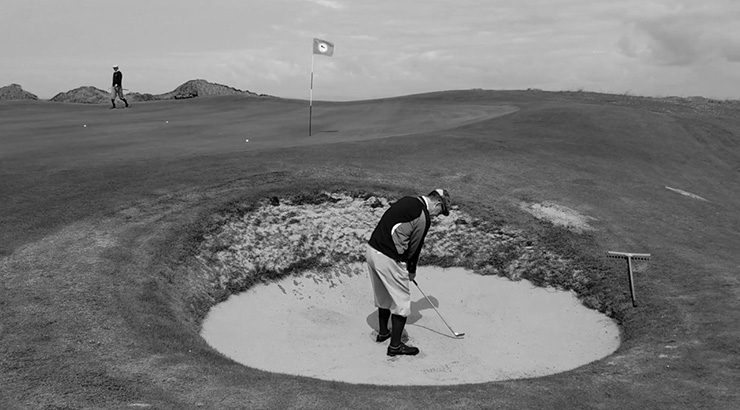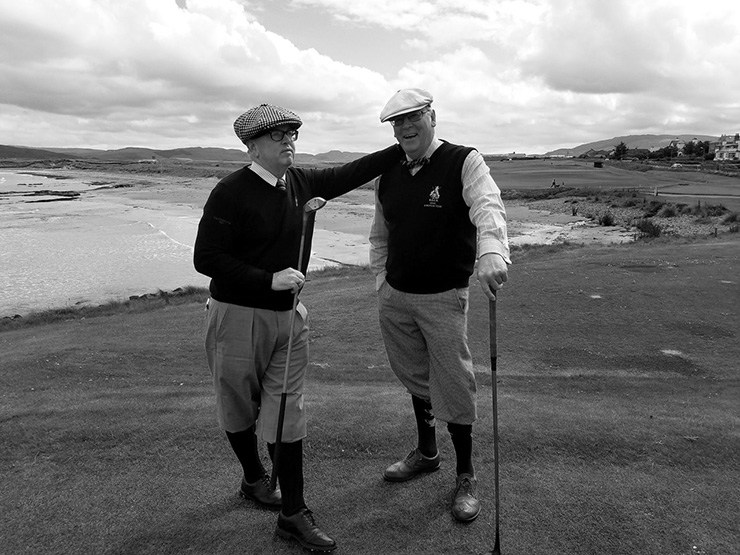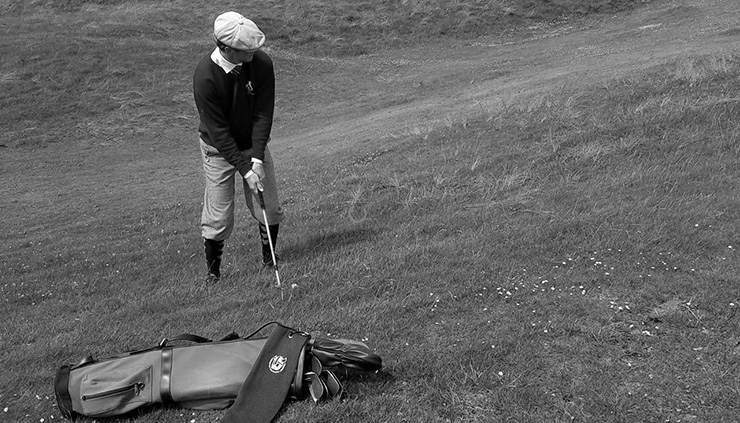 "This must be the middle of the middle of nowhere," one of our number said.
At the opening ceremony, there were six pipers piping, three drummers drumming, three flags a-raising, one Mayor speaking, and Hickory Grail co-founder John Crow Miller crowing, "we're booked for the Old Course in 2021!"
What's that plaid? I asked a tartan-kilted piper.
"Ancient blue Ramsay, sir," he said.
I turned blue and felt ancient at eight the next morning, when cold wind and colder rain blew into my face, and I failed to clear the beach on the wicked-hard first hole. It was 13 degrees C, which means Cold. Although the company was superb in our foursomes match—Dodds and me versus England's Nigel Notley and Scotland's John Still—Machrihanish began to feel like a lonely place as the competition went on. Sand dunes create blind shots here and there, so you whack a bell when you clear the green or fairway on a couple of holes. The distant bells sounded mournful, like a Sunday morning call to some nearby Calvinist kirk where the minister was going to scold me for my wickedness with my jigger. (I suppose I would have heard wind chimes if I was playing any good.)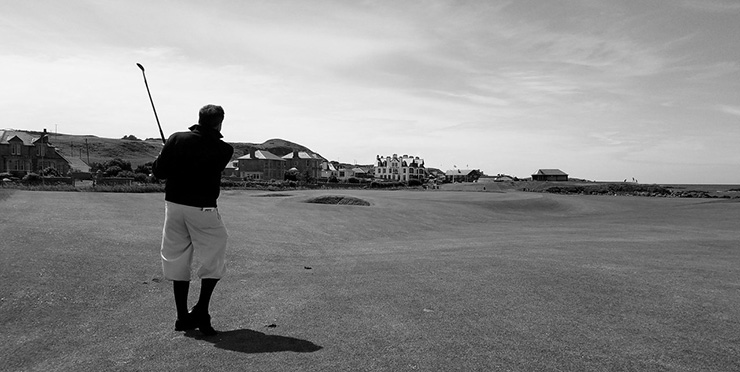 I found myself staring out into the ocean, to the northwest at the dim blue outline of Islay (pronounced EYE LA) where they make the whiskey. Two days later several of us dropped out of hickory world in favor of a tour of the island's distilleries. This required six hours of travel—an hour drive, and two on the ferry each way—but was damn well worth it.
In the Scottish Hickory Championship, I was paired with the aforementioned Swedish dynamos Fack and Peyron. With exquisite striking and that Jack White driver, Fack shot 73 and won. My 83 was a sorry thing, but I did hit a niblick to remember. The fairway on seven, one of the bell holes, a vicious par 4 called More Bauach, is partially hidden, and the green from the fairway is totally out of view. Due to an entanglement, I still could not see the target as I prepared to hit my third. With no leaf or tree to line up with—there were no trees, period—I aimed at a cloud.
And for once I swung out like Bobby, with the blind faith and flow that hickory golf requires.