Course architect Gil Hanse admits his involvement in golf's reintroduction to the Olympic Games, save for the two weeks of competition in Rio de Janeiro, "is probably the most disappointed I've ever been".
But a visit to the $19m facility last week left the critically-acclaimed U.S. designer hopeful the links-style layout may yet be saved.
A payment dispute between the Brazilian Golf Confederation and the course's contracted maintenance company, Progolf, has seen the layout left to nature for nearly a fortnight. That has accelerated fears it may be closed or at least become a scruffy white elephant given the limited green fee uptake from locals in the aftermath of the XXXI Olympiad.
"Currently, the situation as to the management and the operation of the golf course, I'm assured we are going to hear some good news in the next week to two weeks," said Hanse during a site visit to Trump International Golf Club Dubai earlier this week, a project that is the complete antithesis of the Rio course.
"I hope it is true but I feel it is very much like what we went through in the construction. You know, this sort of brinksmanship seems to be part of that golf course. You almost have to hit the low before we can rebound and come back up."
Hanse's muted enthusiasm is understandable with the Olympic course, built on what had been a nature reserve next to the beach in western Rio, mired in controversy from the outset.
Now, in addition to the Brazilian Golf Confederation-Progolf standoff, a state court has frozen the assets of Rio de Janeiro Mayor Eduardo Paes following a request by public prosecutors probing whether he improperly waived an environmental fee for a company that built the golf course.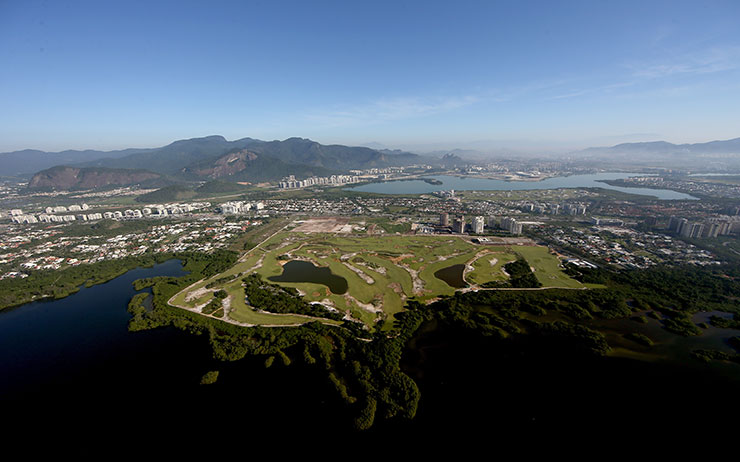 "That project has had more ups and downs than anything I've been involved with," Hanse said.
"Through the construction, there were certainly lots of ebbs and flows to that, and then the two weeks of [the Olympics]…I almost, I can't believe how well it went.
"It was just in perfect condition, the superintendent did a super job presenting it , the weather cooperated, the players cooperated, put on great shows. I think our thought process of having some closing holes where things could happen proved to add to the competition.
"Obviously it was a great two weeks for us but I think it was better two weeks for golf and I think we needed that. There were a lot of negatives in the build-up to the Olympics, for it to finish in the way it did and for it to go out on that high note, I think that was great for everybody involved."
Hanse walked the course during his visit last week and said the deterioration due to the lack of maintenance could quickly be reversed.
"They had stopped mowing the golf course but they were still irrigating it. While I was there, they came out and mowed the greens and my understanding was the maintenance crew were back on as of [December 14]. So it was basically a 10-day window where the course was not taken care of to the standard you'd like to see it," he said.
"But while we were there walking around taking a look, there was really no damage done to it over that 10-day period of time."
Still, it must have been hard to see a creation you've poured so much effort into looking so unloved?
"You know, I'm so fortunate being able to work in this field, to do something you love and then when you see something like that happen, especially after how exciting, how the world just seemed to enjoy watching those guys and girls play on that golf course, to see all of the sudden the news come out, it's so disheartening.
"Its probably the most disappointed I've ever been."