Over 50 local school children attended special clinic at Abu Dhabi City Golf Club academy, ahead of this week's Fatima Bint Mubarak Ladies Open
Free-to-attend tournament will host inspiring junior programmes, clinics and activities from Wednesday – Saturday
Hall of Famer Annika Sorenstam teamed up with Abu Dhabi-trained Sana Tufail to lead an inspiring golf clinic for more than 50 school children at Abu Dhabi City Golf Club ahead of this week's inaugural Fatima Bint Mubarak Ladies Open.
Annika, who is in Abu Dhabi this week as a guest of honour of the Fatima Bint Mubarak Ladies Open, spoke about her love of the game and shared advice before taking to the range to demonstrate the skills that have made her one of the best female golfers of all time. Several budding players were also given the opportunity to impress Annika and the group with their shot making on the range.
Annika said: "I think this evening sparked an interest in the game of the golf and for those who don't play; I hope they will be able to say 'this is something I can use in life'."
"For those already playing, I hope I can inspire them to learn something about their technique or practice routine, and how to improve their game," added the European Solheim Cup team captain.
Joining Sorenstam at the clinic was 19-year-old Sana Tufail, who a decade ago, was in the same shoes as the budding golfers listening intently just metres away from the pair. Tufail, who grew up in the Capital, used to regularly practice at Abu Dhabi City Golf Club and is regarded as the best female golfing talent to ever come out of the UAE. She is now studying in America to further her golf career and will make her first Ladies European Tour appearance at the FBMLO this week.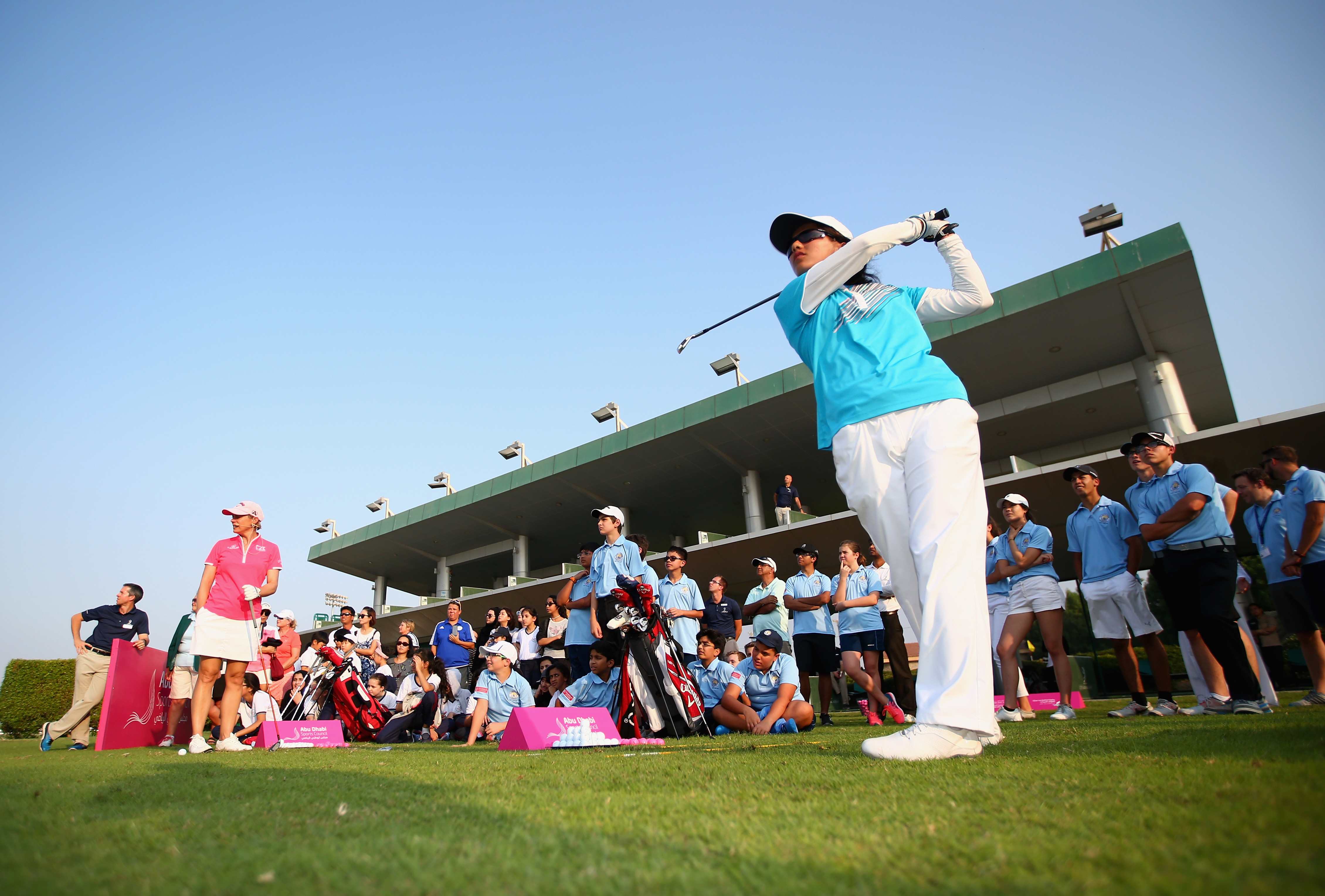 Sana said: "It has been really nostalgic for me to come back here. I think it is going to be a great experience for the young players here to learn from a player of Annika's calibre. Having Annika here is a great way to promote the game in Abu Dhabi."
Alongside world-class golf, the Fatima Bint Mubarak Ladies Open will offer an action-packed four days of interactive experiences, golf clinics, children's activities, competitions, cuisine and much more for families and friends.
The FBMLO has been organised by the Fatima Bint Mubarak Ladies Sports Academy, in co-operation with Abu Dhabi Sports Council and is also sponsored by: TDIC, Al Masaood, CNBC, Etihad, Marriott Downtown Abu Dhabi and Omega. The event is free to attend and tees off today.
[divider] [/divider]
More information is available from www.fbmladiesopen.com, on Instagram and Twitter (@fbmladiesopen), and on Facebook