By Kent Gray
Our colleagues at Golf Digest in the U.S. crunched the numbers a while back and estimate the odds at 5.7 million-to-one. We've done our own calculation and reckon it's, well, absolutely astonishing, especially when you delve a little deeper to discover the fascinating back story.
French expatriate Cathy Lajotte defied the odds late last month when she scored two holes-in-one within 24 hours. The first of the former world championship level fencer's aces came on the 6th hole on the Earth course at Jumeirah Golf Estates on June 27th, the second on The Faldo's 12th at Emirates G.C. the following day.
Incredibly, the Emirates Golf Club member's happy story doesn't stop there.
"I think it was 'my week' as I did another eagle, two days after, but only on a par 5 this time, Faldo hole 3."
"Only" on a par-5…no mention that it is one of the trickier par-5s in Dubai with all that sandy waste area off the tee and all that water wrapping around the green. Modesty, as well as a laser like-ability with a golf club in hand, seem to be trademarks of Lajotte.
But wait, there's more. The back-to-back aces were extraordinary but nothing out of the ordinary for the seven-handicapper, it seems.
"With these two new holes in ones, I've done seven in total."
Seven. Some of us have gone a lifetime without one. Lajotte, who has been playing golf since 1997 after a prompt from French football legend Michel Platini, is averaging one every three and a half years.
"My first one, I was a beginner and I can say that it was a very lucky one as the ball touched directly the bottom of the flag, went high and came back in the hole. I saw it. One millimetre on the right or the left side and the ball could have finished in the water or the bunker … I was very happy and my first feeling was, 'Yes I did it!'.
"I did two holes in one in a Grand Prix in France, a big amateur tournament. And then nothing until last summer (August 2020). I was thinking that it' been a long time since I have done one and few days later, I did one."
Hang on. It gets even better, if that is possible.
"Last summer when I did my 5th, it was in Hossegor (France). It's a special golf course because this is where I met my husband. I did a tournament with a friend and he was playing with us with his brother … and now he is my husband!
"I did the hole in one on hole seven but as I had already done one on that same hole during the Grand Prix des Landes a few years ago, I stayed calm [as opposed] to my partner who was more excited than me."
Wow. Multiplied by seven.
For the record, Lajotte's ace on Earth was achieved with a wedge and again in the company of her husband, Mathias.
"It was supposed to be our last round on the Earth before we leave Dubai. So I was focused on my game and as always, we played a match [against each other]. On the first par-3 [the 4th], I was very close to the pin, 30cm. I thought about making a hole in one before leaving Dubai, and it happened just after at the hole 6. Can you imagine!"
Given the back story, yes we can. And on it goes.
"On June 28th, I played on Faldo, my penultimate golf round before our departure to France. After losing my ball on the hole 11 for double bogey … I did the second hole in one. Always think positive when you play golf.
"The hole 12 is a really short hole. So it's very difficult to hit the right club according to the slope and the wind. That day I used a Sand wedge 50°. I saw the ball going straight to the flag, bounce just before the hole and finish in the hole. I was speechless, I dropped my club and raised my arms to heaven. Incredible!"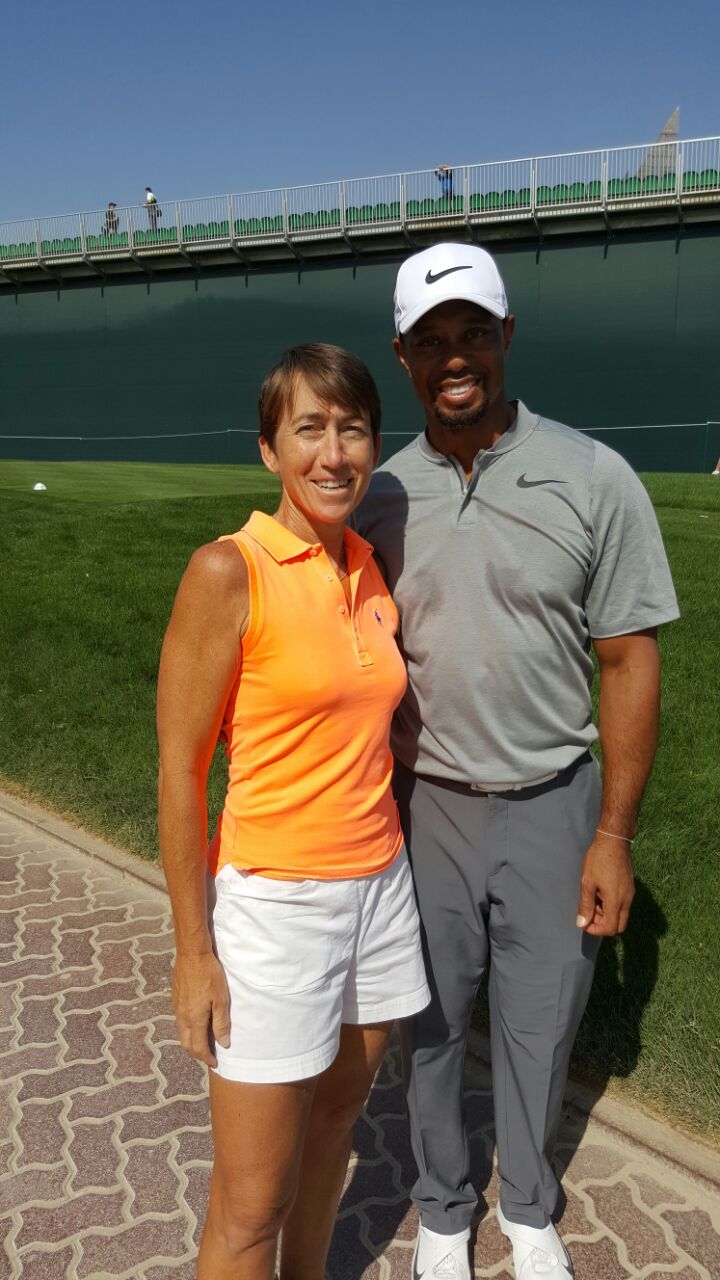 Even Lajotte's introduction to golf 24 years ago is special. She was in the midst of an international fencing career at the time and admits golf wasn't exactly on her radar.
"I started playing golf in 1997 when Michel Platini asked me to organise a golf tournament for the sponsor of the 1998 FIFA World Cup. I was working for the Marketing Department and he was the President of the French Organising Committee. At this time, I was thinking that golf wasn't a real sport as we don't sweat! I thought also that it was a sport for old and rich people.
"I was in the French fencing national team during 10 years. That's why in comparison, golf seemed boring. But just after this sponsor tournament, I was invited for a trial in a Leadbetter Academy and the ball started to fly right away. So I decided to keep doing and see what I can do.
"Now I totally changed my mind and I am crazy about golf. I really like the technical approach of this sport – fencing is also a very technical sport – and also the mental side."
No kidding. Once down to a three-handicap, Lajotte is now a busy mum to a 12 and 14-year-old but has enjoyed her time in the UAE.
"Yes, unfortunately, we are leaving Dubai after five wonderful years in that crazy city. I have a lot of memories from the Emirates GC. Thanks to the amazing ladies section and his captain. The ladies section was like a second family to me.
"We plan to come back in October. We don't want to miss the Expo 2021. And of course we will come back to play on the Majlis and discover the beauty of the new greens. The Majlis is such a beautiful golf course, where I got a picture with Tiger Woods. No matter what he did in his personal life, he is such a great champion and I admire him a lot for all he did."
To finish, Lajotte wanted to know if her "surreal and incredible" back-to-back aces meant "if this is a kind of record for a woman amateur?"
It turns out, according to the Guinness World Records, that there are at least 20 cases of golfers achieving aces on consecutive holes, much less on consecutive days, but it does nothing to diminish Lajotte's accomplishment.
Save travels Cathy and bien fait, bien fait.