Photo by Neville Hopwood
By GolfDigestme.com
No one is better qualified to champion the merits of Saudi Arabia's Ladies European Tour (LET) double-header than Emily Kristine Pedersen.
The 25-year-old Dane completed the "Saudi Sweep" last year, capturing the Aramco Saudi Ladies International in a playoff from Georgia Hall before leading her team to victory in the Saudi Ladies Team International the following week. Not content with that, Pedersen also won the individual component of the Team International, the precursor to this year's globe-trotting, four-event Aramco Saudi Teams Series. And then a fourth successive trophy at the Andalucia Open De Espana, one of five victories in a breakout season as she waltzed away with the LET's Race to Costa del Sol title.
We caught up with the winning Solheim Cup rookie in Long Island at the penultimate event of the Aramco Saudi Teams Series to get her take on Golf Saudi's innovative new series in London-Sotogrande-New York-and Jeddah, with a specific focus on this month's double-header at Royal Greens Golf & Country Club with its combined $2 million prize purse.
What are your overall impressions of the format for the Aramco Team Series?
It's definitely different but it's good to get the chance to playa in a different format. One of the great things about golf is you can play with anyone, any age, any gender and the Aramco format really brings that into play. It kind of shows that golf is for everyone, as even though we are professionals we can play with amateurs regardless of age, gender or handicap, who will still be able to contribute to the team and that's a really good thing.
● ● ●
You excelled at Royal Greens Golf & Country Club last year. What's your secret?
There was something about getting there that just brought a peace of mind for me. The first day we were at the course I fell in love with it, I really enjoyed playing round there and gained a great deal of confidence from that. I felt that if I could find my game the course suited me really well. Obviously, I exceeded my expectations a little bit by going on and winning both the events, but it was just a great place to be, the people were so nice, and I just felt really comfortable being there.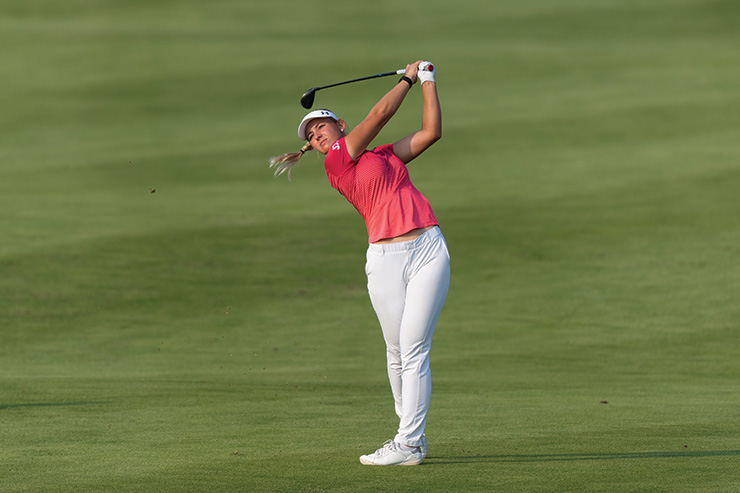 ● ● ●
Can you describe what it was about the atmosphere of the event that suited you particularly?
Well, I feel like, and I think this is the case for all the Aramco events, that they are set up like a major championship. With all the big grandstands and the player dining, it makes you feel like you are going into a big event, and subconsciously that does something for us players. When everything is set up like a major it does something that makes us really want to play well.
● ● ●
Will you return there feeling particularly confident?
Obviously, I have a lot of good memories from there, but I also know there is going to be a lot of great players and at the end of the day it's about who is in the best form and who plays the best golf. But of course, if I can bring my good golf, it will give me great confidence playing at a venue where I have so many great memories.
● ● ●
Can you describe what is required to succeed at Royal Greens and the challenges the course presents?
I think you need to know when to push the brake and when to push the speeder because there are some holes where you have to back out a little bit and other holes that look tricky but actually you can be quite aggressive. There are some big runoffs too, so it's essential you avoid those, I'm sure the conditions at the next edition will be as good as last year, so those will pose a threat next time round. Hopefully, it will be set up pretty long like it was the last time, which was good for me because I hit it quite far.
● ● ●
Looking back at your victories at Royal Greens was there a defining moment or hole that shaped your success that week?
Well, at the 18th, I hit a second shot in there, in the individual tournament on a hole where I knew I needed to make birdie to get into a playoff with Georgia, and I think I had about 200 yards over water to a back pin and I was like, right I'm going to give it a go. Pulling off that shot gave me tremendous confidence building into the team event and for the remainder of the season.
● ● ●
When you discuss the Aramco Team Series with other players what is the general consensus about the feel of these events, particularly the Team Series aspect?
Personally, I think it's great that the Aramco Team Series is something that comes back and forth, obviously people have different opinions but personally I think it would be amazing if like in Saudi there was a big individual event first and then the team event afterwards. Playing the individual first almost made me want to enter into the team spirit more, it allowed me to be more aggressive and plan our rounds more like a team. The format that week in Saudi was something I really enjoyed.
● ● ●
When you approach these events how do you rationalise or prioritise your approach?
Honestly, I am always trying to do the best that I can for the team and bring a lot of birdies. I'll also try to encourage the other players and the amateur. Some players just want to do their own thing but for me it's important to try and make the amateur feel comfortable. I'll speak a lot, chat a lot, joke a lot, just for that person to be comfortable because I do feel they can be a bit intimidated coming in and playing with not only one but three pros. I know all the other pros and I know they do their thing and I'll chat to them a little bit, but they are all professionals. For me it's about trying to make the amateur comfortable and help them bring their good game forward and help ease their nerves.
● ● ●
How would you describe the perfect amateur teammate for these events?
One that makes birdies (laughs)! No seriously, if they can get on the scorecard a few times, make a few pars, make a few birdies, it's just great because it gives you some kind of a security blanket. There are always going to be periods of the round where everyone is not playing as great, so it's really helpful if you have an amateur that can pop in with a par here and there and maybe even a birdie.
● ● ●
It is widely regarded that the Aramco Team Series has brought about positive change in women's golf through the million-dollar prize funds on the LET, the innovative format of the team series events and introducing initiatives like the Ladies First Club in Saudi. As a player what are your thoughts on the support being offered by the Aramco?
I think it's great that we have people coming into the game and saying they want to help, and I know we as players are all really appreciative of that and are hoping Aramco will continue to support and help grow women's golf even further.
● ● ●
Is there anything you want to add about the Aramco Team Series that is a particularly fond memory?
I think it's great it is some of the same people that are coming round and it's great to have these stops during the season. Of course, Jeddah has a really special place in my heart because I knew I had won earlier that year, but I feel like when I went to Jeddah it just gave me so much confidence and so much to build on for the future and hopefully that will just continue, so I think that for me was my fondest memory of the Aramco Team Series so far, Jeddah is very special to me.
● ● ●
In terms of going to new and emerging destinations, how important do you think it is for tour professionals to go and help put new golfing destinations on the map?
Well, I think it is very important to grow the game of golf in all different parts of the world and I think the fact that we are travelling around is helping that, hopefully it will be an eye-opener for people in different countries and it's good to make your mark on not just one country but in different places around the world.
● ● ●
As an Aramco Team Series and Solheim Cup winner, what is it about team golf that you think captivates people?
I think golf is such an individual sport, normally it is just you and your caddie and the team of coaches behind you, but it is funny sometimes when you play normal events, and you play for yourself you don't really pay attention to how the other girls in the group play. What I have experienced in these team events having girls that you are normally competing against, coming over and saying, 'you've got this, 'knock that one in' and stuff like that is quite nice. It makes for a positive change having people that have your back a little bit. It's the same thing with the Solheim Cup… it's just amazing to be part of something that's far bigger than just yourself.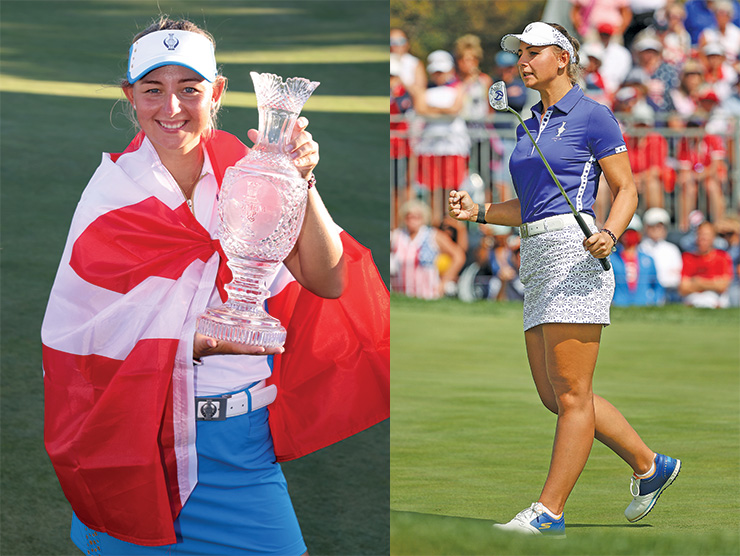 ● ● ●
What about from the fan perspective because clearly events like the Solheim Cup and the Ryder Cup really engage new audiences for golf.  Why do you think that is?
I think people love to watch people come together as a team because I think in golf, it can be hard to know who to root for. Some of my friends that don't play golf who try and watch it say it's a little bit confusing because they are watching me play with someone, and they might not be the one who is leading and then they watch the Solheim Cup and they are like alright I understand this, these players are on the same team against this one, so it's much easier to follow. It is the same with the Aramco Team Series, it is easy to identify these people in this group are all on the same team and I think that makes it easier for spectators to follow and enjoy.