By Kent Gray
Emily Kristine Pedersen is in danger of being charged for excess luggage when she finally jets out of Jeddah, not that she would complain.
The 24-year-old Dane enters the final day of Saudi Arabia's pioneering LET double-header in nearby King Abdullah Economic City with a good chance of winning pretty much all the silverware on offer.
She's already created history by winning last week's inaugural Aramco Saudi Ladies International and has piloted her team to the top of the team standings heading into Thursday's final round of the $500,000 Saudi Ladies Team International, also being played at Royal Greens Golf & Country Club.
Pedersen also remains ominously positioned in second place in the individual championship running concurrently with the team event, just two strokes behind Spanish pole-sitter Luna Sobron Galmes who leads at -10. Pedersen already owns an almost unassailable lead in the LET's season-long Race to Costa Del Sol and it would be well and truly sealed with victory on Thursday, even before the season-ending Andalucia Costa Del Sol Open De Espana from Nov. 26-29.
Pedersen and her team, which includes fellow LET pros Michele Thomson (Scotland) and Cassandra Hall (RSA) are joint leaders at -27, two strokes clear of Team Nuutinen with Team De Roey, Team Engstrom and Team Henry also in the mix at -23 after taking advantage of some rare benign afternoon scoring conditions.
Pedersen's team-first approach to the 54-hole event is paying off on multiple levels.
"My focus is on the team this week and I am going to do my best regardless, for the team or the individual, and I hope I can keep making birdies and we can get it done as a team tomorrow."
Thomson said the team was " loving playing together and having a good time."
"It's a great new event. We're here for Emily to make all the birdies and us to make all the pars! It gives us a confidence boost that she [Pedersen] picked us and we're looking forward to tomorrow," said Thompson.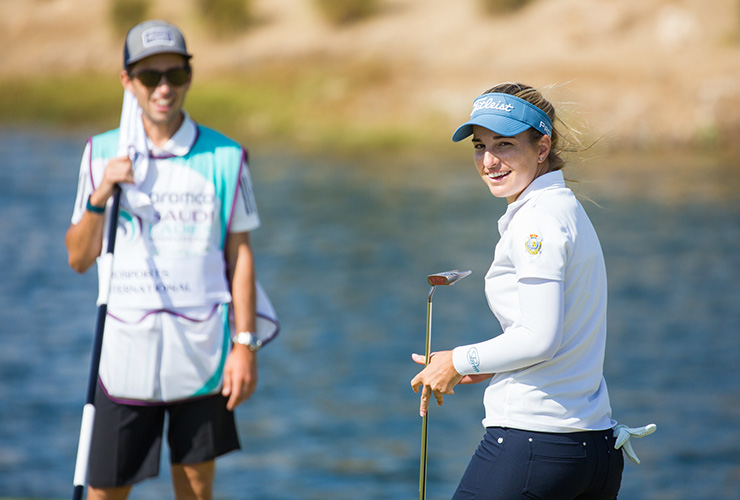 Luna Sobron Galmes (pictured above), chasing her maiden LET title after finishing solo sixth last week, equalled the Royal Greens Golf & Country Club course record on Wednesday, her second round 65 including a hole-out eagle two from 73 yards on 17 and seven birdies.
"I'm very happy with my round," said the Spaniard. "The key was my putter but you also have to be accurate with your long game on this course. I'm not thinking if I can win either event or not – I'm just playing my game."
The Netherland's Anne van Dam (-7), first-round leader Sanna Nuutinen (-6) and English star Charley Charley (-5) are all within touch of Galmes (-10) and Pedersen (-9).