By Kent Gray
Mercurial Dutchwoman Anne Van Dam has quickly parked the heartache of wasting a dream start at last week's LPGA Tour Q-School in the U.S. to take the driver's seat halfway through the Omega Dubai Ladies Classic.
The big-hitting 22-year-old fired a best of the week 65 Thursday to move to -10 and open up a two shot lead over Scot Kelsey MacDonald at the $500,000 Ladies European Tour season-decider.
Revelling in the fun-filled atmosphere encouraged by her playing partners, American Solheim Cuppers Brittany Lincicome and Angel Yin, Van Dam's flawless seven under loop of the Majlis was highlighted by three successive birdies from the 2nd (her 11th hole).
The Power Hitters @OMEGAGolfDubai 💪🏻⛳️!@angelyinlol @Brittany1golf & @Annevandam pic.twitter.com/wfYVgWVRYK

— Ladies European Tour (@LETgolf) December 7, 2017
What happens next though is anybody's guess. Van Dam won her maiden LET title at the Xiamen International in China last year but has developed an unfortunate reputation since for mixing sublime scoreboard climbs with the nonsensical blowouts.
The final stage of LPGA Q-School is a still fresh and frustrating case in point. After opening with a 68 to share the first round lead in Florida, Van Dam backed up with a soul-destroying 81 before finishing 75-75 and in a tie for 118th place. It means Van Dam is committed to the LET for next season and how she'd love to take a second title into the New Year. She's certainly trending well – Florida aside – after finishing T-4 and T-3 in the recent Open de France and Indian Open respectively as well as T-23 at the Fatima Bint Mubarak Ladies Open in Abu Dhabi.
What a day for @Annevandan!

Superb 2nd round bogey-free 65 (-7) moves her to the top of the Omega Dubai Ladies Classic leaderboard on -10 pic.twitter.com/7jQl8qMizB

— Ladies European Tour (@LETgolf) December 7, 2017
She could easily have title No.2 already but for an uncooperative putter in France where she missed a bunch of makeables as Christie Kerr won. We can't confirm if Van Dam used the same putter in Florida but we do know that mallet was sent to golf's equivalent of the naughty chair afterwards.
"Well, my putter from last week just needed a break. I didn't putt well at Q-School… so yeah, he couldn't come this week," Van Dam joked.
"It's actually quite funny because I haven't been putting great at all, like the last half year. I changed putters two days ago. I completely got something else, normally I have face-balance, and now I have toe hang. It's a blade. Normally I have a mallet. So everything is different. But I like the look of it and it's going well, so maybe that's the change this week."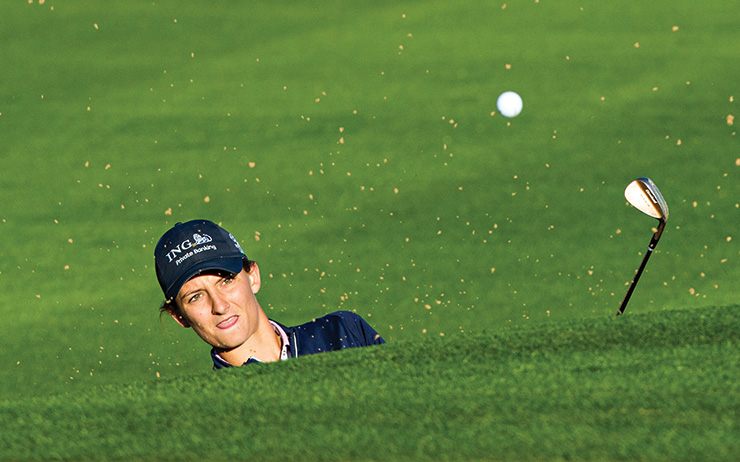 What was also funny was Van Dam's post round interview, conducted by Yin at the behest of the LET media team. The banter flowed between the big hitters with Yin recalling the 350-yard bomb Van Dam hooked over the trees on 18 in the first round to leave an 8 iron into the par 5 and which she duly birdied for an opening 69.
Van Dam was asked what her longest drive was and it sparked a fun back-and –forth. "Probably that one on 18. 320 metres, that's like 370 yards or something [350 yards to save further confusion]," said Van Dam before Yin quickly retorted: "It's close to 400." Van Dam: "No, no, that's 360. I think it's like 370 metres." Yin had the last word on the matter: "That's pretty freaking long. My excuse is that I broke my driver before I came here. It's a new thing and I need to warm it up, break it in."
Van Dam admitted the fairway giggles helped: "We had a lot of fun out there today, and yesterday, as well. We were all playing well, all under par for two rounds in a row, and yeah, we all hit it long, so that helps. All play aggressive."
Van Dam is out in the final threesome at 11.43am Friday with MacDonald and Georgia Hall. It promises to be a rather more serious affair given MacDonald and Hall are still searching for their first LET titles but Van Dam has vowed to keep smiling.
"Like, it's the two last days of the season, and I hope to just finish up great and hit some more monster drives, hole a few more putts with my new putter and it should be great."
Indeed it should.