Photos courtesy ACC.
By Kent Gray
That Bo Jin leads the 12th Asia-Pacific Amateur Championship through 36 holes comes as no surprise when you discover the proud institutional and unlikely local course knowledge the Chinese teen has in his armoury.
The 19-year-old from Beijing fired a bogey-free, seven-under 64 at Dubai Creek Golf & Yacht Club Thursday to rocket to the summit of the leaderboard at -8, a shot ahead of five players including Japan's world amateur No.1 Keita Nakajima (68), Australian Connor McKinney (65) and the Korean trio of Sam Choi (68), Baekjun Kim (66) and Wooyoung Cho (68).
Jin is the younger brother of 2015 Asia-Pacific Amateur champion Cheng so knows exactly what it takes to win the event and all the benefits of doing so, namely invites to the Masters and The Open.
RELATED: UAE No.1 Amhad Skaik looks to cash-in on unexpected weekend play at the Asia-Pacific Amateur
The Oklahoma State University sophomore is also good buddies with Cowboys golf team-mate Rayhan Thomas, the Dubai-prodigy who just happens to be the owner of the Creek course record, a giddy circuit in 61 strokes during a 2017 MENA Tour event that included a world-record tying nine successive birdies. Don't forget either that Thomas was runner-up at the 2018 ACC representing India so knows a thing or two about contesting in the region's premier event too.
"I have learned a lot from Cheng but when we get to the golf course, I definitely want to beat him," said Jin, who made five homeward birdies in his second round.
"When he won the championship [at Clearwater Bay Golf Club in Hong Kong], I was so excited because it meant that I could go to the Masters at Augusta National Golf Club along with him. Obviously, he hasn't told me much about this golf course but I get plenty of good insight into life and golf from him and yes, I want to win the championship like he did."
Thomas' advice, meanwhile, has thus far proved invaluable.
"Rayhan is a great guy and a very good friend of mine. We sat down before coming here, and he gave me a lot of good advice, like how grainy the greens become and how to putt on them. And how the course is rather short and why I should practice my wedges more than my long irons, and things like that. It definitely played a role in my round today."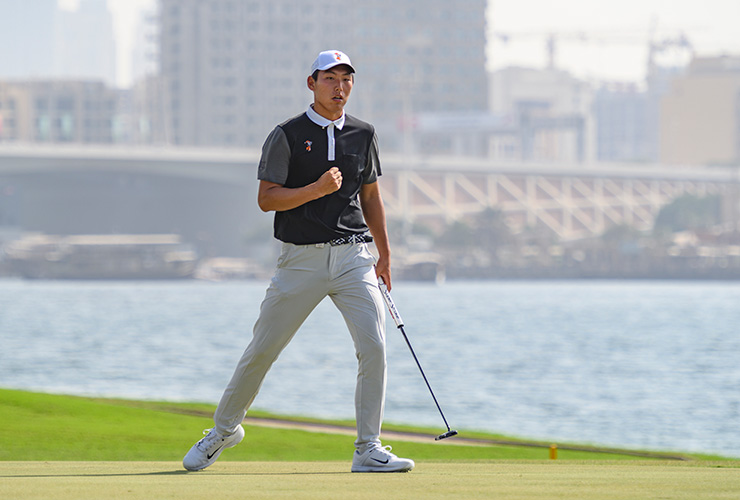 On his round of 64, Jin added: "I just played really well. Putting wasn't the best but I hit it pretty well and pretty close to the hole and grabbed one or two on the front nine. Then on the back nine everything started rolling in, which was pretty awesome.
"The biggest change from the first round was the double bogey I made on the ninth hole yesterday. It was mental mistakes really. And I am happy that I did not repeat them today."
Defending champion Yuxin Lin of China made a double bogey on the par-4 closing hole and dropped down to four-under-par 138, four strokes off the lead.
Exactly 50 players from 15 countries, including the UAE's Ahmad Skaik and Jordan's Shergo Kurdi, made the cut at two over par. Fellow MENA Tour regular Arjun Gupta missed the weekend after rounds of 75-73 to finish +6.