Dustin Johnson's par 5 aviary strangely contains just one specimen thus far but the U.S. Open champion could yet collect the rarest birdie of them all at the Abu Dhabi HSBC Golf Championship.
The 32-year-old put in the most significant shift on moving day at the Desert Swing opener, a sizzling 64 helping the American drawcard soar 36 places into a five-way share of second, just a shot adrift of Englishman Tyrrell Hatton.
Hatton is at -13 heading into Sunday with Johnson joined on -12 by three-time champion Martin Kaymer (72), 2014 winner Pablo Larrazabal (69), Thai Kiradech Aphibarnrat (70) and Englishman Tommy Fleetwood (70).
With another five players at -11, Open champion Henrik Stenson lurking alongside the likes of serial winners Lee Westwood and Alex Noren just three back on -10 and a total of 34 players within five shots of Hatton, an epic final round shootout for the famed Falcon Trophy beckons.
Johnson rattled off six birdies in his best-of-the-day and equal best-of-the-week eight-under loop Saturday. But for the third successive round there wasn't a single birdie on any of The National's four par 5s. Do not adjust your spectacles. That's not a misprint.
The Ryder Cupper did chip in for an eagle three on the par 5 8th but 11 other birdie-less attempts on The National's longest holes is like something out of the Twilight Zone (the destination normally reserved for his tee shots). Just for clarification, this is the same DJ who ranked second in driving distance on the PGA Tour last year with a 313.6 yard average and who was a combined 123 under on par 5s in 87 rounds.
"It's been a while," Johnson offered when asked the last time he failed a four on a par 5 through 54 holes.
"But you know, I feel like I've given myself some good looks. Hit the flag on two with a wedge shot. Was heading really close to the hole but hit the pin. I've had a lot of good looks. Just haven't really holed anything on the par 5s."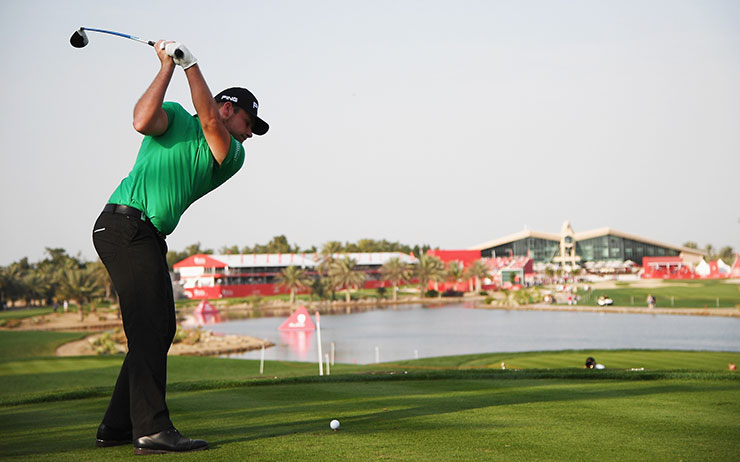 The world No.3 has suffered from jetlag since arriving from the U.S. and was so out of kilter he even turned up for his second round 25 minutes early Friday. He slept well on an eventual second round 68 and took advantage of an early tee time Saturday before the wind got up.
"Yeah, finally. I got a good night's sleep. I even got up and went to the gym this morning before I teed off," said Johnson who will tee off in the final group with Hatton and Larrazabal Sunday.
"Definitely by far the best day I've been feeling out on the golf course. You know, just felt the swing, my body, was moving a lot better. I swung it a lot better, especially with the driver.
"Hit a lot of greens. I had to get one up-and-down I think on No. 11. That was maybe the only green I missed all day. So yeah, I mean, I just hit the ball well today."
Asked afterwards where he thought he'd be positioned heading into the final round, Johnson said: "I have no idea. Three, four, five back?"
He's just a shot shy as it transpires and brings the biggest gun to what shapes as a stereotypical back-nine shootout Sunday. The prospect is compelling and his lack of success on the par 5s thus will probably concern his rivals more than Johnson himself. Surely he can't go four rounds without gorging himself on the all eminently birdie-able par 5s?
"I started eight shots behind, so I know I've got to post a really good score today [Saturday] and I'm going to have to shoot another really good score tomorrow [Sunday] if I want any chance to win this tournament.
"But the golf course is in perfect shape. Greens are perfect. As long as you hit quality golf shots, you can make some birdies." The field can't say they haven't been warned.
Main image: Farooq Salik