Photos: Joy Chakravarty/MENA Tour
MG Keyser in action on the opening day of the Abu Dhabi Open by Arena at Yas Links yesterday. 
By Kent Gray
Consistency. It's golf's rarest commodity and MG Keyser seems to have unearthed a handy supply of the stuff just at the right time on the MENA Tour.
With an utterly impressive seven-under 65 on his MENA Tour debut, Swede Niclas Weiland rightly stole the headlines on the opening day of the Abu Dhabi Open by Arena on Monday. There was also a birthday of all birthday's 66 from England lefty James Allen who clearly won't forget his 25th in a hurry, not to mention a trio of players – Mitchel Sarling (ENG), Alessandro Tadini (ITA) and Gabriel Axell (Swe) – on 67.
But lurking just three off the lead in a share of 6th place after an opening 68, Keyser is making all the right moves to protect his new lead atop the circuit's season-long Journey to Jordan Order of Merit (OOM) race.
After winning twice last season – albeit 2017 – the Dubai-based South African collected his third MENA Tour by Arena title at the Troon Series Dubai Open at Dubai Hills in March. He then returned after the tour's six-month summer hiatus with a tidy T-3 finish at last week's Journey to Jordan-2 Championship to leapfrog two places – over now Challenge Tour focused Matthew Baldwin and Robin Roussel – to the summit of the OOM standings.
There's still 36-holes to go this week and a long way yet before all the big European Tour invites are handed out to the professional Journey to Jordan champion at the end of the season come late November. But if Keyser can keep up his consistent run of scoring, it's going to take something special to beat him.
The real beauty of his 68 on Monday was the fact he's not overly enamoured with Kyle Phillips' layout despite the Abu Dhabi course's global respect. It was doubly impressive because he faced the full brunt of a windy day on the Arabian Gulf-fringed links.

"I have never played well on this course. I tend to overthink here a bit, but it was so windy today that you just can't do that," Keyser revealed afterwards.
"I tried to play a little safe. And it also helped that we were in Ayla Golf Club last week, which was again very windy on all four days."
Weiland, meanwhile, turned professional this year after finishing his college at Barry University in the US. The 24-year-old played a few events on the Nordic Golf League where his best finish was a T-6 in Landeryd Masters but when his mother took up a new job in Abu Dhabi recently, he made a beeline to the MENA Tour office.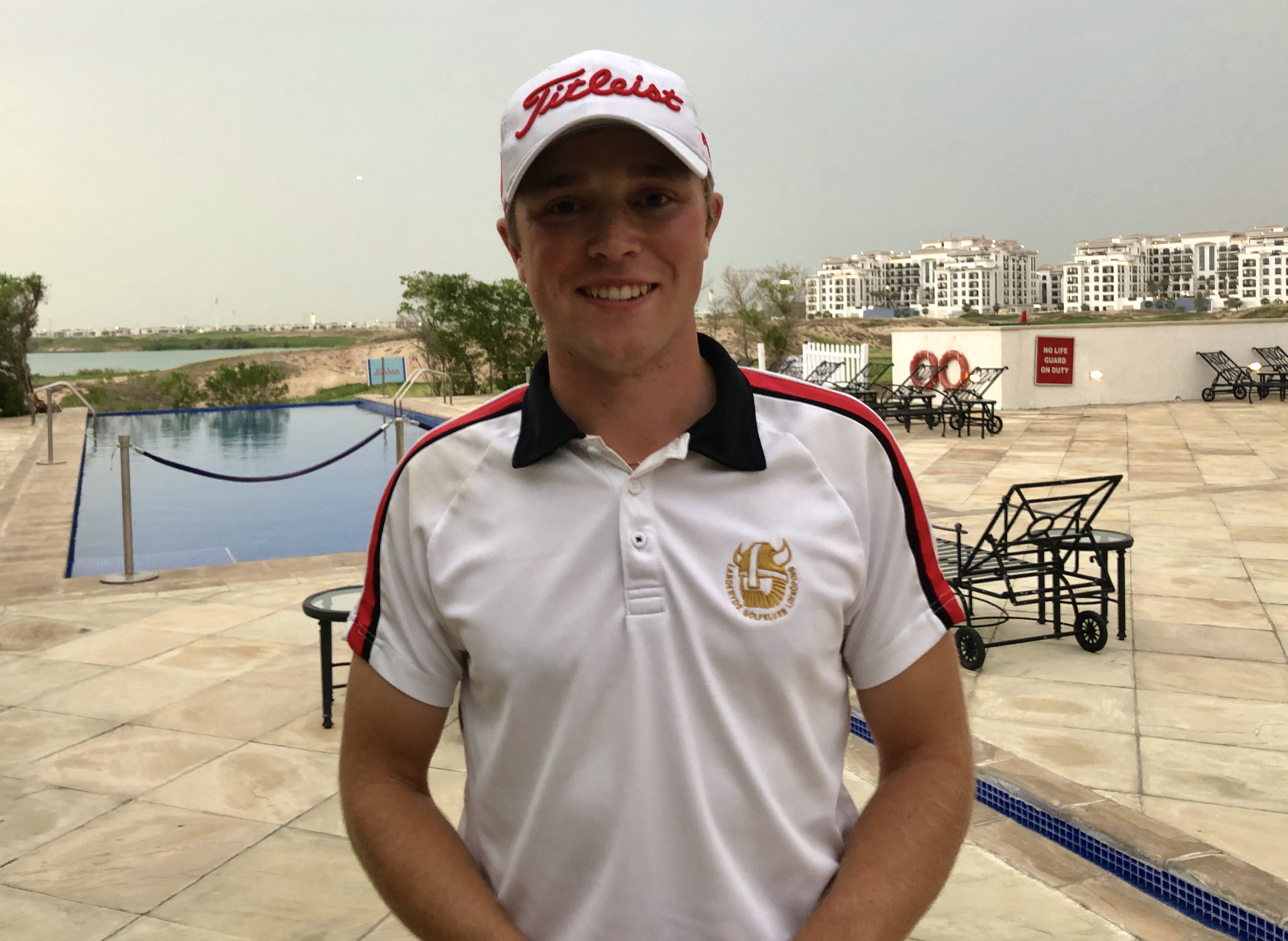 On Monday, he made the most of his exemption, getting off to a hot start with three straight birdies and never let that momentum slip away. It even warranted a tweet from former Open champion and countryman Henrik Stenson.
Well done @NiclasWeiland !

— Henrik Stenson (@henrikstenson) October 7, 2019
"I played solid and made very few mistakes," said Weiland.
"I made good putts on the first three holes. After that, I was able to recover well whenever I made any mistake. The conditions were pretty tough out there. The wind switched when we were on the back nine, so I think it was slightly tougher for us."
Allan, who qualified for the second stage of the European Tour Qualifying School last week, reached Abu Dhabi after a trek from Milan via London and was feeling the effects.
"I am very pleased with that," the birthday boy said of his 66. "I started well with two birdies in the first two holes, but it was from the fourth hole to the 14th that we seemed to be playing continuously into the wind. I was feeling tired on the back nine, and that could be the reason why I made a bogey from the middle of the fairway on the 15th. But overall, I am chuffed with that round.
"I will spend the evening with some friends and celebrate, but I have a late tee time tomorrow, so I should be fresh. There will be no excuse about my round tomorrow."
What a way to celebrate your birthday!!

England's @jamesallangolf shoots a brilliant six-under par 66 on the opening day of Abu Dhabi Open by Arena to trail by one shot on a day when he turned 25. pic.twitter.com/k11cIU6faJ

— MENA Tour (@theMENATour) October 7, 2019
After missing the cut in Aqaba last week, Dubai-based 15-year-old Josh Hill finally found a little co-operation from his driver Monday en-route to 69 that sees him lead the amateur race by a shot from Englishman Jack Floydd.
Josh Hills finally overcame a mini-slump – a period of couple of months when he seems to be struggling with a wayward driver.

In the Round 1 of the Abu Dhabi open by Arena, the 15-year-old hit 10 fairways in a 3-under 69, enough to lead the Amateur leaderboard by one shot. pic.twitter.com/0YOvbCgQ8e

— MENA Tour (@theMENATour) October 7, 2019
Last week's Journey To Jordan-2 champion Robin 'Tiger' Williams started his campaign with a 73.