By Dave Kindred
Omar Uresti is the name. You likely have no idea who he is. Yesterday I went looking for him here. In the locker room, no. On the range, no. The putting green, not there, either. I left notes. I left a voice mail. I asked the locker room doorman, "Seen Omar?"
Friends put in a good word for me when they bumped into Omar. But I never found him. I checked my iPhone mileage: 4.1 miles in search of Omar. He was the ghost of Quail Hollow.
At dinner I told my sad reporter's story of failure.
I got no sympathy.
One wise guy asked two good questions, first, "Omar Uresti?"
Then, "Why?"
I had two good reasons. It's intriguing when an Omar Uresti, at age 49, on an unlikely but epic golf journey, stands alongside the stars of the golf galaxy, Jordan and Jason, Rory, Sergio, and Dustin, not to mention Thorbjorn Olesen, a Dane who was the early first-round leader in this 99th PGA Championship.
Around Uresti, there's also a touch of unfair controversy. He's here as a club pro but he's not a club pro and that has upset some club pros. Those people are mistaken. They should be celebrating Omar Uresti. Every time he tees it up, he's saying golf is a game for a lifetime. This takes some explaining, which we'll do right after talking about the way Uresti played today.
He shot 74, three over par, and pronounced it "a good day." He rolled in two long birdie putts. "On both," he said, "I thought I hit them too hard but they held the line and hit the cup and fell in." On a course too long, at 7,600 yards, for his game, he found it "suited my eye, with all the trees lining the fairway, I never thought I had to come out of my shoes on drives." Long unsure of his putting, he yet pitched well enough today to make what he called "two or three tremendous up-and-downs on four-foot putts."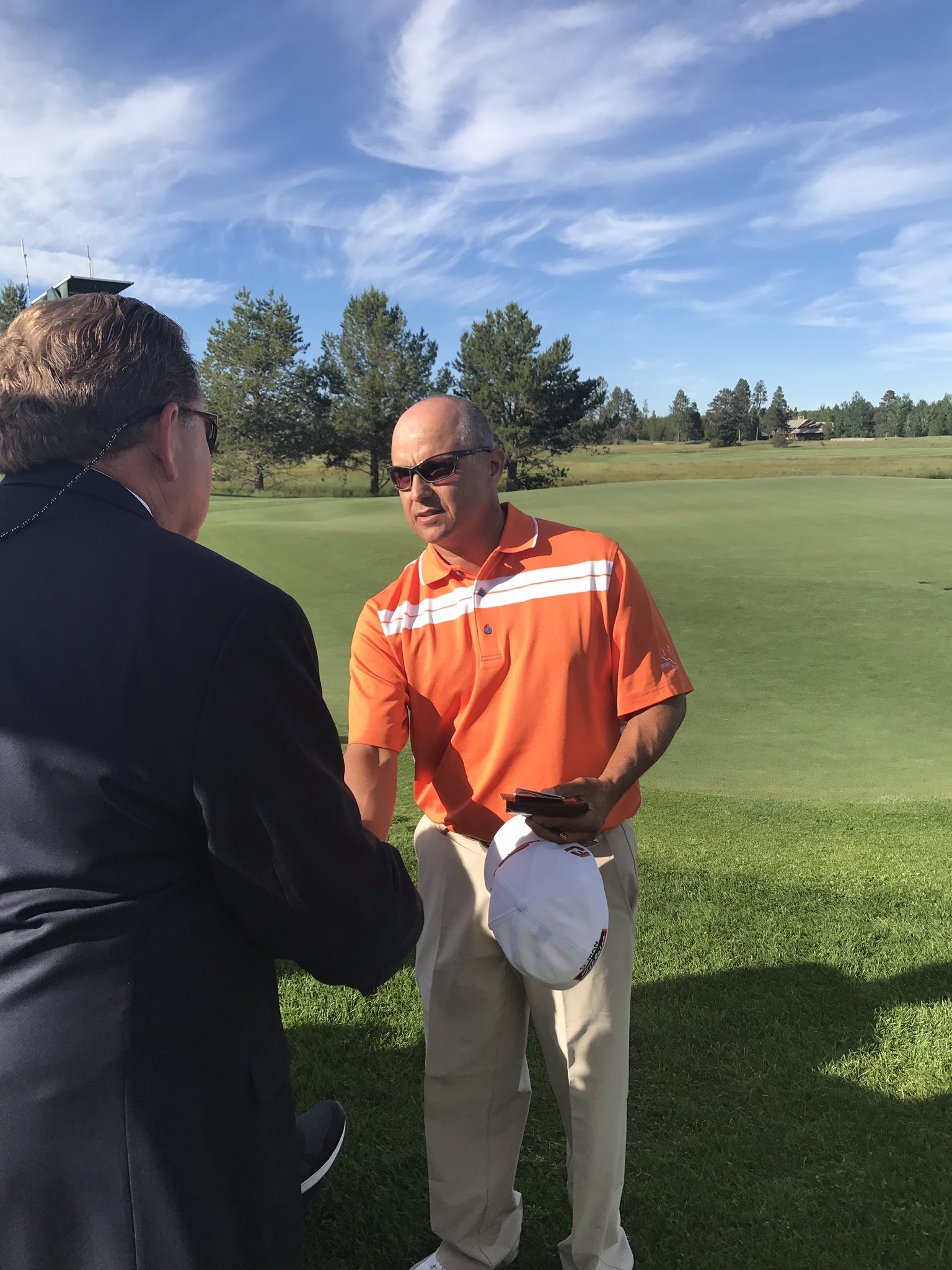 Now, the club pro thing. The PGA of America saves 20 spots in its PGA Championship for the top 20 finishers in the PGA Professional Championship, which is a tournament contested generally by club professionals. Those are the clubhouse worthies in charge of everything from carts to Titleists. Thus, the "club pro" label for that event.
The thing is, though, more than club pros are eligible; there are 26 categories of contestants. "College golf coaches." "Past PGA Presidents."
And, as in the case of Omar Uresti, "Life Member Active." That means the member is up to date on his $75 annual dues.
By rule, then, Uresti can play for one of those 20 spots. He not only played in the "club pro" tournament, he won it. And this week he has a locker in the PGA Champions corner of the locker room, there with McIlroy and Mickelson, Love III and Dufner – as well he should be, according to one college coach in the field here. Mike Small, of the University of Illinois, said, "Omar's got every right to be here. In fact, I think the PGA should put more emphasis on its club pros playing rather than being in the shop selling sweaters."
It was 11:45 this morning when I finally found Uresti, on the putting green. He has played only a handful of PGA Tour events since 2010. Before that, he'd done 11 full seasons and parts of eight more, 357 tournaments, 14 top 10's, a best of T-3 twice, $7.9 million in earnings.
For all that work, if we remember Uresti at all, it's from a single moment in 1997. He dropped a shot three feet behind the hole at the famous/infamous par-3 16th in Phoenix. The lubricated party-goers there loved it. As his playing partner stepped up, Uresti said Thursday, "I made the mistake of thinking, 'OK, hit it closer than that.'"
That, Tiger Woods did. A hole in one. That, the revelers really loved.
So the little guy from Austin, Texas — he's 5-foot-6, 175 — has been places, done things. Growing up, he played with Tiger. As a junior, he played with Roberto de Vicenzo. He has won professional tournaments in Africa and Canada. He has dominated Texas PGA golf. He has won in the PGA Tour's minor leagues. Next year, at age 50, he intends to play the Champions Tour.