Sitting on an early flight from Belfast to London en-route to Charlotte for the U.S. PGA Championship as I write this, I've had time to reflect on an eventful summer. The PGA at Quail Hollow, the fourth Major of the year, is the third that I have worked at this season, a record for me.
The winners of the previous three bigs have been interesting in so much as they all shown us different ways to play the game and employ unique coaching styles. It is healthy to embrace the unique qualities of any given player rather than trying to teach everyone the same way. So, lets look at how they got it done:
SERGIO GARCIA
The Masters – Augusta National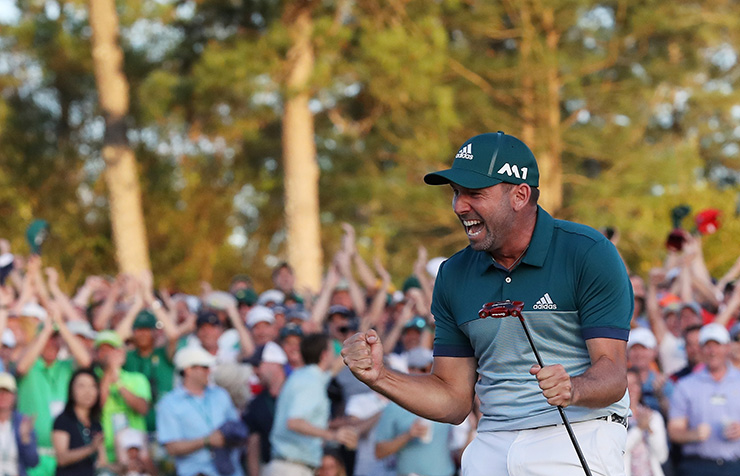 Sergio Garcia has had one teacher, his father Victor. He is of course sublimely talented but the talent has been able to be released as he has never become clouded or stuttered with different messages. The feels and words have been consistent and comforting and he has had the patience (at last) to allow things to happen on the biggest stage. You can learn a lot about the swing from just watching Sergio's grip, he has a beautiful grip which allows his hands/wrists to not only load and lean the club as we have seen but also control the club face. It's one of the best there has been.
BROOKS KOEPKA
U.S. Open – Erin Hills

Brooks Koepka could have been a rugby center, baseball player or a power lifter. Strong as an ox and epitomising the modern day golf athlete, his dominance at Erin Hills was stunning. He has an excellent team around him led by my good friend Claude Harmon III who links with others such as strength and conditioning coach Joey 'D'ioslavi. Claude's messages to Brooks are also simple. He has worked towards Brooks being more one dimensional. A power fade- sounds strange but when you have the speed that Brooks has, he can attain consistency and clarity with this move. What you see again is a simple, repetitive message to help the talent get out. Brooks and his team have made the modern approach work and expect more from him in the future.
JORDAN SPIETH
The Open Championship – Royal Birkdale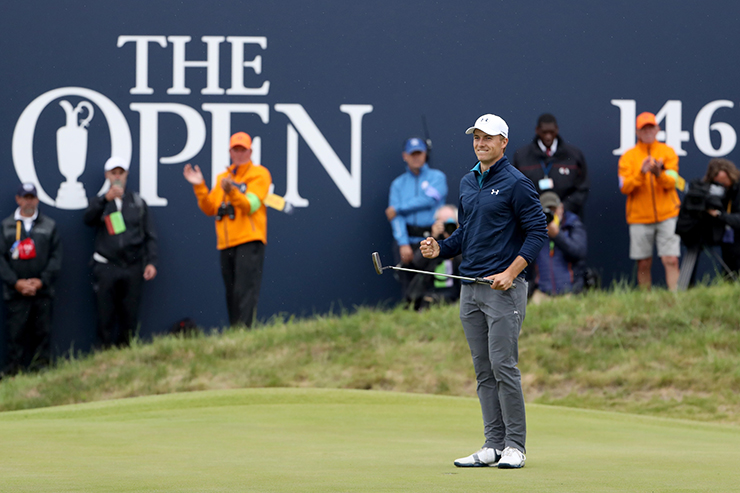 Jordan Spieth looked great walking into the range at Royal Birkdale early in the week and he looked great with the Claret Jug walking to his private jet Sunday night.
It's been a long night, but @JordanSpieth and the Claret are heading home @NetJets to Dallas. #onlyNetJets #claretjugexpress pic.twitter.com/bepOBM8GgN

— NetJets Golf Team (@Netjetsgolfteam) July 24, 2017
What struck me about him was how ready he was, fully prepared. I have known his coach Cameron McCormick for 10 years now and he, like Jordan, is clever, prepared, diligent and professional. Cameron works hard to ensure that his players attain good contact and control their path, again consistent in the simplicity of his approach. Where he excels in my view is the way that he organises and coordinates training, competitive practice into improvement and preparation. I walked nine holes with Cameron Wednesday of the Open. He was preparing another player and his approach is truthfully holistic – no stone is left unturned. Jordan is a true champion and one who I think will have a career Grand Slam given time.
So there we have it, three Major winners with unique styles of coaching, attitude, preparation and swing. My advice to you? Try to find your best way of doing things.

Justin Parsons is the Director of Instruction at the Butch Harmon School of Golf at The Els Club, Dubai. Among his pupils are Peter Uihlein and celebrated Dubai-based Indian amateur No.1 Rayhan Thomas.