By Kent Gray
The world No.1, the game's most talked about player in 2020 and the defending champion have all been confirmed to return for the 3rd edition of the Saudi International in February.
It's hard to top Dustin Johnson, Bryson DeChambeau and Graeme McDowell for star-billing but if you read between the lines of a promotional quote from 2010 U.S. Open champion McDowell, maybe we can expect more big names at the Feb. 4-7 SoftBank Investment Advisers-sponsored European Tour stop.
"I am really looking forward to getting 2020 over and having a fresh start to 2021 and, from what I've heard about how the field is shaping up, it sounds like almost everyone has decided to make that fresh start in Saudi Arabia," said McDowell who denied Johnson a successful title defence with a 12-under winning total at Royal Greens Golf & Country Club earlier this year.
Regardless of the final make-up of the field, McDowell can't wait to get on with 2021.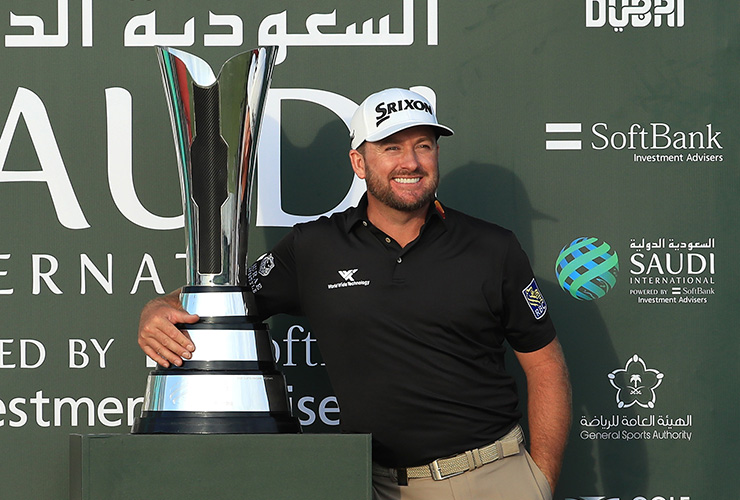 "From the high of winning the 2020 Saudi International in February against such an amazing field we very quickly had to contend with all that COVID-19 has thrown at us since so I think I was lucky to be able to hold onto that awesome winning feeling through the darker parts of lockdown.
"I don't think I have ever seen a tournament establish itself so quickly on the player's schedules as the Saudi International has. The Royal Greens Golf & Country Club is a great Championship course and huge credit to the Saudi Golf Federation for gathering such a world-class field as they look to inspire a new generation of golfers in the Kingdom."
As the latest Major winner, 2020 US Open Champion DeChambeau has got the whole golf world talking as he emerged from lockdown with a transformed physique, some 20 pounds of muscle heavier than when he last visited the Kingdom in 2019.
The seven-time PGA Tour winner claimed his first major championship in style at Winged Foot last month, finishing a resounding six shots clear of the field and was the only player under par.
"I have undergone a lot of changes since I last visited the Kingdom as I work to fulfil my golf potential and I think you can say the same about golf in Saudi as it continues to develop as Golf Saudi endeavour to grow the game.  I finished a credible T6 in 2019 and I obviously hope to finish a little better this year but I am also really interested to see what has changed and how golf has grown since my last visit."
World No.1 Johnson, who won the inaugural Saudi International in 2019, is likewise looking forward to some winter sun.
"I am really looking forward to returning to Saudi Arabia for a third consecutive year. I've really enjoyed both of my visits and love the golf course, as evidenced by my win and runner-up finish.  The scuba diving experiences I've had in the Red Sea have also been amazing."
"It's been pretty neat to witness the growth of golf in the Kingdom and it's definitely one of the reasons I like to play in Saudi Arabia. Golf has been such an important part of my life, so it's nice to get the chance to play a part in introducing it to a new audience.  In just the past two years you can see the interest level rising in Saudi, especially amongst the juniors."
Majed Al Sorour, CEO of the Saudi Golf Federation and Golf Saudi, said the big name signings were further proof the game was headed in the right direction in the Kingdom.
"We are delighted that Saudi Arabia is open and able to host sporting events of such stature and announcing these three international golf stars is proof of that. We are very proud of the field we are assembling to play in the Saudi International powered by Softbank Investment Advisers…"
Al Sorour then doubled down on McDowell's hint that King Abdullah City will assemble the Desert Swings strongest 2021 field.
"We have many more star names to announce in the coming weeks but we are absolutely delighted to start with these three great champions and are proud to host the third edition of this important event in Saudi Arabia as we work to develop golf in the region."