Fearless and unflappable, Koepka captured his first major and tied a U.S. Open scoring record in the process
By Dave Kindred
To see Brooks Koepka on the 18th tee, with the village's Holy Hill basilica tall in the distant background, was to imagine, if only for a second, a vision of the young Arnold Palmer, a strongman with blacksmith arms hanging from a running back's shoulders. Yes, a guy could look at Koepka and see Palmer. Ah, a sweet thought. And enough of that. For this day belongs to Koepka, the latest U.S. Open champion, young and strong, yes, but, more telling, a rising star in a constellation of stars putting a new shine on the oldest game.
If casual golf fans knew only a little about Koepka – he had won once on the PGA Tour, he had played on America's winning Ryder Cup team last year – he changed that today with nerveless work in the heat of an Open Sunday. In the day's last hour, when even the smallest bobble under increasing pressure has thrown many a train off the tracks, Koepka was sensational. Out of a bunker at the 14th, a taking-dead-aim second at the15th, and another straight over the flagstick at the 16th – three birdies in loud exclamation of his arrival among golf's elite.
Koepka is the seventh straight first-time winner of a major championship. He extends a run of new faces that began with Jason Day and moved to Danny Willett, Dustin Johnson, Henrik Stenson, Jimmy Walker, and Sergio Garcia – none of whom made the cut here this week, though one had a touch of friendly influence on Koepka. He and Dustin Johnson are gym-rat buddies, both once multi-sport athletes (Koepka a baseball pitcher) who, among other shared traits, make quick work of philosophical discussions, as in a phone call before today's round.
"It was a long phone call for us," Koepka said, smiling. "Like two minutes."
Johnson's advice?
"'Keep doing what you're doing.'"
And?
"'Stay patient. Hang in there, it'll happen. You're gonna win the thing.'"
Win the thing, Koepka did — mostly because he played at a level he had long expected of himself. "I was striking it really well," he said. Look at the numbers: 49 of 56 fairways, 61 greens in regulation, 323.5 yards on the measured driving holes. (The 18th wasn't one of them.) All that from a guy only 27 years old, only in his fourth year out there, and yet he believed he had under-achieved because he'd won only once on the PGA Tour, once on the European Tour, and had done well in majors without winning.
"I felt like I put myself in contention so many times," he said. "And I don't want to say I got unlucky. I felt like I just never fully came together. I put myself in some good positions in the majors over the last few years and never really quite came through. … But I just felt like I should be winning more. I don't know why. It's one of those things. I'm not a big fan of losing. And I just couldn't stand the fact I'd only won once."
Whether this Open was worthy of the name – Erin Hills presented few of the penal features admired by the masochists who like Opens to be punishments for our sins past, present, and future – it created a week of memorable competition. Even better, it served as full introduction of players who may be changing the nature of the game. Thinking here of Koepka and Rickie Fowler, Justin Thomas and Brian Harman, Hideki Matsuyama and Tommy Fleetwood.
Listen, if you will, to Steve Stricker, a veteran, a 12-time Tour winner, 50 years old and yet still good enough to finish T-16 here this week.
"This is the new age of golf," he said. "These guys play a different game. A 3-wood 300 yards yesterday for Justin Thomas. I don't hit my driver 300 yards. These guys have a lot of firepower. They bomb it. If they hit it crooked, they'll bomb it again. They've got no fear and they're gutsy players, and they're little bulldogs, and they're just relentless.
"So it's something I just sit back and marvel at, really. These guys just take on everything, no fear, and they play very aggressively. It's fun to watch. Sometimes it gets them in trouble, and sometimes they make eagles. It's feast-or-famine at times, but it's sure fun to watch."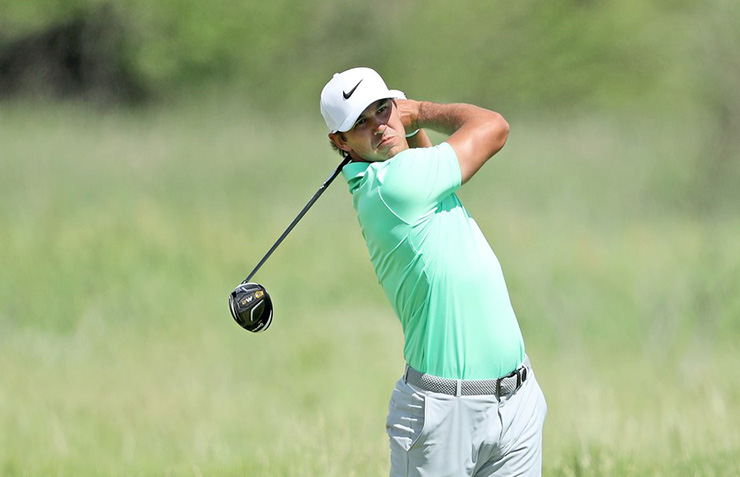 Wait. Sorry. This reminds me of Arnold again.
There stood Koepka on the 18th tee. Here's what he did next. He did a Palmer thing.
He closed the show spectacularly. He hit a tee shot – with a 3-wood – that seemed destined to bounce off a Holy Hill spire three miles away. The shot actually went 379.3 yards. Repeat: a 3-wood. Repeat: 379.3 yards. That left him 273.7 yards to the front. He began the day a shot behind the leader, Brian Harman. Coming up the 18th fairway, he had built a four-shot lead. He could have used a pool cue the rest of the way. He came home with a fourth-straight under-par round, a 67 following 67, 70, and 68. His 272 total was 16-under par, matching the Open to-par scoring record set by Rory McIlroy in 2011.
So Brooks Koepka won his first major at age 27.
Arnold Palmer won his first at 28.