By Kent Gray at Royal Birkdale
Thirty nine players bettered par on an absorbing opening day at the 146th Open Championship and another 18 are within six shots of overnight pacesetters Jordan Spieth, Brooks Koepka and Matt Kuchar.
The American trio are a shot ahead of former Masters champion Charl Swartzel and Paul Casey who fired 66s, the latter leading the English challenge heading into Friday, his 40th birthday.
It's a quality leaderboard but like winter in the HBO hit Game of Thrones, some seriously scary weather is coming to Royal Birkdale.
Get yourself set for a day of snakes and ladders drama on the big yellow leaderboards with our quick-fire first round wrap and some potentially wet and wild predictions for round two.

Shot of the Day – A Tale of Two Starts
A smidgeon unfair perhaps, but to put our shot of Thursday into context we've hit rewind to the very first shot of the championship. Golf is hard as Mark O'Meara could attest after sending his tee ball sailing out of bounds en-route to a dreaded snowman.
And we're off…#TheOpen pic.twitter.com/VymiAUXEYH

— The Open (@TheOpen) July 20, 2017
In the 60-year-old America's defence, he did encounter the worst of Thursday's weather as he signed for a dead last, 11-over 81. Contrast the 127th Open champion's (Birkdale in 1988) 6.35am horror show to Charlie Hofmann's 1.48pm dream with a healthy dollop of sympathy thus.
Great start! @hoffman_charley holes an eagle on the first. #TheOpen pic.twitter.com/mXGgIvUwYb

— The Open (@TheOpen) July 20, 2017
Who said golf was hard? The eagle helped Hoffman, a bit of a first round specialist in majors of late, to a opening 67. Out early in what is expected to the best of Friday's patience-testing conditions, the American must fancy his chances of staying in or around the top-10. Whatever happens, he gets the nod for shot of the day by a whisker from Koepka and his sand-dusted eagle on 17. We're loving the artistic in-bunker insights.
Great work! @bkoepka holes a bunker shot to move in to a share of the lead. #TheOpen pic.twitter.com/cv8UGVpRFD

— The Open (@TheOpen) July 20, 2017
Comeback of the Day – McIlroy's Tale of Two Halves
From downright pity to pretty darn good. McIlroy looked over when he went out in 39 with five bogeys in his first six holes. But just as a 'four missed cuts in five starts' inquest looked certain, he positively Rors home in 32 with four birdies in his last eight holes, including a real momentum swinging gain on 18 in front of the appreciative galleries.
A bogey free round for the new clubhouse leader @jordanspieth. #TheOpen pic.twitter.com/Qc3ik002Gl

— The Open (@TheOpen) July 20, 2017
McIlroy is off at 9.47am (12.47pm UAE time) and should just sneak in before the the heaviest of the rain and 35mph winds arrive. He's six back but its not so much the margain, but the names ahead. Eitherway, the questions still begs – which McIlroy will turn up on the first tee? Class is permanent, right?
Attire of the Day – Dapper JT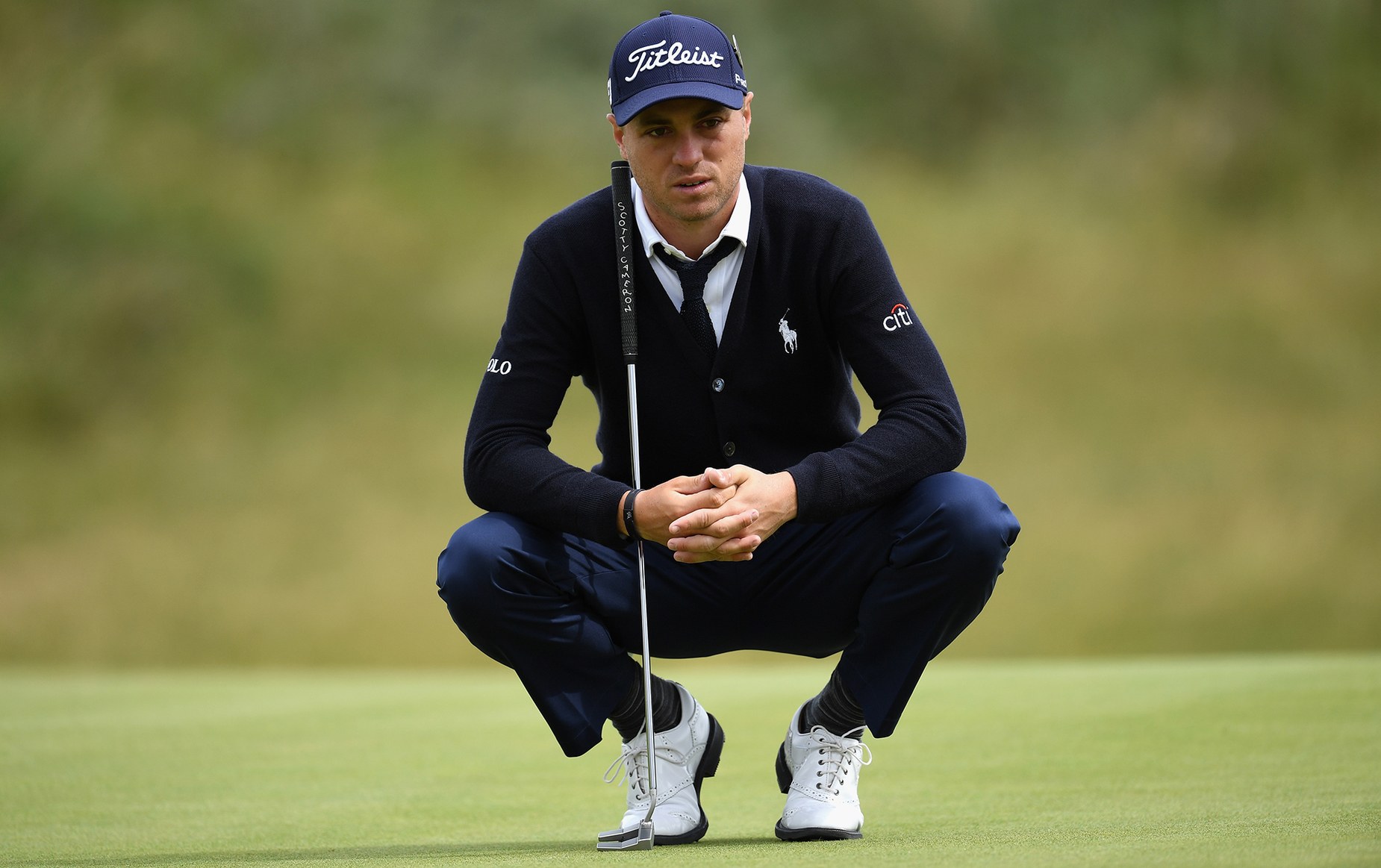 Justin Thomas promised to "rock" his tie and cardigan combo ahead of the first round and he duly did, a 67 seeing him just two back. And its just as well. If you're going to wear yesteryear gear, as dapper and well-intentioned as Mr. 59's nod to the traditions of The Open were, you gotta have game.
Reprieve of the Day – Rahmbo's (2nd) Great Escape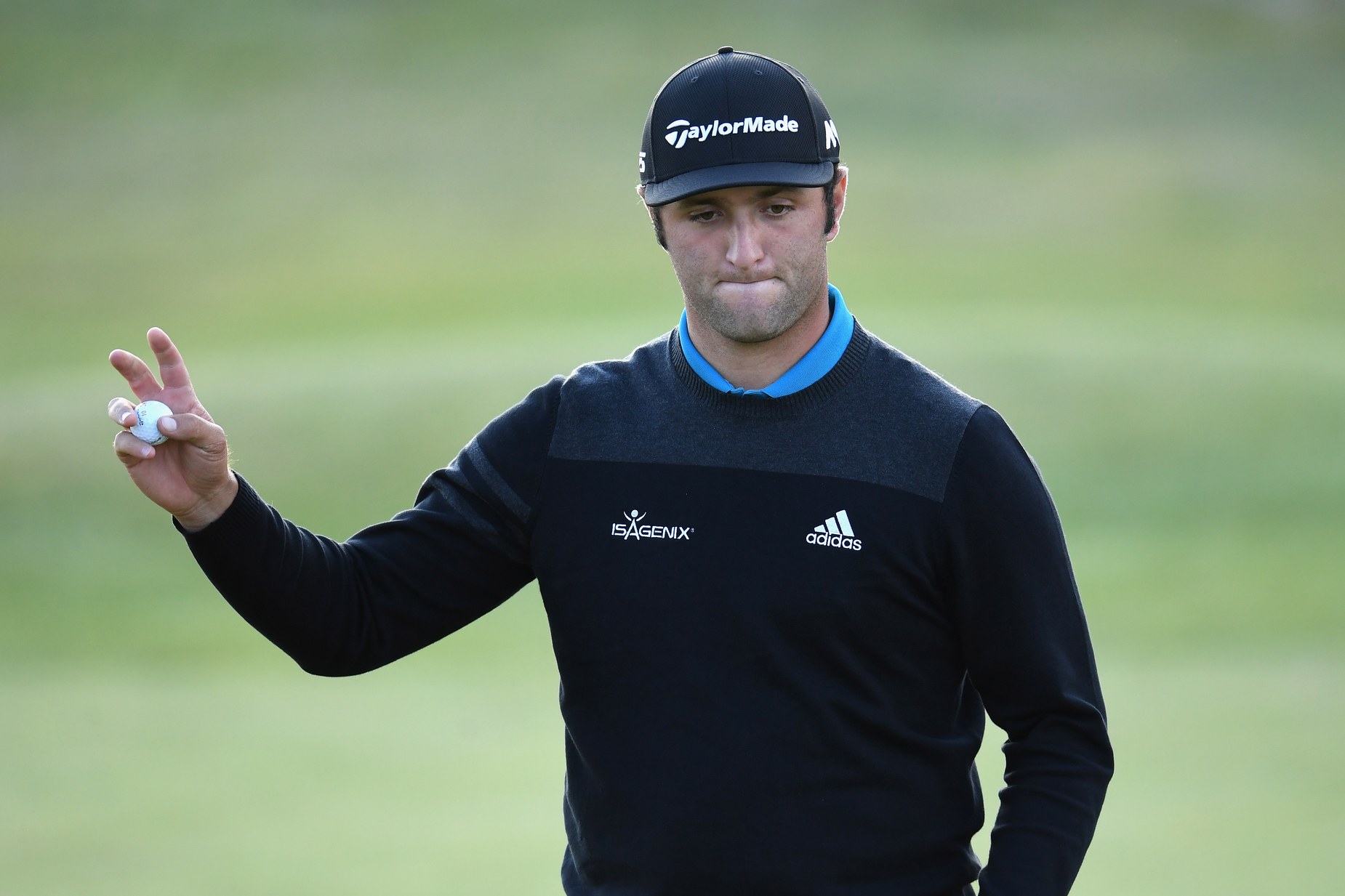 After his ball marking scare en-route to the Dubai Duty Free Irish Open, Jon Rahm's heart surely sank when he accidentally uprooted a plant addressing a shot on 17. The Spaniard called a two-stroke penalty on himself but the rules police again came to his aid as they had at Portstewart, waivering the penalty, saying he hadn't improved his lie.
Another great escape and potentially pivotal too as Rahm finished one under and is off in match 19 (of 52) at 9.58am (12.58pm UAE time). Looks like he might have the weather gods on his side as well.

Round of the Day – Spieth by Split Decision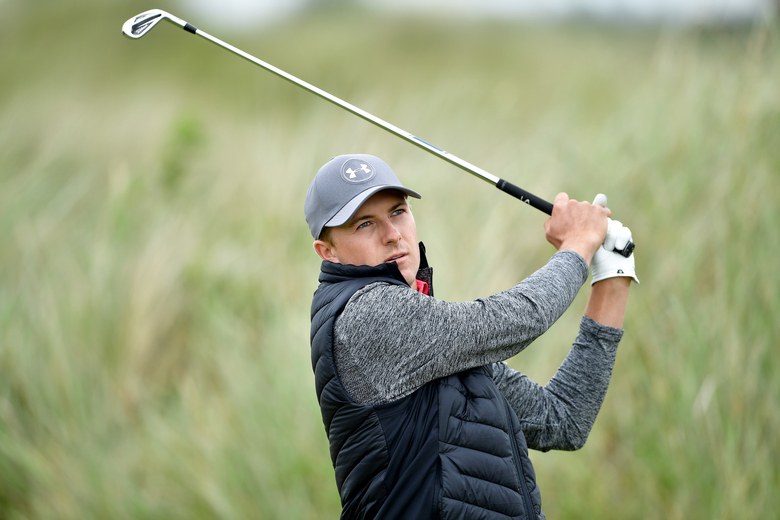 Spieth marked his 65 a "nine [out of 10] across the board for everything – tee balls, ball-striking, short game and putting", so who are we to argue? The only blemish was a pushed birdie putt on the last but the 23-year-old Texan seems to have sublime control over almost every facet of his game right now. With an otherwise co-operative putter and "ball-striking [that] hasn't been better in any years that I've ever played golf," watch out over the weekend if the two-time major champ can escape his 5.48pm (UAE) tee time Friday relatively unscathed.
An honourable mention for "Kuuuch" of course who went out in 29 (-5) but couldn't shake his Mr. Consistency tag with the outright lead at his fingertips, nine straight inward nine pars keeping him pegged at -5. What Kuchar would have given for a little of Koepka's flat stick magic. Defying any fears over rig-rust having put his sticks on ice since Erin Hills, the newly crowned U.S. Open champ needed just 21 putts to navigate his way around Birkdale and to the cluttered summit of the leaderboard, the least number of putts since Rocco Mediate in 1988. Holing out for eagle on 17 helped somewhat but that's scary good.
.@jordanspieth is the joint-leader of The Open after and a bogey-free Round 1. Will he continue to tame @RoyalBirkdale_ tomorrow? #TheOpen pic.twitter.com/cXe5wK6bws

— The Open (@TheOpen) July 20, 2017
146th Open Championship: Leading Scores – Round 1
T1. SPIETH, Jordan 65. -5
T1. KOEPKA, Brooks 65  -5
T1. KUCHAR, Matt 65  -5
T4. CASEY, Paul 66  -4
T4. SCHWARTZEL, Charl 66  -4
T6. POULTER, Ian 67  -3
T6. THOMAS, Justin 67. -3
T6  BLAND, Richard 67  -3
T6. CONNELLY, Austin 67  -3
T6. HOFFMAN, Charlie 67  -3
T6. CABRERA-BELLO, Rafa 67 -3
Check out the best of the action from today's Round 1 highlights from #TheOpen pic.twitter.com/iYwEPKMyrp

— The Open (@TheOpen) July 20, 2017