By Robin Barwick
The sign outside the door declares, "Champions Only", but there is one exception. The annual Past Champions Dinner at Augusta National is attended by the club's chairman, Fred Ridley, too. It might be the most exclusive Tuesday dinner club in all of sports.
"It was a wonderful dinner last night," starts Bernhard Langer on the eve of his 37th appearance in the Masters. Langer has enjoyed the Champions dinner since 1986, having won the first of his two Masters titles in 1985.
Part of this tradition is that the defending champion chooses the menu and also addresses the assembled Green Jackets, a responsibility that fell to Tiger Woods this time around.
"Tiger gave a speech that was very emotional," adds Langer. "He thanked many of us for helping him over the years and he talked about how it was very emotional for him to win here last year because he didn't know if it would ever happen again. His kids were there in 2019 and he said that giving them a hug when he won reminded him of how Tiger used to give his own parents a hug when he won before. It was a great speech."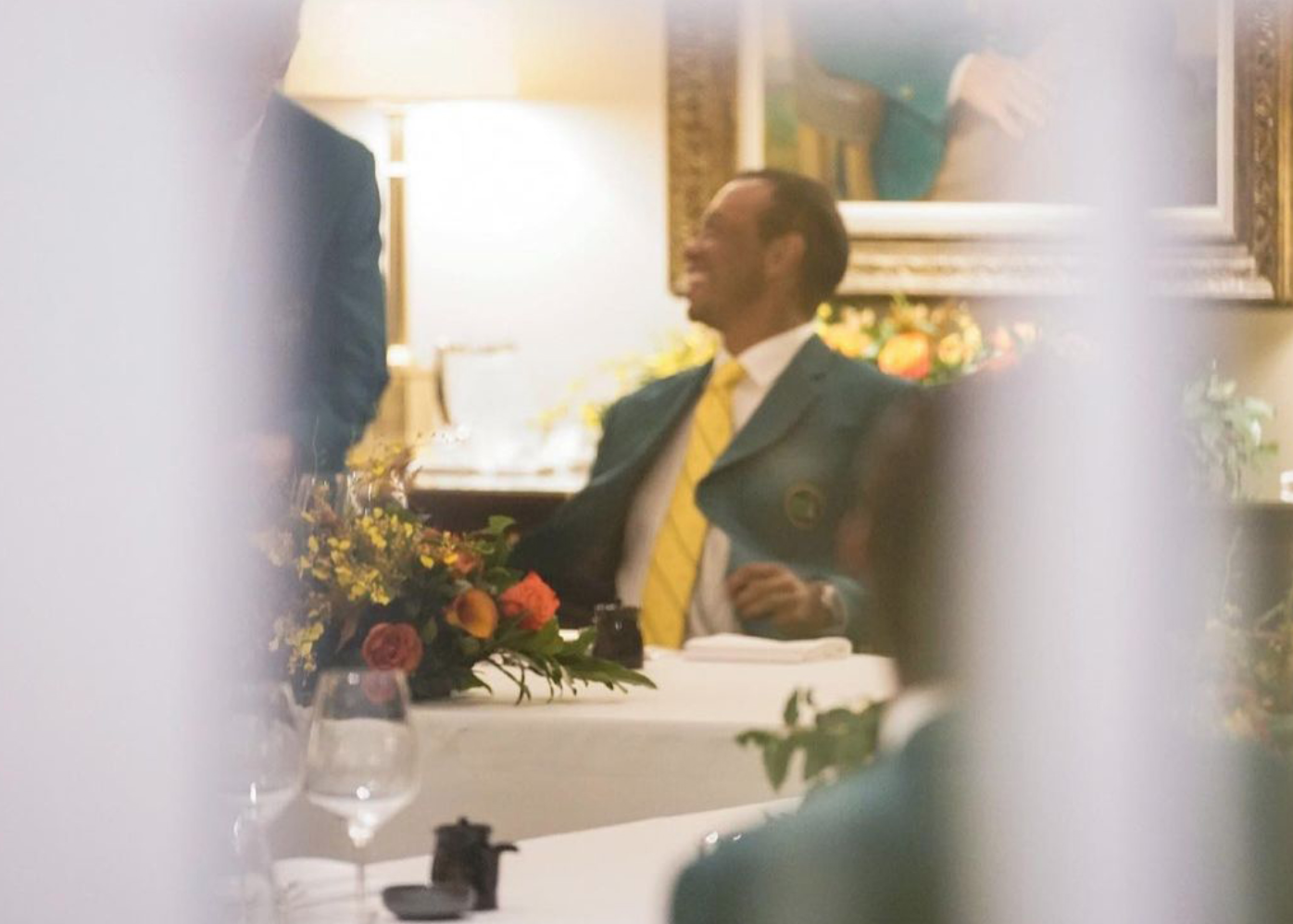 Chairman Ridley says a few words, Ben Crenshaw speaks on behalf of the past champions and then the floor is open to others.
"Gary Player made a few remarks and I did too, on the spur of the moment," adds Langer. "I felt I should say something on behalf of the international players. I said how the Masters used to be a closed shop for American golfers, but now, to look around the room, we have champions from all over the world: Sandy Lyle from Scotland, Nick Faldo from England, Trevor Immelman from South Africa, Vijay Singh from Fiji, Adam Scott from Australia, and then you have a local boy like Larry Mize from Augusta itself. The tournament reaches around the globe now and so do its champions, and these champions represent the game and the tournament wherever they go. I said how we together can help to grow the game."
There have been whispers around Augusta National this week about whether Woods might soon retire from competitive golf, but Langer disagrees.
"I don't think so, not yet," says Langer. "Tiger has a very competitive edge to his nature and he is going to try to play for a few years yet, if his body holds up. When you see him you think he is the immortal athlete. He looks trim and as strong as you can imagine from the outside. We all know he has had surgeries but he can still create a lot of clubhead speed and with the improved equipment Tiger still hits the ball long enough to be able to compete anywhere. I don't think Tiger has even considered quitting the game yet."
Langer, now 63, is the oldest golfer in the Masters field this week, and he also used the Champions Dinner to seek assurance from Chairman Ridley that there is no age limit on past champions entering the Masters.
"I wasn't sure if there was an unwritten rule for an age limit for past champions to play in the Masters," admits Langer, "so I did ask the question of the chairman. He said that as long as we can stand upright and play golf we are welcome to play, and that we will all know when the time is right to stop playing."
Like Woods, Langer has some years of competition ahead at Augusta National, although the soft conditions on the golf course this year make it even more difficult for the senior players in the field to compete.
"Last night Fred Couples walked towards me, shaking his head," adds Langer. "He said, 'Bernhard, Bernhard, what are you hitting into holes one, five, seven, 11, 14, 17, 18.'
"He meant the second shots into the par fours. I said, 'Hold on. One was a 4-iron, five was a 3-wood, seven was a 2-hybrid, then a 3-wood…'
"Fred said, 'That makes me feel better. I was hitting 2-hybrids and 3-irons and I have never had to do that before.'
"Everyone is going to play longer clubs than usual but the conditions are going to favour the longer hitters. Instead of hitting a 9-iron they might take a 6-iron, whereas I have never had to hit so many 3-woods into par fours than I have this week. The ball is not running at all and there is a lot of humidity in the air."
It is going to be tough for the seniors in the field this week at Augusta, but Langer has never shirked a challenge.
Bernhard Langer is a Mercedes-Benz Brand Ambassador. Mercedes-Benz is a Global Partner of The Masters.