Dubai-based PGA Professional Stuart Barber explains why ball fitting is so important for players of all abilities.
High or low compression, three-piece or four, urethane or ionomer cover? What does it all mean and does it even matter?
The vast amount of time and money players spend carefully selecting 14 clubs, only to pluck a ball they found last time out from a bag of full of random spheres is bemusing.
Golf ball manufactures spend millions of dollars on research and development every year to push the R&A and USGA regulations on golf balls and help you score better. Indeed, the amount of technology packed into those little white balls we all love to hate is quite fascinating and a ball fitting offers benefits that can help golfers of all abilities hit longer, straighter and more consistent shots.
Where to start?
Consider your strengths and weaknesses before any fitting as this will ensure the ball you ultimately choose will offer the best chance of improvement for your current skill level. With that said, which of the following scenarios do you relate to?
1. Good short game feel but struggle for distance and accuracy from the tee?
2. Hit the ball a long way but struggle for distance control?
3. Hit the ball consistently well but don't see the distance and accuracy you expect?
4. Slower club head speed and balls always feel dead and harsh even on a good strike?
Once you have narrowed down your search, its time to look at possible ball options and their performance by analysing data taken from shots hit using a launch monitor. The launch monitor data gives accurate feed back on spin, distance and dispersion and can be compared to make sure you use the best ball for your game.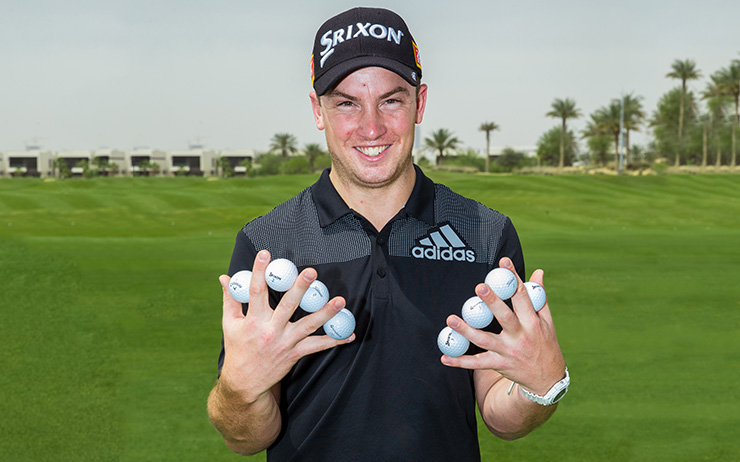 1. This could be a high handicapper or new player looking for increased distance and accuracy from the tee. Chances are the player is suffering due to excessively high spin levels and low ball speeds with the driver. For this category of player, a good fit would be balls using an ionomer cover. The low spin properties will help reduce hooking and slicing, and will allow you to get the ball to travel higher, especially for those with slow to moderate swing speeds. The ideal type of ionomer balls for this type of golfer are two-piece due to the emphasis on distance and low spin. Two-piece balls also offer low compression which will also help maximise ball speeds for slower swing speeds. Consider the Srixon Soft Feel, Titleist Velocity and Callaway Warbird if this sounds a bit like you.
2. In the second scenario, we could have a single figure handicapper who hits the ball a long way but struggles with distance control. A player in this bracket is capable of hitting 275 yards+ from the tee and making multiple birdies during a round. The player has great club head speed and hits the ball a good distance. Their requirements are for a ball which maintains the distance but improves their control both from the tee and with iron shots. A tour level ball gives performance while technology such as a urethane cover gives ultimate control over short game shots. Alongside this , the four- or five-piece construction of premium balls is designed to maximise ball speeds for high swing speeds by using a high compression core which gives greater distance when driving and additional layers that maintain feel and short game control. Balls in this category are the Srixon Z-Star XV, Titleist Pro V1x, Taylormade T5x and Callaway Chrome Soft X.
3. This player is likely a mid-to-single figure handicapper who hits the ball consistently well but suffers with accuracy or distance from the tee. They are capable of shooting rounds in the low 80's and high 70's so still expect high levels of control and feel. This category of player is starting to demand more from their ball than an entry-level product but doesn't yet have the club head speed to make a tour level ball perform. Using an ionomer covered three-piece ball will help to maintain feel and control yet keep spin as low as possible from the tee to help hit more accurate, longer drives. Balls in this category, such as the Srixon AD333 Tour, Titleist NXT Tour/Tour S, Callaway Chrome Soft and TaylorMade Project A, use technology from both the game improvement and tour performance categories to offer high performance balls for slower swing speeds.
4. In the final scenario, we have a player with a slower club head speed who struggles for distance and feel. This could be a senior, junior or lady golfer that may not generate the club head speed to properly compress a standard or premium ball and as a result loses distance, feel and accuracy. Playing an ionomer covered ball will benefit you by reducing spin on drives which will help increase distance and accuracy. A super low compression core will help boost ball speed and give greater feel for the slower swing speeds so consider the Srixon Ulti-Soft, TaylorMade Kalea or Callaway Supersoft.
One final consideration is, of course, price. For a developing player, a premium price, tour performance ball could not only hinder performance but is likely to be an expensive experience. My advice would be to get fitted and play the ball that best aligns to your performance needs and budget. Playing the same ball over a period of time will allow you to get used to its performance characteristics. You'll soon learn what your game requires and your preferences so you can regularly assess your choice and make sure you get the best fit for your game.
Stuart Barber is a PGA Professional and Srixon Middle East Ambassador
Photographs by Kristina Nabieva