By GolfDigestme.com
Anna Nordqvist burst onto the pro scene by winning the 2009 LPGA Championship in what was just her fifth LPGA Tour start- and maiden major.
Since then the Swedish star has shone consistently and has occupied the top 50 of the Rolex Women's World Golf Rankings for large portions of
her career, including several spells in the top 10.
Notching a further six LPGA wins in the meantime, it wasn't until 2017 when Nordqvist added a second major to her tally by winning the Evian Championship.
Her impressive career includes seven Solheim Cups with a winning record that places her among Europe's all-time elite, a position reinforced by a third major title secured at the AIG Women's British Open just days before a fourth Solheim Cup victory was achieved with Team Europe.
The 34-year-old returns to the Middle East in November where she will be in action competing in the Aramco Saudi Ladies International (November 4-7) and Aramco Team Series – Jeddah (November 10-12) at the prestigious Royal Greens G&CC, Saudi Arabia.
We caught up with the Arizona-based Swede ahead of the Ladies European Tour double-header in King Abdullah Economic City and started by returning to her glorious week at the British Open.
● ● ●
GD: Reflecting on your AIG Women's British Open victory, what stands out from that week?
AN: It still feels unreal that I won the British Open at Carnoustie, and as a European, there's nothing bigger to win. To do it at such a historic venue and being so close to friends and family of both my husband – who grew up 20 minutes away – and caddie, who all came to watch and support, I can't see it getting any better.
● ● ●
Where does it sit among all your professional achievements?
It's definitely the biggest victory of my career. I'm extremely proud of the achievement and of all the hard work that I've put in over the last couple of years, especially when I haven't seen that hard work pay off in my results. I'm extremely happy and I think when this season ends, I'll have more time to process it, but I'm very proud.
● ● ●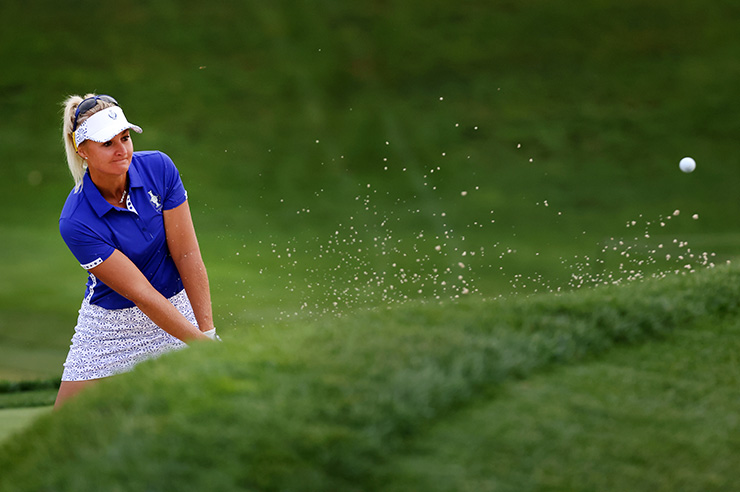 What does it mean to be part of the European Solheim Cup Team?
For me, Solheim Cups have been the biggest events I've played in my career. I remember going down to Barsebäck [Golf & Country Club, Sweden,] in 2003 and watching it with my family. I'd played golf for just three years at that time and could only dream of playing in an atmosphere like that.
When I think of that girl now, having played in seven… that really blows my professional goals out of the park.
● ● ●
How has your role within the team changed since your first Solheim Cup?
In my first team, as a rookie in 2009, I was fortunate to compete alongside so many golfers I admired growing up. I played with Laura Davies, Suzann Pettersen, Helen Alfredsson, Sophie Gustafson, Maria Hjorth, basically all the women I grew up watching. That experience was very special but obviously now having played in quite a few myself, I'm one of the more experienced players and help look after the rookies. It's surreal when I think about it. I'm extremely proud and honoured to have had an opportunity to represent Europe and be part of so many amazing teams, with so many other players.
● ● ●
You've won in Europe twice and the U.S. twice. Does winning on home or away soil feel better and why?
I just love the Solheim Cup wherever it is; there's something very special about it. The atmosphere, walking up to the first tee, hitting the first tee shot – something I was charged with at this last Solheim Cup – these are moments I live for. I just love it.
Winning is always special. It doesn't compare with anything else. It's perhaps a little more special to win on U.S. soil, probably because we're underdogs and have the majority of the crowd against you. That said, in 2019 at Gleneagles, my whole family were there cheering me on, screaming, shouting and dressing up. It's such a big week for my family and those are the few weeks in my career when they all come to watch me play and we all get such a fun week out of it, so they're all special but 2019 was maybe the most special because of just how much I could share it with my family.
● ● ●
You played in the Aramco Saudi Ladies International in 2020, which, as you know was a watershed moment for Saudi Arabia as it was one of the first professional female sports events in the Kingdom. Why do you think it's good for golf to be played at an elite level in new and emerging destinations?
To have been part of the first women's professional golf event in Saudi Arabia last year is very cool. Meeting young girls there and women who've excelled in the Middle East has been awesome. It's important to play all over the world to show this is a sport without limits, without borders and that as a professional golfer it's great to travel the world, not only to show you can compete anywhere but also to experience different cultures.
I have always loved my time in Saudi Arabia. On my first trip, I met a lot of amazing people from all walks of life and it's inspirational to see how other people have accomplished their dreams. I'm looking forward to coming back this year and I know there are plans in place to make the event even better this year. There was a young girl I met last year in the Pro-Am, and I'm looking forward to seeing her again and understanding how she's been getting on in pursuing her own goals and ambitions.
● ● ●
The Ladies First Club was launched at the Aramco Saudi Ladies International and welcomed 1,000 Saudi women who signed up to free access to golf. What do you think of initiatives like this?
I know not everyone is fortunate enough to have access to golf courses and equipment, but for 1,000 women to be provided with free access to the sport in a safe and comfortable environment is remarkable. I know those spots filled up very quickly, so there's clearly an interest and I'm looking forward to seeing how it's been going for those women in the last year.
● ● ●
Besides your playing experiences in the region, you now have strong ties with the Middle East through your ambassadorial roles with Golf Saudi and the Aramco Team Series. What made you want to be an ambassador for those brands?
Initiatives like the Ladies First Club and seeing how Aramco and Golf Saudi are looking to grow the women's game was what touched me most and made me want to be an ambassador. What I'm most passionate about is creating opportunities for women, especially young girls, to be able to pick up golf.
I'm very proud to be an ambassador for Golf Saudi and the Aramco Team Series because they are trying to grow the game in places where we can't really take women's golf, or even women's sports, for granted.
Aramco and Golf Saudi's initiative to sponsor five tournaments has made a massive difference to the [Ladies] European Tour and women's golf in general. By coming up with new, fun ways of including women and amateur golfers like they do in the Aramco Team Series, and broadcasting around the world really helps demonstrate how many great personalities there are on the LET.
● ● ●
Is being a role model or ambassador important to you?
I think it's very important to be an ambassador for the game of golf and especially for young girls all over the world. I always said to, 'be the change you wish to see' and I think if I didn't have amazing role models growing up like Annika [Sörenstam] and other players from Sweden playing at the highest level, it would have been hard for me to make the same dreams. Sharing experiences and seeing first-hand what it's like you can see the potential, and I feel that by being an ambassador, if I help someone take up the game, or believe in themselves, or be proud of being a young girl with big dreams, I think we're on a good track. I think it's very important to use your voice as a professional golfer and be an ambassador and role model for young girls to pursue their dreams. It doesn't necessarily have to be golf. Travelling around the world and playing in lots of different countries enables us to be role models to young people and help them dream maybe a little bigger.
● ● ●
The innovative format for 2020's Aramco Saudi Ladies Team International has been adopted and re-energised as the Aramco Team Series, which is played four times per year in four global cities. What do you like about the Aramco Team Series?
I can honestly say it's a fun tournament I really look forward to. It's something different from what we normally do every week. Getting to pick a teammate is nice, but then having another pro randomly paired with you also gives you the opportunity to meet other girls on tour you might not meet otherwise. It's really great to have the amateurs playing too, and it's so much fun when they contribute to the team, or just make a good shot, but we also give them advice through the tournament and when they have success following giving them advice – that's really rewarding. It's also just lovely to get to know other people from around the world that I might not otherwise spend time with. It's a great week where you can enjoy the team atmosphere and probably relax a little more than usual weeks. It's fun to see how well-received it's been from both amateurs and pros.

Global Game Changer
The inaugural Aramco Saudi Ladies International marked a new dawn for women's golf in the kingdom last year. That success has led to 'Get Into Golf' initiatives being replicated globally.
Following its successful inauguration in 2020, the Aramco Saudi Ladies International (ASLI) returns to Royal Greens G&CC in King Abdullah Economic City from November 4-7.
Won last year by Dane Emily Kristine Pedersen (pictured above), the European Solheim Cup star's victory helped her claim the 2020 Race to Costa del Sol, the Ladies European Tour's season-long competition to crown Europe's No.1 player.
Sanctioned by the Ladies European Tour (LET), the event offers a prize fund of $1M, which – now alongside the new Aramco Team Series – makes Aramco the single most significant supporter of the LET.
As part of 'Vision 2030' – Saudi Arabia's transformative economic and social reform blueprint opening up the Kingdom to the world – the Quality of Life Program endeavours to expand the horizons of many sectors that directly impact citizens, including sports, culture and entertainment.
High profile golf events are a feature for Saudi Arabia's golf strategy; designed to inspire next generations and showcase the natural beauty of the nation.
Ladies First Club
Within just four days of its launch by Golf Saudi in 2020, a phenomenal 1000 women and girls signed-up to play and receive regular lessons via the Ladies First Club. With the goal of getting more females playing golf, the Ladies First Club is a hands-on, experience-led initiative that helps get women and girls with club in hand and learning more about golf and getting a better taste of the game. Thanks to its success in Saudi Arabia, the Ladies First Club initiative has gone international with help from the Aramco Team Series, which has sought to replicate its impact at every venue the innovative tournament series is played.