Golf Digest Middle East counts down the top 25 players, events and moments of the year in golf
Golf may be a niche sport, but in 2022, the game found its way into the mainstream, conversations sparked by two words: LIV Golf. The launch of the hotly debated circuit brought anticipation and consternation with every new detail, rumoured or real. Who would play, how would it work and what would it mean to have someone spend more than $750 million alone in 2022 (with another $1.25 billion expected in 2023) in a quest to redefine the professional game?
The answer to that last question is unknown as the ripple effects of 54-hole, no-cut, $25 million tournaments on golf's ecosystem — competing tours, major championships, governing bodies, world rankings, etc — have only just begun. In the early wake, the game wrestles legal manoeuvres and esoteric observations about the value of tradition versus cash.
As we embark on our annual review of the year in golf, LIV will, of course, be an underlying thread in many of the top 25 Newsmakers that appear over the next several days. Rest assured, though, there were others on our list of favourite people, events and moments that helped define the year — stories of hope and heartache that help us all remember why we love the game.
---
No. 1: LIV and the most disruptive year in golf
There have been other disruptive years in golf, of course. No majors were held in 1943 due to the Second World War. Two years ago, a pandemic forced the suspension of tournament golf for three months, with three men's majors awkwardly pushed to the back half of the year. Recessions, terrorism, scandal — many of the external events that infiltrated golf in the past were graver in nature than whatever it is we confronted this year. But at least as they related to golf, those events were easier to understand.
Instead what made 2022 so jarring is the extent to which it challenged what we thought we knew about the game's core identity. It certainly didn't take LIV Golf to reveal that professional golfers are motivated by money. But those financial rewards were usually understood to be a by-product of playing golf well. But what if we had overestimated that last part? What if the golf ecosystem we've inhabited this whole time was built around a false premise? What if the ultimate incentive for being a great golfer has nothing to do with playing great golf?
It's not that LIV's success in luring marquee players with guaranteed contracts and 54-hole no-cut tournaments has provided a definitive answer to any of these questions. But that none of these questions were being asked at the start of the year and now they are part of an ongoing debate speaks to the foundational shift that was felt in every corner of the pro game.
Remember, as recently as February, Rory McIlroy said that LIV's challenge to the golf establishment was "dead in the water." This was when a series of reassuring statements from players that their golf aspirations could not just be measured in dollar figures.
And then, basically, they decided it could.
"The truth is, my life is changing," Harold Varner III, one of the PGA Tour veterans who left for LIV, said. "The opportunity to join LIV Golf is simply too good of a financial breakthrough for me to pass by."
Varner was at least transparent about his decision harshest criticism. Others cited "scheduling freedom" and "growing the game" to avoid the money issue.
The phrase "existential crisis" has been utilised so often in golf in 2022 it's become a cliché. But it still applies, because an existential crisis speaks to a question of meaning, and therein lies the reason this year exceeded every other in terms of the scope of its disruption. The previous obstacles in golf history have been questions of when golf could be played. This was the first year when we were asked to consider why. —Sam Weinman
---

No. 2: Phil Mickelson
One hundred and 24 words. Phil Mickelson couldn't have taken more than a minute to speak them. Writer Alan Shipnuck didn't need much more time to type or transcribe them. Beyond that, only those two men know exactly how the course of their conversation went: everything that was said, the tone and context, and if Mickelson did indeed believe, as he has contended, that he was merely talking casually off the cuff and not doing an interview with the journalist who was writing an unauthorised autobiography about him.
What the rest of us know is that those 124 words, spoken in a phone conversation in November 2021 and published three months later, immeasurably changed the reputation and legacy of one of the greatest golfers of his generation. Mickelson gave up more than valuable sponsorships in trade for what has been reported as a $200 million contract to promote and play for LIV Golf. His misguided words nearly killed the entire LIV project. He lost friends in many corners of the sports world. He ruined his chance to be captain in the Ryder Cup or Presidents Cup. He dashed any plans to move into the broadcast booth when his playing days are over and become a sage golf TV commentator. Mickelson put an inverted exclamation point on a Hall-of-Fame, 45-win career — only months after he'd garnered enormous admiration for becoming the oldest major champion with his PGA Championship triumph at Kiawah Island.
Mickelson seemingly telegraphed some of his views in an interview with Golf Digest's John Huggan in early February at the Saudi International, when he ticked off his grievances about the PGA Tour while contending that its "obnoxious greed" had him contemplating "opportunities elsewhere."
Faced with a firestorm of reaction after the Shipnuck quotes were published, Mickelson put out a lengthy apology in which he said he was "reckless" and "deeply sorry for my choice of words". He then said he was going to take some time off and went full underground. Mickelson grew a beard and, telling of the serious nature of his situation, sat out the Masters and the defence of his PGA title, only to return to miss the weekend in the US Open at Winged Foot and Open Championship at St Andrews.
Mickelson, 52, started in all seven of LIV Golf's 54-hole events and posted only one top-10 (in Chicago) and two top-20s in fields with 48 players. Just once in his first 10 LIV rounds did he shoot a score in the 60s, though he rallied a bit with five over his final seven rounds.
If Mickelson can claim a "victory" in all of this, he can point to the PGA Tour responding to LIV Golf's challenge to the status quo by dipping into its reserves for more prize money, increasing the incentives for the top-level players and creating better paths to the tour for future stars. It's not exactly what he was desiring in the realm of player media rights and access to video of their own shots, but Mickelson and LIV forced the tour's hand in giving the golfers more than they've ever had before.
In mid-October, Mickelson was in Jeddah to play in the LIV Golf event there. He maintained that all his decisions and efforts were paying off. "I firmly believe," he said, "that I'm on the winning side of how things are going to evolve and shape in the coming years for professional golf". —Tod Leonard
---

No. 3: Rory McIlroy
It's unclear what Rory McIlroy might take more pride from coming out of 2022: His accomplishments on the golf course or off of it. There is a symbiotic relationship between the two, each making the other appear even more impressive. Combined they changed the way many, fans of golf or otherwise, look at the 33-year-old from Northern Ireland.
Here's what happened on the course: In 22 starts, McIlroy won three times while posting 12 top-five finishes and 15 top-10s. He claimed the PGA Tour's season-long points title (the FedEx Cup) for a third time, and grabbed the DP World Tour's season-long points title (the Harry Vardon Trophy) for a fourth — but this was the first year in which he walked away with both. Along the way, McIlroy also reclaimed the top spot in the Official World Golf Ranking for the first time since July 2020.
When he wasn't playing golf on his two home tours, he was defending them from the LIV Golf circuit. In February, McIlroy declared the rival series "dead in the water" when several top players issued statements declaring they weren't going. It proved one of the rare times he mis-spoke, but it didn't keep him from speaking out the rest of the summer.
Where McIlroy excelled in his role as tour front man was focusing his arguments on what the tours had that LIV couldn't buy: tradition and legacy (oh, and maybe some OWGR points, too). He repeated those publicly for fans while privately working with Tiger Woods to rally numerous prominent players behind a proposed restructuring of the tour calendar that offered them additional financial incentives to stay.
McIlroy's feud with LIV Golf CEO Greg Norman was simmering throughout the summer — he memorably poked fun at the 20-time PGA Tour winner after winning the RBC Canadian Open in June, noting "It's a moment I will remember for a long, long time. It's my 21st PGA Tour win and one more than someone else." Yet McIlroy didn't let petty personal grievances cloud his professional message. Even in calling for Norman to step aside at LIV if there was to be a truce between the two groups, there was a clear explanation for why he felt this to be so.
Not everything worked out for McIlroy in 2022. The four-time major winner failed to add a fifth, although not from a lack of trying. At the Masters, a closing 64, capped by holing greenside bunker shot for birdie on the 72nd hole, handed McIlroy outright second, his best finish at Augusta National. At the PGA at Southern Hills in May, McIlroy was again in contention and finished eighth. At the US Open at The Country Club, he tied fifth just four shots behind winner Matt Fitzpatrick.
It set the stage for the 150th Open at St. Andrews, where McIlroy was the favourite and lived up to hisbilling when he took a share of a four-shot lead after 54 holes with Viktor Hovland. But on Sunday, McIlroy was unable to answer the pressure applied by Cam Smith, who posted a back-nine 30 during a 64 to claim the victory. McIlroy's 70 left him in third, two back of Smith.
Once more, McIlroy didn't take things personally. He got over his St Andrews disappointment to claim more hardware on the course. And he even found time to start a new business venture with Tiger Woods.
After his last win at the CJ Cup in October, McIlroy reflected on his year. He turned to his last start before the Masters, at the Valero Texas Open in early April, where he missed the cut and wasn't quite sure where his game stood. "If someone had told me [that] Friday night at Valero that I would be World No. 1 by October, I would have asked them what they were smoking because I would not have believed them," McIlroy said. "It's been a wild six months."
Wild, indeed, but "12 months" would be more accurate. —Evin Priest
---

No. 4: Tiger Woods
Return. It has been synonymous with Tiger Woods for the latter half of his career. Some returns have been prosperous, others, not so much. His tournament results were often the primary barometer by which success was measured, both in relation to the field and the player he used to be. This season saw Tiger Woods return once again, but to define Tiger's 2022 only by performance is to miss the point.
There was the initial comeback in April, when word spread that Woods may attempt to play at the Masters a mere 14 months after his involvement in a car crash so severe he nearly lost his leg. It seemed like a rumour, too audacious to be true, until Woods' private jet was spotted in Augusta a week before the tournament, reportedly in town for a practice trek with Justin Thomas. Woods shocked the world by ultimately teeing it up in the year's first major, a shock that did not dissipate after an opening 71 had him in the top 10 after Day 1. A second-round 74 still earned him a trip to the weekend, and though trudging up and down Augusta National's hills began to take their toll on the hobbled star, the reception that awaited him on Sunday at the 18th green showed the patrons did not care about the number next to Woods' name on the leaderboard.
A month later Woods returned, this time at the PGA Championship. There was no Thursday hope this time around after an opening 74 at Southern Hills. Halfway through Day 2, it appeared Woods' visit to Tulsa would be short-lived. Only no one told Tiger this observation, playing his final seven holes on Friday in two-under and needing just seven putts on his final six. He has played better rounds and many more memorable, but few were as grit-personified as this to make the cut at the PGA. Yet even legends adhere to physical constraints. Tiger withdrew after his Saturday round, his body unable to finish even though, to the eyes of many, he crossed the finish line by simply making the weekend.
Tiger returned to St Andrews for the first time since 2015, although it was looked at more as a possible goodbye. This was the tournament Woods has circled, the one he thought he could compete in, and his furious prep said as much. The Old Course, as it tends to do, had other plans. Woods would not raise the Claret Jug for the fourth time. But echoing the love he heard and felt at Augusta and Southern Hills, score was irrelevant the gathered crowds who carried Woods with unwavering support from hole to hole and shot by shot. It is unclear if this was Woods' last time at a St Andrews Open and, for what it's worth, he did not stop on Swilcan Bridge. But Woods did tip his hat to the heavens and acknowledged those around him, and a hat tip from McIlroy brought Woods to tears. Only Woods knows if it was a farewell, but, finality or not, it was a moment that everyone recognised as indelible.
And yet, Woods' most powerful return came behind the scenes. As the PGA Tour teetered on the brink of crisis with the emergence of LIV Golf, Woods, along with McIlroy, was a driving force corralling the tour's best players during a players-only meeting in Delaware ahead of the BMW Championship. They came together to spur wholesale, systematic changes to the tour's infrastructure in hopes of combating the LIV threat. As Woods has noted, his playing days are limited, so there was no real need for him to get involved in golf's professional divide. But Woods ultimately lent his support, and his influence, to the tour because he believed what he was fighting for was true. "This is an extraordinary and unprecedented commitment, a testament to who these guys are and what they believe in," PGA Tour Commissioner Jay Monahan said of the changes ultimately implemented in an announcement at the Tour Championship, nodding to Woods, McIlroy and others.
Added Woods, weeks later at the Hero World Challenge: "I think it's important that we recognise the past, and build a better future."
By the old barometer, Woods played just nine competitive rounds in 2022. He did not break 70. His best showing was a 47th place finish. But, as far as returns go, few were more memorable. —Joel Beall
---

No. 5: Greg Norman
There are few people on this planet who ever become as famous as Greg Norman, but even fewer who are well-known for two distinctly different careers. As much as golf fans remember the Aussie for all the wins in his World Golf Hall of Fame career — and, perhaps, even more so for some of his losses — there's a large part of the population who has only heard of the man for his drinks brand. Well, now you can call the Shark a triple threat.
Now focused on being the CEO and commissioner of LIV Golf, Norman was arguably the most talked about golfer on the planet in 2022 — despite the fact that it's been a decade since he hit a shot in competition. Instead, he fired shots all year at his challengers, from PGA Tour Commissioner Jay Monahan ("Surely you jest") to the board of the Official World Golf Ranking to even stars like Tiger Woods and Rory McIlroy. To be clear, the Shark took plenty of shots back from all of those entities and more, but the 67-year-old pressed on in the name of "growing the game".
Norman experienced plenty of rough moments leading LIV through its inaugural season including a reportedly unsuccessful journey to Washington, DC to lobby Congress on behalf of the tour. And he made no journey at all when the R&A told him not to come to the Champions Dinner ahead of the 150th Open Championship.
Still, it's impossible to deny his immense impact on professional golf in 2022. Fuelled in part by a vendetta three decades in the making, Norman enacted revenge on the PGA Tour by taking several of its top players to LIV, including Dustin Johnson, Bryson DeChambeau and Brooks Koepka, to send shockwaves through the sport. He then added Cameron Smith shortly after the fellow Aussie took down Rory McIlroy, the PGA Tour's top player and spokesman, to claim the Claret Jug. LIV completed an eight-event inaugural season and is set for a 14-tournament line-up in 2023 — with the possibility of the roster of top tour pros expanding as well thanks to Norman's recruiting efforts. To many, the former World No. 1 became golf's No. 1 villain — but to others, he's been hailed a heroic leader and a disruptor of the status quo. —Alex Myers
RELATED: The things you forgot that happened in golf in 2022
Norman fires back at Woods and McIlroy
---

No. 6: Jay Monahan
To be clear, Jay Monahan's hair was the same salt-and-pepper shade when 2022 began, but one could understand if it was turned that way given the tumultuous events of the last 12 months. Did the PGA Tour commissioner not do enough to thwart challenges from LIV Golf? Did he do too much? Like so many other examples in an era of rigidly binary perspectives, an assessment of Monahan's year entirely depends on who's doing the assessing.
What is certain is the 52-year-old Monahan's job this year was vastly more complicated than those of his predecessors, and that's saying something given the crippling global recession Tim Finchem was forced to navigate in 2009. But even then Finchem had the luxury of assuming the PGA Tour was always where the best golfers in the world wanted to play. Thanks to LIV and counterpart Greg Norman, Monahan was forced to look over his shoulder at every turn.
After assuming the tour had successfully weathered an initial challenge by LIV, Monahan declared at the Players Championship that his tour was moving on focusing on its own business the rest of the way. But, in hindsight, Monahan's emphasis of "legacy over leverage" proved insufficient, symbolically underscored when the golfer who won the tour's signature event that week, Cam Smith, ended up in the LIV stable just after the conclusion of the Tour Championship. But it was also when rumblings of Smith's move were loudest when Monahan took his boldest swipe to date—a schedule overhaul of designated events, increased purses and other performance bonuses all designed to persuade the tour's top players to stay put.
The latest move appears to have quieted the LIV rumour mill for the short term, but it has also led to a new series of concerns from sponsors, tournament directors, and rank-and-file players. All of which is to say Monahan in the year ahead will have a hard time solving one problem without creating new ones in the process. —Sam Weinman
---

No. 7: Official World Golf Ranking
Since its inception in 1986, the Official World Golf Ranking has had its share of critics provide a healthy dose of scepticism, even as it came to be an accepted measure of talent in men's professional golf — tracking the long reigns at the top of Tiger Woods (683 weeks) and Greg Norman (331 weeks ) — and embraced by the major championships as a useful qualifying measuring stick. But the legitimacy of the OWGR has never been more scrutinised and attacked than it was in 2022 with the emergence of the LIV Golf Series. Because LIV has failed to meet various metrics for OWGR inclusion, its golfers can't collect OWGR points.
Subsequently, their rankings have plummeted; just to cite the fall of two prominent players, Sergio Garcia is outside the top 100 for the first time in more than two decades and Brooks Koepka will end the year out of the top 50 for the first time since 2014. Norman, who is CEO of LIV Golf, and his players have sought fast-track acceptance to no avail. The OWGR, overseen by the majors and established tours such as the PGA Tour and DP World Tour, has a schedule for validating each new tour, generally two to three years, and it isn't budging.
That's logical when you consider as it represents a competitive firewall of sorts for the legacy tours against the deep-pocketed Saudi-backed newcomer. Naturally, the LIV faction increasingly questions the validity of the OWGR without LIV players in the equation.
What OWGR leaders probably didn't anticipate was catching flak from their right flank. In recent weeks, Woods, World No. 2 Scottie Scheffler and No. 5 Jon Rahm all have referred to the OWGR as "flawed", this after its points distribution structure was tweaked yet again in August. The OWGR is a fundamental tenet to professional golf. Now it's at the centre of the upheaval occurring in the game. Can it survive? Should it survive? What form might it take next year and beyond? Will the majors, which make primary use of the rankings to help determine its fields, abandon it in favour of their own respective qualifying formulas? No "small" issue seems bigger in golf's ongoing squabble. —Dave Shedloski
---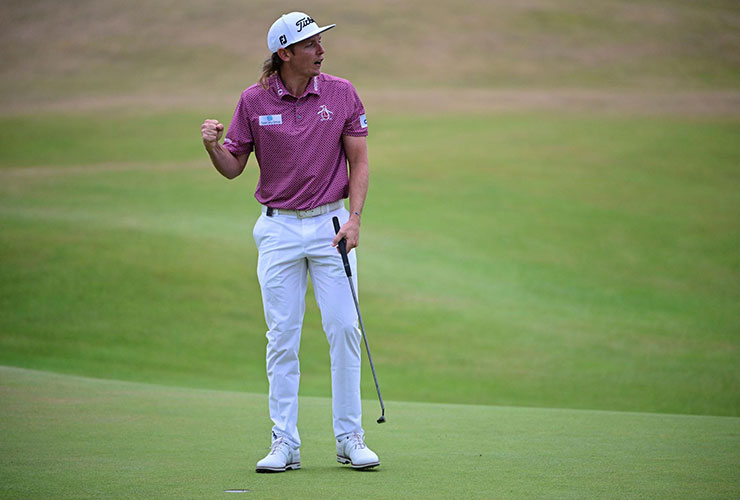 No. 8: Cameron Smith
When golf fans look back on Cameron Smith's whirlwind 2022 season, they'll remember two main points: First, he won … a lot — five times worldwide, including his first major during the historic 150th Open at St Andrews. Second, as he continued to ascend to the elite echelon of the game, the 29-year-old Aussie decided to join LIV Golf, becoming the best active player to shift from the PGA Tour and DP World Tour to the new series.
The thing about Smith's victories was that they each had their own flare. In January, he won the Sentry Tournament of Champions in Hawaii by setting a PGA Tour scoring record of 34-under, beating then World No. 1 Jon Rahm by one a shot. A little more than two months later at the Players Championship, he had eight one-putts on the final nine holes during a weather-delayed Monday finish at TPC Sawgrass, along with a highlight reel 9-iron tee shot that ended up four feet from the hole on the famous par-3 17th, to pull out a one-shot victory.
Clutch putting was also part of Smith's inspired run at the Old Course in July. In the second round, he made 255 feet of putts — the most in a single round on tour. In the final round, Smith overcame a four-shot deficit to 54-hole leaders Rory McIlroy and Viktor Hovland with a closing 64. It included an inward 30, the lowest nine holes by a major champion in a final round.
After that, the first public inkling that Smith might not be long for the PGA Tour came in his post-round press conference. Asked if he was eyeing a move to LIV, Smith offered the no-denial denial. "I just won the British Open, and you're asking about that. I think that's pretty … not that good." The rumours lingered the rest of the summer, finally made official after the PGA Tour's season-ending Tour Championship when LIV announced the signing of Smith, Joaquin Niemman, Marc Leishman, Anirban Lahiri, Harold Varner III and Cameron Tringale ahead of its stop in Boston.
Why'd Smith go? Of course, money was one lure he told Golf Digest (but he would not comment on his reported $100 million contract), but the primary reason was the ability to spend three months a year in Australia that's to LIV's October-February offseason. "The biggest thing for me joining is [LIV's] schedule is really appealing," Smith said. "I'll be able to spend more time at home in Australia and maybe have an event down there."
Not surprisingly, Smith faced criticism for the decision. Nine-time major winner Gary Player and World Golf Hall of Famer Fred Couples were the most vocal. Smith hit back at the critics when he won LIV's Chicago event in September in his second start, saying: "I wanted to prove to myself and to others that I'm still a great player." The next month, Smith squared off against Phil Mickelson in matchplay at LIV's team finale in Miami, where he also lifted his all-Australian Punch team to an $8 million second-place finish.
In November, Smith reminded the golf world what he is capable of in 72-hole stroke play when he secured his fifth and final victory of the year at the DP World Tour-sanctioned Australian PGA Championship in his hometown of Brisbane. Smith partied with both the Australia PGA's Joe Kirkwood Cup and his Open Championship Claret Jug in a jubilant video that went viral. A few days later, the man with the most famous mullet in golf missed the 54-hole cut at the Australian Open, bringing an end to a year in which he made plenty of putts, and plenty of news. —Evin Priest
---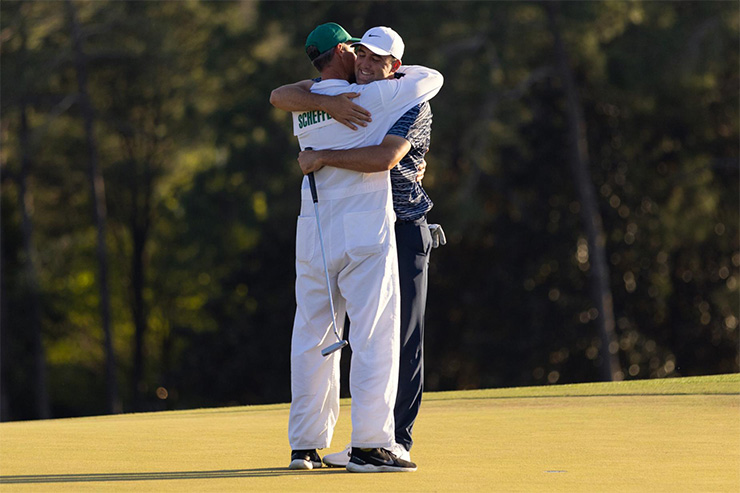 No. 9: Scottie Scheffler
Because golf fans and media can be a fickle bunch, a winless Scottie Scheffler earned the "guy who can't close" label in late 2021. He was only finishing his second full season on the PGA Tour, a two-year span that included 15 top-10 finishes, three of which were top-threes and one runner-up. In the six majors he played during that run, the former All-American at Texas finished inside the top 20 in all of them. Oh, and he went 2-0-1 as a rookie in the Ryder Cup at Whistling Straits, a week that ended with a dominant 4-&-3 singles victory over a guy named Jon Rahm. Yeah, totally a guy who couldn't close.
But in 2022, Scheffler slammed the door in our faces, emphatically. Better yet, he busted it down like Jack Nicholson in "The Shining" and yelled "Heeeeere's Scottie!" It began with his maiden win at the Waste Management Phoenix Open in February, where Scheffler began the weekend nine shots off the lead and went 62-67 to force a playoff with Patrick Cantlay, which he won on the third hole of sudden death. After a T-7 at Riviera the next week, Scheffler returned two weeks later and won at the Arnold Palmer Invitational, outlasting Viktor Hovland, Billy Horschel and Tyrrell Hatton on a brutally windy Sunday at Bay Hill. In less than one month, Scheffler proved not only could he close, but he could do so in both shootout or dog-fight fashion.
But that was just the start. A victory at the WGC-Dell Match Play in March gave Scheffler even more momentum ahead of what became his landmark moment of 2022: a dominant performance at the Masters. Scheffler's three-stroke win at Augusta National looks closer than it really was, a 72nd hole double bogey spoiling what was a near-perfect week, particularly on and around the greens. (When taking on and off a vest seemed the biggest challenge at Augusta, you know something is going right.) Surprisingly, it was his final win of the season — not counting Player of the Year honours — but not for lack of effort, with Scheffler finishing runner-up three times in the final four months of the season, including at the US Open at Brookline.
Just how impressive was Scheffler's run in early 2022? Within 42 days of that first tour win, Scheffler had jumped to No. 1 in the Official World Golf Ranking. By comparison, it took Tiger Woods 252 days to accomplish the feat in 1996-97. Scheffler held the honour until October, when Rory McIlroy wrested it away, but promptly went T-3 then T-9 in his next two starts, a subtle reminder that Rory might want to watch his back in early 2023.
As the cliché goes, Scheffler's game speaks for itself. And while topping his 2022 season looks tough, if his response to the can't-close murmurs was any indication, he's fully capable of backing it up. —Christopher Powers
---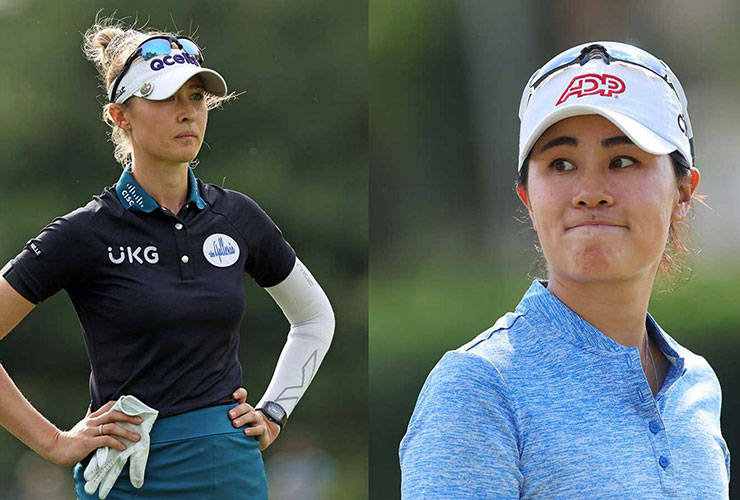 No. 10: LPGA stars' health scares
Social media delivered the initial reports of the health scares surrounding Nelly Korda and Danielle Kang, two of the most popular players on the LPGA Tour. Yes, it's the way news often is broken these days, but there was something jarring about learning in this abrupt manner that not one, but two of the best America's golfers were sidelined for what would turn out for both to be several months of the 2022 season.
In March, Korda felt an odd sensation in her left arm after a workout and called her doctor. On the road attending a sponsor's event, the 24-year-old went to the hospital and was diagnosed with a blood clot. Ranked No. 2 in the world at the time, her condition required surgery to have the clot removed. It wasn't until early June at the US Women's Open at Pine Needles that Korda could compete again, four months removed from her last LPGA start.
Coincidentally, it was at Pine Needles that news of Kang's condition landed. Her brother, Alex, posted on Instagram that Danielle was playing the major with a spinal tumour. This explained the month she took off in April, and though details were few, the struggle Kang was going through was obvious.
"I've gone through a lot of procedures so far and with the process of elimination we are narrowing it down," the 30-year-old said at Pine Needles. "It's going to take time." After the US Women's Open, Kang was out for two-and-a-half months.
As difficult as the injuries were to endure, the comebacks for both players proved inspiring. Korda finished in the top 10 in her return at Pine Needles, then finished T-2 in the next event. She had three more top-10 finishes in next six LPGA starts and won the Ladies European Tour Aramco Team Series — Sotogrande in August. In November, Korda was a winner again, beating Lexi Thompson by one to repeat at the Pelican Women's Championship and win her eighth career LPGA title. The victory also (briefly) regained her World No. 1 status. "There has been more downs than ups this year I think, and I think that that's what makes this so much sweeter to me," Korda said.
Kang also returned and quickly found herself in contention again in September at the Walmart NW Championship, where she holed out for eagle on the final hole to get into a playoff with Atthaya Thitikul. Kang fell in extra holes, but her emotional post-round press conference made it clear that the tournament still felt like a win. "There was part of me that I didn't think I would ever play again or contend, but here I am. I'm not that far off and I'm happy about that," Kang said.
There remain plenty of unknowns surrounding both players' conditions, but one thing is for certain: After a hard year, the stars carry good momentum heading into 2023. —Keely Levins
RELATED: How Lydia Ko revived her career
LPGA increases purses to more than $100m, now comes the hard part
---
No. 11: Cup Upheaval
In an alternate universe where COVID never forces the Ryder Cup onto an odd-year cycle, the PGA of America, which runs the Ryder Cup, would have been the first to confront an uncomfortable question: Should the organisation do a solid to the PGA Tour and risk damaging its headline revenue-generating event by prohibiting LIV Golf participants from being on the teams?
Instead, that burden fell on the Presidents Cup, set for September at Quail Hollow Club in Charlotte. Given the PGA Tour runs that match, it didn't hesitate banning LIV golfers. For the US team, this was a largely incidental decision. All six automatic qualifiers were still card-carrying tour members, and there was no American plying his trade on LIV whose form would make an obvious captain's pick for Davis Love III.
It was a different story for the International team and captain Trevor Immelman. Two of his top four players in automatic qualifying — Cameron Smith and Joaquin Niemann — took themselves out of the running when they moved to LIV after the Tour Championship in late August. Same with six-time PGA Tour Marc Leishman, who would've been an obvious captain's pick. Suddenly, a team that had won just one time in 13 editions of the match looked like an even more under of underdogs.
To Immelman's credit, the Internationals succeeded in making the contest more competitive than anticipated, the 17.5-12.5 final score betraying just how close things were during Sunday's singles. Tom Kim rose as an unlikely hero, one of a trio of young South Korean players who emerged as potential anchors for Mike Weir when he captain's the Internationals at Royal Montreal in 2024.
Even so, the weakness of an already flailing contest is plain for all to see. The International team hasn't lifted the Presidents Cup since 1998, and to have several of its best players likely ineligible moving forward is a gutting blow. With LIV appealing specifically to the best International players, it's hard to comprehend what the road back — if any — is.
The Ryder Cup, meanwhile, has the luxury of waiting to let things cool down and play out. The awkward removal of Europe's original captain, Henrik Stenson, after he signed with LIV in July was a controversial call, one that even golf fans passively opposed to LIV considered harsh. But, ultimately, it's a trade-off they'd take. There will be no uprising against Stenson's replacement, nice guy Luke Donald.
The luxury it doesn't enjoy is golf fans not caring what they decide to do. The Ryder Cup has stakes. Real stakes. Ones people as passionate about. Ones that depend on the allure of an outcome nobody can predict. — Luke Kerr-Dineen
---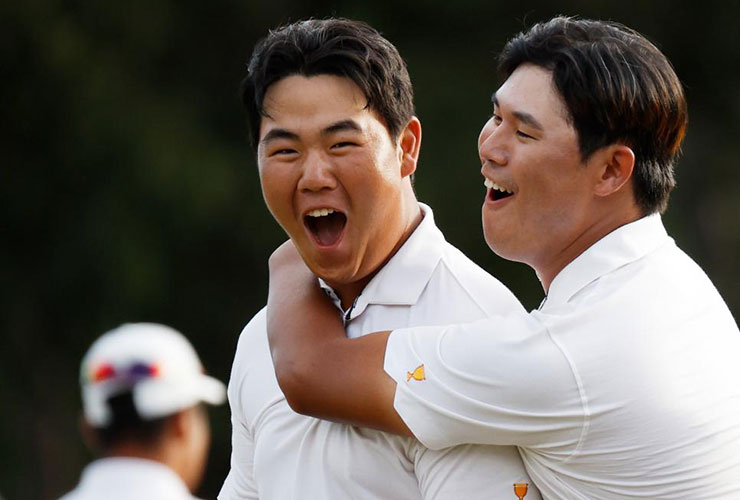 No. 12: Tom Kim
Despite all the craziness that happened this past year, it's possible golf fans will one day look back on 2022 as the year that Tom Kim arrived, much like 1996 is known for Tiger Woods' "Hello, world." Kim didn't have quite as dramatic of an entrance — his big hello came with a final-round 61 in Greensboro that more than erased a quadruple-bogey to start the tournament — but his stellar play put him off to the best professional start on the PGA Tour since his idol 26 years ago.
More incredible was that Kim began the year outside the top 130 in the Official World Golf Ranking and with no status on the PGA Tour. But a third-place finish at the Scottish Open coupled with solid performances at the US Open and Open Championship earned him special temporary membership for the rest of the season and, boy, did he take advantage of that. By winning both the Wyndham Championship in August and Shriners Children's Open in October, Kim became the first player since Tiger to win twice on the PGA Tour before turning 21. And young Tom, now in the top 15 of the OWGR, doesn't turn 21 until summer. There's also more to this South Korean phenom than his game as proved at the Presidents Cup, where he was the breakout star in September at Quail Hollow despite playing on the losing International squad. The guy who takes his English name from the "Thomas the Tank Engine" cartoons he enjoyed as a kid is a plucky locomotive in his own right. And if this is just him leaving the station, golf fans are in for a real treat watching the rest of his journey unfold. — Alex Myers
---
No. 13: PGA Championship
There was no lack of drama during last May's PGA Championship, even if nothing was quite as it appeared at Southern Hills Country Club in chilly(!) Oklahoma. The winner, Justin Thomas, in a playoff over Will Zalatoris, started the final round seven shots off the lead. The leader heading to the 72nd hole, Mito Pereira, finished in a tie for third when his final tee shot found water. Tiger Woods, competing in just his second official tournament since his February 2021 car accident, made the cut but didn't play the final round, his surgically repaired right leg not cooperating. Bubba Watson shot a Friday 63 despite two bogeys. Maybe this was all to be expected considering the championship wasn't supposed to be in Tulsa. Recall that the 2022 PGA was originally awarded to Trump Bedminster in New Jersey only for the PGA of America to take it away after supporters of President Trump stormed the US Capitol on January 6, 2021. The last time Southern Hills hosted the PGA was in 2007, when temperatures hovered in the high 90s. Come the weekend this time around, the thermometer was stuck in the 60s. In turn, the Gil Hanse restoration proved a stiff test for the leaders come Sunday's final round, which allowed Thomas, a then 14-time PGA Tour winner but winless in 13 months, to work his way to the top of the leaderboard with four birdies on the last 10 holes for a closing 67. Finished at five under, the 29-year-old saw Pereira make double-bogey on the 18th to drop to four-under, but Zalatoris roll in an eight-footer for par to force the three-hole aggregate playoff. Thomas prevailed, capturing his second major and matching the largest 54-hole comeback in PGA Championship history. Nine days later, LIV Golf announced the opening field for its inaugural event. — Ryan Herrington
---

No. 14: Matt Fitzpatrick
All the way back in 2015, roughly 18 months after earning low amateur honors at the Open Championship then winning the U.S. Amateur, Matt Fitzpatrick acknowledged a stark reality: to make it as a professional golfer the slightly built Englishman would have to increase the length of his average drives beyond the "around 280 yards" he was currently hitting.
"I understand how massive an advantage distance is these days," he said. "If I want to get to the very top, I will have to get longer."
He did. But not by enough. Not in his own mind at least. Yes, he was starting to win regular tournaments and play in Ryder Cups, but competing at the very highest level seemed beyond him. Although his average drive was up to 294.7 yards by the end of the 2019-20 PGA Tour campaign, that figure ranked him only a lowly 121st.
Making things more urgent was Bryson DeChambeau's overpowering 2020 US Open victory at Winged Foot. Fitzpatrick wasn't happy with what he witnessed ("It just makes a bit of a mockery of the game. It doesn't matter if I play my best. He's going to be 50 yards in front of me off the tee.") but knew what had to happen next.
The search continued, one that culminated with Fitzpatrick adopting a training program involving the Stack System, a club that uses a collection of weights developed by a human kinetics professor from Canada. Since 2019, his swing speed has increased by almost four miles per hour and his percentage of 320-yard drives has tripled to 15.22. This year his average drive rose to 303.8-yards, good enough to be 70th on tour.
So in 2022, Fitzpatrick was, at last, long enough to compete at the highest level of the game, a fact confirmed by placement in the final group at the PGA Championship at Southern Hills in May, then his memorable victory a month later in the U.S. Open at The Country Club, the same course where he won the Havemeyer Trophy in 2013.
"I've hit a few good drives this year and expected to see them come down in certain places," Fitzpatrick said. "But they've gone past that."
Perhaps just as significantly for the 28-year-old's future, Fitzpatrick is also getting better in other areas of the game. Through his use of a distinctive left-hand-low grip, his work around the greens has been transformed. Throw in Fitzpatrick's exceptional putting — always a strength — and it is little wonder that his swing coach, Mike Walker, was making positive noises for 2023 and beyond.
"We just had the end-of-season review," Walker said. "Matt's stats in pretty much everything have improved. He's a great pupil, very single-minded. He's not one for 'if it's not broke don't fix it.' He always wants to improve. And he is doing so. The driving was exceptional for added length. But in that pursuit, he also retained his accuracy. His chipping was considerably better with the new grip. And he remains a phenomenal putter, albeit he did have a couple of blips last year. So the end-of-year school report was good, both for effort and attainment." By a distance, you might say. — John Huggan
---

No. 15: Lydia Ko
First, she was a teen phenom. Then a maturing superstar hampered by success. But in 2022, Lydia Ko staged a third act in her impressive career, emerging as a confident veteran playing the game on her own terms. The 25-year-old from New Zealand won three times (her first multi-win season since 2016), capped by the CME Group Tour Championship. That victory, her 19th on the LPGA Tour, came with the biggest winner's check in the history of women's golf: $2 million. Ko posted top-five finishes nine other times. She won Player of the Year for a second time and a second Vare Trophy (for best scoring average). She led the tour in strokes gained/total and putting. She put herself within two wins (or one more major) of securing a spot in the LPGA Hall of Fame. Look, we get that Ko has had some amazing years in the past — who can forget those five wins (including a major) and the POY award she earned in 2015? Or the four wins (including another major) in 2016? But don't tell us 2022 wasn't the best season of her career. (Did we mention, she got back to No. 1 in the world for the first time since 2017?) "There's been a lot of ups and downs, both on and off the golf course," said Ko, who is set to get married in the offseason. "And I think yes, maybe when I was younger, I played a bit more freely because I was a little clueless. At the same time … my perspective and how I treat the bad shots or the bad events a lot better now than I did then." Sure, her early years were enthralling. But this next era of Ko is the one we're most excited for. — Keely Levins
---
No. 16: US Adaptive Open
A stroll behind the competitors on the driving range at Pinehurst Resort & Country Club's No. 6 course last July made one point very clear: This would be a tournament unlike any other in the history of the USGA. There was a vivacious woman wearing bright colors whose legs were amputated above the knee. There was a man with only one leg who dropped his crutches to balance beautifully and make an impressive strike of his ball. There was a young woman whose sight had been reduced to a kaleidoscope of color, her father talking her through every shot. There were men and women with less obvious issues — their impairments came not in their bodies, but their brains.
Since the announcement of the inaugural US Adaptive Open, there had been curiosity, and even a little apprehension, about what it might look and feel like to see 96 golfers with varying forms of adaptions perform on a stage as big as the USGA provides. In the end, the competition morphed into a three-day celebration of opportunity, diversity and unfathomable grit. It was, for so many, the most inspiring golf they had ever witnessed.
"I'll be honest," USGA CEO Mike Whan told Golf Digest on the final day of competition. "I've come off a year of LIV questions and purse increases and TV deals, and you realise when you're out here … how much more this is really what golf is, and that other stuff is just that other stuff. … I think a lot of times we get so caught up in one per cent, we forget about the real people who make up this game."
The golfers — the youngest at 15 and the oldest at 80 — came from around the world to compete in eight impairment categories. The top male and female finishers in each of the divisions earned a copper medal, and two overall champions lifted the Adaptive Open men's and women's trophies for the first time. Simon Lee, a 25-year-old who is on the autism spectrum, impressively carded a three-under total over 54 holes and prevailed in a two-hole playoff over another golfer with an intellectual disability, Sweden's Felix Norman. And 41-year-old Kim Moore, a lower-leg amputee who is the women's golf coach at Western Michigan, romped to an eight-shot win among the women with a 16-over total.
Being the first staging, there were some operational wrinkles to be worked out, and there will no doubt be some alterations when the championship returns to Pinehurst in 2023. But the whole week was summed up beautifully by a joyful Lee: "This is like a dream." — Tod Leonard
---

No. 17: Sahith Theegala
Sahith Theegala began the year well outside the top 300 in the World Ranking. He'll end it well, well inside — 44th as of this week. The 25-year-old from Orange, California, was college golf's consensus player of the year coming out of Pepperdine in 2020, but because his professional debut came in the midst of a pandemic, Theegala began his career on the Outlaw Tour. After proving his merits on the mini-circuits and earning his PGA Tour card for the 2021-22 campaign, Theegala showed why he was such a highly touted amateur in his rookie season. First there was his near miss at the Waste Management Phoenix Open in February, a frenetic T-3 finish to then first-time winner Scottie Scheffler after a bogey on the penultimate hole — punctuated by an emotional post-round embrace from his parents. Four months later at the Travelers Championship, he again had victory in his grasp before an ill-timed bunker shot on the 18th did him in. The close calls helped him earn an invite to the season-finale Tour Championship. "I think the validation of the season, it's another step for me to feel like I really belong because I still don't feel like I'm really there at the top of the game," Theegala said at the BMW Championship after securing his spot at East Lake. "Slowly building confidence every week, whether it's a good or bad week. I feel like I've made a lot of progress." Theegala backed those words up with three top-six finishes in six fall starts, highlighted by a T-2 at the RSM Classic. But what makes Theegala, whose parents were born in India, a newsmaker is not just his game but his magnetism, owning an affable, approachable personality and a cerebral, introspective mindset while displaying a gratitude not normally seen at this level. In short, the type of person, and player, that can be a bonafide star. This year brought a lot of questions regarding the future of golf, but if Theegala is a part of it, the game will be in good hands. — Joel Beall
---
No. 18: LPGA major purses
Golf's prize money payouts have long been a source of curiosity and conversation, but in 2022, the discussion grew far louder (and more heated) with LIV Golf arriving and adding an extra zero to what had been "normal" purses. The funny money thrown around in the men's game overshadowed the impressive gains separately witnessed in women's game, where pleas for better paydays for the best female golfers in the world were finally answered. The USGA set the tone in January when it announced the U.S. Women's Open purse had been elevated from $5.5 million to $10 million in 2022 — a 81.8-per cent increase thanks bringing on presenting sponsor ProMedica. (Minjee Lee, above, won the title at Pine Needles, and $1.8 million first prize while USGA CEO Mike Whan also committed to the purse moving up to $11 million and then $12 million in the next five years.) Subsequently, the other women's majors followed suit. Chevron, taking over ANA's sponsorship of the first major of the year, boosted the purse from $3 million to $5 million. The KPMG Women's PGA Championship doubled its prize money payout, awarding $9 million to the field. The Amundi Evian Championship saw $2 million in growth, lifting the purse to $6.5 million. The AIG Women's Open went from $5.8 million to $7.3 million. All told, the majors offered $37.8 million in prize money payouts compared to $13.65 million 10 years earlier. And though the CME Group Tour Championship is not a major, it, too, increased its purse and awarded the biggest first-place check in women's golf history: $2 million going to winner Lydia Ko in the season finale. The trend continues next year, as the LPGA announced for the first time in history, the tour will compete for more than $100 million in total purse money in 2023 (up from $75 million in 2021). Playing on the LPGA is serious competition; it's good to see the money get serious, too. — Keely Levins
---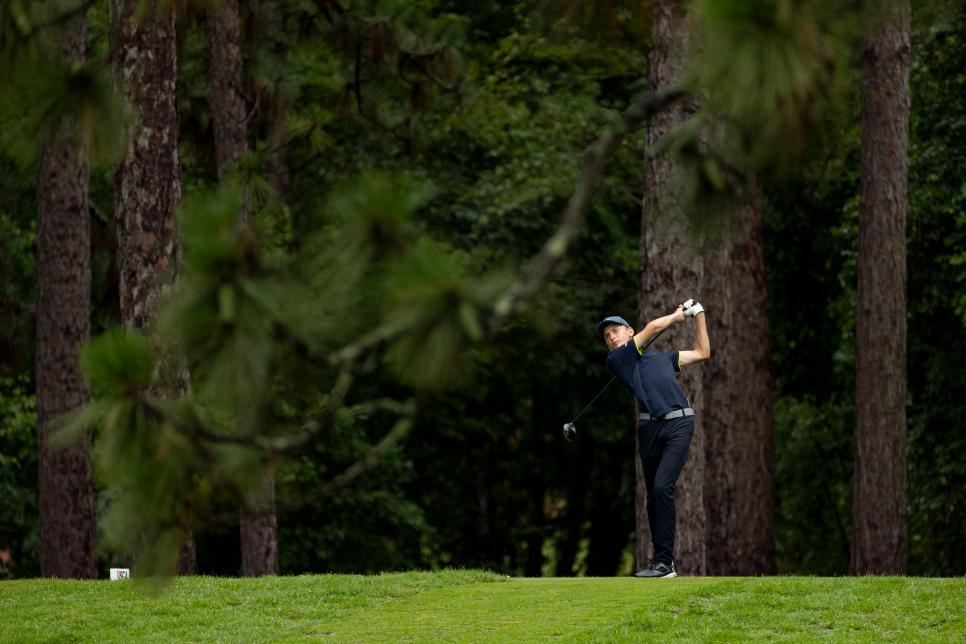 No. 19: Misha Golod
When Russia began its invasion of Ukraine, one of the best golfers in Eastern Europe found himself in the middle of a war zone. Weeks after winning back-to-back amateur events in Turkey, 15-year-old Mykhailo "Misha" Golod phoned Golf Digest from his home in Kyiv in the midst of aerial bombardment, trying to convey the horrors that were just outside his window. "We hear, it seems like, 50 explosions a day," Golod said. "You never know where they are, but they always sound close. The air sirens, letting us know something is coming, are always blaring." Golod's story, like many that came out of Ukraine, was heartbreaking. However, the golf community found a way to help its own. Thanks to golf instructor David Leadbetter and Global Golf Post founder and American Junior Golf Association board member Jim Nugent, Golod was able to get out of the country and find refuge in Orlando at Leadbetter's golf academy. "You read what's going on over in Ukraine, and it's just terrible. You feel so helpless, and it doesn't feel like you can really do anything at this moment," Leadbetter said. "Then we saw Misha's story and realized, 'Well, maybe there is something we can do.'" The 2021 Ukraine Open Junior champion arrived in the United States a week after his interview in March and became a bit of a media sensation, attending the Players Championship and Masters as a guest. Golod's parents are still living in Ukraine and he maintains regular contact, but he has resumed his golf career, winning a number of prestigious amateur tournaments since his arrival. And though the atrocities of the Russian war continue, Golod's tale underlines the hope that exists even in the face of evil, and the power that golf can have to do good. — Joel Beall
---
No. 20: Netflix jumps into golf
The success or failure of the upcoming, still-untitled Netflix documentary on the year in professional golf will inevitably be compared to the breakout hit "Formula 1: Drive To Survive," which transformed how the world saw F1 racing. It will be tempting, in fact, to believe that it was "Drive to Survive" that was the direct inspiration. In fact, Chad Mumm, the chief creative officer at Vox, dreamed of making a golf-themed show since at least 2014, when, as the head of Vox's ad agency, he lost out to Skratch in a bid to work with the PGA Tour. Having maintained his relationship with the tour's media team — they played golf together each year in Las Vegas at a tech conference — he finally got his shot in 2019. By that spring, it was starting to become clear what Netflix had on its hands with DTS, and even if it didn't necessarily assist with Mumm's initial pitch, it helped with everything that came after, from signing players to securing Netflix as the platform of choice.
With the first audio recorded at Tiger's Hero World Challenge in December 2021, and shooting starting the week of Torrey Pines in 2022, Mumm's teams have been behind the scenes, chronicling a year in professional golf, whatever that might entail (and in 2022, it involved more than they ever expected). Among the "cast" of signed players are Rickie Fowler, Brooks Koepka, Ian Poulter, Tony Finau, Matt Fitzpatrick, Scottie Scheffler, Justin Thomas, Mito Pereira, Joel Dahmen, Max Homa and Sahith Theegala.
The biggest "character" of all, though, might be the one they weren't expecting: LIV Golf. Whether the division in the sport is good for the game is up for debate, but controversy and drama of that type is never bad for a film crew, and in that sense the Netflix team couldn't have picked a better year to start its project.
What's to come is an eight-episode series that debuts on February 15, and if it reaches anywhere near the dizzying heights of DTS, it will be a coup not just for Vox and Netflix, but for all the stars of the show and the sport of golf itself. A few years ago, it might have sounded hyperbolic to say that a simple documentary could transform an institution like golf. Now, we've seen what it can do for a niché sport, and we know that the so-called Netflix Effect could be seismic. — Shane Ryan
---

No. 21: Patrick Reed's lawsuits
It wasn't the most productive season of Patrick Reed's career on the course — he fell out of the top 50 in the World Ranking for the first time since January 2014 — but when it comes to taking people to court, it was a downright historic year for the 2018 Masters champ. In August, Reed filed a $750 million civil lawsuit in US District Court in Houston against Golf Channel and Brandel Chamblee alleging the defendants conspired with the PGA Tour to defame him by misreporting information "with falsity and/or reckless disregard for the truth." Reed subsequently withdrew the case and refiled it in September in a District Court in Florida, adding Golf Channel broadcasters Shane Bacon, Damon Hack and Eamon Lynch, as well as their media companies Golfweek and Gannett. In November, Reed filed another defamation suit, this one for $250 million, against Fox Sports, the New York Post, Hachette Book Group and the Associated Press, as well as author Shane Ryan and AP journalist Doug Ferguson. That's $1 BILLION in damages being sought by the nine-time PGA Tour winner, who managed to earn more than $12 million playing for the 4 Aces after moving from the PGA Tour to LIV in June. A judge dismissed Reed's initial complaint against Golf Channel and Chamblee in November, requiring him to file an amended one this month. — Alex Myers
---

No. 22: Oakland Hills clubhouse fire
Up from the ashes sounds like a nice slogan or battle cry, but those words ring differently to the members of Oakland Hills Country Club. Because they are living them. Disaster struck the historic facility north of Detroit in Bloomfield Township, Michigan, Febebruary 17 when its sprawling neo-colonial clubhouse — the second-largest wooden structure in the state after the iconic Grand Hotel on Mackinac Island — went up in flames, causing damage estimated at $80 million. But only a few weeks later, the USGA announced a 29-year strategic partnership with Oakland Hills that will bring eight championships to the recently renovated South Course, the so-called "Monster" as Ben Hogan referred to it after winning the 1951 US Open. "This is a testament to our relationship with Oakland Hills and the incredible history that we share together," said John Bodenhamer, USGA chief championships officer, who called Oakland Hills, one of the "cathedrals of golf." Rightfully so, with a heritage that includes six US Opens, three PGA Championships and the 2004 Ryder Cup. The club intends to rebuild the clubhouse to replicate the exterior but install a new interior floor plan. Completion initially is slated for late 2025, not in time for its first USGA event in the new deal, the '24 U.S. Junior. Part of its past might have been erased in that fire, but the future looks bright. Flames can't destroy a rock-solid reputation. — Dave Shedloski
---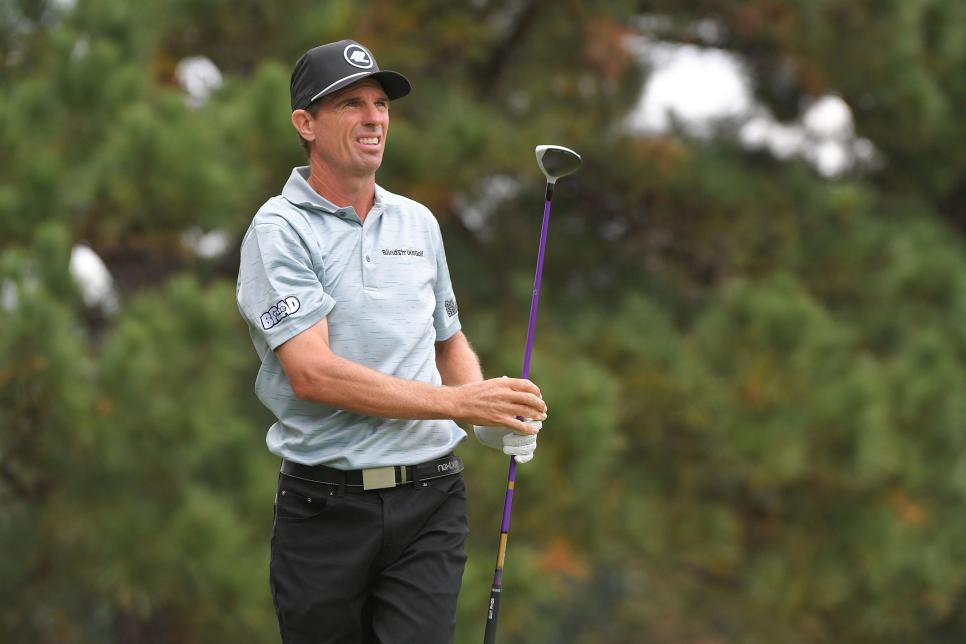 No. 23: Steven Alker
When the PGA Tour Champions was finding its footing in the 1980s and early 1990s, it carried the reputation as a "second chance" tour, a place where club pros and journeyman might find some magic that, for whatever reason, eluded them before the age of 50. In that sense, Steven Alker is a throwback to an earlier era. During his career, the New Zealand native made 86 PGA Tour starts, missing the cut 47 times and never finishing inside the top 10. He also played in 80 DP World Tour events, missing 42 cuts while grabbing one top-10. Yes, he was a four-time winner on the Korn Ferry Tour, but there was a reason why Alker had to Monday qualify to play in his first senior tour event 16 months ago. Impressively, he turned that start — a T-7 at the Boeing Classic — into a run of six straight top-10 finishes culminating in a victory and a tour card. With job security brewed confidence, and suddenly Alker was unstoppable. In his first nine starts of 2022, he claimed three wins and seven top-fives — including a major (the Senior PGA Championship). Another title game in October, one of nine more top-fives in his last 14 starts, and he cruised to the season-long Schwab Cup title, only the third time a player other than Bernhard Langer had won it in eight years. Alker's numbers are shocking in that they're so unexpected. He finished 2022 with a 68.2 average in 75 rounds and earned $4.5 million, nearly four times his winnings on the PGA Tour and DP World Tour combined. "Just a lot of hard yards," Alker said the secret to his success. "You know, I've played everywhere and I think that kind of helped today in a way just playing the PGA Tour and Australasia and Asia and Korn Ferry. It's been an amazing journey and just to be here and to have this opportunity has been amazing." —Ryan Herrington
---

No. 24: The LPGA's breakthrough veterans
On the LPGA Tour in 2022, we saw the promise of youth in a 14-year-old Monday qualifying for three straight events and a 19-year-old climbing to World No. 1. But we also saw the joy that comes when patience is rewarded in a trio of veterans pulling off their long-awaited maiden victories.
First was Ashleigh Buhai. The South African was a teen phenom growing up, winning four professional tournaments as an amateur. But since arriving on the LPGA Tour in 2008, she had gone winless. That is, until the Women's Open in August. During a historic week in which the formerly all-male Honourable Company of Edinburgh Golfers hosted the top women's professionals to Muirfield for the first time, Buhai, 33, was impressively running away with the title, only to make a triple-bogey on 15 and question if this would be her time or not. She limped into a playoff with In Gee Chun, but on the fourth extra hole in a race against nightfall, Buhai pulled out the sentimental victory.
Buhai's maiden win seemed to prove inspirational. Paula Reto also grew up in South Africa before moving to the US and finding golf as a teenager. The 32-year-old had played 157 LPGA events without a win until she finally broke through three weeks after Buhai at the CP Women's Open, beating Hye-Jin Choi and Nelly Korda by a shot. A few weeks before the tournament, Reto lost her golf bag while travelling. During the wait for its return, she pulled out an old putter and found the more upright set-up helped her see lines on greens better. Clearly, the change paid off.
Going 157 starts until claiming win No. 1 was nothing compared to Jodi Ewart Shadoff's 246-event wait. A three-time European Solheim Cup team member and runner-up in the 2017 Women's Open, Ewart Shadoff hadn't won in more than a decade on tour. In 2021, the 34-year-old Englishwoman had missed more cuts than she made. But at the LPGA Mediheal Championship in October, she finally hoisted her first LPGA trophy.
"I didn't know if this moment would ever come," Ewart Shadoff said through tears, echoing the sentiment of Buhai and Reto before her. Their waits were long, but ultimately worth it. —Keely Levins
---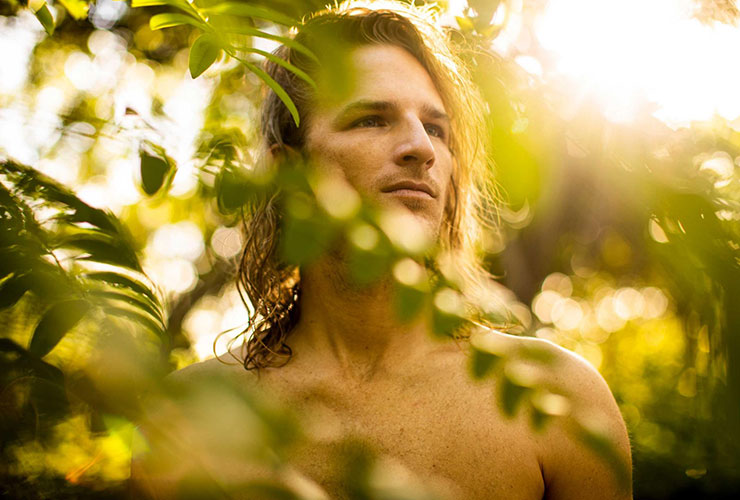 No. 25: Morgan Hoffmann
If Morgan Hoffmann's name had slipped your mind, you're not alone. After revealing the atrophy he was suffering from in his right pectoral muscle was caused by muscular dystrophy in December 2017, the 33-year-old former All-American at Oklahoma State hadn't played on the PGA Tour since October 2019. Presumably, he was undergoing treatments for his illness, and indeed that was the case, but in ways that shocked many in and out of the golf world. In January, Hoffmann revealed to Golf Digest that he had moved to Costa Rica with his wife Chelsea in search for a cure to the illness. Among the remedies Hoffmann attempted were ayahuasca treatments. The story noted that Hoffmann was still in the midst of a medical exemption that dated back to 2018, but that he had only three events remaining, and per tour rules, they had to be played in 2022 or else they would be lost opportunities. So in April, Hoffmann made the trek from Costa Rica to the RBC Heritage in Hilton Head, shooting a respectable 71-72 in his return to competition at Harbour Town but missing the cut. There was another early exit three weeks later at the Wells Fargo Championship, but in his last start at the Travelers Championship in June, Hoffmann made the cut but failed to earn enough money with the 68th-place finish to give him a tour card for 2023. Hoffmann later earned sponsor's exemptions into the John Deere Classic (T-51) and the Rocket Mortgage Classic (MC), but he has not played since shooting 71-71 in Detroit in late July. What now for Hoffmann? Various interview requests from different media outlets have been made and several officials from the PGA Tour have attempted to contact him over the past few weeks, but they have all been unsuccessful. It is not clear where Hoffmann is currently living or what his plans are for competing next year. —Jay Coffin