By Stephen Hennessey
DJ's swing is mostly self-taught
Dustin grew up watching the swings of other golfers at Weed Hill Driving Range in Columbia, S.C., and applied it to his own game. His father, Scott, was a club pro, and took DJ to the range when he was 6. "Little DJ had a swing with rhythm and tempo, and he could hit the fool out of the ball," facility operator and teaching pro Jimmy Koosa told our Jaime Diaz.
---
Dustin's coach is Butch Harmon's son, Claude Harmon III
His swing isn't completely homegrown. DJ worked a lot on his posture, setup and balance in college. He worked a lot on making his swing more efficient with Butch Harmon, and now works with Butch's son, Claude Harmon III.
---
A distinct swing characteristic: Johnson's bowed wrist
Johnson has always had a bowed left wrist at the top of his backswing. His clubface is typically shut to the target line, which might be a no-no to conventional golf instruction, but as Butch Harmon said in a 2012 article in Golf Digest: "That's his thing. We don't touch it." To offset the bowed wrist, Johnson turns powerfully through the ball.
---
Johnson is no stranger to bizarre rules scenarios
He nearly won the 2010 PGA Championship at Whistling Straits, but was hit with a two-shot penalty for grounding his club in a waste bunker. He missed a playoff with Martin Kaymer and Bubba Watson by two shots.
---
Johnson has a win in his first 10 straight seasons
Tiger Woods, Jack Nicklaus and Arnold Palmer are the only other players to do so. Not bad company.
---
No surprise: Dustin's power stats put him at the top of the PGA Tour
You'll appreciate his talent through these his power analytics: His driving distance in 2016 was 310.1 yards, second on the PGA Tour; ball speed at 181.40 mph, sixth-best on tour; clubhead speed at 122.08, ranking eighth.
---
Johnson's only the fourth player ever to finish runner-up at the U.S. Open and win it the next year
After his three-putt on the 72nd hole in 2015 at Chambers Bay, DJ followed up the second-place finish with a win at Oakmont. He joins only Bobby Jones, Jack Nicklaus, Tiger Woods as the only other players to follow up a second-place at a U.S. Open with a win the next year.
---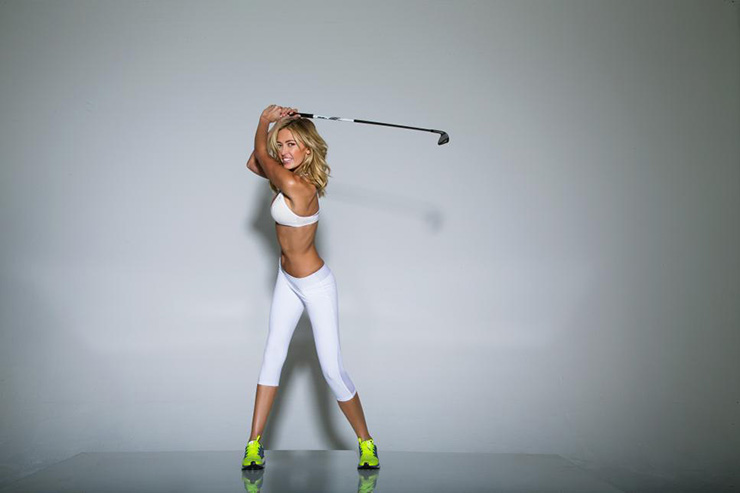 Johnson's engaged to Paulina Gretzky
Paulina, daughter of the Great One, Wayne Gretzky, and DJ have been inseparable since 2013.They have two sons, Tatum and River.
---
His peers not only vote Johnson as the most talented golfer on tour, but also the most athletic
In our 2015 survey, Dustin Johnson narrowly edged out Gary Woodland as the most athletic golfer on tour.
---
Johnson took a leave of absence from golf in 2014
He announced his decision was "To seek professional help for personal challenges." Golf.com cited unnamed sources that Johnson had been suspended for failing a third drug test. Johnson denies those reports and cites off-course stress perpetuated his excessive drinking and partying.
---
Johnson had his share of off-the-course trouble when he was younger
At age 16, DJ was convicted of second-degree burglary of a handgun in a 2001 incident. He was later pardoned. In 2009, he was arrested for DUI, which was dismissed when he pleaded guilty to reckless driving.
---
His grandma played a huge part in choosing Coastal Carolina for college
DJ's paternal grandmother, Carole Jones, called Coastal Carolina men's golf coach Allen Terrell to explain how badly Dustin wanted to play college golf. DJ was going to Midlands Technical College in Columbia to make up credits, but after the call from Johnson's grandma, Terrell went to Coastal Carolina's president, explained the situation and got him into school.
---
Dustin's father, Scott Johnson, was a South Carolina All-State wide receiver for tiny Chapin High School
That explains part of DJ's athleticism. In addition, DJ's grandfather, Art Whisnant, is a former All-ACC basketball player at South Carolina. Johnson can dunk easily, and beat former NBA pro Shane Battier in a three-point shooting contest in 2015.
---
DJ's younger brother, Austin, is his caddie
Dustin initially had Joe LaCava, Tiger Woods' current caddie, and Bobby Brown on the bag. Austin and Dustin are very close, with DJ calling him his "best friend" at the U.S. Open. Austin affectionally refers to Dustin as "Chia Pet," for being able to grow a beard within a week.
---
Big suits guy: DJ estimates he has some 30 Prada and Dolce & Gabbana suits
In 41 long — and he says half of them still have tags on them!