Hisham Shammas tees off on the IG sponsored hole during the 19th XCGC grand final at Jumeirah Golf Estates as team-mate Paul Abouchacra watches on. 
By Kent Gray
Hisham Shammas and Paul Abouchacra got lucky, then they got serious.
At the end of it all, the duo had lived up to their "Team Under Par" billing to capture the 19th edition of the Xerox Corporate Golf Challenge and avenge their near miss 12 months earlier in Middle East golf's most prestigious business networking golf series.
Shammas and Abouchacra ran their "Race to Earth" at Shammas' home club qualifier at Jumeirah Golf Estates in April, sneaking through via a minor placing.
They returned to JGE in December for the 36-hole grand final spurred by their runner-up finish at Al Zorah in the 2016 decider and got off to a flyer, with a little assistance from lady luck, in the opening round of the 36 hole betterball net final on the Fire course.
"The first round was amazing, fantastic," said Shammas. "We are super lucky that day, putting from everywhere and anywhere.
"This guy [Abouchacra], he get one putt for birdie, maybe a 40 yard putt, that hit the cup, bounced around 50cm high and then go in (laughs). If it wasn't in it could be in the bunker, anywhere."
After their impressive net 57 on Fire, the decisive second round on Earth was a far more intense affair as Shammas and Abouchacra set out to protect a two-stroke overnight lead from Frans Smit and Jaques Du Toit (Team Du Toit).
"It was more stress as we have the photographer following us and you know, we are under pressure, it was tough day and we are playing with the second team. So there is two shots difference and it was really critical."
The leading groups started on the 6th and by the 18th, Smit and Du Toit had turned their two-stroke deficit into a four shot lead. But the round, and the title, turned on Earth's par 5 closing hole (their 12th hole) courtesy of some more fortunate bounces, this time from Shammas.
"The 18th, there is this creek in the middle, I want to be conservative, I hit the rescue club, no driver, the rescue club went on the right side, and then bounced on a rock and goes on the left, just 2cm away from the water. So I went there, its safe, on the grass, so I took 8 iron also to be conservative, aim it really right [towards] the trees but it went right with a draw, bounced on the fairway and keeps rolling to the water on the left, stopped before the water maybe one metre, just so I can stand.
"I took 60 degree, it was maybe 100 yards or something, and then I hit the 60 degree, almost in the pin! (laughs) For eagle! It was just 2cm away from the cup and I did a birdie for [net] eagle, I had a shot on this one, and this is where everything changed. They did six, we did four, so now they are two up, the game start again and after that we get really nice three, four holes. Par, birdie, par, birdie, something like this, so we finish I think four up. "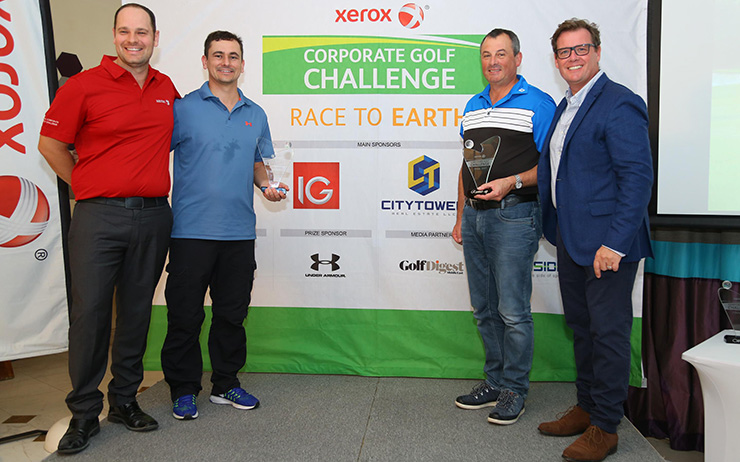 Shammas and Abouchacra actually won by five strokes after rounds of 57-62 for a 119 aggregate as Smit and Du Toit (Team Du Toit/pictured above) finished on 124 (59-65).  Subhojit Biswas and Siddarth Dutta (Team S&S/pictured below) were third on 128 (64-64).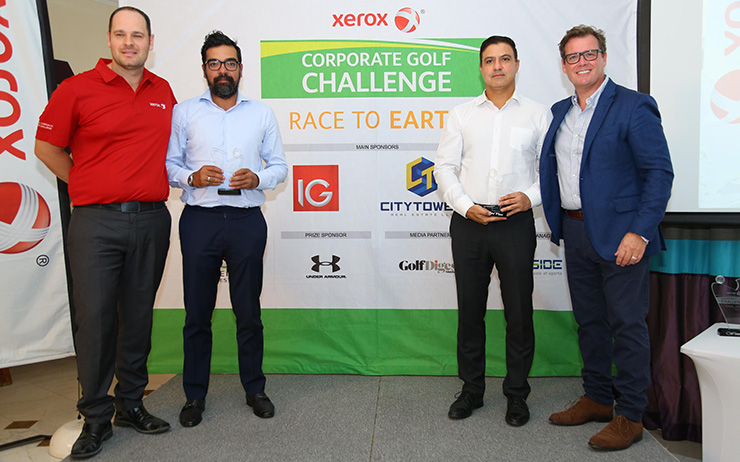 Moh'd Al Sayed and Fahad Al Hakam (Team Moi) captured the inaugural City Tower Real Estate Cup as gross division champions with a 139 total (69-70). The gross division was a widely applauded new initiative in 2017 to entice lower handicap players to the event.
The organisers have hinted at more innovation for the XCGC's 20th Anniversary edition this year so stayed tuned to Golf Digest Middle East and xeroxcgc.com for all the details.