X-Golf is a game-changer in the world of indoor golf simulation technology, with a growing presence in the Middle East.
SPONSORED CONTENT: In these unprecedented times, getting your golf fix is challenging if not entirely impossible. Even when the world returns to the new normal left in the wake of the global COVID-19 pandemic, a game in the height of a Middle East summer is uncomfortable at best and potentially unsafe in the extreme.
By delivering elite indoor golf simulator set-ups to both commercial customers and in private residences, X-Golf Middle East is building an enviable reputation solving conundrums old and new for the region's most passionate and discerning players.
"Indoor golf technologies are evolving into an impressive complement to the traditional game, now more than ever, but X-Golf gives you the freedom of choice," said X-Golf Middle East Director Madeleine Curran.
"Long game, short game, day or night, rain, hail or shine, golf becomes playable. And customisable. Any skill level, any time, many courses, instruction, practice or play. It is the ultimate digital sporting playground that will fine-tune your game and seriously entertain your guests…when you can have them around again that is!"
Designed and engineered in South Korea, X-Golf is the most accurate and digitally sophisticated indoor golf simulation technology on the market.
X-Golf's 'NEX' system is unrivalled in its ability to measure and analyse raw ball and club data to within a market-leading 98 per cent accuracy. This is achieved through a combination of laser sensors, impact sensors and high-speed camera systems that capture more than 150,000 data points per second. This allows for perfect replication of all trajectories – a fade, draw, hook or slice as well as short game shots – chips, pitches and flop shots – to a degree that other simulators simply cannot.
Rival technology, meanwhile, relies on 'reverse engineering', software that assumes what happened at impact or launch monitors that need to see flight to work accurately – something that is unattainable indoors.
X-GOLF NEX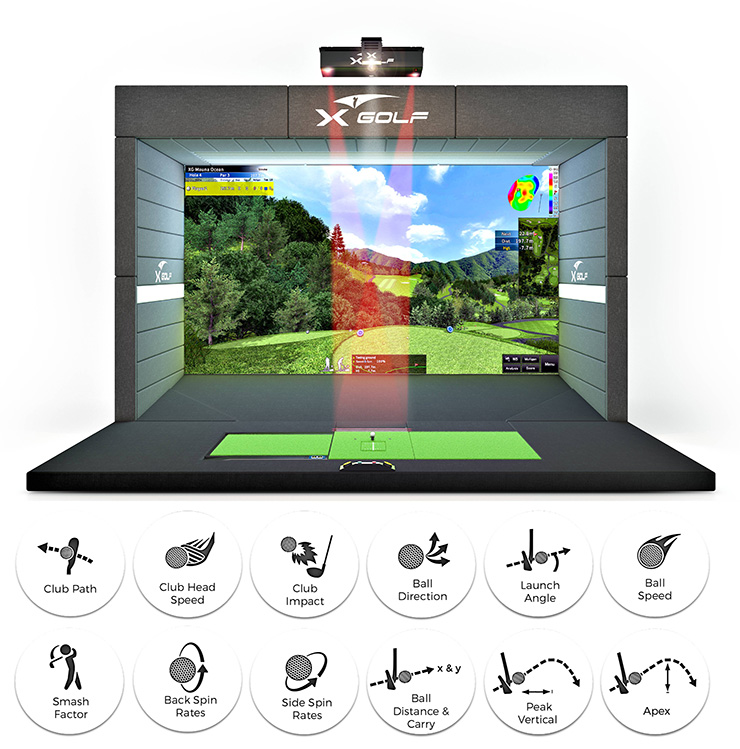 "Where short-game performance is the weak-link in simulators globally, X-Golf technology makes for remarkable short game accuracy, reflecting realistic approach shots and consistent putting performance," said Curran.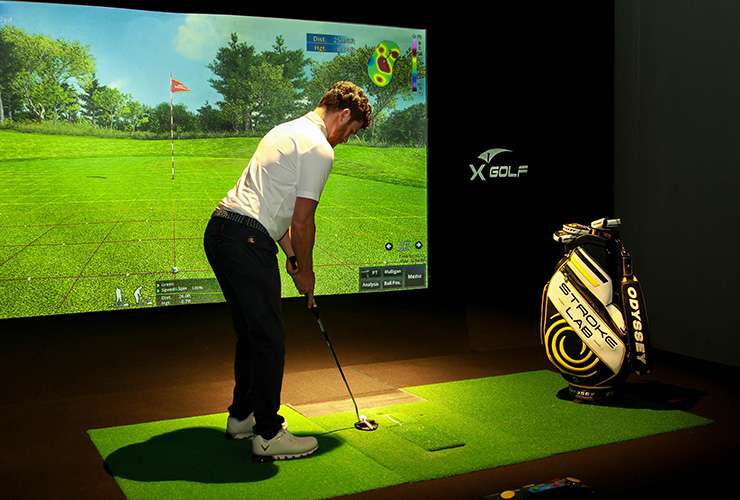 The EYE system is X-Golf's most popular and user-friendly in-home solution. It utilises a 4-channel high-speed camera system all housed above the player, to capture and compute data. It includes a dedicated spin camera that measures spin more accurately than any other technology on the market. 
X-GOLF EYE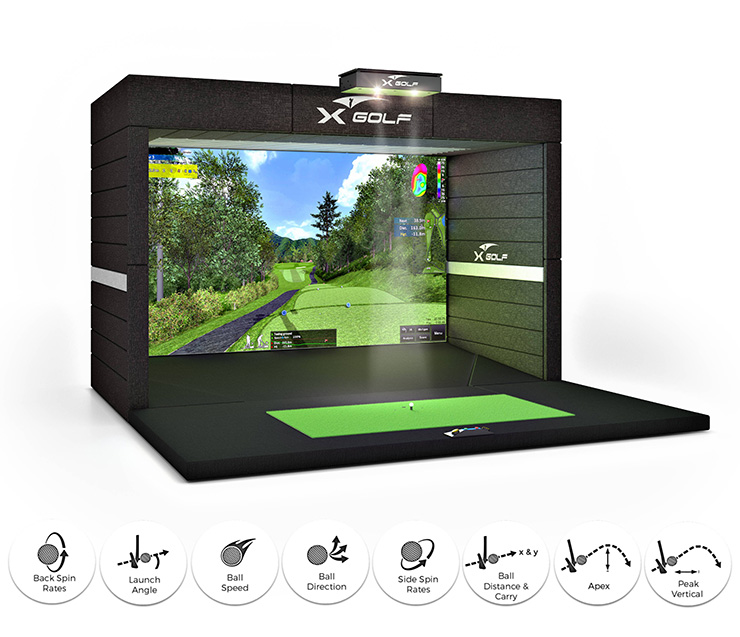 An enviable fleet of market-leading features then seriously enhance the golfing experience. This includes X-Ball, an intelligent automatic ball retrieval and tee-up system that means you'll never need to manually collect your ball or tee it up again, and X-Plate, a clever moving floor plate that replicates real on course undulations. Golf Digest Middle East has experienced these features first hand and was thoroughly impressed by how it makes the X-Golf experience closely replicate the real thing.
It begs the ultimate question. How much does an X-Golf set-up cost, especially when the technology is encased in a luxurious, and importantly safe, custom made booth for each client? The answer is anywhere between US$43,000 and $100,000+ depending on the system and options.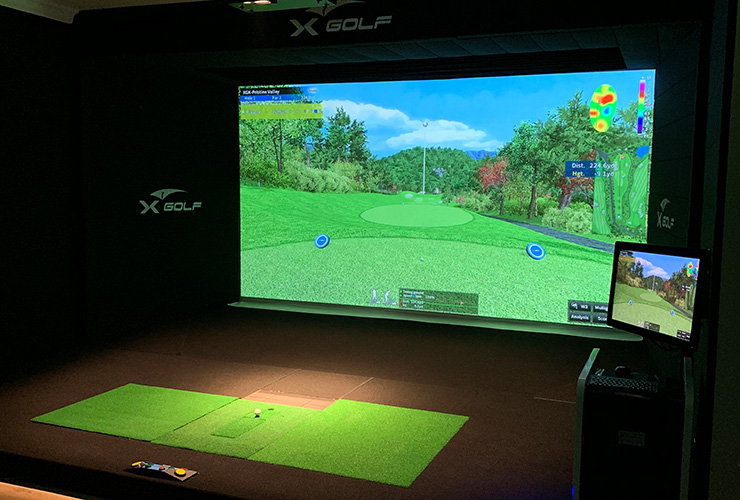 Alluring upgrades include X-Birdie, X-Golf's swing analysis software incorporating high-speed infra-red teaching cameras that allows players to work on their games. X-Unity is state-of-the-art software featuring some of the world's most iconic courses like Pebble Beach and Bethpage in high-definition clarity and advanced course interactivity.
That technology can be enjoyed when you put down your sticks down and your feet up for the night; X-Golf simulators transform into an impressive home cinema taking live sport (more golf anyone?) and gaming to a new level.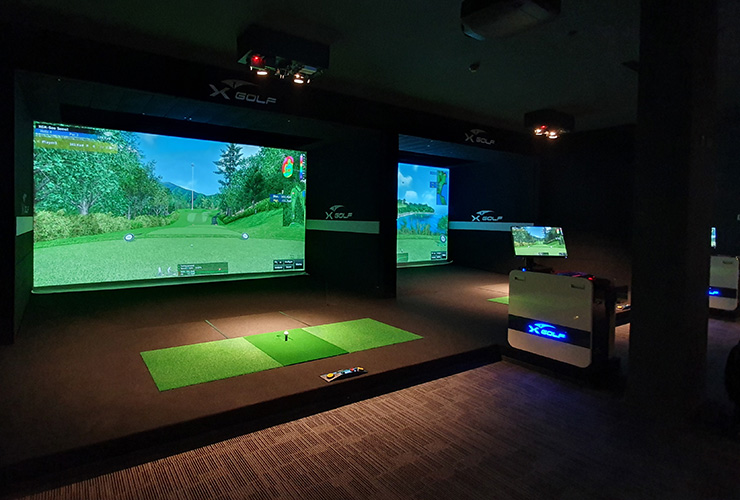 X-Golf Middle East is the only company in this golf simulator space that is fully incorporated with a team on the ground in Dubai, a crew dedicated to modernising the game of golf throughout the region with market-leading technology.
"When you engage X-Golf to deliver a project, the funds are going towards the technology and not being reserved for expensive travel, installation and aftersales visits that is often the case when purchasing from international sources," said Curran.
"You get bang for your buck in terms of product and specification. X-Golf does nothing by halves."
For more information, visit xgolf.ae