(Photo by Mustufa Abidi)
Rafa Cabrera Bello has been flat out golfing – and surfing – the globe but took time out at his beloved Jebel Ali Golf Resort to talk with Kent Gray
The real Rafa Cabrera Bello finally showed up at Hazeltine and has been riding the crest of that unbeaten and unforgettable Ryder Cup wave ever since. In July, the Spaniard ended a 5½ year wait for his third European Tour title at the Scottish Open and backed it up with a career best T-4 finish at Royal Birkdale in The Open Championship the very next week. It was a fortnight that gives the 33-year-old belief that a major title is on the horizon and proved he can handle the rigours of playing full schedules on both the European and PGA Tours. It also ensures Cabrera Bello is one of the form riders heading into the home straight of the Race to Dubai. Before rolling onto Jumeirah Golf Estates for the decisive DP World Tour Championship, Cabrera Bello opened up on a career year which he hopes to sign off with another of his trademark, surfing-inspired Shaka victory salutes.
We'd been told at Abu Dhabi last year that there was a new reporter and that he was targeted towards a different audience, so we wanted to play along a little bit. It all happened so fast and really within 20-30 seconds (after he'd been asked by the European Tour's Awkward Reporter to flash his famed abs to the camera and taken a cheeky pat on the bottom]…by the time we kind of realised that this was a prank, it was all over. Yeah, it was fun but if I ever get my opportunity, I will definitely get back on Chris Wood, Nico [Nicolas Colsaerts] and Martin [Kaymer].
I think European Tour are doing a great job with their social media, doing fun stuff and creating some really, really unique content. I'm sure they're going to keep going in the same line next year, engaging with the fans, doing more challenges, occasionally trying to put us on the spot in a funny way. Bring it on.
I was practicing on the chipping green at Hazeltine after the first day of the Ryder Cup when I saw my manager, Richard, was in conversation with Kelly Slater about a 100 meters away.  I made a bee line for him pretty quickly, jumping  the fence on the practice ground, and spent a good 20 minutes with Kelly having a chat about surfing and also about his golfing exploits. He's a very keen golfer, loves the sport. And I love surfing. It was a lovely moment and we've been in contact ever since. In fact just after the PGA Championship, I had a week off before the start of the FedEx playoffs and he visited [Cabrera Bello's fiancée] Sophia and I in Carlsbad. I took a week off to go surfing and relax but unfortunately he's out with a foot injury but he paid a visit with his longtime girlfriend for a long chat and afternoon coffee. We stay in touch on a regular basis.
The Ryder Cup was amazing, probably my best golfing experience ever. Just being part of something way more important than yourself. I couldn't have picked a better player to have played my first ever match with than Sergio. Obviously we have been friends for a long time and I know I can fully trust that we would try to play our best for each other as well. As Spanish golfers, we all grew up dreaming about playing one day and I'm really proud to have joined the group that call themselves Ryder Cup players.
It's an honour that our partnership was compared to the start of the Olly and Seve [Jose Maria Olazabal and Seve Ballesteros] era but I have only played one Ryder Cup and the partnership they had was truly remarkable. I don't think there will ever be a partnership as successful as theirs but its just nice to be talked about with them. They are my golfing heroes so it's just great to carry that good positive energy into whatever Sergio and I manage to recreate as well.
Five years, five months and 12 days. Who's counting, right? There was no real frustration before I won the Scottish Open, just a bit of uncertainty of not understanding why it [winning] wasnt happening. Yeah I'd had many top 10 finishes [28] and six second spot finishes but not all of them were bad experiences. Some of them were coming from behind so obviously I was happy to finish second. It's just one of those things that remains unexplained…but I am happy its over.
The 64 to seal the win at Dundonald was a very, very good round but I wouldn't think it was as good as the 60 I shot to win [the 2009] Austrian Open. Winning from eight shots back like I did in Austria, it's something that probably only happens once in a life time so I will still probably put that as my best round of golf ever. I'm still extremely proud of that round at Dundonald though because I was in contention, started well and never really made any mistakes, no bogeys, lots of birdies [eight] and even then it wasn't enough as I still had to win a play-off [over Callum Shinkwin].
It's just one of those things that remains unexplained… but I am happy its over.
I have been working with David Leadbetter for a long time now and he's obviously helped me understand my swing even better and made it into what it is today. He's made me a more consistent player and the fact my swing is definitely holding up better under pressure, I'm very grateful for that. I see him often enough but I'm not a guy who needs constant attention. I will send him videos occasionally especially when I feel maybe things are off a little. So instead of guessing I can get feedback from him. I'll see him for events in U.S. primarily and sometimes in Europe when he comes over.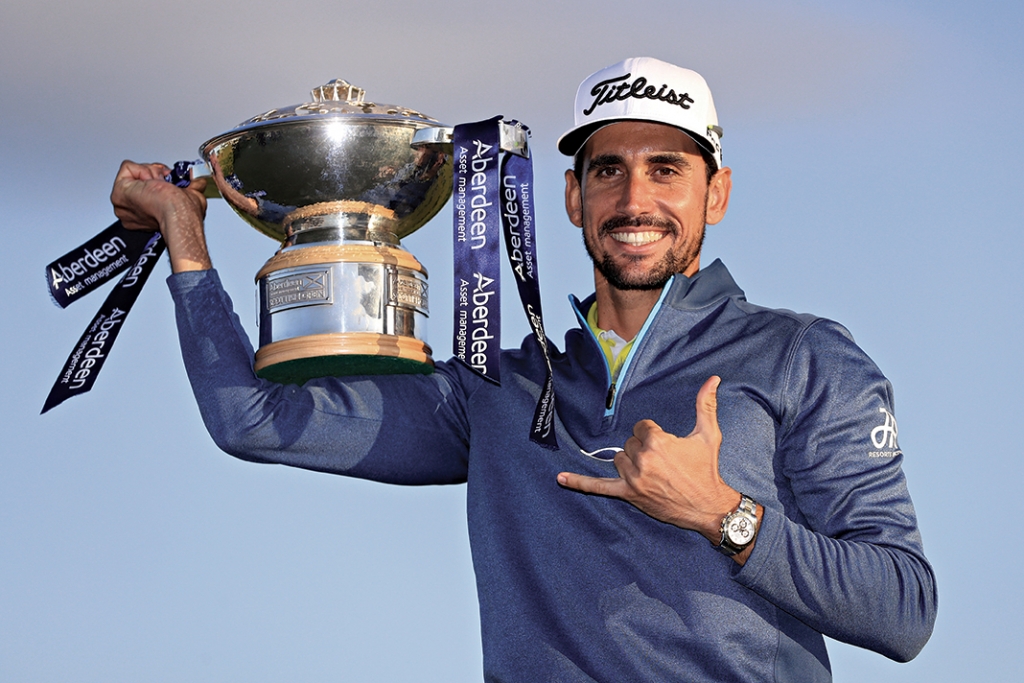 Skiing was what my dad used to do, so it's always been our family holiday with my parents, my brother and sister. I can call myself a two or three handicap skier.  I mean I don't know why I'm that good, probably just because I learned to ski when I was very young, even before I started golf.
Surfing just came randomly. I actually had a week off between tournaments between Thailand and Bali so I decided to go to Bali the week before as opposed to going back home to Europe. I wanted to try surfing, and ever since I tried it, I loved it. I have a place in Bali now and Romain Wattel, Thomas Pieters, Martin Kaymer and Matteo Manassero are some of the friends that have come out. It's been fun being in the water and hanging around with them.
Adam Scott invited me to go on a surf trip to the Mentawai Islands in Indonesia last year. It was in the middle of the Race to Dubai playoffs but it was a once in a life time trip with Adam and a few other friends of his that I can happily call my friends now as well, a lot of fun. I find surfing a great outlet and relaxation. It takes my mind off the pressures we have on the tour.
I like the mega waves…on TV. I don't want to be in the water with really, really big waves, I'm not that crazy, yet. Maybe some day…who knows?
The Open is a very special tournament to the Europeans and one that I want to win more than any. To finish fourth was huge and I hope that I can move on with the experience to win the Claret Jug in the next few years. Also finishing 4th at The Players earlier in the year gave me great confidence. I finished albatross, birdie, par after the round hadn't being going well. It's just one of the steps leading up to trying to be a world-class player and to win the big championships.
To finish fourth was huge and I hope I can move on with the experience to win the Claret Jug in the next few years.
I'm very passionate about fitness and do between an hour and 90 minutes everyday without fail. It's important for the modern golf swing and is also required given our travel schedules now. I wouldn't say that I've got exceptionally longer off the tee from my fitness, its hard to judge that, but it definitely helps with control of the golf ball and also helps mentally. I don't feel fatigued off the golf course now.
In golf, everybody is competing against each other and I believe amateurs want to know where they hit in relation to pros. That's why I don't think there should be a separate ball for the pros. If we play a Pro-Am, of course we're fitter, we've practiced harder, we may out drive you but you can see the difference and the ability that these guys play at through practice and hard work.
I really believe that St. Andrews is good the way it is with the Old Course being tweaked throughout history. I've heard people say it's in danger of becoming obsolete for the pros but it just depends on the elements. In the Dunhill Links it can be very cold and wet but if we have a good day, the ball will stop and you can hit target shots so it does render the golf course a little bit easier compared to summer when it's hard and fast and a completely different golf course. It's a celebration of the game, promotes golf past and present and is held in high esteem by myself and the other pros throughout the world.
I think Abu Dhabi and Dubai being back-to-back on the 2018 European Tour works well and obviously bringing Oman in as a full tour event in conjunction with Qatar is great. Why not have multiple trips back to the Middle East? It's a great region for golf, great conditions, great facilities. The players love returning when they have the opportunity.
I'm proud to be an ambassador for Golf in Dubai. It's a great priveledge and honour to represent Falcon Golf and Dubai, the city I now call home. I have strong partnerships with companies here like JA Resorts & Hotels and it's very special that I can travel the world and represent Dubai and send a message out that Dubai is a great destination to live and visit to play golf. We have world class facilities and golf and some wonderful restaurants.
Tommy Fleetwood has done exceptionally well to lead the Race to Dubai so long and will take some beating. But there are still a number of big tournaments to play so if one can win one of those, it'll certainly make the race a bit closer. We'll see. I'm playing well and looking forward to the challenge of competing on a course [Earth] that I really enjoy playing and have done well on in the past.
Before the Desert Swing in January I'm really looking forward to the EurAsia Cup. I've always wanted to play but never had the chance before and I think we're going to be practicing obviously for potential Ryder Cup partners as well so I want to do my best. I want Europe to win, enjoy another week of competitive team spirit and hopefully get to impress the captain [Thomas Bjorn is also captain for next Sept's 42nd Ryder Cuop matches near Paris].
I know Jordan Spieth, Justin Thomas and Rickie Fowler all very well and their friendly rivalry is fantastic for golf. We're the same in Europe. I'm very good friends with all the Spanish players, we travel together, go out to dinner. I've got pretty close to Martin Kaymer and Thomas Pieters too. We're passionate about our sport  and we want to win but we are very good friends off the golf course. I think it's an exciting time for golf, the way everyone respect and honours the sport but still wants to win. It's just a great time to be in the world of golf.