The University of Wollongong in Dubai is preparing the engineers of the future. 
IN PARTNERSHIP: Engineers are the ultimate problem solvers, critical thinkers tasked with turning impossible dreams into brilliant reality for the betterment of the world. With a unique combination of mathematics, science, research, prototype development, design, maintenance and production, they literally keep the world functional. Indeed, they continually change the course of history.
Engineers design, manufacture and maintain almost everything – from computers, medical devices, spacecraft, cars, aeroplanes, trains and boats to corkscrews, buildings and chemical reactors. Human kind's greatest achievement, sending a man to the moon, would not have been possible without an engineer.
In the UAE, society has benefitted incredibly from this ingenuity. Think our world-class infrastructure, futuristic skyscrapers or even the fact we can continue to inhabit a part of the world that is otherwise unfavourable with its extreme temperatures and lack of natural resources.
There is a vital link between a country's engineering capacity and its economic development which makes engineers so critical to the UAE's future development, not to mention the rest of the world.
Such era-defining people are moulded in schools that encourage learning, innovation and collaboration. Established in 1993, the University of Wollongong in Dubai (UOWD) is one such institution where the spirit of innovation, creativity and practical learning brings engineers, and transformational ideas, to life.
In the course of 12 years since the UOWD Engineering and Information Sciences department launched its first engineering program, the university has graduated 857 engineers and prepared them to aid the growth and development of the UAE and beyond.
Today, in a world looking forward to the new normal created by the global coronavirus pandemic, the challenges for innovators will be even more critical.   
"Considering that the world of work is evolving at an incredible pace with the integration of AI (Artificial Intelligence), machine learning and other Fourth Industrial Revolution technologies, it is critical to equip our graduates with skills to tackle the challenges of the 21st century," said Professor Khalid Hussain, Dean, Faculty of Engineering and Information Sciences.
"At UOWD, our specialisations include mechanical, civil, telecommunications, electrical and computer engineering. Fundamental to our approach is continued pursuit of excellence in teaching, research, industry engagement and student experience."
The UOWD's programs in Engineering and Information Sciences are designed to prepare curious young minds for global careers as Engineering Managers, Project Managers, Plant Managers, Security Specialists, Systems Analysts, Network Managers and Internet Architects, Video Game Developers, Cloud Architects, Cyber Security Specialists, Network Engineers, Structural Engineers, Mechanical Engineers, Data Scientists, Quantity Surveyors, Construction Engineers.
Engineering and Information Sciences Programs at UOWD:
• Bachelor of Computer Science
• Bachelor of Computer Science: Digital Systems Security
• Bachelor of Computer Science: Multimedia and Game Development
• Bachelor of Information Technology: Management Information Systems
• Bachelor of Engineering (majors in Electrical, Telecommunication, Computer, Civil and Mechanical Engineering)
• Master of Information Technology Management (MITM)
• Master of Engineering Management (MEM)
The UOWD's Engineering and Information Sciences department gives priority to learning which combines theoretical knowledge with practical experience.
This is brought about through a dynamic curriculum which includes a rich bouquet of electives under every topic. Students are required to go through real-life situations by spending 12 weeks within an industry which gives them invaluable experience of linking theoretical knowledge with real-world situations.
"Such interactions also give students the opportunity to display their knowledge and skills which, if considered exemplary, could turn an internship into future employment in the same organisation," said Professor Hussain.
WHY SHOULD I STUDY ENGINEERING AT UOWD?
A study by Harvard Business Review in 2018 found CEO's with an engineering background were increasing in number across Fortune 500 companies.
At UOWD, engineering programs are aligned with national priorities – think the rescheduled (until next year) Expo 2020 and its legacy – yet are tailored to meet the demands of a global employment market. With the support of industry experts, it integrates real-world practices with existing theories thus ensuring its students are equipped to quickly address complex business problems.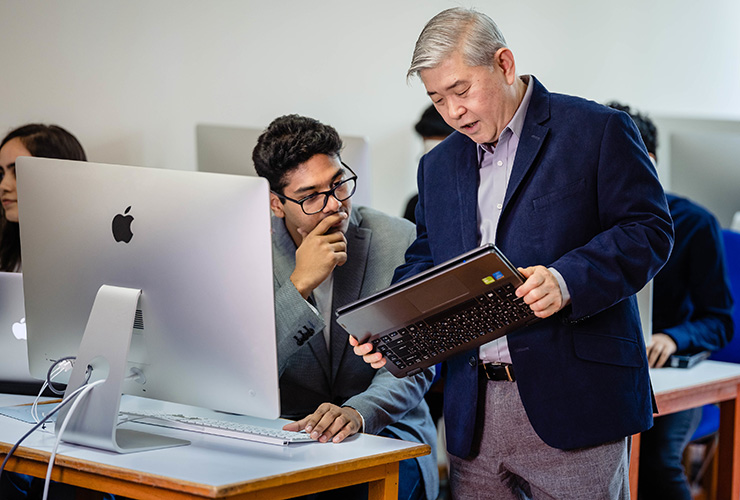 With most of its faculties being research-active, UOWD supports their effort to encourage students by funding research grants. UOWD's Bachelor of Engineering program thus prepares students for successful careers in industry, particularly the sectors dealing with infrastructures, energy, information technology and telecommunication.
UOWD has a job placement rate of 77 percent for undergraduate students and 85 percent of postgraduate students within six months of graduation. UOW is in the QS Top 50 under 50 ranking and top one percent ranking for graduate quality.
ESTEEMED FACULTIES
UOWD's faculty members have played a prominent role in the journey of its establishment and growth. UOW Australia is a member of the Group of Eight (Go8) Deans of Engineering and Associates. This is in recognition of its having one of Australia's best engineering teaching faculty who contribute regularly to international research discussions on the developments and directions of their respective fields. This gives students in Dubai the opportunity to engage in real-world case studies and research topics enabling them to excel in their careers.
"The staff of this university teach with the philosophy that students ought to apply theoretical knowledge to real-life situations thus ensuring the outcome helps them learn better,' said Professor Hussain.
"With the faculty being of engineers, computer scientists and information technologists, students benefit the most by developing their capability to investigate and create smart systems that can solve society's challenges among others, with respect to new energy resources, smart health systems and prosthesis, extended water supply and resources, and establishing smart cities infrastructure which reflects sustainability trends."
EYEING THE FUTURE 
The faculty at UOWD has ambitious plans including expansion for both undergraduate and postgraduate programs in Engineering. Plans to introduce programs such as Artificial Intelligence, Big Data, and Advanced Computing for Professional are underway, while a new PhD program in Engineering, Computer Science and IT "is also on the anvil".
PROFESSIONAL BODY ACCREDITATIONS
The Bachelor of Information Technology in Management Information Systems and the Bachelor of Computer Science program, including the two majors in Digital Systems Security and Multimedia and Game Development, are accredited by the Australian Computer Society (ACS).
UOWD's Bachelor of Engineering degree, offering majors in Electrical, Telecommunication, Computer, Mechanical and Civil Engineering, has been professionally accredited by the Institute of Engineers Australia (IEAust), also known as Engineers Australia. Through the Washington Accord, courses accredited by Engineers Australia are recognised by equivalent professional Engineering authorities in the USA, UK, Japan, Hong Kong, New Zealand, Canada, South Africa and other countries
NEW CAMPUS
The University of Wollongong Dubai currently shares a campus with several other universities and institutions but will soon move into a new, dedicated, 200,000 square foot campus building, also located in Dubai Knowledge Park.
The ultramodern facilities will enrich the UOWD's teaching approach with flexible, technology-driven curricula matching the skill needs of Dubai Expo 2020 (rescheduled for 2021 due to the COVID-19 pandemic) and its legacy.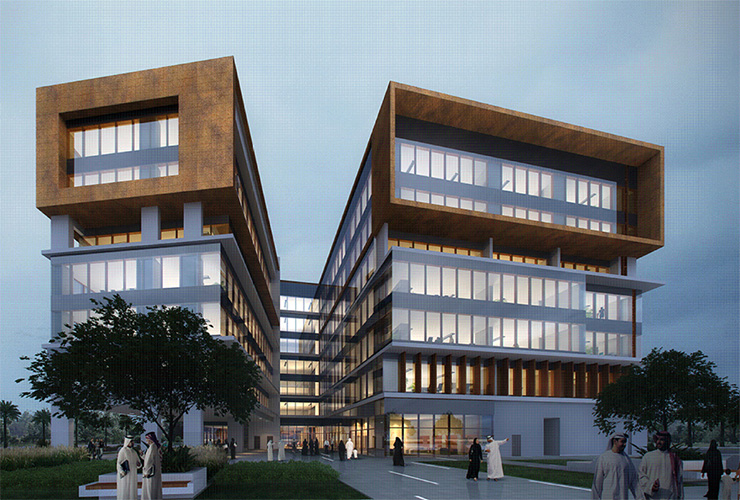 The premises house major laboratories dedicated to power and circuits systems, chemistry, thermodynamic, fluid and heat transfer, hydraulics, manufacturing, physics, robotics, geotechnics, concrete, media and communications, cybersecurity, networking and gaming.
The heart of the campus will belong to the UOWD library with collaborative learning spaces, traditional quiet reading and study zones, meeting rooms of varied sizes, as well as a student lounge designed as an informal learning space.
The campus will also include modern classrooms, an exhibition space, a recruitment lounge, a state-of-the-art auditorium and a café.
CHANGE YOUR LIFE TODAY
As the highest-ranked Australian university in the UAE with a track record of excellence spanning close to three decades, the UOWD currently boasts a roll of more than 3,500 students from 108 nationalities and a global community of 152,000 alumni. It is an ideal choice for overseas students looking for an internationally accredited degree close to home. UOWD also supports the visa process for non-resident students who wish to enrol in a full-time study program.
For more information on studying at UOWD and linking to this powerful network of global change-makers, visit: uowd.ac.ae