Created by leading U.S. architect Ronald Garl, Alpine Golf & Sports Club is another Thai club where Tiger Woods has tasted victory. The 15-time major champion won the 2000 Johnnie Walker Classic here, four years before the club again hosted the same tournament.
The 18 holes at Alpine golf rate among the most challenging in Bangkok. In addition to the superb hole routing, this member's only golf club's maintenance is to the highest standards and features lightning-fast greens and undulating fairways.
Large stately trees, bushes, and shrubs flourish within the undulating parkland layout. It is hard to imagine that Alpine sprung up from flat rice paddy fields with the changing elevations more characteristic of courses in Hua Hin or Phuket.
Water is also a constant source of challenge along with beach-style bunkers, the latter most notably protecting the front of the par-3 3rd and 12th holes. Alpine is not a golf course for the faint-hearted.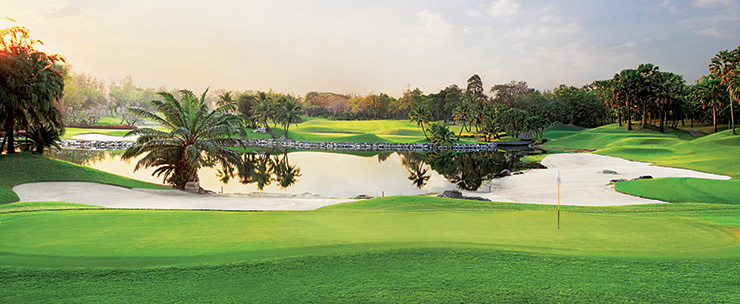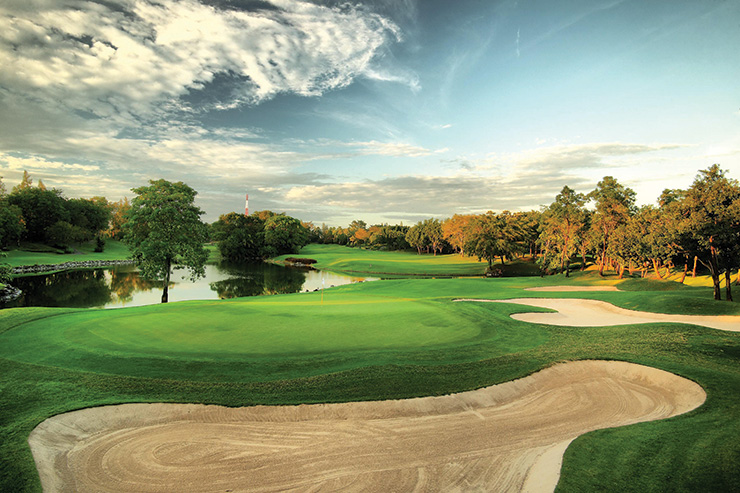 Some drives require straight shots to avoid winding up in the jungle lining many of the holes. Finding the often water protected greens is no easy achievement either. With these relatively small putting surfaces to aim at, one is left mesmerised to discover that Woods eagled the 555-yard par-5 7th on his way to winning the 2000 Johnnie Walker Classic. Note that most of the greens slope from back to front, so keeping the ball below the hole makes scoring much more manageable. Conservative fairway and approach shots will reward while poorly placed shots are subject to costly penalties.
The clubhouse facilities, locker rooms, and two restaurants (a coffee shop and gourmet Chinese restaurant) are all excellent with service to match. Serious golfers should include Alpine Golf & Sports Club in any Bangkok golf package.