Photo by Ross Kinnaird/Getty Images
By Kent Gray
Tyrrell's a treat
Given his giddy run of form over the past 16 months – victory at the Abu Dhabi HSBC Championship triumph was his fourth in 20 starts – has Tyrrell Hatton surpassed Tommy Fleetwood as Europe's chief major champion in waiting? Perhaps. The Englishman unquestionably crept above Rory McIlroy to fifth in the OWGR. The only European above him? Jon Rahm, also the owner of four Rolex Series gold stars. You've got to love the ball-striking, the icy-calmness closing out events and the honest self-assessments, both during rounds and afterwards.
"Definitely pinching myself. It's just very surreal to be that high in the world rankings. I don't look at myself or — I don't know how to sort of word it. I guess I'm very — yeah, I'm struggling to find the words how to put it across but I'll just say it is very cool to be where I am at the moment."
---
"Hi, I'm Tyrrell…and I'm an angry golfer"
"If you're feeling glum, pop up a thumb". The European Tour's social media team always seem on point but how about the timing of having eventual champion Tyrrell Hatton front their latest ditty, #AngryGolfers? "I'm not quite sure why they chose me," Hatton drolly told on-course commentator Tim Barter a round after previewing the soon-to-be-released viral video with a double thumbs up to mock a rare wayward drive on the National layout. Classic stuff and a fun new go-to to help us all defuse potential on course meltdowns.
---
What's the story, Rory?
Rory McIlroy, welcomed back to the UAE capital for the first time since 2018, complied one of those uniquely Rory rounds on Thursday in Abu Dhabi that makes golf look easy. But almost inevitably after the 64 – "a lovely way to start the year" – and two further mostly stress-free rounds to snare the 54-hole lead, the Northern Irishman found a way to let the title slip. Again. A fourth third placing to go with four bridesmaid finishes means the Falcon remains almost as elusive as a certain green jacket for Rors. Here's hoping he'll be back next January.
---
What next for Abu Dhabi?
Speaking of the 17th Abu Dhabi HSBC Championship, anyone else excited to see what the Desert Swing opener will be like co-sanctioned by the mighty PGA Tour? Yup, us too. Nothing's official yet but it seems Abu Dhabi, the Scottish Open, BMW PGA Championship and DP World Tour Championship at JGE will get the full U.S. treatment in 2022. McIlroy might find it even tougher to snare the fabled Falcon.
---
2021 Lev-ity
How good was Alexander Levy's reaction to his ace (a 9 iron from 177 yards) on the 15th in the third round in Abu Dhabi? It was peak 2020 (rolling into 2021) as the Frenchman looked around for affirmation from the galleries to be greeted by near silence. Damn you COVID. As Levy rolls on into 2021 behind the wheel of a new BMW X850i, here's hoping there will be even fewer gallery restrictions next year.
---
Casey can
If Abu Dhabi champion Tyrrell Hatton is Europe's new chief major champion in waiting, then countryman Paul Casey is firmly back in the conversation as the best player without a big, with all due respect to Lee Westwood. Casey's effortless power and a smiling jaunt to the Dallah Trophy ensured the OMEGA Dubai Desert Classic has another worthy name on its stellar roll call of champions and leaves us to wonder how he hasn't landed a major. Yet.
"I think a lot of good stuff [is still to come], honestly I feel like I've regained my youth. I mean that sincerely and, yeah, I'm so happy."
---
Majlis makeover
You had to feel for the hard-working team at Emirates Golf Club as patchy pictures of the Majlis' normally pristine greens were beamed around the globe during the Desert Classic. The great news is it won't be long until those images are a distant memory with the course to close May 2 for a complete rebuild of the putting surfaces to USGA specifications. The greens had come to the end of their lifespan – roughly 20-25 years in the harsh desert environment – but will be rolling smoothly once more when the course is reopened in late September.
---
No.1 for a very good reason
How good is Dustin Johnson, even when he's not at his best. The most impressive aspect of the world No.1's second Saudi International win in three years was his unflappable response to a catalogue of miss reads on the tricky Royal Greens putting surfaces. The only time the reigning Masters champion did get angry – if you could call a light slap on his own thigh after bogeying the 16th in the final round "angry" – Johnson responded by very nearly driving the next. A par 4. Job done.
"I've been playing some really good golf the last six months. Hopefully, I'm going to continue to play this kind of golf. I'm seeing a lot of the same things each and every week, and that's what I do… I've got a great team around me that helps me kind of stay in that form so that I can perform at the highest level each and every week."
---
The dirty D word
With distance almost a dirty word in golf nowadays, Bryson DeChambeau finds himself the game's new anti-hero, with all due respect to Patrick Reed. Thankfully, Saudi was another reminder that ridiculous length off the tee doesn't guaranteed fairways in reg, much less trophies (Dustin Johnson's victory notwithstanding). In the clamber to dial back the ball, we should remember that and the fact the next-gen love seeing athletes hit bombs. Are we trying to lure newcomers to the sport or tell them that improved athleticism isn't really wanted? Remember too that Kevin Na contended. As DeChambeau (T-18) said himself, a distance advantage will always be a distance advantage no matter how long the course is or how far the ball flies. But that doesn't mean the big boofers will always win. This is golf after all. The only guarantee is that you'll never beat this maddeningly brilliant game.
---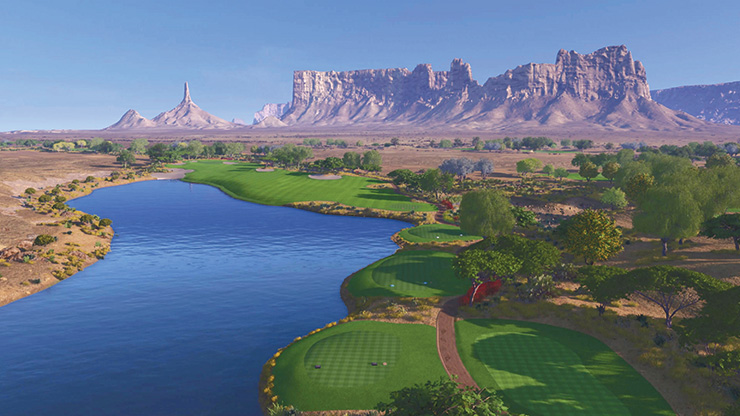 The course Jack is building
The Kingdom might be home to the youngest of the Desert Swing events but boy, aren't Golf Saudi in a hurry to make up for lost time. Even before one of this year's strongest fields (it was only early Feb.) teed it up at Royal Greens, the governing body announced Jack Nicklaus has put his name to a new private course in the Qiddiya megaproject 40 minutes south-west of the capital Riyadh. And that Saudi Aramco was backing a four-event, $4 million series of Ladies European Tour events in New York, London, Singapore and KAEC. Talk about Kingdom come. It's going to be fascinating to see what the golf landscape looks like in a decade's time.
---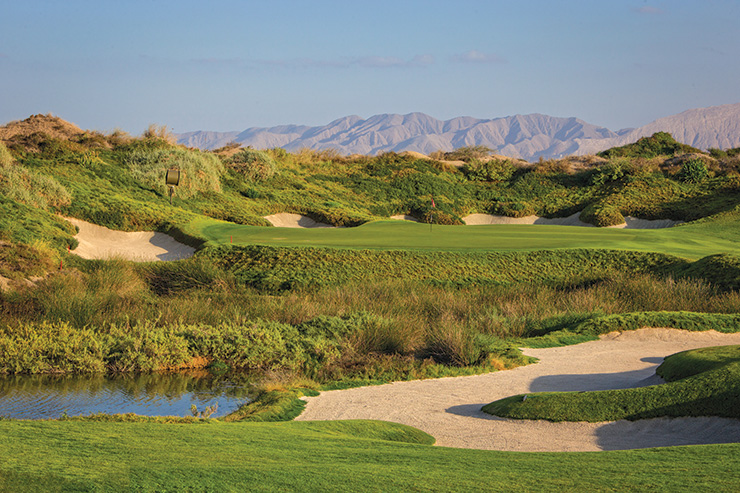 Enough already COVID
Just when we all thought the horrors of 2020 were behind us… Here's hoping the cancelled Oman Open can be rescheduled for later in the year because Greg Norman's Al Mouj Golf design in Muscat is one of the courses that give Middle East golf tourism a great name.
---
Qatar Quality?
Anyone else surprised a year has passed since the European Tour put its 2020 season on ice following Jorge Campillo's victory at the Commercial Bank Qatar Masters? Yeah, it feels much longer than that to us too. With the coronavirus-enforced demise of the Oman Open a timely reminder to take nothing for granted, the return to Education City is our last chance to enjoy some top-level desert golf before the long haul to the Race to Dubai decider at JGE in late November. The quality of the field in Doha, now that a potential two-tourney Middle East detour has become a one event hit and run mission, will be telling. Whatever happens, at least it looks like we'll all play on after Qatar. What a year – and a Desert Swing – it has been.