SPONSORED CONTENT –  We're truly spoiled for choice in the UAE when it comes to quality golf and all the entertainment trimmings that surround it. But not all clubs, not even in our privileged corner of the world, are created equal.
Some just do it better. Trump International Golf Club, Dubai is an example, blossoming into a premium lifestyle destination in its own right since opening with a massive fireworks bang in February 2017.
At its heart are the magnificent 18-hole championship and nifty Par 3 nine-holer, designed and quite literally bulldozed (parts of it anyway) into life by Rio 2016 Olympic Games course architect Gil Hanse. Beyond the fairways, a technology-enhanced driving range, world-class practice areas and Golf Academy cater to golfers young and old, new and experienced.
Special Trump International Golf Club, Dubai Membership offers HERE!
Wander inside and the selection of dining options means you could easily play here every day and never tire of the refreshment options pre and post-play. Fortunately, Trump Dubai is opened from 6:30am to midnight daily which means you have plenty of time to enjoy everything the club has to offer.
They're getting ready for an epic season at the Trump International Golf Club, Dubai and you're invited to join in. Learn or hone your game, enjoy some serious competition in the regular club competitions or a stress-free hit and giggle with friends before unwinding in the facilities which include an infinity pool and gym.
The latest Golf Academy offers start October 1. There are also new releases in the Pro Shop with special offers and you can also get personally fit for the right equipment at the TaylorMade Fitting Studio. They're even planning special fitting days for multiple big name brands.
Check all the fun below and visit www.trumpgolfdubai.com to take your game, and lifestyle, to a whole new level.
Golf Academy Packages
Golf Academy – Special offers, Pricing and Booking HERE!  
The Academy at Trump International Golf Club, Dubai offers a wide variety of individual and group lessons. Their expert PGA Professionals specifically tailor a lesson programme to your needs to help you improve all aspects of your game in a relaxed and enjoyable environment. Using the latest golf technology, including Trackman, SAM PuttLab and video analysis, the PGA Professionals expertly utilise data to best adapt sessions to each individual learning style. They also offer complimentary access to our Academy Practice Facilities on the day of your lesson – why not put into practice new techniques that you've learned!
Beginners Group Lessons
Here's your chance to learn the game. Beginners can develop and hone their skills whether it's for fun or if you're looking to excel in the game. Master the basic fundamentals such as swing techniques, body motion and proper grip; acquire the necessary set of skills required to confidently play on the course.
Individual Lessons
Choose from a variety of lesson packages available with access to practice facilities ranging from one to four months. During the course of the training, your dedicated PGA professional will help you hone skills with data-derived insights based on your choice of programme.
Ladies Golf Socials
Socialise with the girls while you learn and improve your golf game in a one-hour session, followed by a fun social at the restaurant!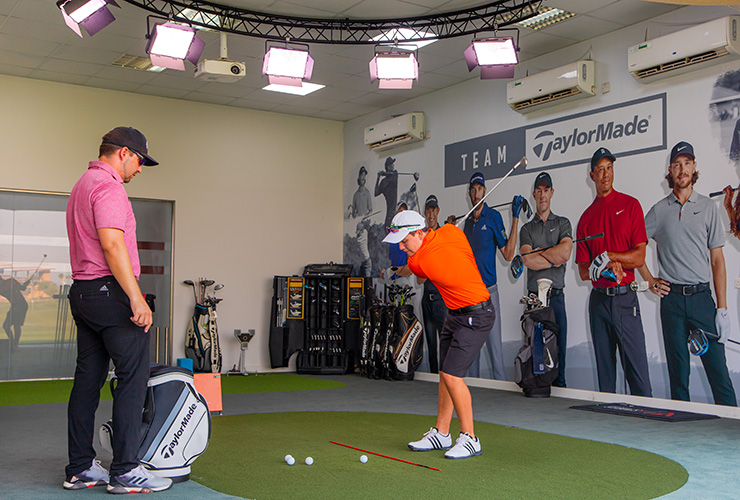 If your child is looking for a
Junior Development program
FUN golfing experience, look no further. Trump International Golf Club, Dubai's Junior Development Program is designed to improve youngsters physically, mentally and also fundamentally.
Play with the Pro
This is the ideal way for Trump International Golf Club, Dubai's PGA Professionals to provide you with a comprehensive analysis of your game. Trump's pros will help you develop the tools to improve your on course performance and transfer technical changes made on the range into better scores. Sessions concentrate on course management, shot selection and routines to maximise your performance where it matters most – out on Trump's two great courses.
The Trump GOLD lesson experience
This in-depth session with one of Trump International Golf Club, Dubai's highly qualified PGA professionals provides the opportunity to be assesses both on the driving range and on course, giving you a holistic and all-inclusive overhaul of your game. Want more? How about a debrief over lunch so you can discuss progress before heading out to the practice facilities to bed it all in.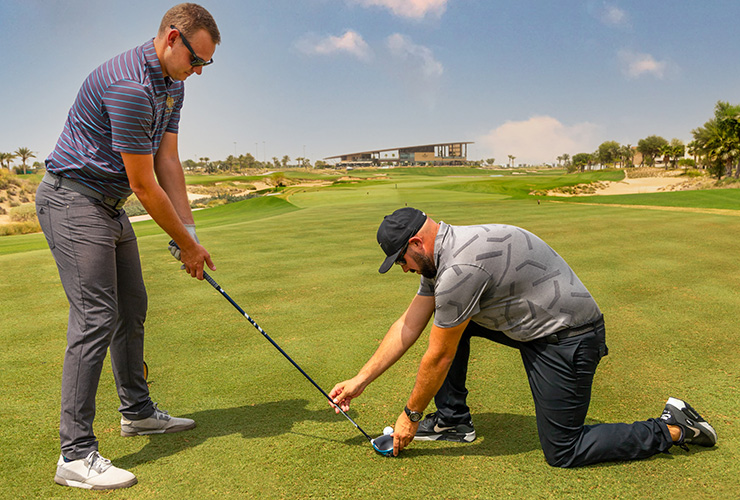 PAR 3 Course
In addition to a massive putting green and short game area, Trump Dubai's world-class Par 3 course is a brilliant place to enhance the teaching facilities for the Trump Golf Performance Academy. Floodlights have been installed near the Academy range for more lessons during the evenings to further enhance the tuition experience.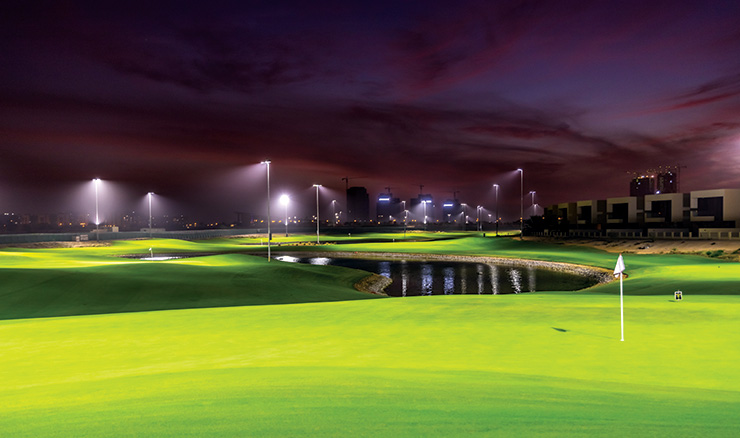 Pro Shop
The Trump Pro Shop has its latest apparel collections from exclusive brands such as Greyson, Travis Matthew, EP PRO, Fairway and Greene and the latest from B Draddy. Watch out for the latest exclusives and book your appointments at the TaylorMade fitting studio with the new SIM 2 range. Demo Days will be hosted to showcase pioneering hardware equipment in the region from top golfing brands.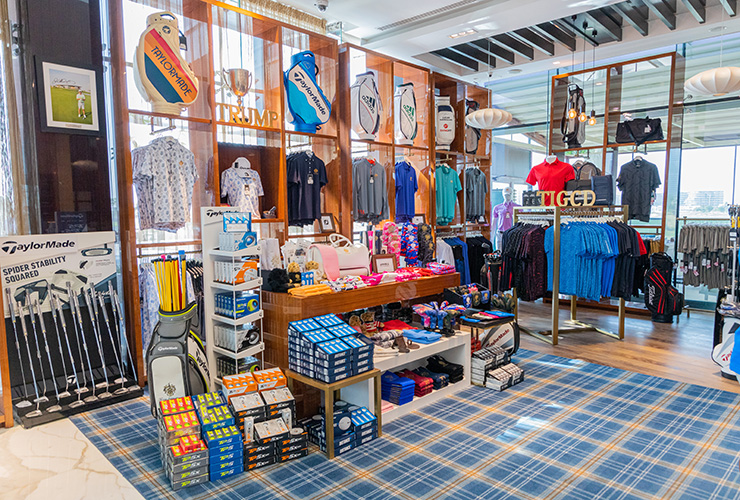 Fabulous F&B
Latest Dining Options and Promotions HERE!
Caddy Shack Drive In
Get ready for the amazing weekend festivals at the PAR lawn offering great food and beverage offers along with LIVE entertainment to be enjoyed with family and friends. Loads of kids' activities will be available.
Embers Lounge is your relaxed get-away space to enjoy a Gin & Tonic with the lads after a round of golf, a bottle of Scotch and fine cigars. From crafted cocktails to sharing boards, Embers Lounge provides the ideal atmosphere to lounge away any late afternoon or evening in their signature tufted oxblood chairs.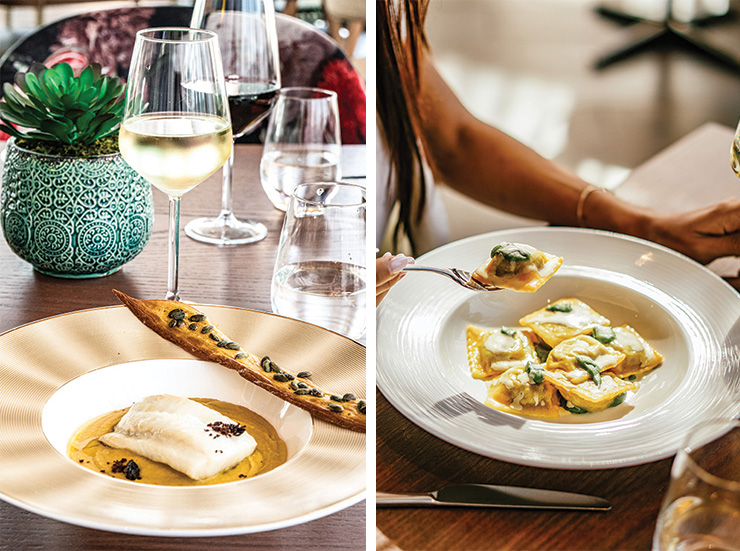 PRATO is a convivial Italian family experience driven by the pursuit of fresh ingredients, authentic and genuine cuisine that compliments friendly service and welcoming ambience. The cuisine reflects Italian traditions where the hearty flavours of the land are showcased using simple techniques of cooking over embers.
71 Sports Bar offers something for everyone. With a pool table, game nights, live sports and International comfort food, 71 Sports Bar pays homage to the unique sports tradition and cuisines from around the world in a casual yet expressive space, indoor and outdoor. A place for golfers and non-golfers alike to enjoy a convivial meal, unwind after a busy day with a beverage, meet with friends or watch live sports.
With great membership options available for the discerning golfer, Trump International Golf Club, Dubai welcomes you to join the ultimate luxury golfing lifestyle.