SPONSORED CONTENT – Freshly-minted Tokyo Olympic Games gold medallist Xander Schauffele. Reigning Open champion Collin Morikawa. Two-time major champion and Ryder Cup hero Dustin Johnson. 2017 Dubai Desert Classic and U.S. Masters champion Segio Garica. Abu Dhabi Championship titleholder Tyrrell Hatton.
You'll likely be aware of Adidas' stable of global ambassadors lighting up the world's biggest stages, the recent Ryder Cup in Whistling Straits included. What you mightn't be so cognizant of is the social consciousness behind all the products the golfing superstars sport on behalf of the Germany-based global sportswear giant.
Adidas are proud of their 20-year sustainability crusade and have recently doubled-down on this commitment by vowing to help End Plastic Waste.
Material Innovations
So how exactly are Adidas changing the sports apparel game? By producing their already innovative footwear and garments in part with recycled polyester or Parley Ocean Plastic – upcycled plastic waste intercepted from beaches and coastal communities, preventing it from polluting the oceans.
Every day, the equivalent of 1440 dump trucks of plastic waste enter the world's oceans, so this is one small way Adidas can keep some waste out of our oceans and use it for purpose. Since 2015, Adidas has created more than 30 million pairs of shoes with Parley Ocean Plastic, half of which were produced last year alone.
With a focus on creativity, sustainability, versatility and inclusivity, Adidas continue to work with a team of collaborators from the golf industry and beyond to forge new ways. By using recycled materials, the company are developing products made with nature in mind, and apparel made to be remade. The mission is to be the most progressive golf brand in the world and they're on their way.
So how can you make a difference?
If you're in the market for golf apparel and footwear, consider Adidas' recycled technical material: PRIMEBLUE and PRIMEGREEN.
PRIMEBLUE. This special capsule is just part of Adidas' commitment to innovating in the area of sustainability until the company reaches its goal to use only recycled polyester in all of its products by 2024. The products featured include polos, layering pieces and shorts, along with Adidas' new CODECHAOS21 footwear.
PRIMEBLUE is Adidas' high-performance recycled material that's made in part with Parley Ocean Plastic and turned it into a performance solution.
Visit adidas.ae to check out feature PRIMEBLUE products including the Adicross ZX Primeblue Spikeless Golf Shoes, CodeChaos and Primeblue Polo shirts. Limited edition Stan Smith (white option) kicks are also available on adidas.ae and at selected Middle East retailers. (The green option is only available on adidas.ae).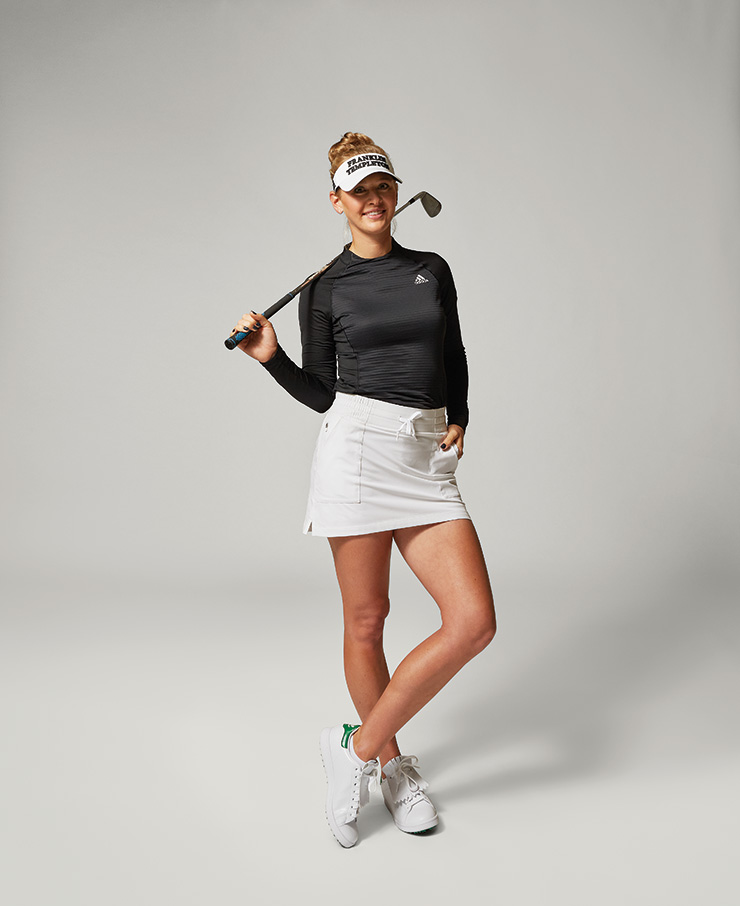 At the heart of Adidas' new PRIMEGREEN collection is the Go-To Polo. Like all the pieces in the range, it's specifically designed to be worn on the go.The hope for Adidas is that it also won't scream GOLFER!
"With more people of all ages picking up golf and anticipating the trend for more versatile apparel,we didn't want the simple idea of "having to wear a polo" keep people from heading to the course. So, we created this polo by utilising materials and colours that give it a wear-anywhere mentality while also ensuring it performs the way a golfer would expect."
Check-out the Adidas Blue Equipment Primegreen Polo Shirt and Solarthon Primegreen Spikeless kicks, also at adidas.ae.