Brittany Lincicome is nicknamed "Bam Bam" for good reason. The 32-year-old is one of the longest hitters in ladies golf with a 360-yard bomb during an official event in Hawaii, two major championships, six Solheim Cup appearances and more than $8 million in career earnings to show for it. She tees it up in Dubai as a genuine title threat after claiming her seventh LPGA Tour title en-route to a creditable 27th placing in the U.S. Tour's season long rankings. The world No.52 spoke to Daily News ahead of her 11.55am tee time.
• • •
Welcome to your first OMEGA Dubai Ladies Classic. You must be excited to be here?
It's pretty amazing. I've never been to Dubai before and I always wanted to come play in this event. It's at the end of the year, so that's why a lot of players, especially from America, don't want to play because we just want to be done for the year. But it's definitely an event that's been on my bucket list for a long time and just finally nice that it worked out. I feel like I should have been here before because it's so incredible.
What are your initial impressions of Emirates Golf Club?
It's awesome. The golf course is great. We finally played all 18 holes now. I've also taken in a bunch of the sights: The Burj Khalifa and I've gone to the mall and played with the penguins. We've done so many cool things. It's been incredible.
Let's talk about your year, the highs and the lows?
Well, I started out my year really well. I won the first event on the season [Pure Silk Bahamas LPGA Classic] but then it didn't really go as well as I would have liked. Obviously having a win early in the season, I was kind of hoping for another win or close finishes and that didn't happen. But obviously we're in Dubai and I'll get another win and it will be great [hopeful laughs]!
What are your ambitions for 2018?
You know, obviously get a win or two would be nice. But yeah, just kind of little goals for myself, personal goals. I would like to be more consistent. I seem to kind of be on a roller coaster ride most times, and that's never fun.
What about your Christmas plans after the Omega Dubai Ladies Classic?
My husband already bought our Christmas tree while I was gone, so hopefully when I get back we can decorate it together. We only have a couple weeks till Christmas, so I should probably do some shopping too and get some presents under that tree. We bought a new house a couple of weeks ago, so it will be nice to just kind of be in our house and do nothing.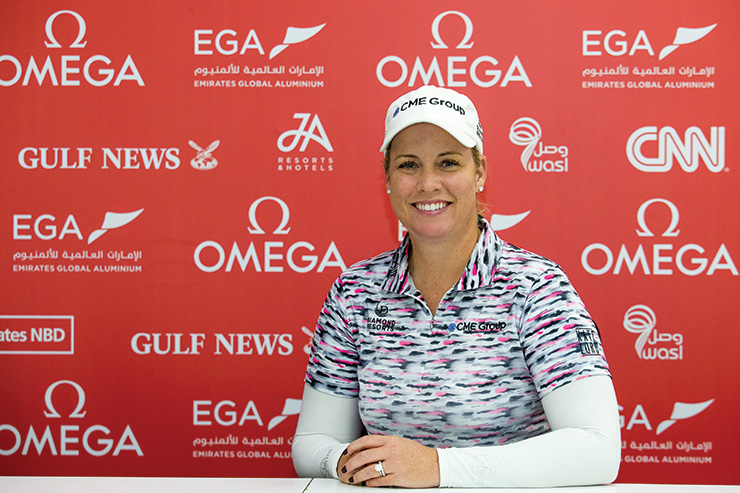 There are a lot of new players breaking through on the men's tour, but what's your take on the progression of the women's game globally?
I think it's fantastic. The Solheim Cup … I think a lot of people that weren't maybe golf fans before watched that and they were like, wow, these girls are really good. Having events like that, and then obviously being over here on the LET, it just showcases the best golf in the world. Even on the LPGA, it's a different player that can win every single week. There's so many good players and you have to shoot really low scores every day you tee it up to have a chance to win.
Any young players you are excited about?
Just like what Lydia Ko has done, and obviously Michelle Wie who is a little bit older now, everyone is getting younger and younger. Angel Yin is [one to watch]. I'm 32 and I feel like I'm ancient now. I've been on Tour for 13 years and these girls coming out at 18, 19 years old, it's cool to see the game's still growing.
Lexi Thompson isn't going too badly either?
Lexi is freaking killing it. It's cool to see her evolve. She obviously hits it a long, long way. She's kind of reeled it in and maybe knows not to hit driver on every hole. She hits a lot of 3-woods now and keeps it in play and works out a ton, and that obviously helps her.
Did you ever play with Angel Yin?
I have. I'm actually playing with her the first two days here. She's super entertaining. Like we're going to have the best of times the next two days. So we'll see who can hit it farther!
Are you're a player that is hard on yourself or are you pretty relaxed whatever you shoot?
I try to keep a good balance. Obviously I'm super competitive and I want to do good every time, but it's golf. You're not going to play good every week. It's cool to be able to go fishing and hang out at my home and then still be competitive and practice enough to still be good to play the game.