By Dave Kindred
To hear Rickie Fowler after, you'd think he had just finished the finest day any professional golfer ever had. Smiling, all but glowing, he declared the day "nice … stress-free." Even when a reporter reminded Fowler that he now is the best player who has not won a major – Sergio Garcia having graduated – Fowler called the label a compliment: "There are a lot of really good players out here that haven't won a major." Shoot a 65, it's Christmas morning all day.
If Fowler mis-hit any shot of any kind, it escaped attention. For the ninth time this season, he got it to the house without a bogey; no one else has done that as often. In the first round of the U.S. Open at Erin Hills, a golf course that no pro had played in competition, he went seven under par, tying an Open record set by Jack Nicklaus and Tom Weiskopf in 1980, eight years and six months before Fowler was born.
"It's just nice to go out and actually execute the game plan and not have to think about 'what if that one went in,'" he said. On this bright, warm, perfect heartland summer day, it all seemed so simple. "It did, just because I've been swinging really well. I feel like I have great control of the ball right now and distance control."
To hear him after, you could imagine Fowler had contrived to move his Titleist by telepathy, silently and smoothly, no what-if's allowed. It would be in keeping with his work all season. He has won once, finished second twice, and earned nearly $4 million. He's better than ever from bunkers, better off the tee, and so comfortable all-around that he says there's nothing much to work on before tomorrow's round: "So go hang out, relax." Maybe a movie, he said. Maybe two movies. Life is good after a 65.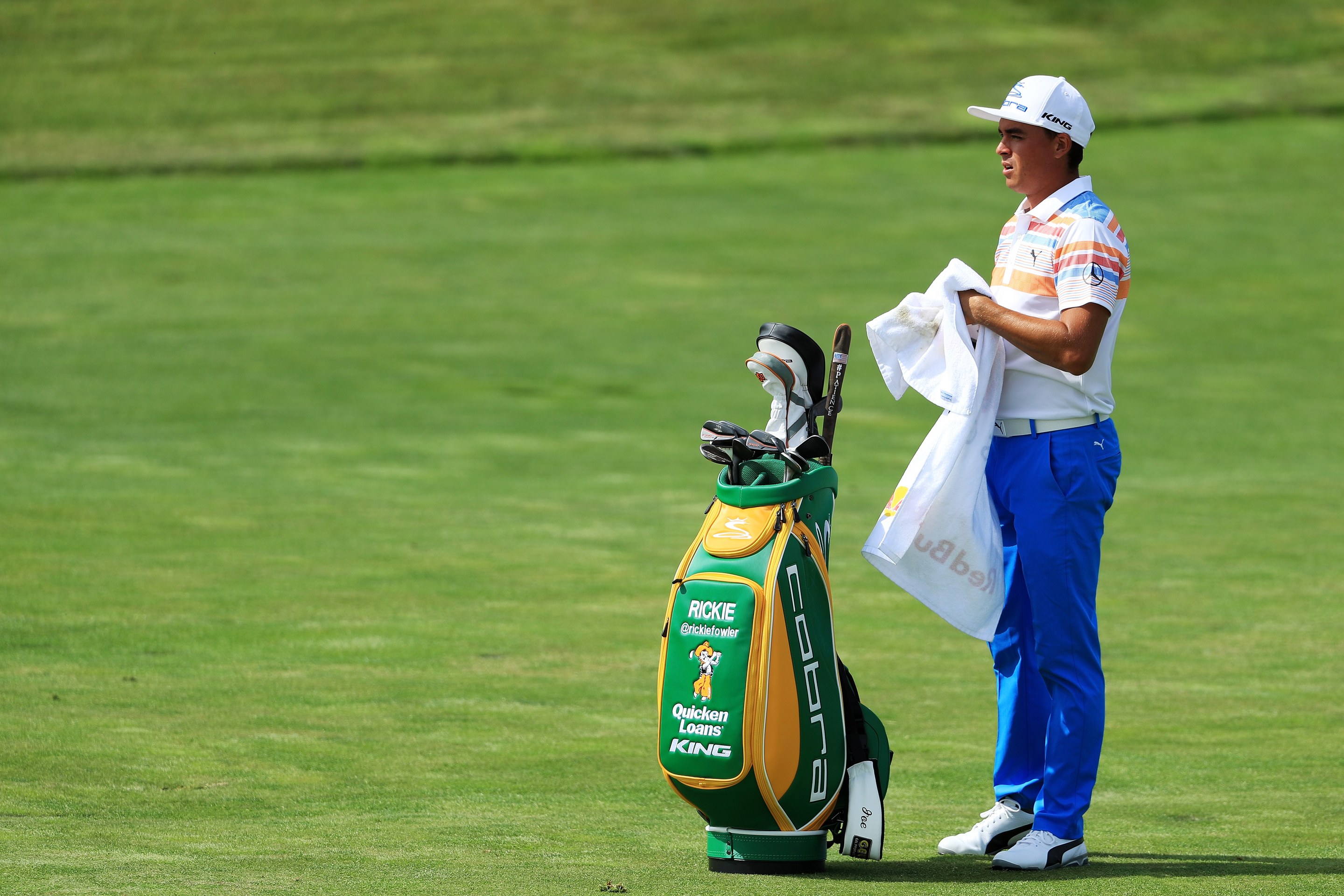 Fowler is the prodigy coming to maturity. He is 28 years old, a four-time winner on the PGA Tour (with $30 million earnings). He has five top-five finishes in the majors, four of those near-things coming in 2014 when he finished fifth in the Masters and runner-up in both our Open and the Brits'. Representative of his growing self-assurance today was a small piece of his remarks to the assembled literati. Instead of detailing even one of his seven birdies – he birdied all four par 5s — Fowler chose to memorialize an otherwise-unremarkable par on the fourth hole, a 439-yard par 4. On that one, he liked the "execution" of his game plan and the "distance control."
"Hitting 2-iron off the tee," he said. "Not necessarily pushing it or challenging the bunkers too much. Then hitting a cut 5-iron and staying disciplined to the middle of the green and hitting my numbers. We had 195 to the hole with the wind in off the left, and just hit a nice choke-down cut 5-iron. We missed our number by two yards, which, from that distance with a 5-iron and wind in from the left, was pretty spot-on."
Nothing came that easily today for the defending champion, Dustin Johnson. Drives into Erin Hills's knee-tickling fescue caused DJ to become a thrashing machine. He cut more hay today than any farmer for miles around. The resulting 75 left him in the bottom half of the 156-player field. Still, he remained optimistic despite the evidence: "I'm swinging good, everything feels good. I just need to make more putts here."
Fowler was happy with the record 65. "It's always cool to be part of some sort of history in golf." He also was happy to have that first major a possibility: "There's a lot of golf to be played. But, yeah, I'm ready to be out there." He came ready, by the way, to please the Wisconsin galleries; his golf bag is a Green Bay Packers' gold and green: "As many times as you can get as many local fans on your side, it helps."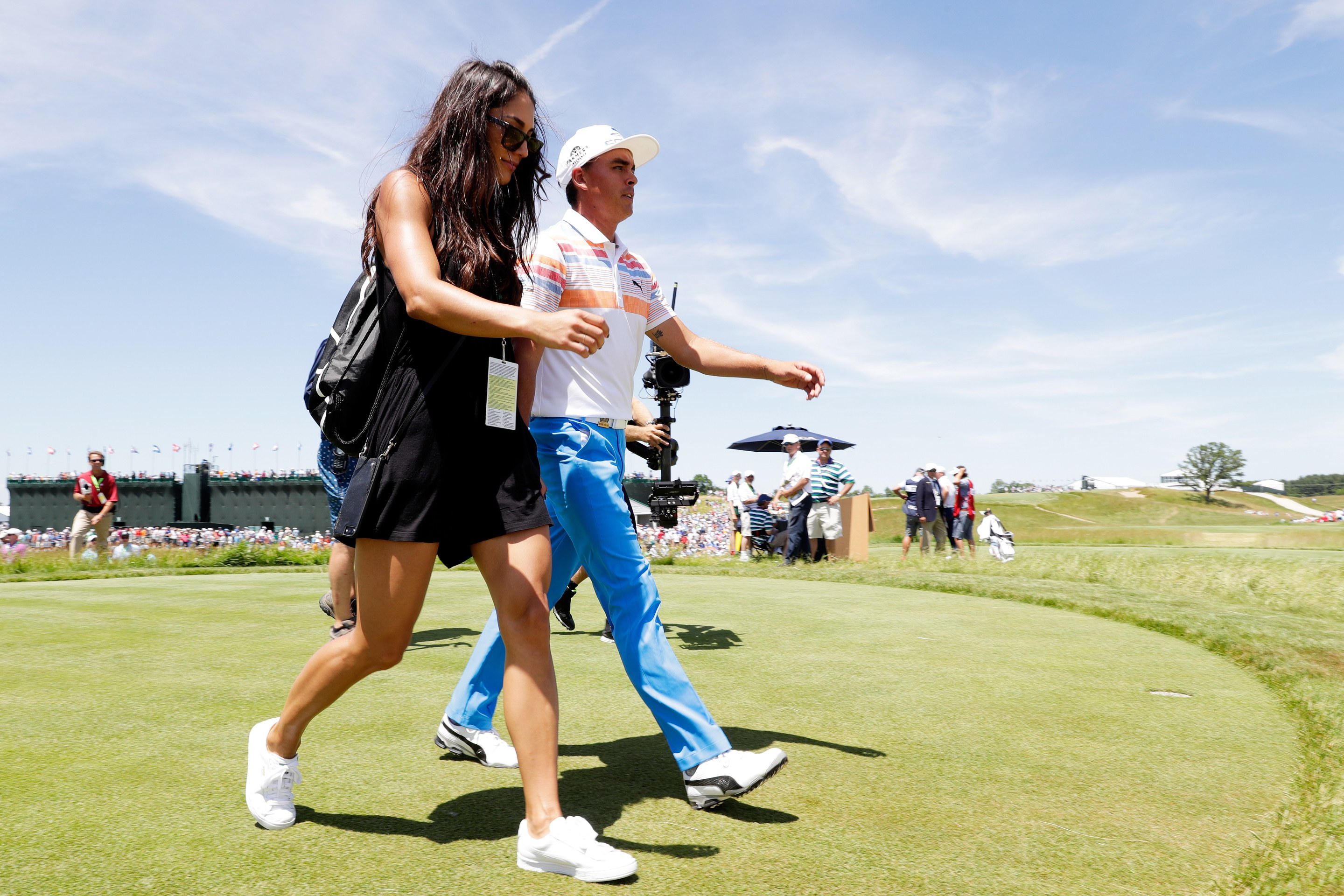 The day's work done, Fowler walked from his last hole to the scoring room a couple hundred yards away. He walked hand-in-hand with Allison Stokke. Some of us noticed Ms. Stokke in her previous life as a pole vaulter at the University of California-Berkeley. She is now a fitness model. To see her walking with Fowler was to remember what the television broadcaster Brent Musburger once said on seeing the Alabama quarterback, AJ McCarron, and his girl friend, Katherine Webb, then Miss Alabama.
"You quarterbacks," Musburger said to his broadcast partner, Kirk Herbstreit, once an Ohio State quarterback, "get all the good-looking women." After which Musburger said, "If you're a youngster in Alabama, start getting the football out and throw it around the backyard with Pop."
Or, maybe, find a 5-iron and work on that choke-down cut to the middle of the green.