One-on-one with new Masters champion and Hublot ambassador Patrick Reed
Confidence is a word a lot of people would refer to when asked to describe Patrick Reed. How did that winning feeling– the early wins – how did that make you feel? Talk to us about how belief became such a big part of your game.
Reed: It made me feel that I belonged out there. Whether it was, as a kid, belonging with the older kids or whether it was on the PGA tour. Once you get on the tour, you're excited that you made it. But then, once you get that first win, then all of a sudden you believe you deserve to be out there. Once you get past that first win, you get the second one, then you start having that belief that you can compete in Majors and really compete for that top spot.
If you don't have a belief in yourself no one's going to believe in you. Getting that win gets you into that category that, not only do you believe but, all of a sudden, everyone else starts realising, "Oh, he's won so he has proven himself. Now, let's give him a shot. Let's see what he really can do."
There's a moment you have no doubt talked many times, when you took down one of your contemporaries in the 2016 Ryder cup which has to be up there with the two or three greatest matches we've ever witnessed. Now, we're talking about the art of perfect timing. I guess before you teed off in that round, you're approaching the golf course, you know you're playing Rory. At what point do you start realising you're feeling good? How do you control the emotion? How did you actually allow yourself to perform to that high level on that day?
Reed: Right when I finished on Saturday, I walked straight over to the captain and I said, "Hey, captain I want Rory." I knew there's no way we could guarantee that just by saying, "Hey, guys Patrick wants to play Rory, we're going there." Because you had to put down your names and hope that the other team put their names in such a way that matches up with your thinking. In the past, Rory has gone out around the middle of the singles matches because that's normally where the deciding match is, in the middle.
That's usually the winning point but because we were leading, we had a feeling that Rory was going to go out first. I'm over there jumping out my shoes like, "Put me out first, put me out first. I want Rory." Because I want to play their best guy and that week he's playing best and I want to go up against him. Whenever it came out that I was to play Rory, I was just so jacked and excited and ready to go. Actually, my warm up wasn't as good as I needed it to be. I was struggling because I was so hyped that my timing was actually too fast.
I was swinging out of my shoes, getting out of my normal rhythm and because of that, my coach was like, "Hey, come on, let's calm down. Let's get back to your normal swings. Get back to your normal tempo." But it just wasn't happening. Then Tiger walks over he just gives me this blank stare, he said, "Come here." I'm just sitting there going, "Oh, what's going to be said?" He just wraps his arm around me and tells me a story. It was really funny It was a good joke which kind of loosened me up and then from that point, I started hitting some shots and got back into my normal timing and normal rhythm.
Once you start hitting a couple of shots and you get back into that flow that you were in earlier that week, you just get that confidence You start thinking, "All right, here we go, this is going to be great. I'm going to be ready to go."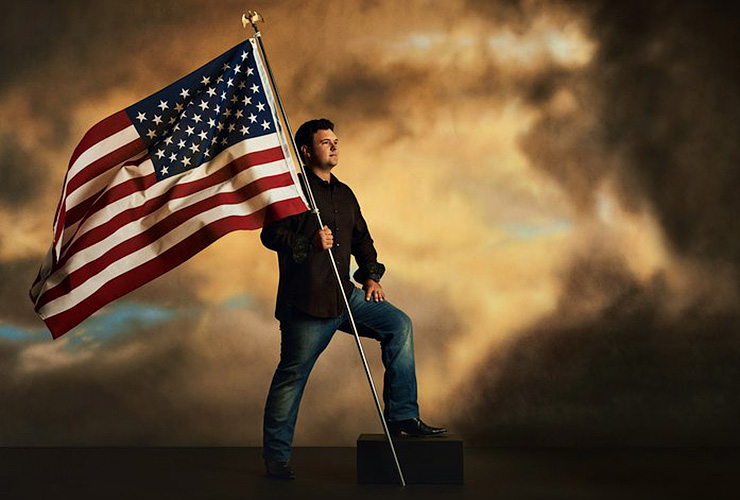 On the first tee, with the first strike of that first shot, did you know then that you were swinging well?
Reed: My first tee shot was way left but it was hit really solid. I felt like we made a pretty good golf swing. Now, there are times that you're going to feel like you put the club in the right slot, you feel like you have perfect timing and the right rhythm but, if it's just a hair off on the release with your hands, the ball could go just a little bit one way or the other. When it went left like that, I looked at my caddie and said, "Hey, we're fine. I'm used to playing from the trees so let's go up there and let's get this crowd ready to go."
I think that the sportsmanship really shone through with you and Rory because you'd given as good as each other and you edged him out. That must have been something that you took a good deal of pride in, outside of winning? Just knowing that you created a great moment in sport. Is that something that fair to say?
Reed: It is. The one thing that you don't see in golf anymore because it's such an individual sport is the camaraderie and just the friendly banter back and forth from players. You get it in basketball, you get it in every other sport you play because you're interacting a lot with the guys. In golf you don't really have that. It's just you and your caddie. Playing with Rory, I'll never forget when he made his birdie on number three to go one up in the match
He just gave it just a nonchalant little hand wag, that's about it, and didn't show really any emotion. So, as we were walking to the fourth tee, I said, "I just want to let you know, when I win my first hole, you're going to know about it." And he just starts laughing. Then we tie four, go to five, I hit a great tee shot at the driveable par four. I hit it up there to eight feet for eagle and make the putt and then I let him have it.
I go nuts and he just starts laughing. At the par 5 seventh he hits one to 10, 15 feet, probably wasn't up to his standards but, it was good enough to make birdie. He makes a good putt and that's then when he starts going. Then I make mine, I give him the bow because he bowed the crowd earlier.
A lot of people are like, "Well, are they like angry at each other or what's going on?" We get to the next tee box and he's like, "Oh, my bow was better." It's like, "No, mine was. It was an American bow, we're on American soil." All match we're laughing, having a good time and I think that's the best part of competing, the sportsmanship and that everyone was able to see that. They can see this is a lot of fun for these guys and they're just showing how the game of golf can be. It's on eight, he makes the 9,000 foot putt that I told my caddie, "He's going to make this." And he's looking me like, "No, he's not."
I was like, "No, he's going to make this." He's like, "I guarantee you he's not going to make it." He's like, "I know you're going to say you need to have the mentality that he's going to make it and he's going to make everything." I was like, "No, he's going to make it." All of a sudden it's five feet from the hole and he goes, "Oh, he's going to make it." I was like, "Yes." When he made it, he's like, "I can't hear you. I can't hear you yelling." Then I topped my putt and gave him the finger wag but I think the best moment was right after that. We're walking off the green, fist bumps to each other, arms wrapped around each other's shoulders, just out there having a good time and talking.
That's stuff that in golf you don't see because it's such an individual sport but for us out there, we're like a big family. Whether you're on the US side, European side, it doesn't matter. We're all out there trying to do the same thing. We all want everyone to play well and I think that's what's going to stand out the most in that match.
You are a character and an individual. You do stand out, you have been through some interesting events, do you wear that like a badge of honour?
Reed: Yes and no. I've always believed if you're 110% truthful and you stick to your beliefs, then that's all you can do. Some people are going to love you, some people aren't. At the end of the day, if you're true to yourself, that's all that matters. I felt like myself and my whole team has done that, and that's all that's all we can do.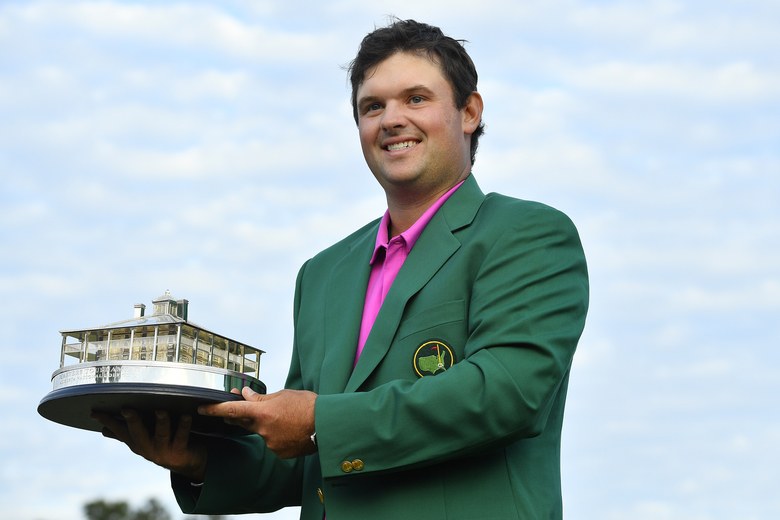 What has golf taught you?
Reed: To be patient. Golf is an interesting sport. It's a long sport especially every week, 72 holes. Each round is at least four hours long. You're going to have good days and bad days. You just have to stay patient, and know there are going to be highs in your career. You're going to have to be able to ride them out and continue. You're going to have lows in your career. You're going to have to know how to ride the ship and not get too down on yourself.
I feel like the most important thing in golf is staying patient and, also, I think it's staying true to yourself. When you shoot a jump shot or you throw a fastball, it's all pretty much the same motion. When you're playing golf, you step up on the first hole and there are 20,000 different ways to play that hole. You're going to have guys who are going to hit driver. You're going have guys who are going to hit iron off the tee.
You are going to have guys who hit draw or hit a fade, so the best way is just to stay true to yourself and be who you are. I feel like golf really brings it out in you because once you try to be like someone else or change your game plan, a lot of times you walk off with bogey, double, or even triple. Just because you changed your game plan to somebody else's when that's not who you are.
Winning the Masters put you in the record books beside the greatest players ever to have played the game. What does it mean to you?
Reed: The Masters is the pinnacle of the game of golf, to always be known as a Masters Champion is one of the greatest honors in the game of golf. it is every kid's dream to win the Masters and it was certainly a dream come true for me.
Was there any one moment in the tournament that stands out for you as the most critical in your success or when you knew this year was your time?
Reed: I wouldn't say that there was any moment when I thought this was my year or time, but I prepared better and my mental approach was better. When I made the 20-25 footer for birdie on 12 on Sunday, I had this rush like I'm going to win. Nothing-no one is going to stop me.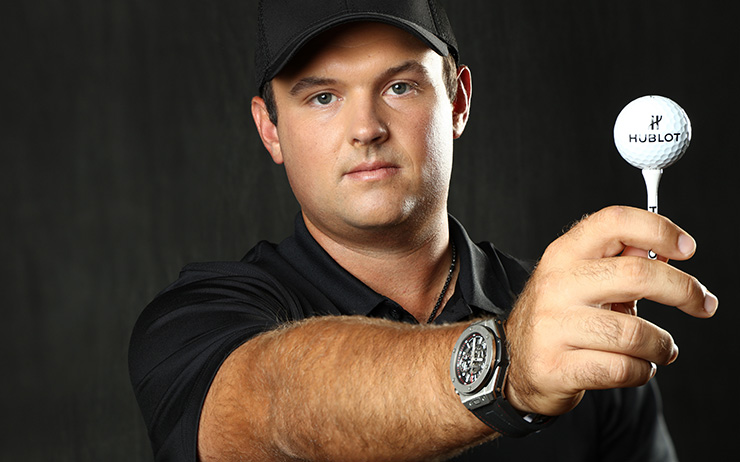 How do you think the Masters will change your outlook on life?
Reed: The Masters is so special. It is the most exclusive club in golf and arguably one of the toughest majors to win. I've always wanted to win multiple majors and win all of them in my career, if anything- this just validates all of the hours myself and my team have put in to the game of golf and it feels amazing.
There as so many examples of players not handling the pressure going into the final round of a Major with the lead. What did you do that allowed you to deal with the nerves that come with such a scenario?
Reed: I stuck to my game plan. I watched the leaderboard so I knew where I stood and I knew what I needed to do to win. I stayed in the moment and didn't get ahead of myself.
Not mentioning the likes of Usain Bolt, Floyd Mayweather, Dwayne Wade and Eli Manning, in golf Hublot's Ambassadors include the likes of World #1 Dustin Johnson, Olympic Champion Justin Rose and, of course, yourself as the new Masters Champion. How does it feel to belong to such an exclusive group of some of the world's greatest sportsmen?
Reed: It feels great to be amongst some of the worlds' best athletes in their sport. It also means just as much to me to be a part of the Hublot team who has made me feel like family.
To win any Major or become a successful professional golfer for that matter, players have to be able to rely on a really strong support system. Who has given you the support required to become a Major winner down the years?
Reed: Team Reed – my wife is and has been my biggest support system on and off the course, my mother-in-law is irreplaceable in our lives and she is so supportive. My sister-in-law, Kris, is my A-Team. My caddie, Kessler, I can always depend on. My coach, Kevin Kirk, who has spent so many hours with Justine and I, striving for perfection. Phillip Costa, my manager/attorney for Team Reed Enterprises, and every single friend that has been a part of Team Reed from the beginning. They know who they are and my support system is the best anyone could ask for.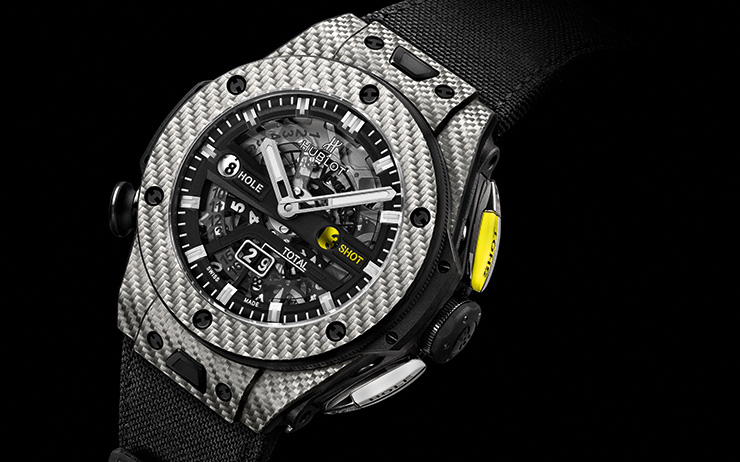 About the Big Bang Unico Golf
The case of the Big Bang Unico Golf is carved from Texalium®, an innovative material exclusive to Hublot, that is an amalgamation of carbon fiber and aluminum. This unique composite gives the watch its lightness; it weights precisely 97.93 grams. The Big Bang Unico Golf has the look of a chronograph and has been conceived as a chronograph. Its movement features return-to-zero heart piece cams that ensure the counting mechanism is robust and reliable. The putter-shaped pusher at 2 o'clock activates the mechanism for displaying the number of strokes taken and counts the strokes per hole. The pusher at 4 o'clock allows the wearer to move on to the next hole by resetting the stroke counter to zero. The counter at 6 o'clock displays the total number of strokes played and is simultaneously updated. The pusher at 8 o'clock is shaped like a tee. This resets the mechanism and sets the counters to zero at the end of the round. During the round, this button can be locked by rotating it by 45°, thus ensuring that it is not inadvertently activated. The MHUB1580 full-skeleton movement allows the wearer to admire and understand how the timepiece works. The watch comes with two interchangeable wristbands fitted with the One Click system. One is made of white leather sewn on rubber and designed like a golf glove, while the other is made of technical fabric with a Velcro fastener to ensure the watch sits perfectly on the wrist.