Simon Mellor, left, and Ted Bloom.
By Kent Gray
Pals Simon Mellor and Edward Bloom were planning the golfing trip of a lifetime with Pebble Beach and Spyglass Hill among the courses on their bucket list. But before the California dream took flight, Mellor's world was suddenly turned upside down.
It's March 2020, before the world really understood the consequences of the coronavirus pandemic, and Mellor's wife Paula was diagnosed with Leukemia.
"Following a routine health check in March, my wife was diagnosed with Myeloid Dysplastic Syndrome, a form of blood cancer which quickly became Acute Myeloid Leukemia," says Mellor.
"Her only hope for life [was] a bone marrow transplant, which requires a bone marrow registry, something unfortunately not prevalent in the region.
Paula was forced back to the UK as a consequence and was hospitalised last September, the start of a gruelling regime of chemo, endless tests and medication. The couple's six-year-old daughter, Georgiana, "struggles every day not seeing her Mum, with it now being almost six months since we spent time as a functional family. It has been an exhausting year."
Blessedly, there is light at the end of a long, dark tunnel for the Mellors.
"Fortunately, we appear to be winning our particular battle, but equally we know that other families do not have such a positive outcome. All that led to us subsequently wanting to do something in the fight against this terrible disease.
Cue the 18 on Eighteen challenge, a unique charity golf event that Mellor and Bloom will spearhead on May 3. The epic 540km, par 72 challenge will see the duo play a composite course across five emirates made up of 18 of the UAE's signature holes.
All funds raised will be donated to the Friends of Cancer Patients charity.
Mellor, the Managing Director of Messe Frankfurt Middle East, and  Bloom, the Director of Dubai World Trade Centre's DXB Live, will start their mammoth quest under floodlights on the 5th hole at Al Hamra Golf Club in Ras Khaimah, before moving on to Sharjah Golf Club, Al Zorah Golf Club in Ajman, a dozen courses in Dubai and, finally, a trio courses in Abu Dhabi.
Here's the full list of holes:
1. Al Hamra Golf Club – Hole 5 (Par 4)
2. Sharjah Golf & Shooting Club – Hole 9 (Par 4)
3. Al Zorah Golf Club – Hole 15 (Par 3)
4. Dubai Creek Golf Club – Hole 6 (Par 4)
5. Meydan the Track Golf Club – Hole 9 (Par 5)
6. Dubai Hills Golf Club – Hole 18 (Par 4)
7. Arabian Ranches Golf Club – Hole 10 (Par 4)
8. Trump International Golf Club – Hole 9 (Par 5)
9. The Els Club – Hole 17 (Par 3)
10. Jumeirah Golf Estates, Earth – Hole 16 (Par 4)
11. Jumeirah Golf Estates, Fire – Hole 4 (Par 4)
12. The Montgomerie Golf Club – Hole 9 (Par 3)
13. Emirates Golf Club, Faldo – Hole 12 (Par 3)
14. Emirates Golf Club – Majilis – Hole 9 (Par 4)
15. Jebel Ali Golf Resort – Hole 4 (Par 4)
16. Saadiyat Beach Golf Club – Hole 10 (Par 4)
17. Yas Links Golf Club – Hole 17 (Par 3)
18. Abu Dhabi Golf Club – Hole 18 (Par 5).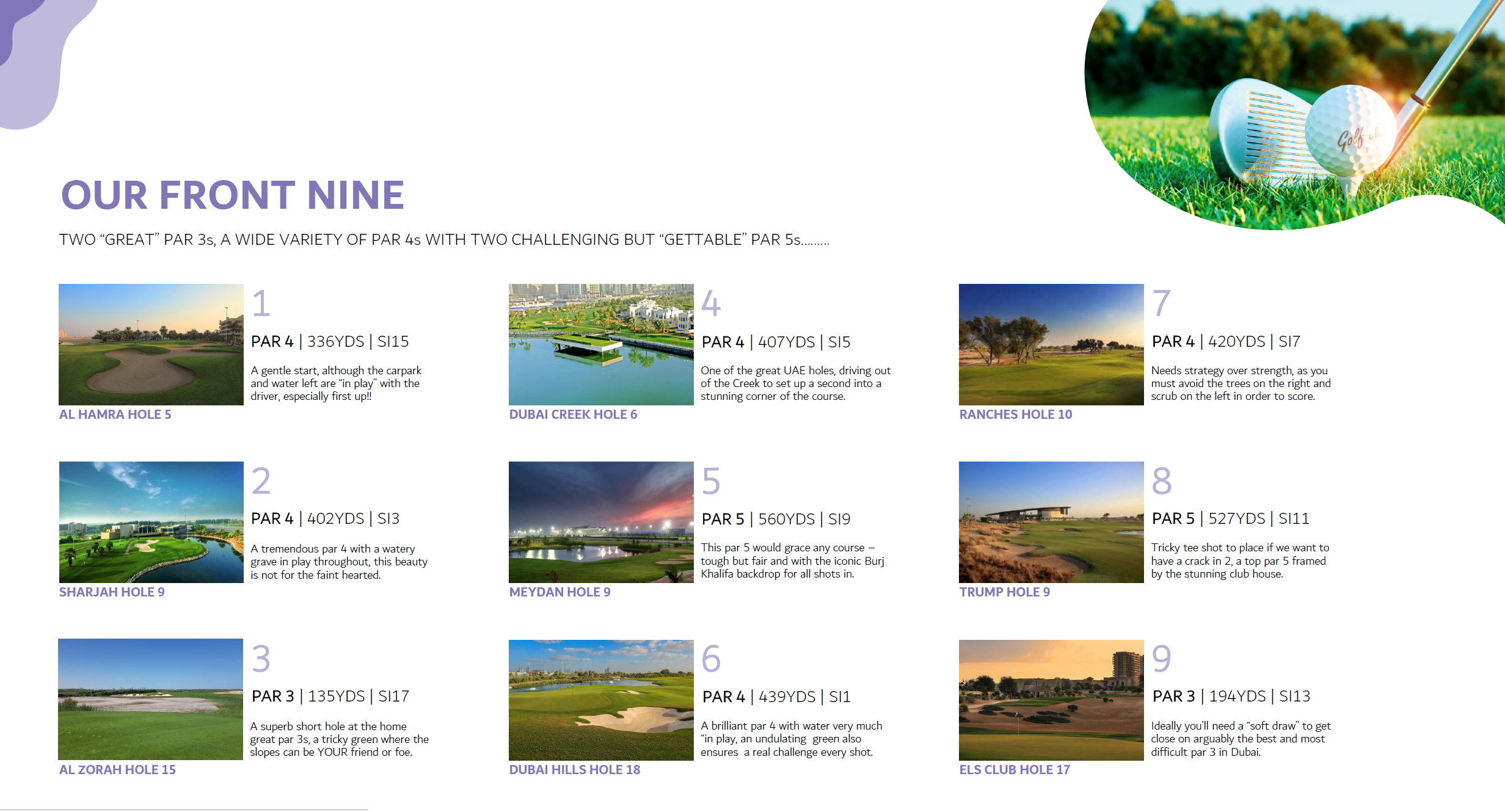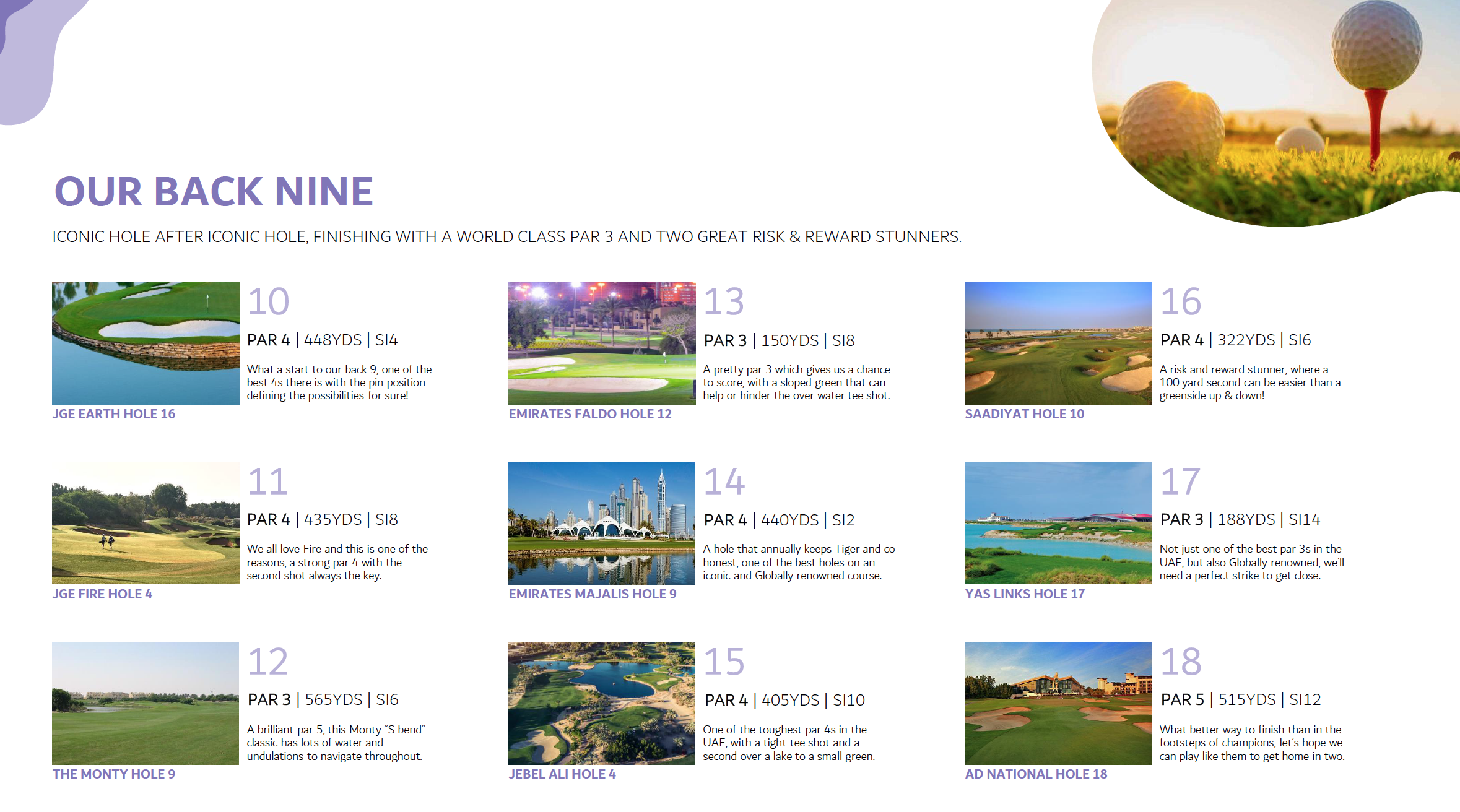 The 18 on Eighteen challenge will not only see Mellor and Bloom challenge themselves with the pair to also host two guest players on each of the 18 individual holes and compete against sponsor teams playing full rounds at each of the 18 courses they visit.
Based on a Texas Scramble Format, the overall winners of the sponsor line-up will claim the inaugural "Friend of Cancer Patients Challenge Trophy" at a presentation dinner later in May.
In addition to the duo's awareness-raising swing across the Emirates, the generosity of the UAE's golf course operators – including Troon Golf, Dubai Golf and various independent courses management companies, as well as the region's wider golfing fraternity – has led to Mellor and Bloom creating what they dub the "ultimate prize in UAE golf' for members of the public to win.
"Anyone who correctly guesses what Ted and I shoot alongside our two playing partners on each hole will go into a prize draw. One lucky winner will then take away the ultimate prize in UAE golf, which includes a set of custom-fitted clubs, coaching lessons for a year, access to hospitality at the three leading professional events, plus a round of golf with three friends at each of the eighteen courses. It's a mega prize that gives the whole country – and beyond – the opportunity to take part and make a difference," explained Mellor.
Members of the public entering the 'Ultimate Prize in UAE Golf' competition will be asked to donate a minimum of AED100 to the nominated charity when posting their guess on the event's Facebook page (18onEighteen), with all donations routed directly to www.focp.ae.
"It goes with saying that 2020 wasn't an easy year for any of us and nobody was immune to the struggles caused by the COVID-19 pandemic," said Mellor.  "But other adversities haven't just disappeared as we can testify.
"Although a crazy aspiration at the start of the year, 18 on Eighteen now seems the perfect solution; it helps promote golf in the UAE while raising money and awareness in respect of all types of cancer, thanks to the humbling love and support of golfing friends within the region and beyond."
To sponsor one of the 18 on Eighteen holes, or to get involved with the event in any way, please contact Simon Mellor or Edward Bloom through the 18 on Eighteen pages on Facebook or Instagram.
To make a donation to Friends of Cancer Patients via 18 on Eighteen, please visit: www.focp.ae/donate-programs/