Sponsored Content – Golf is a numbers game and the analytics are fascinating. Depending on where you source your research, the average handicap for men around the globe hovers somewhere between 14 and 16 and is in the 27-28 bracket, give or take a percentage point or two, for women. Only one percent of the 60 million people estimated to play the game boast single figure handicaps which, when extrapolated down, explains the miniscule number who play off scratch or better. Those who make a living from the royal and ancient game? A number smaller again.
Where are we going with all this? If you hadn't figured it out already, golf is hard. It's why most of us dream of being touring professionals but fit snugly into the weekend warrior category. It also means most of us need gainful employment, something the University of Wollongong in Dubai (UOWD) is awfully good at helping the region's higher education community achieve.
And if you like big data analysis and are looking for a bright business future, the UAE's first international university has some exciting news.
UOWD is set to launch its new Master of Business Analytics program in January. Designed in consultation with SAS, a global leader in analytics, the new UOWD degree aims to help outgoing student graduates develop technical, analytical and decision-making skills that are critical in the modern global business environment.
UOWD's Master of Business Analytics degree is designed to empower professionals to develop critical thinking skills and to apply these to a modern international business environment. Upon graduation, students will be awarded the Statistical Analysis System (SAS) Business Analytics Joint Certificate and/or the Advanced Business Analytics Joint Certificate, preparing them for career paths ranging from quantitative analysts, hedge fund managers, management consultants to business analysts.
But are there corresponding careers in this strange new world in which we live?
The answer, according to a study published by ReportLinker, a professional search engine for economic and industry statistics, is an emphatic yes. ReportLinker estimate the global big data analytics market is expected to grow from US$12.8 billion in 2020 to US$23.5 billion by 2025, at a Compound Annual Growth Rate (CAGR) of 13 per cent.
The growing focus on digital transformation, as well as the increasing investment and demand for analytics in the current COVID-19 environment, are all expected to contribute to the uptake of business analytics by organisations of all sizes, especially since remote monitoring and enhanced safety protocols have become a significant part of the new normal.
"As organisations globally continue to invest in big data and artificial intelligence initiatives, the role of business analysts will become increasingly crucial," said Professor Mohamed Salem, President of UOWD.
"The demand for qualified data scientists, data engineers, management consultants and quantitative analysts will also surge as they help analyse data, manage financial risk and help businesses make decisions that support their strategic growth."
The new degree begins January 10 and students will be able to attend their classes in person at UOWD's new 'Campus of the Future', where 100 percent in-class learning will be back in full.
UOWD opened the doors of its new state-of-the-art campus at Dubai Knowledge Park in August. The 200,000 square foot 'Campus of the Future' features modern architectural design that combines traditional and innovative learning spaces.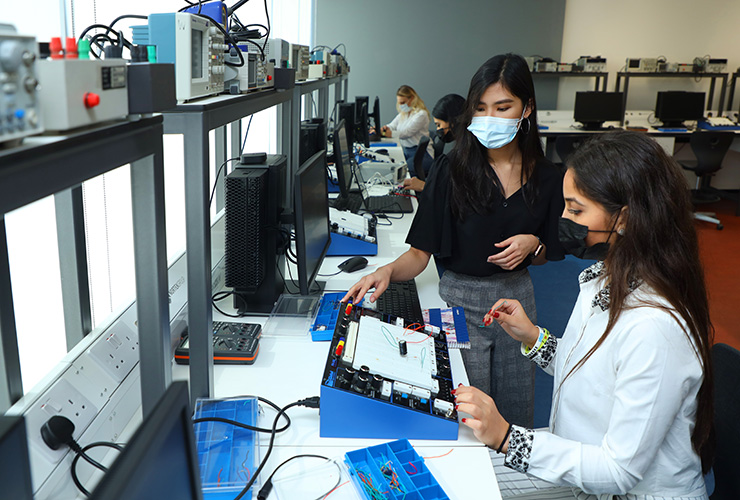 The campus includes dedicated learning and meeting rooms, small classrooms that can accommodate up to 40 students, large classrooms for up to 80 students, an exhibition space, a recruitment lounge, a student lounge, an ultramodern auditorium and a café. The premises also house laboratories specialising in chemistry, thermodynamics, manufacturing, physics, robotics, media and communications, cybersecurity, networking and gaming, to name a few.
Professor Mohamed Salem continued: "UOWD has a 27-year history of academic excellence in the UAE and is a leader in the regional tertiary education landscape. Our new campus embodies UOWD's commitment to offering students the most advanced learning journey in the region, and reflects our passion for innovation in the field of higher education.
"As the world shifts towards blended learning and the digitalisation of the conventional education model, the launch of our new campus is particularly timely – incorporating traditional and modern teaching elements that are critical for today's students to excel."
If you are still to be convinced, consider one last piece of data: University of Wollongong (UOW) ranks among the leading one percent of universities in the world for the quality of its graduates and is a top 10 Australian university.
For further information on the program, please click here.
To enquire now, please click here.