With continual hard work, lashings of on-camera charisma, a hearty sprinkle of social media know-how and just a little luck, Alex Riggs' coaching dream is on a "ridiculously, crazy" trajectory. 
By Kent Gray
Build it and they will come. Dream big when you get here and Dubai can deliver on that futuristic promise too. 
You'll likely be familiar with those uniquely UAE clichés, if not the reality. Just in case it doesn't resonate, may we kindly refer you to Alex Riggs, coach to (mostly above) average Joes and Janes everywhere, even NBA superstars. More on that career slam dunk with Steph Curry later.
The 35-year-old Canadian is a case study in turning an unexpected ex-pat life in the UAE into a thriving career built on sound institutional knowledge, an interminable work ethic and a contemporary entrepreneurial spirit.
Riggs has spent the past eight years in Dubai building his coaching credentials, the first three at the then Butch Harmon Academy and since then as a freelancer, lately based out of Trump International Golf Club, Dubai.
A natural ease in front of camera has seen the father-of-two become a regular print and online contributor to Golf Digest Middle East and opened doors to endorsements with PXG, Hublot and Under Armour, brands normally associated with high-profile touring pros rather than driving range instructors.
That's where Riggs is a bit different to your old-school PGA Professional. While other teachers have dabbled in the digital realm, Riggs has easily transitioned to online tuition to the point where it is now a "huge, huge percentage of my business". "I've got players in literally every country I can think of, at least 50 different countries. They send in videos, I review it, devise a plan they can work on and then report back. It's working really well.
"I was doing it a bit pre-COVID but now it's very, very strong. The demand for online coaching has exploded."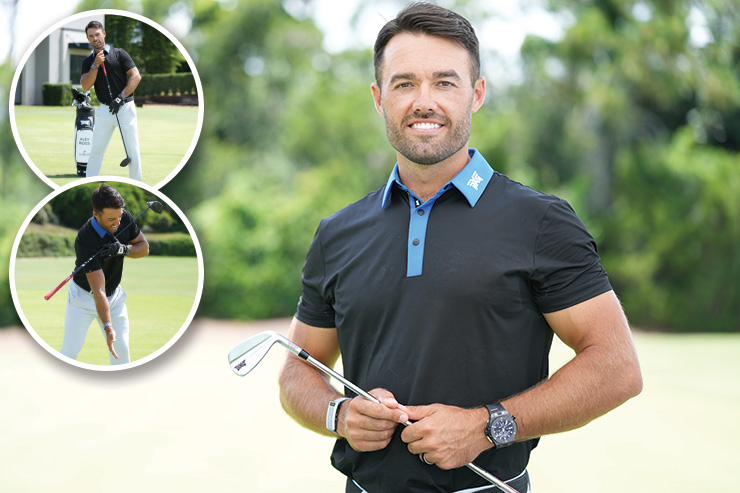 While Riggs is heartened by the uptick in beginners taking lessons in the UAE post the COVID lockdown, he's found a happy niche with lower handicappers and fledgling professionals. The ability to easily articulate complex theory via video means he is also now being discovered by wider international audiences although his latest big break with NBC Sport's 'GolfPass' came, rather ironically, via an in-person lesson.
"Rory's agent, Sean O'Flaherty, was in Dubai in November and came to see me for a lesson and one thing led to another. He liked my communication style, the content I'd been doing, and said 'we need to get you on GolfPass'."
That wasn't a huge stretch given McIlroy has a financial stake in GolfPass, a direct-to-consumer membership offering he's partnered Golf Channel and NBC in creating.
It wasn't long before Riggs was off to Lake Nona Golf & Country Club in Orlando to shoot his "Level Up Golf' concept, a tee to green instructional series with tips and drills for high, mid and low handicappers. Chances are you'll have seen snippets on social media, the very mechanism that brought Riggs to Dubai in 2003 not long after he'd married Claudine, herself well known in these pages as a golf fitness advisor.
Riggs will forever be grateful for the "super random" Facebook message he received eight years ago, enquiring if the newlywed couple fancied a change of scenery in Dubai given their seasonal contract in Orlando had been fulfilled.
"Outside of the U.S., Dubai is unquestionably one of the best places in the world to be in terms of opportunities. The demand for golf coaching is very strong." 
Mentoring players at the highest level means a move to the U.S. is "inevitable at some point." In the meantime, Riggs is happy to base himself in Dubai and travel the globe working with players, his brand partnerships and creating more creative content. As a digital native, you'll always be able to find him online @riggsgolf, exactly how Curry, the Golden State Warriors talisman and sometimes Korn Ferry Tour player, discovered the boy made good in Dubai.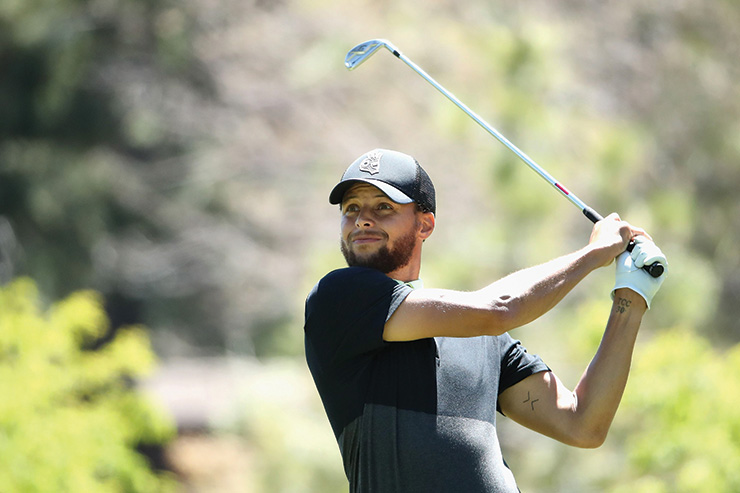 "Steph Curry connected with me on Instagram then dropped me a DM. He liked my content and wanted to work together. I spent a bunch of time with him on his game in San Fran on the same trip. I did five States in five weeks including doing some work with PXG in Scottsdale."
Yes, that quote, Riggs assures us, is as surreal to utter as it is to read.
"It's ridiculously, crazy how things have taken off. I'm incredibly, incredibly grateful to have been given these opportunities in Dubai. It literally opens up the world, the people you come in contact with, those opportunities rarely happen anywhere else.
"I just want to keep trying to push myself to grow as a coach and get my players better, even faster. I want to keep working with players at the highest level and I know something will happen [on the PGA Tour] if I keep going."
So stay tuned. Or should that be logged on.