By Matt Smith
Famous for its luxury yachts, endless sandy beaches and year-round sunshine, Marbella has plenty to offer the thousands of visitors who flock to its shores. It is also regarded as the golfing capital of Spain. With around 70 — at the last time of counting — championship courses in the surrounding area of roughly 100 sq km, it pulls in tourists from home and abroad eager for sunnier climes to enjoy a round or two on the Mediterranean coast.  
With such an array of options on offer, one headache many visitors have faced is choosing which of the many clubs to call home during their stay.
Now there is a solution to that problem as Club Med Magna Marbella has opened its doors at the foot of the Sierra Blanca mountains — and is the perfect spot for you and your clubs to set up base camp and enjoy everything the area has to offer.
The area is nicknamed the 'Garden of Europe' for good reason, and is the perfect spot to hone your golfing skills while getting a nice tan at the same time, and now you can do it in the Club Med style — namely stress-free luxury. 
The all-inclusive resort chain is famed for its customer care — with gourmet restaurants, entertainment for all ages and plenty of activities to work off those extra calories.
Top of that list at Magna Marbella has to be the golf, and the resort has its own driving range, putting and chipping area, and even mini-golf for the young and young at heart. Dedicated professionals are on hand year-round to offer group classes and one-to-one lessons, and the on-site 'clubhouse' and locker room will cater to your every need, including pick-up and drop-off transfers to any of the many golf courses in the area.
While there are simply too many to cover right here, Golf Digest Middle East visited the Spanish Costa del Sol to get a taste of the golfing scene in Marbella and sample what Club Med brings to the table.
Here is a quick look at some of the best courses in the area.
---

Marbella Golf Country Club
Par 72 • 5,551 metres • €95 to €115
One of the original and best courses in Andalusia, Marbella GCC was designed by Robert Trent Jones Sr (Augusta, Pebble Beach, Valderrama) in the 1980s and has cemented its place as a firm favourite for both locals and tourists, gaining a reputation as a bucket-list course for golfers from around the world.
Carved into the natural surroundings of the Sierra Blanca foothills, wide fairways are lined by olive groves and the odd palm tree, with rolling terrain allowing amazing views of both the Mediterranean Sea and the mountains.
While the fairways can be generous, most holes are guarded by wide bunkers, meaning approach play needs to be accurate, and water comes into play on eight of the holes, including the iconic par-3 third hole, where the lake needs to carried to reach the green.
Speaking of which, the raised and undulating greens on most holes are also notoriously fast, so even when you reach the dancefloor, the job is far from over.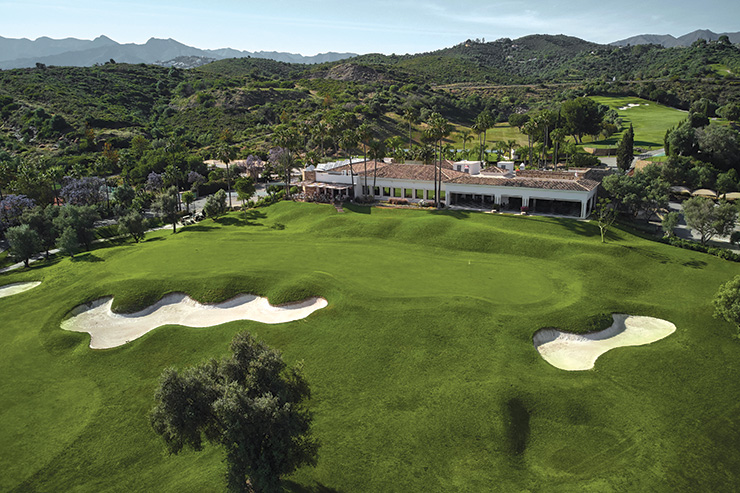 The front and back nines have very different characters, too. The opening holes play much shorter and slightly narrower before, after the turn, the course really opens up and will suit the bigger hitters. 
After a round, golfers can relax and recover at El Olivio restaurant or Buggy Bar, and enjoy the panoramic views from the expansive terrace. Rates are very competitive, but be sure to check ahead before you go as the club occasionally closes during quiet periods throughout the year.
---
La Cala
Midway between Club Med and Malaga Costa del Sol Airport lies the luxurious La Cala. A trip here is a step into golfing grandeur, with three championship courses in one location.
Situated near the picturesque mountain town of Mijas, in the foothills of the Sierra de Mijas, La Cala is feast of all things golfing in style.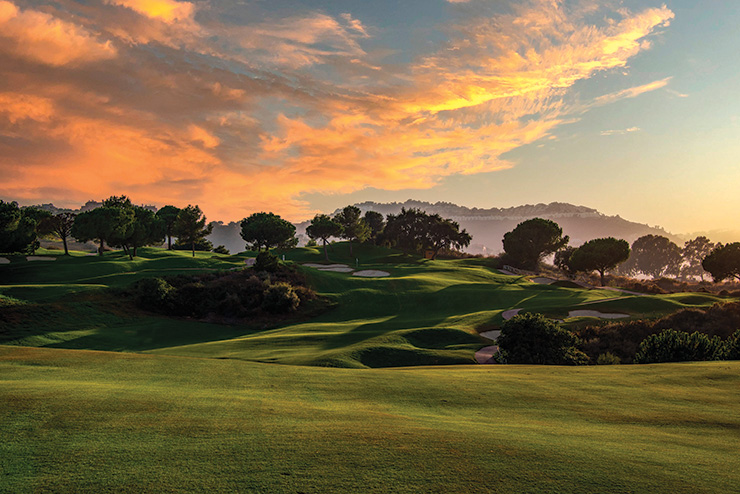 From the moment you step into the lavish villa-style clubhouse, you know you are in for a treat, regardless of which course you are teeing up on — Campo America, Campo Asia or Campo Europa. Designed by architect Cabell B Robinson (Sotogrande, Aphrodite Hills) and opened in 1996, all 54 holes have been uniquely crafted into the mountainous surroundings, and each present their own challenges to golfers of all abilities.
Campo America
Par 72 • 6,009 metres • €222 to €390
Formerly the North Course, Campo America boasts spectacular views of the Sierra de Ojén and across the Mediterranean Sea to Morocco in the distance. Regarded as the easiest course out of La Cala's trio, Campo America has wide, forgiving fairways and only a sparing use of bunkers, but your legs will get a workout on the hilly terrain to the raised greens. The signature par-3 16th is a little 105-metre delight, downhill and over the lake to a postage-stamp green.
Buggies are a must, even if just for the trek from the clubhouse to the first tee.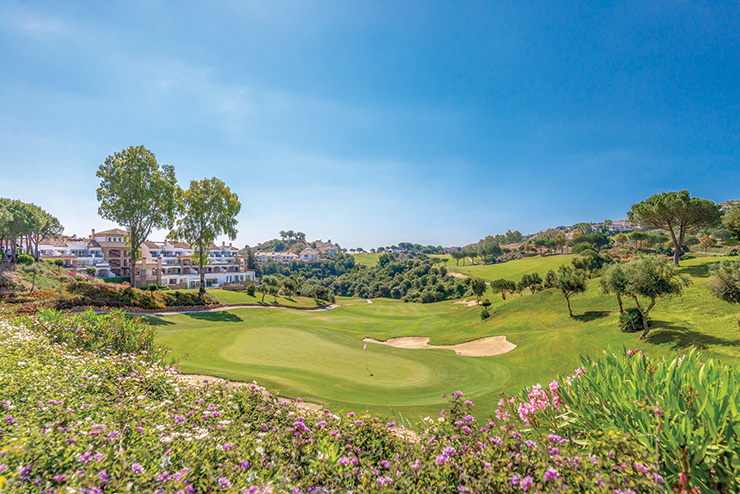 Campo Asia
Par 72 • 5,925 metres • €189 to €339
The old South Course is much more of a challenge and will live long in the memory, with approach shots the key to a happy round. Fairways are narrow and short and need to be respected as the brush will happily hoover up any errant drives. 
Stand-out holes include the par-4 5th, where accuracy is a must off the tee, the fiendish par-5 10th, and the grand finale on the 18th — a dogleg par-4 that takes no prisoners.
Campo Europa
Par 71 • 6,014 metres • €189 to €339
Campo Europa comes somewhere in the middle of her sister courses in terms of difficulty. Once again, dramatic scenery awaits on these 18 holes, laid out on much flatter terrain and with wide fairways and large greens. 
A word of caution for anyone who tries to take on Europa in a non-chalant manner — take extra balls as the River Ojén, which snakes its way through eight of the holes, is verged by thick shrubbery and retrieving any wayward shots will be a challenge. 
Standout features of this course have to be the five bridges over the river and two cart tunnels, adding to the experience. The 14th is a treat for long iron hitters as it plays at the upmost limit for a par 3 at 233 metres.
---
Also see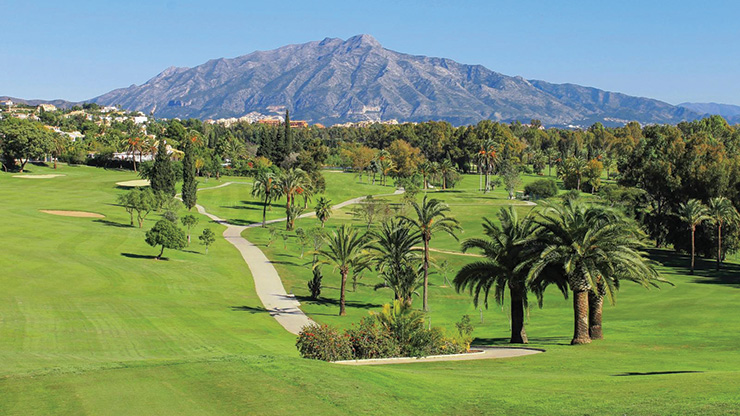 El Paraiso Golf Club
Designed by the legendary Gary Player in 1973, El Paraiso is a challenging and enjoyable round for visiting golfers of all levels.
Par 71 • 5,912 metres • €70 to €110
Magna Golf Club
A delightful short nine-hole course situated in the heart of Marbella's 'Golf Valley', with two loops of nine making up a memorable round of mostly par-3 holes. Facilities include a full Toptracer driving range.
Par 58 • 2,898 metres • €20 to €25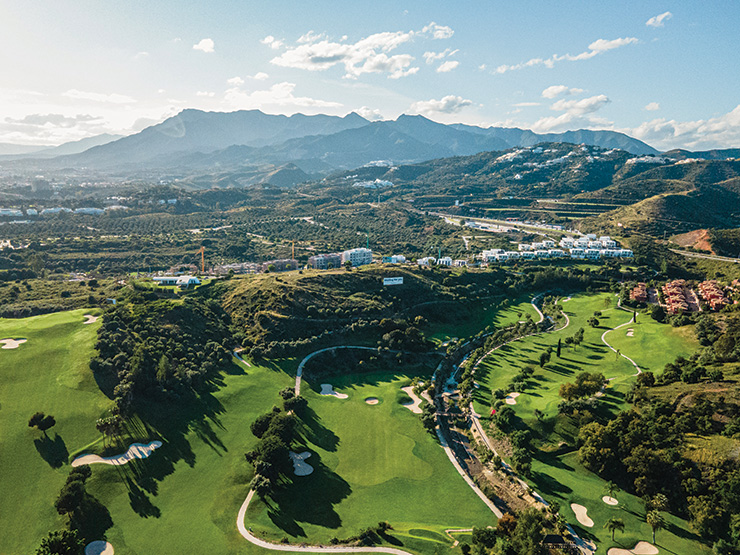 Santa Clara Golf Marbella
Designed by Enrique Canales Busquets, Santa Clara combines technical approach shots with wide fairways on a flat course to suit all abilities.
Par 71 • 5,922 metres • €90 to €105
Villa Padierna Golf Club
The sumptuous Palace Resort boasts three world-class golf courses, the championship Alferini, Flamingos and Tramores, each offering their own unique challenges and stunning views of the Costa del Sol.
Alferini
Par 73 • 6,297 metres • €135 to €175
Flamingos
Par 71 • 5,456 metres • €120 to €160
Tramores
Par 63 • 3,268 metres • €55 to €66
---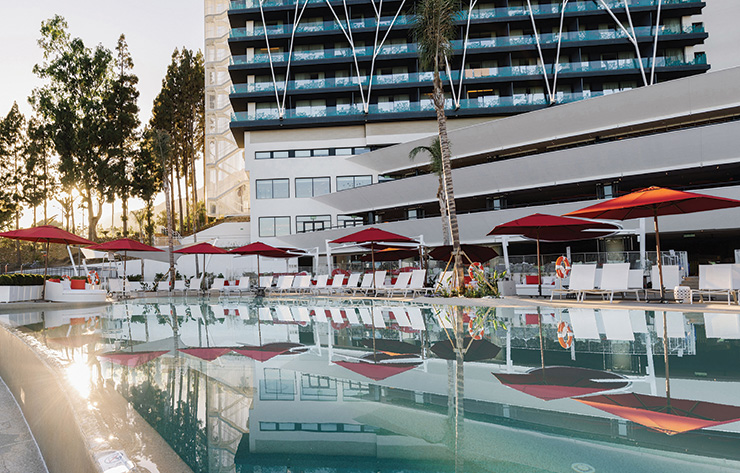 While a perfect spot to map out your golf course wish-list while staying in Andalusia, Club Med Magna Marbella is more than just a pit-stop between rounds.
A whole lot more. 
And while you are spoilt for choice with the 70 or so courses dotted around the surrounding Andalusian hills, even the most avid golfer needs a break sometimes. 
If you want to relax and give the clubs a rest, Club Med has you covered. 
Known worldwide for its high-class standards and all-inclusive experiences, Club Med has around 80 resorts across Europe, Africa, Asia, America and the Caribbean and the customer's needs are the No. 1 priority. 
The latest addition in Marbella is no different and the area has something for everyone — from historic towns, golden beaches and famous cuisine only a short trip down the Sierra Blanca hill towards the sea, with Club Med able to arrange excursions daily. 
However, for those who prefer to stay close to home, Club Med has more activities and experiences than you could hope to squeeze into your stay.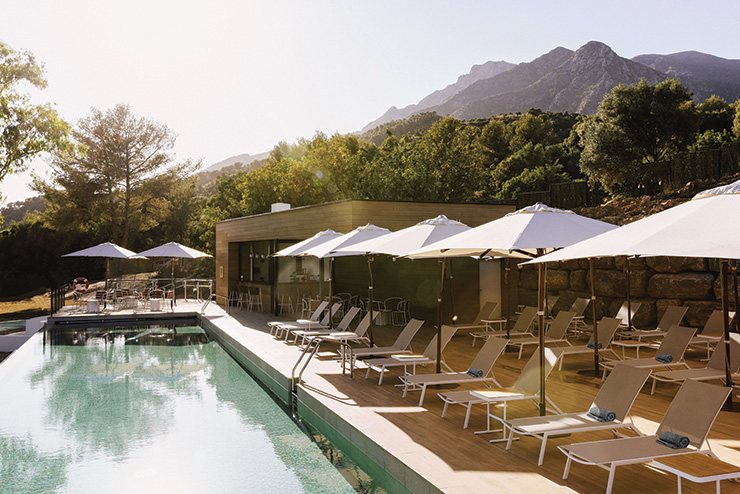 Me-time
Set over a colossal 14 hectares of lush gardens, Club Med has five swimming areas, countless sporting activity areas — from archery to tennis — and even hiking trips into the mountains each morning. The sustainable greenery creates shaded areas to escape the midday heat, while service is always on hand to meet your every need for couples, groups and families alike.
The Andalusian style rooms — all 485 of them — reflect the vibrant colour of the region, with an Arabic touch from across the Med, where you can see the Moroccan coast on a clear day. Spectacular views overlook the sea, mountains and Marbella town, with superior, deluxe, suites, and interconnected family rooms available. 
In safe hands
The Family FunZone is dedicated entirely to the family experience, with a playground, a water park with slides and games, mini-golf and a zipline. With a varied programme of activities for all ages, children and teens can experience Andalusian music, flamenco and painting, as well as a multitude of sports.
A baby corner is also available to take care of all the needs of the youngest of guests.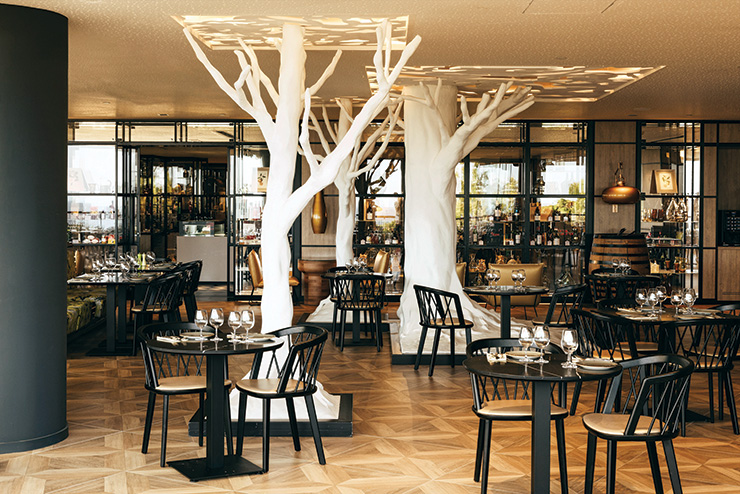 Dining
A visit to Club Med is not complete without highlighting the culinary delights:
Sueños
With views of the Mediterranean Sea from the terrace, the main restaurant offers international cuisine and local specialties in a buffet style with a twist, as gourmet dishes are prepared to order in front of the guests to prevent waste.
Tierra Gourmet Lounge
The relaxed a-la-carte lounge offers live music, a huge cellar and a local boutique; a perfect spot for a relaxing breakfast, mid-afternoon snack or late supper.
Club Med also hosts weekly garden parties on the huge lawn, where tables are lit by lanterns as barbecue grills, tapas and seafood are on hand to satisfy your culinary needs. Live entertainment keeps the party atmosphere going long after sunset.
Chill
The Zen Oasis, only open to adults, is somewhere to relax. For those in need of extra pampering, the Club Med Spa by Cinq Mondes is the ideal spot, with a Turkish bath and 14 treatment cabins.
Going green
Rainwater is used to irrigate the gardens and the solar panels provide almost all the energy needed to generate hot water. The 'Bye Bye Plastic' programme ensures clients will not encounter any single-use plastics during their stay.
Sports
Marbella is the cradle of padel tennis in Europe, and group lessons are offered for all levels from age six and up. There are also 12 tennis courts, a beach volleyball court, mini soccer, an archery range, table tennis, basketball and mini-golf to keep you trim away from the golf course. Other exercises include yoga, stretching, Pilates and aerial fitness.
Facts
• Malaga Airport is 45 minutes away
• Marbella gets 320 days of sunshine on average per year
• Club Med Magna has five separate bathing areas, each with their own unique theme, from exercise to kids activities and silent relaxation.
• Club Med Magna Marbella has 485 rooms, from Deluxe and Suites to connecting rooms for families
---

Speaking with Aurélien Dumont
Club Med Magna Marbella Sports and Wellness Manager
"We believe that we have a history at Club Med with golf in that we have around 20 resorts that have a dedicated golf experience — be it on-site course or, like here, driving range and 'a la carte' experiences where we can take guests to sample the best the area has to offer.
"We have a history and a lot of pros come to Club Med to experience the luxury while still being able to sample the best courses in the area, even if they are not specifically on our site. 
"We will certainly bring more existing golfers to the region, but I am also sure that we will introduce a whole new generation and market of first-time golfers, thanks to our beginners' and kids' programmes. When we come to an area like this, where there is already an established golf community and golf society, we want to offer an infrastructure on-site that is inclusive to all.  
"Other than the best green-fee offers we have to play at the best courses in the for our clients, we also make sure we have something 'in-house' so they can pick up a club and get in the swing. That is why we have our range, pro lessons, chipping and putting areas.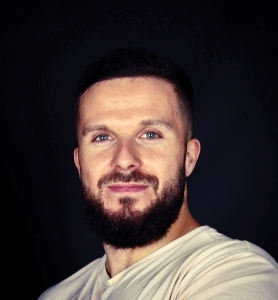 "For beginners and intermediates, for practising early in the morning … you are only a few footsteps up the hill to our range and you can swing away, without booking a tee time or arranging a pick-up to your favoured course. We also have the great offers for the experienced golfer to go sample the great courses in Marbella, but the beginner, too, can pick up a club and get a feel for the game without having to leave Club Med or pay for excursions.
"More than a basic golf hotel, we have so much more: From the Wellness Clinic for any niggling pains to the Baby Club, where you can check-in the little one at, say, 8am, before you go enjoy your round, knowing they are in safe hands.
"That is the philosophy at Club Med: Peace of mind and stress-free enjoyment. Also, we have the spa to relax after a round, practise at any time and other exercises from tennis, padel all the way to trapeze. So you get all the benefits from a golf hotel, plus all the Club Med benefits at your disposal as and when suits. That is what makes the difference.
"We can also offer you a vast array of courses, unlike at a specific golf course, where you can be stuck with the same 18 holes throughout your stay. Also, sometimes not everyone wants to play all the time. We have freedom of choice, and each guest can do whatever they please on any given day without any pressure for tee times or coercing into activities they may not wish to do. It is a core value to allow guests to do whatever they want to do.
Golf at Club Med Magna Marbella includes:
• Driving range within the Resort
• Group lessons included from age eight years and up
• Private lessons
• Golf conciergerie with lockers for equipment
• Transfers to more than 30 golf courses in the area