Phil Mickelson. LIV Golf
Phil Mickelson played college golf at Arizona State. Met his future wife Amy on campus. After graduating, they eventually married and lived in the Phoenix area for a dozen years. Their first two children were born there.
From a golfing perspective, Mickelson has been equally successful in the state. Named All-American for the Sun Devils in all four years, a rarity among collegiate golfers. Won his first pro tournament in Tucson while still an amateur at age 20 — another rarity. Won a senior event in Phoenix at age 51.
All told, seven of his 57 career wins have come in Arizona. And two of his three career-lowest rounds of 60 have been shot here, including 10 years ago when an agonising 25-foot birdie putt on the final hole circled the cup before spinning out, costing him a shot at 59.
"I really do enjoy the state of Arizona," Mickelson said.
And now the World Golf Hall of Famer is back this week, leading his HyFlyers into the first US-based tournament on the 2023 LIV Golf League schedule at The Gallery Golf Club.
You could be forgiven in thinking Mickelson had heavy influence in making LIV Golf Tucson a reality. But he insisted that the market itself was easy to identify as a potential venue, so no strong-arming of the schedule makers was needed. Tucson has a long history of hosting elite professional events, but golf's biggest names haven't been in this city since the last matchplay event was held in 2014.
It was a vacancy too good to ignore.
"I would like to say that I had a direct impact on it. It really wasn't," Mickelson said. "We've tried to nail down some markets that have always wanted and supported professional golf, and Tucson has supported professional golf, and then it got taken away."
He did acknowledge the senior event still held in Tucson, in which he played before joining LIV Golf. But he cited the difference in seeing many of golf's current stars perform.
"World-class golf — like the best players in the world, the Dustin Johnsons and the Cam Smiths and Brysons and Brooks and so forth — to bring that back to Tucson, I'm really proud to be a part of that, even though it wasn't me just saying: 'We've got to do this,'" he said. "It was looking at it in general and saying this is really a good spot for us to be."
Tucson might be a really good spot for Mickelson to break through with his first LIV Golf win. He's won three strokeplay events in this city, along with four wins in the Phoenix area.
The most impressive of those seven wins is the first one in Tucson in 1991 when he was a junior in college. The first two rounds were split between Starr Pass and Tucson National, with the final two rounds at Starr Pass.
Mickelson won by a shot over Tom Purtzer and Bob Tway. Purtzer was nearly twice as old as Mickelson, while Tway was more than a decade older. Youth — and oodles of talent bubbling to the surface — triumphed over experience that week.
The win was memorable but also significant in Mickelson's progression as a golfer. He said it opened up doors and created opportunities that otherwise would not afforded most college golfers. And it gave him a valuable lesson in how to win tournaments at the elite level.
"I think the thing that I recall or I like to look back on was that I actually made a triple-bogey on the 14th hole of the final round and overcame that with the birdies on 16 and 18 coming down the stretch," Mickelson said.
"Because you're not going to play perfect golf all the time, and sometimes having to overcome some obstacles and having that be an obstacle to overcome in my first win, it was a big obstacle. It was a big challenge. I look back at that as a reminder to never give up and keep fighting, you just never know what's going to happen."
Meanwhile, his days at Arizona State provided insight and knowledge on how to manage his way around a desert course. Seven victories in, few golfers can match his track record in the state.
Asked what it is about Arizona courses that brings out the best in him, Mickelson replied: "I think there's an elevation challenge, although it's 3,000 feet, it's not like going to Mile High in Denver. But there's still a challenge of learning how to hit certain shots, distance control with the irons, that when you spend years here, like I did in college, it's a lot easier to figure out. I think that's a big part of it. But also, just being comfortable here in the way that people have supported me over the years helps me play my best, too."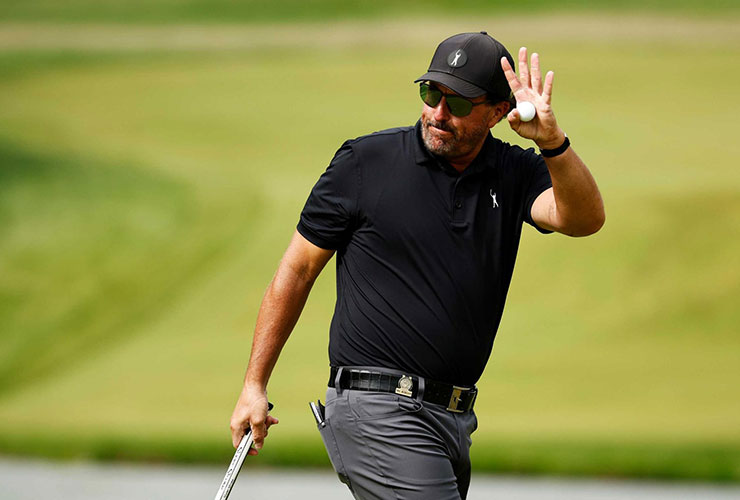 Indeed, the 52-year-old Mickelson will be a fan favourite this week. He tees off in Friday's shotgun start on the No. 1 tee with playing partners Cameron Smith and Charles Howell III, the latter having claimed the season opener in Mayakoba two weeks ago. Smith, the reigning Open champion, won on his second LIV Golf start last season in Chicago.
Mickelson has yet to find himself in contention on a Sunday since joining LIV Golf, but he does come off a confidence-inspiring four-under 67 in the final round in Mexico. He said working with new HyFlyers teammate Brendan Steele — the two California natives have been close friends for many years — has helped dial in his driver. Meanwhile, he's reciprocated by helping Steele work on his short game.
Perhaps it all comes together for Mickelson this week, 32 years after that first win in Tucson.
"It's fun for me to see a lot of familiar faces that I haven't seen in a little while," he said. "It's fun for me to get back here. It's fun to feel the support. It's a hard walk and you have to be a little careful walking in the desert with some of the wildlife going on. But it's nice to feel support here."