Ghazi Aurangzeb, last year's Luckiest Ball on Earth champion, with European Tour Dubai office boss Nick Tarrartt. 
By Kent Gray
First it was the juniors, now the good golfing ladies of the United Arab Emirates have struck it lucky. And not before time either.
For the first time since its launch in 2011, the 'Luckiest Ball on Earth' amateur golf series will offer separate qualifiers for women this September-October. It means the leading lady, man and junior will now play alongside one of the European Tour's top 60 players in the Pro-Am before the European Tour's season-deciding DP World Tour Championship on Earth at Jumeirah Golf Estates from Nov. 15-18.
Related: UAE juniors given shot at DP World Tour Championship Pro-Am spot in 'Junior Luckiest Ball on Earth' initiative
The qualifying dates have been confirmed with 21 clubs across the region participating in the Emirates Golf Federation-sanctioned series. Here they are: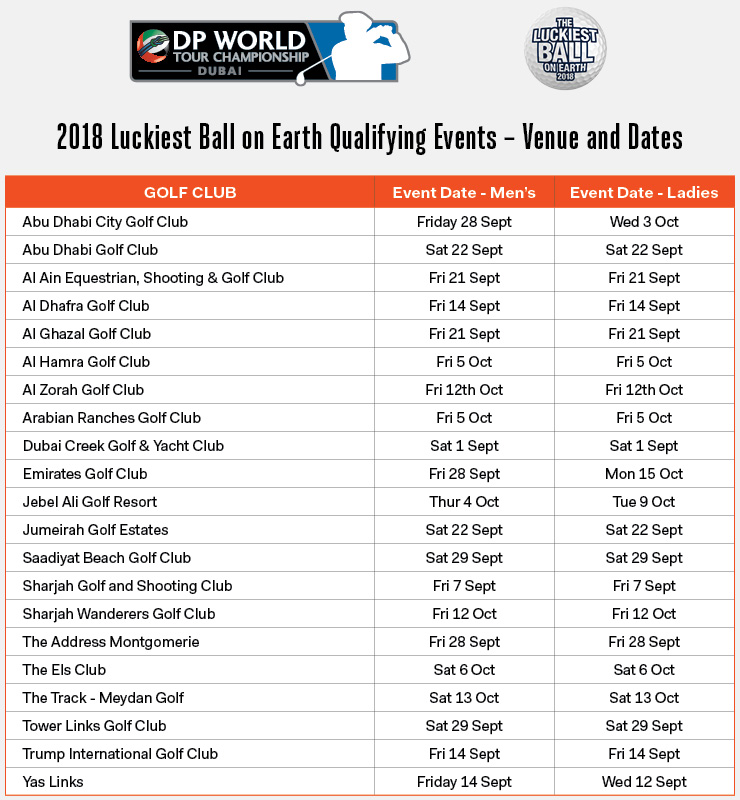 The winners from each qualifier will advance to the Luckiest Ball on Earth Grand Final to be held on the Fire course at JGE on November 4. From there the three winners will be joined by a European Tour star in the 'Luckiest Ball on Earth' team for the Tuesday, Nov. 13 Pro-Am ahead of the 10th anniversary edition of the $8 million DP World Tour Championship.
"The Luckiest Ball on Earth initiative gets bigger and better each year and we are thrilled to be welcoming separate events for juniors and women in 2018," said Nick Tarratt, Director European Tour International, Dubai Office.
"This is the eighth edition of the Luckiest Ball on Earth and we have seen a rise in participants each year with over 1,000 keen amateurs competing in a bid to play with some of their heroes on the European Tour in 2017."
Arabian Ranches Golf Club member Kevin Barrett won the inaugural Luckiest Ball on Earth competition and played alongside Italian Ryder Cupper icon Edoardo Molinari in the Pro-Am before Italy's Ornella Parigi (Saadiyat Beach Golf Club) became the first female winner in 2012 and lined up with Australia's Marcus Fraser.
In 2013, former Dubai Creek Lady Captain Maureen Platt earned a place alongside Denmark's Thorbjorn Olesen while in 2014 Dipesh Makwana teamed up with Race to Dubai runner-up Danny Willett. In 2015, Jairaj Gorsia (Meydan Golf) was partnered with England's James Morrison while another Saadiyat member took home the 2016 spoils with Blanca Rivollier going on to play with Bradley Dredge.
Ghazi Aurangzeb last minute decision to enter the competition last year paid off after he had the chance to partner France's Mike Lorenzo-Vera at JGE.
"I entered the competition on a whim and now I'm the champion," said Aurangzeb. "I think it's such a great series and in terms of being an amateur golfer I think this is as good as it gets."