Photographs by Walter Iooss Jr.
By Ron Kaspriske
If social distancing during the pandemic has revealed anything noteworthy about how PGA Tour pros go about their business, it might be just how much thought Jordan Spieth puts into every shot he hits. Without large galleries to muffle what is said inside tournament ropes, Spieth's conversations with his caddie, Michael Greller, have been a fascinating peek inside the mind of one of the game's most thoughtful and determined players.
"He's worked very hard over a long period to get his swing to where, when he takes the club back, he's only got a picture in his mind about the ball flight he's trying to create. That's what he's talking [to Michael] about," says his longtime coach, Cameron McCormick. "His swing is now jelling with what he sees. There's no conflict."
A victory (the Valero Texas Open) and four other top-four finishes in a stretch of eight events earlier in 2021 speak to the resurgence of Spieth and the golf swing that won three majors. McCormick says that Jordan 3.0 is a blend of what he did right earlier in his career and some new wrinkles—and how he arrived at this point is what's really interesting.
"We reverse-engineered the swing changes starting with creating a good feel at impact and then building the rest around that," McCormick says. "We recognized that if he started feeling better about impact, then pre-impact, then transition, the jigsaw-puzzle pieces fit together really well. Make sense?"
It does, but that's not typically the way elite golfers go about improving. Diagnostics usually follow the sequence of the swing, starting at address. But Spieth and McCormick went directly to the moment of truth, the strike, and worked backward. Spieth is now in a place where he's "giving himself permission to go after the ball," McCormick says, and he has returned to predominantly hitting a "bullet cut," meaning a lower-flying drive that starts a little left and works back to the right and rolls out once it lands.
Spieth is not chasing yards. He's keeping his tee shots in play and relying on his irons and short game to challenge the field regularly since finishing tied for fourth in the Waste Management Phoenix Open in February. Spieth ranked in the top 25 in strokes gained/approach the green and top 15 in putting average on tour through April.
The key is that at the top of the swing, Spieth senses the club is in great position to create the feel he wants through impact. "He's swinging much more like he did when he first came out on tour," McCormick says.
Specifically, Spieth takes the club back on a steeper angle than he returns it to the ball. He doesn't roll his forearms clockwise through the middle of the backswing, and the butt end of the shaft points inside his target line as he approaches the top. But in transition, things dramatically change. As Spieth begins to unwind aggressively starting with hip rotation, the shaft flattens with the butt end now pointing at the ball or even outside the target line. From there, Spieth knows he can just turn hard and produce the ball flight he sees in his mind during those in-depth conversations with Greller.
If you want to know what that move feels like, Spieth and McCormick talk about the club going from "light to heavy." It's light as Spieth takes the club back, by virtue of the shaft being more vertical in orientation. But when Spieth transitions into the downswing, the club starts to feel heavy in his right hand because the shaft is lying down or flattening.
"That's what some people call the slot or the hitting position," McCormick says. "The earlier he can set that hitting position, the better he feels about it. It's funny, but when he won at Valero and finished third at Augusta, he actually got to the point where he was setting it up way too early. He couldn't wait to get there."
Overcooking a great swing feel aside, Spieth is mostly doing everything right with his full swing these days, McCormick says. He's gripping the club slightly stronger after recovering from a hand injury that forced him to hold the club in a weaker position in recent years. That weak grip helped contribute to his predominant miss right of the target. He's also standing more athletically over the ball (a deeper hip hinge), McCormick says. And when he swings through the impact zone and gets into the follow-through, it's a result of good body turn and a feeling of passive hands.
He can still hit a draw and get some extra distance when he needs it, but it's not something Spieth looks to do often.
"With his covered cut, you'd expect he'd lose some carry distance because he's launching the ball lower," McCormick says. "But honestly, so what, he's still hitting it around 300 yards and control trumps distance."
ATHLETIC FROM THE START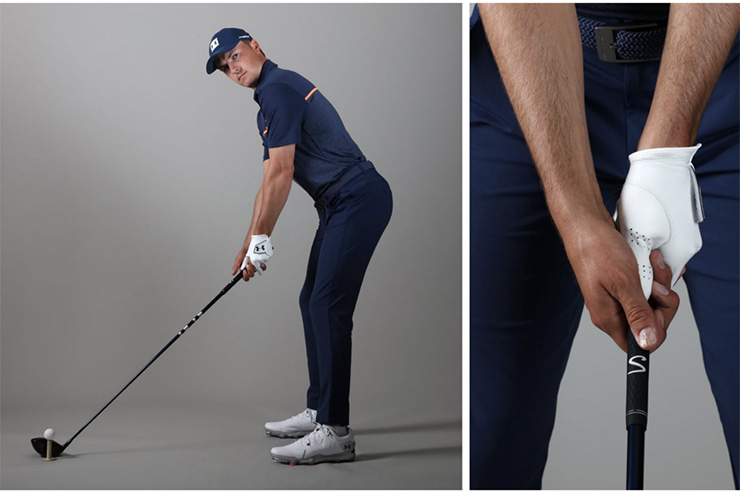 Among the improvements Jordan Spieth and his coach, Cameron McCormick, have worked on is to get Spieth in a more athletic setup. A deeper hip hinge at address (above left) puts him in position to make a more dynamic swing.
A GRIP THAT WORKS BETTER FOR HIS BALL FLIGHT
Since recovering from a painful injury to his left hand, Spieth has been able to strengthen the orientation of his hands on the club so the right palm is turned slightly more under the shaft (above right). This gives him better control of the clubface, so he doesn't lose many shots to the right.
THE MOVE SPIETH CAN'T WAIT TO MAKE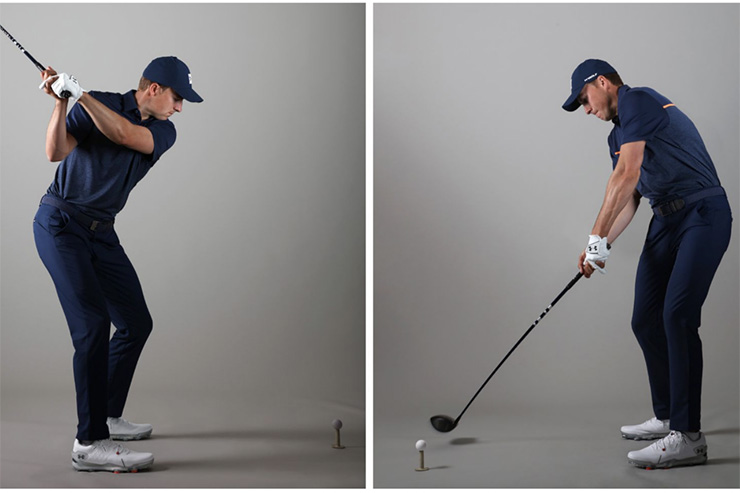 Spieth takes the club back with the shaft in a more vertical position as he reaches the top but then lets it flatten during the transition to the downswing (above left). From a feel standpoint, this "laying down" of the shaft mentally gives him the green light to go after the ball aggressively.
GOOD ROTATION IS KEY
Spieth isn't trying to guide the clubhead into the ball with his hands. Instead, impact is a result of good body rotation toward the target in the throughswing (above right). He gets the club in the position he wants at the top of the swing and then it's turn, turn, turn.
Editor's Note: This cover story appears in June 2021 issue of Golf Digest Middle East. Read our latest issue in its entirety here.