There is golf and then there is Good Good Golf.
Say hello to the team behind the hottest golfing social media movement, who are busy creating a buzz at the Hero Dubai Desert Classic.

Good Good Golf is a group of content creators with more than 1.1 million subscribers on YouTube, who post all sorts of golf-related shenanigans online — sometimes with celebrities involved in their challenges — and have even launched their own apparel and accessories brand.
Not bad for a bunch of twentysomethings who started out on their journey in 2020 in Texas.
Filming their time in the UAE for their channels, Garrett, Stephen, Matt, Bubbie and Luke certainly got their week off to a flying start as they teamed up with Andrew 'Beef' Johnston to win the Hero Dubai Desert Classic Pro-Am on Tuesday.
"It's been a great time so far," said Bubbie, explaining how it all began. "I was in college when I started 'Bubbie Golf'. I love entertaining and I love the game of golf, so I decided to combine the two and I have been blessed enough to find success and a career in the two. I started out with some trick shots, which got picked up and reposted online and it went from there. I ended up meeting the other [Good Good] guys and now we all live together in Texas having a blast making content full-time. It is a blessed life."
Dubai's just getting started. pic.twitter.com/COwp6J8oJU

— GoodGoodGolf (@goodgood_golf) January 25, 2023
Garrett concurred. "I started out in 2016 and up to a point I was playing a lot of competitive golf with the goal of playing on the PGA Tour," he said. "But I got into Instagram and started doing some trick shots, I started posting my footage online and it began to grow and grow. I grew up with [fellow Good Good Guys] Matt and Stephen and so we started filming together and that's how we got into the YouTube scene and the company grew out of that, with Bubbie and the team growing from there. The rest is history."
This history is embryonic, however, as Bubbie explained.
"We are only just starting our journey," he said. "We have a lot more we want to accomplish and a lot more people we want to get into the game of golf.
"That is what we love about all this. — when someone comes up and says: 'Hey, you got me into the game during Covid. I love what you do. It really inspired me to get into the game.' The fact our content brings them such joy is what we do it for and will continue to do on our @goodgood YouTube channel and beyond.
"This is our first trip of the year and we have a lot more in store."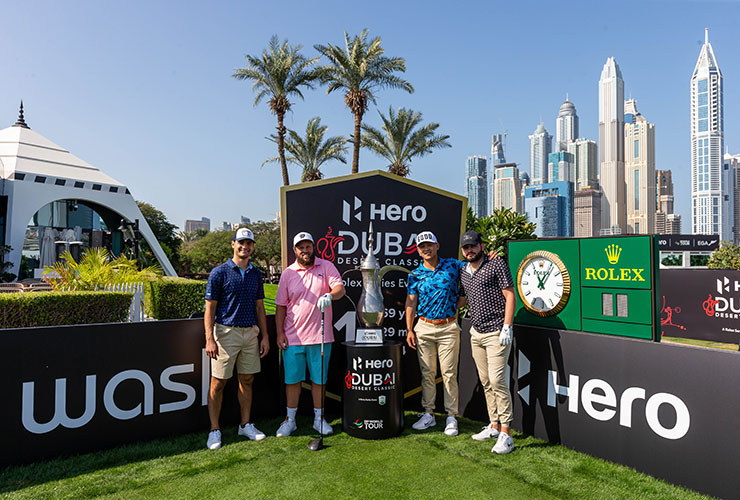 Matt, who was part of Beef's winning Pro-Am team, added: "Two days before the game I played terrible, so I was dreading it. But Beef was there and he was an amazing guy with this energy and was super cool all at once, and once we were vibing it was great.
"Seeing Beef play phenomenal golf after a time out was great — I think he hit four birdies in a row — was just brilliant fun."
Fun being the operative word where these Guys are concerned.