The inaugural Xerox Corporate Golf Challenge champion nearly didn't make it to the first tee.
By Kent Gray
Ismail Sharif has enjoyed great success as a pioneer of Emirati golf, seven national championships, UAE selection and a string of club and corporate titles among his many highlights.
But the now 57-year-old's love affair with the game nearly ended in an acrimonious divorce before it had even begun.
The scene of the rocky beginning was the driving range at Emirates G.C. on December 2, 1992, the date etched in his memory as it was Emirates National Day. "A Japanese friend encouraged me to come to Emirates GC, he was a member, and he gave me a club but could soon see I was uncomfortable as it was a right handed club and I'm left-handed."
Together they went in search of an appropriate weapon to continue the lesson only to be confronted by a less than helpful staff member at reception. "I said I needed a stick, I didn't even know what it, a club, was called then. But she said I wasn't a member. We got into some kind of argument," Sharif recalls with a glint in his eye. He could easily have walked away but admits to a stubborn streak.
"I do not swear but I swore then I was going to learn the game. Today I want to find that lady and thank her because without her I would not have become a golfer."
The following year Dubai Creek Golf & Yacht Club opened and Sharif went to work. "The key to my golf is I spent the first six months just on the range and par 3 course, I hit 2000 balls some days. People said I was crazy but I was soon beating the pros on the par 3, scoring two and three under."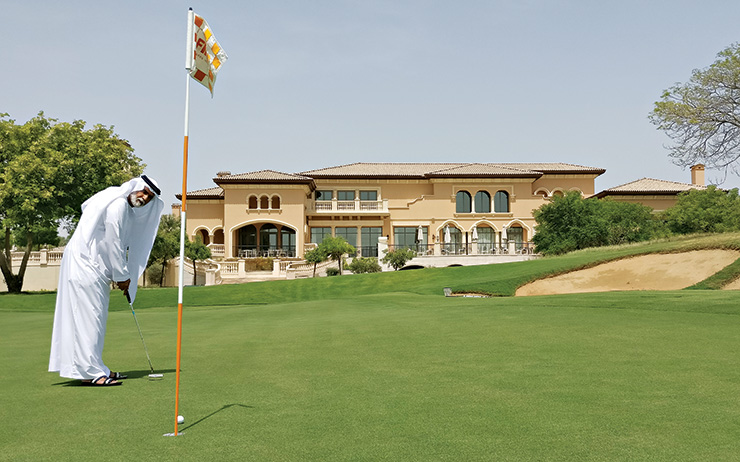 Armed with a 14 handicap, Sharif soon graduated to playing Desert Classic Pro-Ams with the likes of Colin Montgomerie and Ernie Els, the Big Easy remaining a close family friend today.
A member of the armed forces, Sharif had been a football goalkeeper and a pistol shooter of some repute but golf took over to the point where he won gold at the Law Enforcement Olympics in 1998.
The previous year he captured the inaugural Xerox Corporate Golf Challenge title which earned him a trip to 1998 Open Championship at Royal Birkdale with friend Jamil Al Mana.
The experience remains a career highlight. "We had a great time, played [nearby] Hillside G.C. and I rememberer Ernie Els walking to the opposite side of a fairway during the Open to say hello. People wondered who this guy Ernie went out of his way to see was.
"I must thank Xerox Emirates because corporate events like theirs are so important for the local golf clubs. Golf clubs can't stand alone without these events, they not only bring people together, they really bring golf together."
In 2004, aged 44 and by now a one-handicapper, Sharif turned professional. His goal was never to play tour golf, rather to illuminate a path for future Emirati golfers, "to show them how easy it really is if you have the passion".
Now, after some time out of the game following a shoulder operation, he's back playing regularly and savoured winning the final Emirates Golf Federation (EFG) Summer Swing event with his son Hesham at Trump Dubai last month. He's in the process of having his amateur status reinstated and regularly trains with the UAE national team at the European Tour Performance Institute at Jumeirah Golf Estates to encourage the next generation of Emirati golfers.
Indeed, Sharif's passion for junior development has never wavered but he insists it is time Emirati golf begins repaying H.H. Sheikh Mohammed bin Rashid Al Maktoum for the opportunities he has afforded his people. "His Highness has given us every kind of facility, some of the best courses in the world so now we must take it upon ourselves to thank him with local success [and greater participation]. It must be now."
People say we need time to produce Emirati stars. I don't buy that.
Sharif has long advocated a "Diamond in the Rough" programme to grow grassroots participation from where the EGF can nurture the best local talent for national duty and ultimately find a professional role model young Emiratis can aspire to be.
"I look at German tennis. When Boris Becker became successful, parents put their kids into tennis academies. When Bernhard Langer became big at golf, German kids got into golf," Sharif says.
"The only way we can grow the game, to get government backing, is to have a Emirati play on the pro circuit and win. But it must not only be on the Federation [EGF]. We need the clubs to help, to take six to eight youngsters into their academies, encourage juniors, and competition between the clubs. Any more and it would be a burden on the cubs but eight players, the pro can give some of his time, it's good for their academy, they can say our academy is better than yours. They are creating future members, also getting their parents into the club spending on F&B.
"A lot of people say we need time to produce Emirati stars, that we just need to be patient. I don't buy that. If you have the passion, you can succeed very quickly."
Sharif is living proof of that.
Visit xeroxcgc.com for details of the remaining 2017 qualifying rounds.