AYR, SCOTLAND – JULY 30: Republican Presidential Candidate Donald Trump drives a golf buggy during his visits to his Scottish golf course Turnberry on July 30, 2015 in Ayr, Scotland. Donald Trump answered questions from the media at a press conference held in his hotel. (Photo by Jeff J Mitchell/Getty Images)
Editor's Note: President Donald Trump is immersed in another controversy regarding Civil War history, on Thursday lamenting on Twitter the removal of Confederate statues in the wake of the violence in Charlottesville, Va. In May Trump caused a stir with comments about Andrew Jackson and the Civil War. As noted in this story from 2015, Trump had earlier instances of historical revisionism regarding the Great Rebellion.
By Sam Weinman
We all play golf courses that feature various memorials to people and events: benches, flagpoles, that sort of thing. At my home club, for instance, there's a stone marker honouring the memory of a longtime starter at the club from decades earlier.
Call me naive, but I've always operated under the assumption that this was at one point an actual person.
It's worth reconsidering only because of a New York Times report from November 2015 that says Donald Trump's Northern Virginia Trump National Golf Club features a plaque between the 14th and 15th holes honouring a Civil War battle at that precise spot. The inscription, signed by Trump, reads: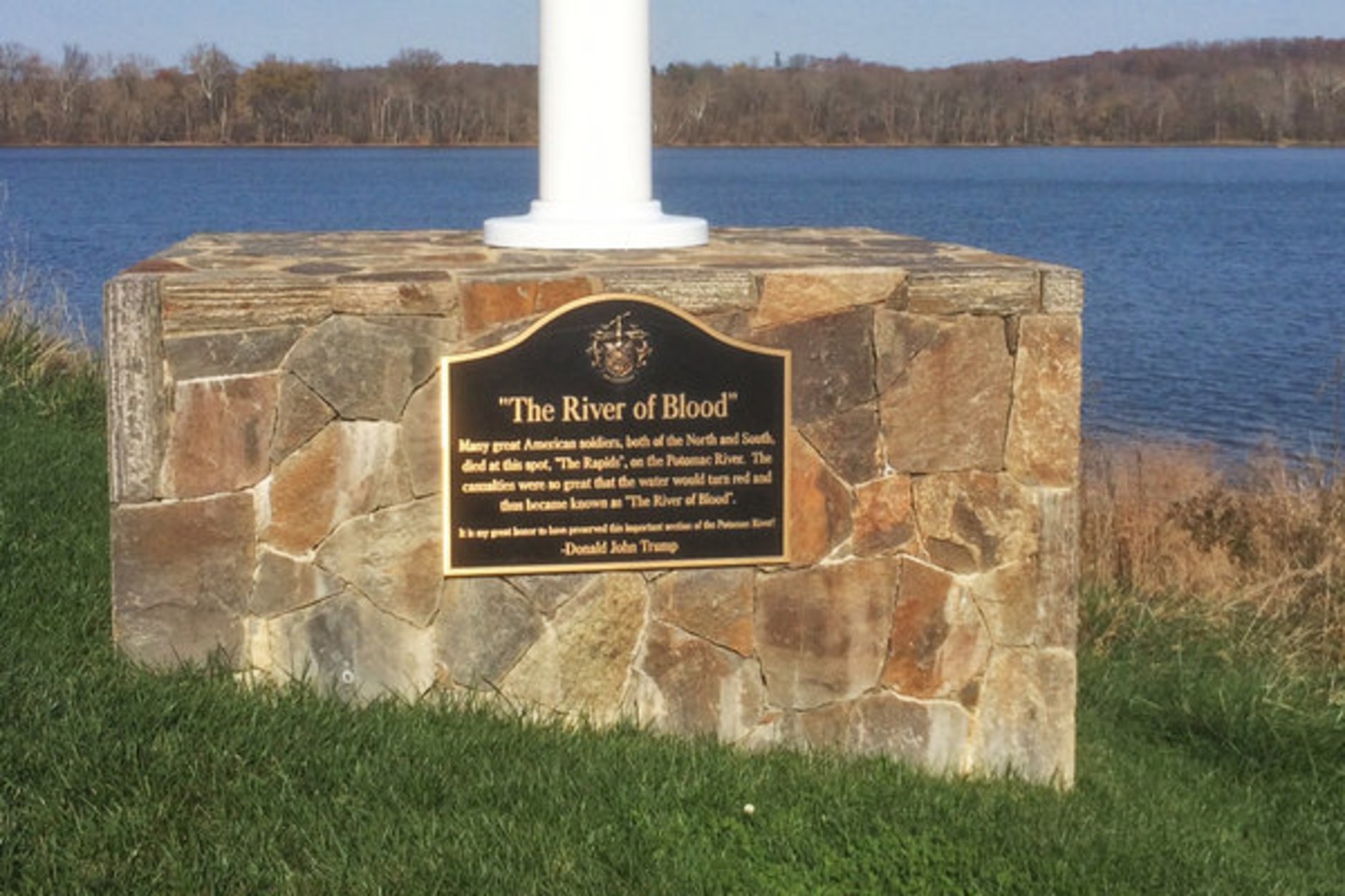 "Many great American soldiers, both of the North and South, died at this spot. The casualties were so great that the water would turn red and thus became known as 'The River of Blood.' It is my great honour to have preserved this important section of the Potomac River!"
Nice sentiment, small problem: there apparently was no such battle.
The Times checked with various historians in the area who had trouble tying the site of Trump's course to any such event.
"No. Uh-uh. No way. Nothing like that ever happened there," Richard Gillespie, the executive director of the Mosby Heritage Area Association, told the Times.
Gillespie went on to say the closest thing to what Trump was describing was a battle 11 miles up the river in 1861. "The River of Blood?" he said. "Nope, not there."
During his campaign, Trump questioned how historians could dispute the battle. "How would they know," he told the Times. "Were they there?"