By Alex Myers
Welcome to another edition of The Grind where we are still smiling after what happened last Wednesday: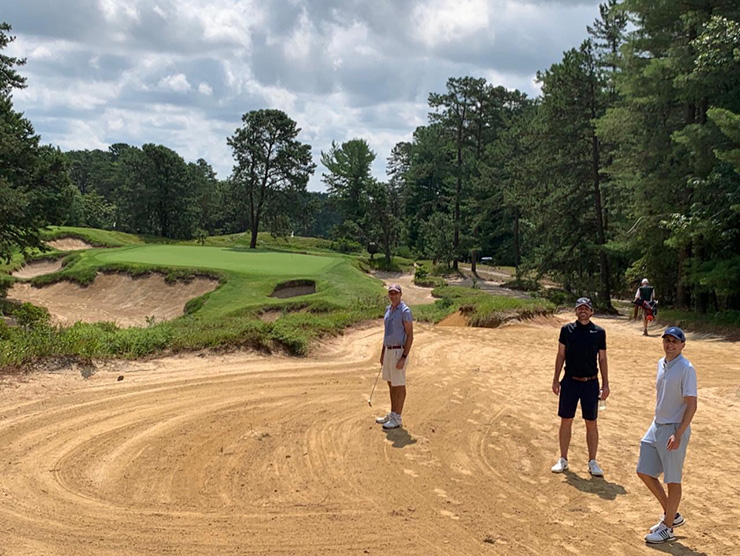 Yep, that's me on the right with a couple co-workers at Pine Valley. Ever heard of it? Actually, my wife hadn't when I told her about the invite, but luckily, I was able to whip out Golf Digest's 100 Greatest Courses list and show her that it's No. 1. Ahead of Augusta National—which she had heard of—thus, granting me the right to leave her at eight months pregnant and with our lively two-year-old for the day. And to think, some people say those kinds of rankings don't matter. Anyway, I won't go shot-by-shot of my round because I don't want to bore you. And because it was a LOT of shots. The important thing is that we had a great day, and I refrained from cleaning out the pro shop like J.R. Smith. OK, back to real life now.
WE'RE BUYING
Collin Morikawa: What. A. Stud. After losing a playoff at Colonial and having his cut streak snapped at the Travelers, the 23-year-old bounced back to win his second PGA Tour title in less than 12 months at the Workday Charity Open. And although he didn't have Jack Nicklaus waiting for him on Muirfield's 18th green, he happily settled for a particularly delicious victory milkshake:
Morikawa now has more wins on tour than missed cuts. Pretty amazing. Although, not as amazing as the fact that Tiger Woods won 43(!) times before missing his second cut. Sorry, Collin, but any young golfer having success has to be compared to Tiger. It's written in the Golf Twitter Constitution. But seriously, the dude should be proud to be a part of such conversations. And when he sees Woods this week, he can tell him he passed him in the Official World Golf Ranking.
Tony Finau: Big Tone was not at Muirfield Village—good news for the milkshake makers there—but he still managed to draw the golf world's attention, first by firing a course-record 59 at Victory Ranch:
My 2nd ever sub 60 round today at @VictoryRanchUT 🔥
59!! 3 shots better than my course record of 62 🤙🏾 pic.twitter.com/Wblv7ysykY

— Tony Finau Golf (@tonyfinaugolf) July 11, 2020
And then, after being inspired by Bryson DeChambeau to grip it and rip it even harder, showing off a 206-mph ball speed:
Uh-oh. Bryson really started a movement, didn't he?
Mardy Fish: There's a different kind of movement in the upper echelon of celebrity golf as the former tennis pro won the American Century Championship for the first time. Fish reeled in the Super Bowl of celebrity golf by overcoming a couple ex-NFL players, 300-pound(!) Kyle Williams, who finished runner-up, and two-time defending champ Tony Romo, who was in fourth place before withdrawing ahead of the final round with a wrist injury.
Sorry, Tony, but Mardy is the new King of Celebrity Golf for now after a performance that included a 10-birdie(!) 63 to break the Edgewood Tahoe Golf Course record. TEN birdies! In one round! By a tennis player! I'm taking this guy's athletic résumé over Roger Federer's any day of the week.
WE'RE SELLING
Justin Thomas' finish: He's great, he's young, and he'll bounce back, but this one had to sting JT. First, he blew a three-shot lead with three to play and then he had a 13th PGA Tour title taken from him after he made what looked like the winning birdie on the first playoff hole.
5️⃣0️⃣ FEET!@JustinThomas34 with an UNBELIEVABLE birdie on the first playoff hole.#QuickHits pic.twitter.com/T6iuNZrcxH

— PGA TOUR (@PGATOUR) July 12, 2020
Before Morikawa answered with this:
WOW.@Collin_Morikawa with a MUST-MAKE putt to extend the playoff.#QuickHits pic.twitter.com/RSYdWRI1sA

— PGA TOUR (@PGATOUR) July 12, 2020
Even with the loss, Thomas is a strong 8-of-13 at closing out 54-hole leads. And at least he can say he lost one heckuva duel to another young star. Not that anyone could watch it on TV. . .
TV contracts: Look, we know this is a business and there were reasons why neither Golf Channel nor CBS showed the conclusion of this thrilling tournament live after final-round tee times were moved up due to bad weather, but c'mon. We've been saying for weeks how this is golf's big chance to seize the sports stage and I had friends texting me why it wasn't on TV. Sure, you could stream it once you found the link, but that's a lot of effort for a casual fan to go through and this wound up being a big missed opportunity to generate buzz for the sport. A better system needs to be figured out. Period.
Caddies: We've seen golfers win at the highest levels with WAGs or friends filling in, but how about a tour pro winning without a caddie at all? Such was the case at the Austrian Open, where Marc Warren pulled off the victory while lugging his own bag around after his caddie failed a COVID-19 test earlier in the week. Although Warren was quick to say he missed having someone on the bag, the unusual circumstance did produce his first European Tour win in six years and meant he didn't have to share 10 percent of the winner's check. Plus, the 39-year-old also got some great exercise in. I know I'm going to get heat for this, but. . . Just saying. . .
ON TAP
The PGA Tour heads to stays in Dublin, Ohio, for the Memorial Tournament, AKA that event played at Muirfield Village in which Jack Nicklaus actually plays host. It also happens to mark the PGA Tour return of Tiger Woods, who hasn't played competitively in more than five months. Well, unless you count The Match. Speaking of the field:
🚨Stat of the week:

The 2020 @MemorialGolf SoF is set to break many #OWGR era records. As it looks now, this will be:

– strongest regular @PGATOUR event ever
– 1st regular PGA Tour event with SoF > 800
– stronger than any Playoff event ever
– stronger than the last 8 Masters pic.twitter.com/btBDoZrPsX

— Nosferatu (@VC606) July 13, 2020
Wow. This is major. Even though it technically isn't.
Random tournament fact: Most golf fans know Woods has won the Memorial a record five times, but the person with the second-most wins at Muirfield Village? Kenny Perry. Thank you, Wikipedia.
RANDOM PROP BETS OF THE WEEK
—Bryson DeChambeau will treat himself to a victory milkshake: 1 MILLION-to-1 odds
—Tiger will win this week: 25-to-1 odds
—Tiger is not happy about having the same odds as Hideki Matsuyama: LOCK
PHOTO OF THE WEEK
No one documents the end of PGA Tour events better than Rickie Fowler.
We appreciate the effort, Rick—especially because, again, we weren't seeing anything on TV.
VIRAL VIDEO OF THE WEEK
Finau's 206-mph ball speed was impressive, but Bryson went back to the LAB and produced a 144-mph swing speed:
My. Word.
THIS WEEK IN TOUR PRO PUBLIC DISPLAYS OF AFFECTION
Last week, the talented Sam Harrop performed his latest parody song in honour of Ben An:
Here's my latest golf song – with credit, of course, to the Beatles.

I think we all know @ByeongHunAn is one of the good guys. So if you happen to see this, Ben, please know that it comes from a place of love!

RTs & YouTube subscribes (https://t.co/gumjIjqmhy) appreciated 😊 pic.twitter.com/rikpiMAEE9

— Sam Harrop (@sam_golf) July 6, 2020
This week, the good-natured An responded by stamping some of the lyrics on his wedge:
I had to do this for you @sam_golf 😂😂😂 pic.twitter.com/brLtCjjd3v

— Byeong Hun An (@ByeongHunAn) July 7, 2020
Social media certainly has its negatives, but stories like this are awesome. But seriously, Ben, if I keep betting on you, can you pick up the putting a little? Thanks.
QUOTE OF THE WEEK
"I'm never coming in last place again. You can take that to the bank. I'm never coming in last place again. Ever! Ever! Ever! Guaranteed!" —Charles Barkley before finishing in second-to-last place at Lake Tahoe. Good for you, Chuck. Eddie George must be unspeakably bad at golf.
THIS WEEK IN CELEBRITY GOLFERS NOT NAMED MARDY FISH OR CHARLES BARKLEY
Trevor Lawrence played golf! Well, tried to play golf. It's tough when you're built like a Greek God and golf clubs snap on you like this:
Of course, after seeing the money Patrick Mahomes just got, it's tough to feel bad for a star quarterback. That is, if football ever returns.
THIS WEEK IN PHIL BEING PHIL
At a quick glance, Phil Mickelson shooting even par for the week and finishing T-58 seems rather boring. Wrong! Phil drove a green in spectacular fashion:
👀 @PhilMickelson just hit his tee shot to 9 feet.

On a par 4. 😳#QuickHits pic.twitter.com/ipBk9TwoF0

— PGA TOUR (@PGATOUR) July 10, 2020
Showed off some shades from his forthcoming "HIT BOMBS" apparel line:
And gave us arguably the golf GIF of the year:
Make an eagle. 🦅

Get your coffee back. ☕️ pic.twitter.com/dFacVEFMqb

— PGA TOUR (@PGATOUR) July 10, 2020
Nothing is ever boring with this guy.
THIS WEEK IN BROOKS BEING BROOKS
We need to start a new weekly category, because nothing is boring with this guy, either. First, he posts this, um, interesting GIF:
— Brooks Koepka (@BKoepka) July 7, 2020
Then, after being called "completely unprofessional" by Golf Channel's Paige Mackenzie for what seemed like a cryptic dig at Bryson DeChambeau, Brooks took aim at Paige: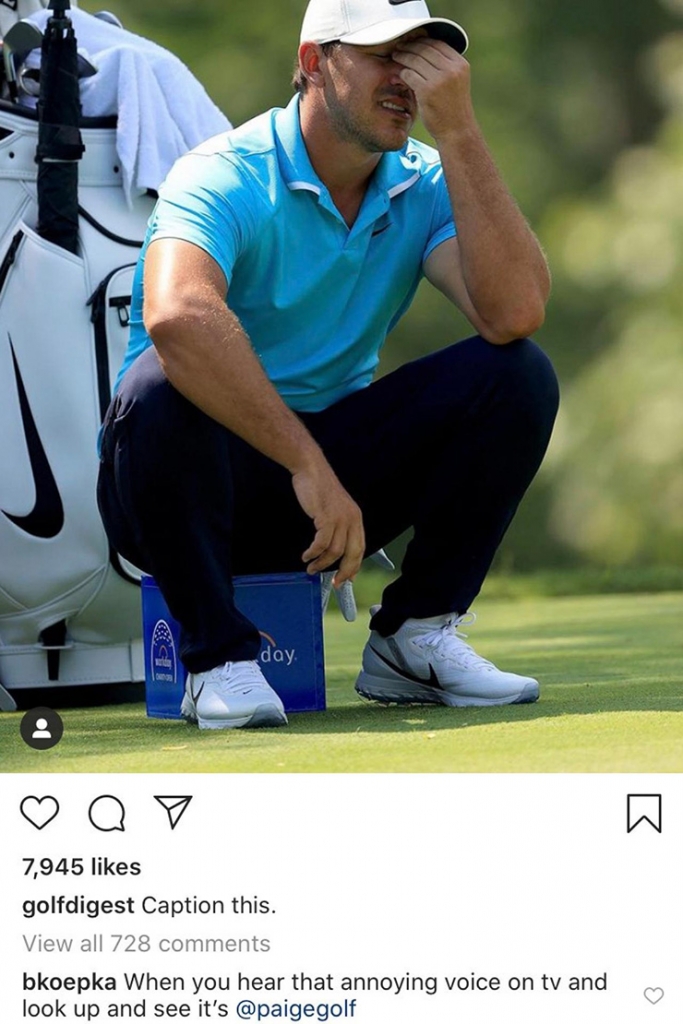 So that's Bryson, Brandel, and Paige. And counting. Keep the feuds coming, Brooks!
THIS AND THAT
Viktor Hovland became the first player in the Shot Link Era (2004) to lead the field in strokes gained: tee-to-green in three consecutive events. Considering he didn't win any of those weeks, it's pretty easy to guess the part of his game that's holding him back. . . . The PGA Tour Playoffs will be held without fans. This was the least surprising news of the week. . . . David Lipsky, who like Collin Morikawa attended L.A.'s La Canada High School, won his first Korn Ferry Tour title. Their high school is better than my high school at golf. . . . And finally, shout-out to the in-laws for hooking me up with some of my favorite BBQ sauce: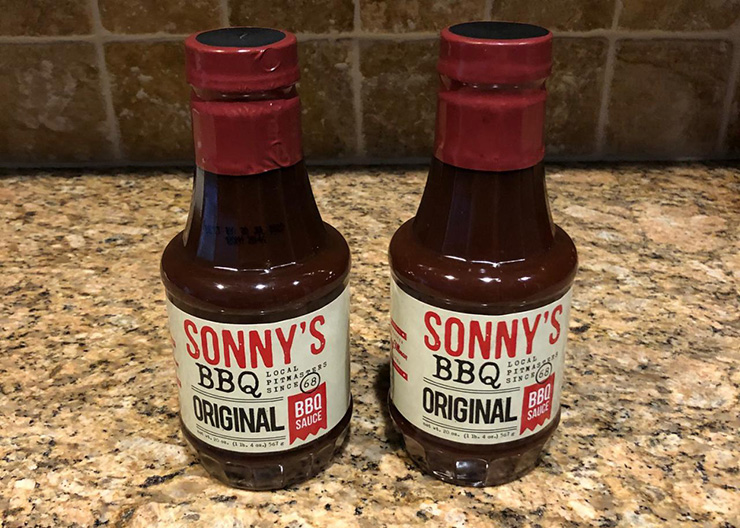 Sonny's is the GOAT.
RANDOM QUESTIONS TO PONDER
Why isn't there a Sonny's closer to where I live?
Why didn't the PGA Tour pair Brooks and Bryson together?
Is anyone looking for a fourth at Pine Valley this weekend?