Identifying the Masters' 50 most defining moments is a highly subjective exercise we began in 2020 to elicit some fun debate as we explored the tournament's long and rich past. Our criteria wasn't the best shots or the events of most historical significance — although our ranking featured plenty of both. More precisely, we wanted to pinpoint those moments that resonated deepest — the above-the-fold, trending-on-Twitter episodes that are as reliable at Augusta National as the mowing patterns. Understanding much of this is in the eye of the beholder, we still arrived at a healthy mix of inspiring, heartbreaking and altogether odd — all of them reminders of what we were missing.
In the ensuing few years, we've updated our list to add a couple new snapshots that continue to be part of the tournament's overall narrative. Here then is the 2023 edition, to get us all into the proper Masters frame of mind ahead of next week's tournament.
No. 50: A broadcast (finally) showing all 18 holes (2002)
The Masters has long embraced creating value through scarcity, and for many years that included limiting how much of Augusta National viewers at home were able to see. When Tiger Woods outlasted Retief Goosen to win his third Green Jacket in 2002, the other big winner was a television audience allowed to see all 18 holes of the final round for the first time. "We knew that there was a great demand for it," Masters chairman William (Hootie) Johnson said of the relaxed policy, "and we just decided that we ought to satisfy that demand."
No. 49: The bow heard round the world (2021)
A photo of a smiling Hideki Matsuyama, arms raised in triumph as he slipped on the Green Jacket, cemented him as a national hero after he became the first Japanese male to win a major championship. Yet it was his caddie, Shota Hayafuji, who produced an equally memorable image just moments earlier. Before walking off the 18th green, Hayafuji removed the flag from the flagstick and, hat in his other hand, gently bowed toward the course. It was a spontaneous sign of respect and appreciation that immediate resonated with fans around the world.
No. 48: The Masters' first sudden-death playoff (1979)

The first sudden-death playoff in Masters history saw a pair of green coats using the flagstick and an envelope to see who was away on the 10th green (the first extra hole). A trio of makable putts missed on said green, and a first-time Masters participant named Fuzzy Zoeller knocking in a seven-footer on the second extra hole to down Tom Watson and Ed Sneed. When the putt went down, Zoeller tossed his putter skyward and celebrated by leaping into the air, albeit only slightly higher than Phil Mickelson in 2004.
No. 47: Jack Nicklaus sets scoring record, immortalised by his golf idol (1965)
"He plays a game with which I am not familiar," Bobby Jones said after watching Jack Nicklaus win the 1965 Masters in stunning fashion. Given the stature of the man who said it, the quote has become more famous than the feat it was describing. Yet here's why the Augusta National co-founder heaped such praise: En route to his second of six Masters titles, Nicklaus, at 25, won by nine strokes, and with a 17-under 271 he broke the then 12-year-old tournament scoring record by three. Game recognise game.
No. 46: Ben Crenshaw begs for a 60-footer to drop … and it does (1984)
In search of his first Masters title, Ben Crenshaw birdied Nos. 8 and 9 and followed with a monstrous, sweeping right-to-left 60-foot putt for birdie on No. 10, putting him two in front. "My caddie tending the flagstick looked as if he were in a different part of Georgia," Crenshaw said. "It was lookin' good and I was beggin' fall in, fall in and it did!" Crenshaw went on to produce one of the most popular wins in tournament history.
No. 45: Tiger Woods daggers Chris DiMarco. Again (2005)
Everyone remembers Tiger's "In your life!" chip-in on No. 16 that day, but often forgotten is the fact Woods bogeyed the final two holes to fall into a tie that forced a playoff with Chris DiMarco. But Woods wasn't about to let a fourth Green Jacket slip through his fingers, and his late stumble simply led to another clutch highlight. After two perfect shots to start the first extra hole, he drained a 15-footer for birdie on No. 18 to claim major No. 9.
No. 44: An interview so painfully bad it was good (1980)
For golf fans of a certain age, televised interviews with Masters winners by Augusta National chairmen were once considered high comedy. A stiff, awkward air pervaded Butler Cabin when Clifford Roberts did the honours, and in 1980, Hord Hardin reached a nadir when he asked Seve Ballesteros how tall he was and how much he weighed. "The scene was out of a Monty Python movie," Golf Digest's Jerry Tarde wrote. To Hord's credit: "I always realised how terrible I was at those things."
No. 43: How to make a 13 on a par 3 (1980)
"You know, I had never hit a ball into Rae's Creek until that time," Tom Weiskopf told Golf Digest 20 years after hitting five balls into the water at the par-3 12th hole. "I had hit a ball into Rae's Creek from behind the green on my second shot [laughs], but never the tee. … Boy was I mad. Finally I hit my sixth shot on the green and two-putted. A 13. Later I found out that Jeanne [his wife at the time] was standing there watching in tears, and a good friend of mine tried to lighten the situation. He leaned over to her and whispered, "Tom's not using new balls, is he?"
No. 42: Rory McIlroy gets lost in the woods (2011)
Perhaps cruelly, the one title separating Rory McIlroy from the career Grand Slam is the major he was poised to win first. In 2011, McIlroy had the solo lead the first three days, and even into the back nine on Sunday. Then, disaster: A snap-hooked drive into the cabins on 10, a triple-bogey, and a closing 80. Charl Schwartzel won his only major with four straight birdies to close, and McIlroy's complicated relationship with the Masters had been forged.
No. 41: An amateur almost wins (1956)
Ken Venturi held a four-stroke lead when he teed off with Sam Snead in the final round (instead of with his mentor, Byron Nelson, who at the time traditionally played with the 54-hole leader), but Jackie Burke holed a 40-footer on 17 and shot 71 to Venturi's 80 to win by a stroke on a day when the field scoring average was 78.26. "Bobby Jones told me in 1958 that, had I won the 1956 Masters and remained an amateur, he would have asked me to be president of Augusta National," Venturi told Golf Digest in 2004. "Mr Jones cherished the fact he was a lifelong amateur, and he really wanted to see an amateur win the tournament and succeed him. That was some high honour. If I'd won in 1956, I for sure never would have turned professional."
No. 40: An improbable make from Nick Faldo (1989)

History will say Nick Faldo's first Masters title was a direct by-product of opponent Scott Hoch's charity — specifically a missed two-foot putt that would have claimed him the Green Jacket (more on that to come). Often overlooked is that Faldo shot 65 that Sunday to get into the playoff in the first place. Or that after bogeying the 11th hole each of the first four rounds, he curled in a 30-footer for birdie there on the second playoff hole, capping a remarkable comeback and claiming his second of six career major titles.
No. 39: A dinner unlike any other (1952)
There are clubs to belong to, and then there are clubs for the elite of the elite. After winning the 1951 Masters, Ben Hogan proposed a dinner for the Tuesday of the next Masters week. Requirement for attendance: A Green Jacket for having won the Masters (though Hogan then extended invitations to Augusta National co-founders Bobby Jones and Clifford Roberts). In 1952, that trio was joined for dinner by Horton Smith, Gene Sarazen, Byron Nelson, Henry Picard, Jimmy Demaret, Craig Wood, Claude Harmon and Sam Snead. (Past champions Ralph Guldahl and Herman Keiser didn't compete that year.) For years, Snead's risqué jokes were as much a staple of the dinner as a medium-rare steak. Today, the tab for dinner far exceeds what Hogan earned for winning that 1951 Masters: $3,000.
No. 38: The slide tackle that made the world wince (2019)
After battling through four back surgeries, Tiger Woods was nearly taken out of the tournament in the second round by the most unlikely of things: A security guard, who slipped while trying to keep the crowd at bay on the 14th hole following a fantastic recovery shot. While Woods limped on his way to the green, he would go on to convert the putt for one of the most dramatic birdies of his life. It was also a sign that this was shaping up to be a very special week for him.
No. 37: Hootie Johnson's 'pointed' response to Martha Burk (2003)
If there's something that's held true throughout Augusta National's history, it's that no one dictates to its members how to run their club or their tournament. As Martha Burk protested ANGC's all-male membership, calling for a large-scale boycott of the Masters, her vitriol was met swiftly. "There may well come a day when women will be invited to join our membership," said then chairman Hootie Johnson, "but that timetable will be ours and not at the point of a bayonet." End of discussion. In 2012, when the club did admit its first female members, it was Johnson who nominated one of them, Darla Moore. The club now has six female members.
No. 36: The Hawk soars one last time (1967)
Augusta National has often afforded past champions a final hurrah. One of the best of the lot was a 54-year-old Ben Hogan. Although betrayed by a beyond-aching body and a yippy putting stroke, Hogan, as Curt Sampson wrote in a recap of that Saturday for Golf Digest, "made the turn, and then the angels sang." The Hawk zipped iron shots to seven feet, one foot and 12 feet on Nos. 10-12 and made them all. He hit the par-5 13th and 15th in two and made birdies. At 18, he somehow managed to make a 25-footer from above the hole for another birdie, giving him a 30 for the nine and a 66 for the day, leaving him just two shots behind the leaders. Sunday wasn't as kind. A 77 dropped him to T-10. Although no one knew it at the time, it was Hogan's final Masters.
No. 35: Adam Scott does Australia proud (2013)
Adam Scott got hot from long range with his long putter at just the right time, making a 20-footer on No. 18 for birdie in regulation and adding another birdie from 15 feet on No. 10 in the second hole of a sudden-death playoff with Angel Cabrera. Both produced uncharacteristically demonstrative reactions from Scott, but for obvious reasons. The win was the Aussie's long-awaited first major title and an even longer-awaited Green Jacket for his continent. It also marked the first — and last, unless the rules change again — Masters win by someone using an anchored putting stroke.
No. 34: A unique spoil of victory (1949)
Sam Snead won his first of three Masters in 1949, but that year's tournament is perhaps better known for being the first time the club awarded its Green Jacket to the winner. Since then the single-breasted, three-button jacket has become one of the most iconic 'trophies' in all of sports. In a 2009 Masters Journal article, Snead's son, Jack, says the jacket was stolen at one point and Snead would wear Bobby Jones' jacket when he went to Augusta. The club made a new one for Snead, and today it resides at The Greenbrier, where Snead was a long-time pro. As for those who won before 1949, the club gave all prior champions a Green Jacket in 1949 as well.
No. 33: The first international champ and his lucky break (1961)
Arnold Palmer looked like he would do it. Standing in the 18th fairway, 7-iron in hand and with a one-shot lead over Gary Player, Palmer was poised to become the first defending champion to win the Masters. But Palmer, who rallied from seven back at one point on a final round delayed to Monday, pushed his approach into the right-hand bunker. With a semi-buried lie, he bladed it across and over the green and made double, missing a 15-footer to tie, making the South African the tournament's first international champion. Palmer admitted to rushing his play on 18, telling the Augusta Chronicle, "[The 15-foot putt] was the only shot I took any time with on the 18th hole, and by then it was too late."
No. 32: Changing of the guard: Watson over Nicklaus (1977)
Yes, Tom Watson had already won a major championship, in 1975 at Carnoustie. But for years he'd heard whispers about failing to close on Sundays, and in the 1977 Masters, he had a major headache playing up ahead: Jack Nicklaus. And Jack wasn't going quietly, making seven birdies on Sunday to tie Watson for the lead. But Watson birdied the 17th from 20 feet to take the lead, and Nicklaus, needing to match it at 18, bogeyed the hole, giving Watson a two-stroke win. Watson would take down Nicklaus again at the Open Championship a few months later with a 65-65 finish in the 'Duel in the Sun' at Turnberry, and he left Jack as runner-up in the 1981 Masters and the 1982 US Open. As Dan Jenkins put it in '77: This was "the new Tom Watson".
No. 31: An announcer crosses an invisible line (1994)
Among the main reasons Augusta National awards Masters broadcast rights to CBS in one-year increments is because the club enjoys the persistent leverage over the network. The most famous example came in 1994, when the colorful Gary McCord separately described the course using "bikini wax" to keep the putting surfaces slick and that there were "body bags" buried elsewhere. McCord was notified months later by his employer that he would no longer be broadcasting the season's first major. It was at least the second time the club resorted to such measures — Jack Whitaker was penalised in similar fashion for referring to the crowd as a "mob" in 1966 — but the mere spectre of it happening again has been enough to keep subsequent announcers on their toes.
No. 30: The day Couples took it to the bank (1992)

Maybe it was the thunderstorm that interrupted the third round on Saturday. Maybe that left the steep, shaved bank that fronts the 155-yard 12th hole softer than intended, or kept a mower from taking another swipe before the final round. Regardless, leader Fred Couples got one of the biggest breaks in the game's history when his 8-iron approach landed into the bank and, instead of rolling back into the water, stopped inches from disaster, allowing a relatively routine up-and-down for par on the way to his only major victory. You could say Couples was lucky. But maybe he was a bit unlucky when his tee shot at the par-3 sixth on Friday hit the hole on the fly and popped out instead of staying put for a hole-in-one. And maybe he was unlucky when his approach to the par-4 seventh did the same thing on Saturday. So maybe Couples deserved what he got at the 12th on Sunday. "You don't ever get a break like that," he said. But he did.
No. 29: Jack Nicklaus, age 58, makes one more charge (1998)
"Welcome to the final round of the Masters, and you are not going to believe what you are about to see," said Jim Nantz at the beginning of the broadcast. He was right. What followed was a highlight package of Nicklaus charging up the leaderboard with a birdie binge that reached its apex at the par-4 seventh. There, the Bear was out of hibernation once again, holing a long birdie putt to pull within two of the lead, complete with his iconic putter raise and "yup, this is happening again" smile. Turns out, it wasn't nearly enough, Nicklaus settling for a 68 and a T-6. But for a brief period of time the 58-year-old might as well have been the only player on the course.
No. 28: A walk-off win on the 15th try (1998)
For much of the day, Mark O'Meara was a non-factor, playing holes 4 through 14 in even par while David Duval, Fred Couples and Jack Nicklaus provided the fireworks. That's what made the 41-year-old's finish, in his 15th Masters appearance, all the more legendary … and, frankly, shocking. Birdies on 15 and 17, set up then the potential for the walk-off win as he stood over a 20-footer on 18. The look on O'Meara's face — one of stunned amazement that his ball somehow caught the left edge and dropped — said it all.
No. 27: Turn down your radio (1978)
Hubert Green had a three-foot putt on the 72nd hole that would have put him into a playoff with Gary Player when he heard Jim Kelly describing the scene for his radio listeners. "People assume I was angry," Green told Golf Digest in 2005. "I backed away and indicated that I needed quiet. Then I got reset and pushed the putt. End of story. People are amazed that I wasn't distracted, but after I got reset, it truly was like hitting the putt the first time. Pros know how to handle that stuff. Only an amateur would have been put off by the interruption — or would try to make excuses about it." Added Green, who led by three through 54 holes but shot a 72 that day to Player's 64: "People are curious as to what exactly I overheard Jim saying. I used to be able to tell you, but now I don't remember."
No. 26: Dustin Johnson's tearful victory interview (2020)
There was nothing "normal" about the 2020 Masters, thanks to the COVID-19 pandemic. It was delayed until November, a tournament first. There was no Par 3 Contest, no patrons, no azaleas. Even so, an autumn Masters was way better than no Masters at all, golf fans worldwide appreciative of the efforts to move forward with the tournament during harrowing times. In the end, they got a memorable winner, World No. 1 Dustin Johnson grabbing what had become an elusive second career major title with a five-stroke win. DJ broke or tied nine Masters records, most notably the 72-hole scoring mark by two with a 20-under 268. Unflappable for four rounds at ANGC, DJ then showed something few had seen from the 36-year-old in his post-round interview: emotion. A cracked voice and the wiping of tears from the new winner, only weeks removed from his own personal bout with the coronavirus, hinted that the man who grew up in nearby South Carolina had more invested in his game than we all understood — or appreciated.
No. 25: Jack and Jackie Nicklaus' emotional walk off the 18th (1986)

Jack Nicklaus already was fighting back tears playing the 18th hole. The floodgates opened when he putted out and then embraced his oldest son Jackie, who was serving as caddie for the first time. Then father and son walked off Augusta National, arms around each other's shoulders unsure if it would be enough to win, but blissful in the magical afternoon they'd shared. CBS stayed with them the whole way off, and in the TV tower, broadcasters Pat Summerall and Ken Venturi wept. Nicklaus has lost count of the grown men who have shared that they too cried at the sight of the embrace. As for the Golden Bear, he said, simply, "It remains one of my most cherished memories."
No. 24: Tiger's bad drop (2013)
Most Masters memories of Tiger are triumphant, but not those of the 15th hole on a fateful Friday seven years ago. One off the lead, Tiger saw his approach shot on the par 5 hit the flagstick and bounce back into the water. He salvaged a bogey but it became a triple-bogey when it was determined his drop hadn't been close enough to where he hit the original shot. The rules violation came after he signed his card, but he wasn't DQ'd since officials had initially deemed the drop legal. He played on, a cloud overhead, finishing T-4 but, thankfully, more than two strokes back of a victorious Adam Scott.
No. 23: Sandy Lyle's magical fairway bunker shot (1988)

Tied with Mark Calcavecchia on the 72nd tee, Scotland's Sandy Lyle hit a 1-iron specifically to avoid the fairway bunkers on the left side of the fairway. "Anywhere but the bunker," he said after striking it purely. Nothing but sand. Par now was going to be challenge. But when he arrived at his ball, he found the lie was decent. He picked a 7-iron cleanly and then watched as the ball landed past the hole only to trickle back within 10 feet. He raised an arm to celebrate. He then celebrated further when he converted for an unlikely birdie, dancing a short "Scottish jiggle" as he called it.
No. 22: Scoring that's easy to understand (1960)
Frank Chirkinian worked his first Masters for CBS in 1959 and found it maddening, telling Athens Online years later: "The scores were posted with cumulative scores. You might have one player with 215 and the other player's cumulative score might be 240. Nobody knew what was going on." The following year Chirkinian took care of that, introducing scoring as we know it today: in relation to par instead of strokes. Chirkinian's brainstorm made golf less confusing and more watchable for those at home. In 1961, Augusta National chairman Clifford Roberts expanded on the idea and had the scoreboards use the relation to par scoring with red numerals indicating under-par scores, green numerals over-par scores and green zeroes even par. As for Chirkinian, he often referred to the scoring system as his proudest accomplishment in a Hall of Fame career.
No. 21: Jordan Spieth's splash landing (2016)

One of the most shocking Sunday collapses in golf history began with bogeys at Nos. 10 and 11, but no one foresaw the total train wreck at the 12th. Spieth plunked not one, but two golf balls into Rae's Creek, the second a complete chunk job that barely reached the hazard after taking a drop. Spieth's drop down the leaderboard was even more unfathomable as he went from holding a five-shot lead at the turn to trailing by three shots as he headed to the 13th tee following a quadruple-bogey that required getting up-and-down from a bunker. Adding to the shock was the fact Spieth had been a solid back nine away from a second consecutive wire-to-wire win at Augusta National. Instead, he wound up slipping the Green Jacket on Danny Willett.
No. 20: The King wins his first major but not without controversy (1958)
Arnold Palmer came to the par-3 12th on Sunday leading by one, only to airmail the green and find his ball plugging into the turf. Palmer felt he was entitled to relief under a local rule, but a rules official told him to play it. Arnie hacked it out and made 5, but chose to play another ball and let the committee decide what score should count. Palmer made 3 with the second ball as playing partner Ken Venturi protested, insisting Arnie couldn't do it after the fact. Palmer eagled the 13th, then on the 15th was told his 3 at 12 would count — a critical call seeing as he won by one over Fred Hawkins and Doug Ford to become the youngest champion at 28 since Byron Nelson in 1937. For Venturi, it was another Masters heartbreak — and he never got over the incident.
No. 19: A final birdie for the Tiger Slam (2001)
In hindsight it seems like a foregone conclusion Woods would win a fourth consecutive major championship. Yet, to do it, he had to hold off playing partner Phil Mickelson as well as a charging World No. 2 David Duval, who was tied with Tiger until a bogey on 16. Needing just a par on 18 to win, Woods rolled in one final birdie to cap his historic accomplishment with a flourish. "There it is!" CBS' Jim Nantz said as Woods' putt dropped. "As grand as it gets!" While not the calendar Grand Slam, Tiger became the first and only golfer to simultaneously hold pro golf's four biggest titles — and we're not holding our breath on seeing anyone do it again anytime soon.
No. 18: Faldo and Norman hug it out after an emotional final round (1996)

Sunday, April 11, 1996 could not have gone much worse for Greg Norman. The Shark began the day with a six-shot lead before shooting 78 and losing by five. It was his last best chance at winning the title he wanted most, and the realisation it had slipped away was clear. The man he lost to, Nick Faldo, appreciated it, too. After holing his birdie putt on the finishing hole for his third Masters title, Faldo sought out Norman and embraced him on the 18th green, a heartwarming display of empathy on an otherwise hard-to-watch afternoon. Their hug was a reminder of the sportsmanship, the humanity, the camaraderie that makes golf special.
No. 17: Nicklaus' tee shot on 16: "Be right!/It is" (1986)
After Jack Nicklaus' eagle on the 15th hole in the final round — "That was the first time I realized I could win the tournament," he told Golf Digest 25 years later — Jack backed away from his tee shot at the par-3 16th. As he was re-teeing, CBS' Jim Nantz, 26 and announcing his first Masters, asked four-time runner-up Tom Weiskopf what was going through Nicklaus' mind. "If I knew the way he thought," Weiskopf replied, "I would have won this tournament." Nicklaus had 175 yards to the hole and chose a 5-iron. While the ball was in the air, Jackie Nicklaus, caddieing for his dad, said: "Be right!" Jack's reply: "It is." The ball narrowly missed going in, and Jack made a three-and-a-half-footer — "Not a gimme," he said — to cut Seve Ballesteros' lead to one. Ballesteros hit a 4-iron second shot into 15 that plopped into the middle of the pond, and Nicklaus was on his way to making history at age 46.
No. 16: Ben Crenshaw wins one for Harvey (1995)
Crenshaw's victory in the 1995 Masters was as magical as any in tournament history. His second Green Jacket came a week after his mentor Harvey Penick died, and all during the tournament an inspired Crenshaw, 43, not only played splendidly but also seemed to get more than his share of good breaks. No sooner had his tap-in bogey putt on the 72nd hole secured his one-stroke win over Davis Love III, Crenshaw bent over and put his hands to his face, sobbing. Still overcome with emotion, he nearly fell into caddie Carl Jackson's arms. "I definitely had a couple of Harvey bounces," Crenshaw said of his good fortune. "For some reason, it was my week."
No. 15: Hoch as in … agonising miss (1989)
Before you grieve for Scott Hoch, recognise that he still won 11 times on the PGA Tour, making more than $20 million in career earnings. But even then, he will be mostly defined by one stroke, a roughly 24-inch putt that would have won the 1989 Masters in a playoff over Nick Faldo. Instead, Hoch's putt never touched the hole, and Faldo went on to win the Green Jacket by birdieing the next hole (see Defining Moment No. 39). Other players might have had worse collapses at Augusta (Ken Venturi in 1956, Ed Sneed in 1979, Greg Norman in 1996), but it's hard to think of a more painful single stroke.
No. 14: Tiger's near-ace (2019)
Woods' first come-from-behind win in a major was mostly methodical, but he still managed one all-time highlight-reel shot on Sunday at No. 16. Using an 8-iron, Tiger expertly — and almost perfectly — landed his ball near the top of the ridge that cuts through the green. From there, the world, including Michael Phelps positioned behind the tee box, watched and roared as Woods' ball funnelled toward the flagstick, taking a glance at the hole before ending up three feet away. Moments later, Tiger knocked in the birdie putt that all but wrapped up his fifth Green Jacket and ended a decade-plus drought in majors.
No. 13: Arnie breaks Ken Venturi's heart (again) (1960)
Arnold Palmer arrived at Augusta National as a heavy favourite to win his second Masters title, and he delivered — with fireworks. On Sunday, at 17, Palmer's 8-iron approach came up 35 feet away from the hole, but he still managed to roll in the bomb, gleefully jogging to the cup to retrieve his ball. At 18, he zipped his approach to six feet. After watching Billy Casper miss from similar distance, Palmer stroked his putt into the cup to become the first player to win the Masters by finishing birdie-birdie and providing Ken Venturi, who came in second by a stroke, more Masters angst.
No. 12: No lay-up for Phil Mickelson (2010)

Phil Mickelson has never, ever been one to back down from a challenge. Sometimes that hurts him. This time, it allowed him to produce the signature moment of his career, and one of the all-time gutsiest shots in major championship history. On the 13th hole, Lefty's tee shot finished up in the pine straw right of the fairway, a tree to contend with. Lefty's caddie, Jim (Bones) Mackay, wanted him to lay up with his second shot on the par 5, but those words aren't in Mickelson's vocabulary on the back nine on Sunday at the Masters. Instead, he pulled a 6-iron from the pine straw, nipped it perfectly and sent it soaring. It plopped down on the green like a butterfly with sore toes, leaving five feet for eagle. We won't talk about the putt — he missed — but that's the shot that won him his third Green Jacket.
No. 11: Lee Elder makes history (1975)

"It was a different time." There's a lot of weight in those words, uttered by Lee Elder as he recalled the week he became the first African-American to compete in the Masters. Elder received numerous death threats in the months before he competed at Augusta National in 1975, but he was also touched by the support he received that week. "What amazed me was the number of black people who showed up to watch me play," he told Golf Digest in 2019 after receiving the USGA's Bob Jones Award. "I couldn't begin to guess how many there were, but it was far more than I'd seen at a golf tournament before. It dawned on me that many of them probably weren't affluent. How did so many manage to obtain one of the toughest tickets in sports? The effort they undertook to get there, the financial sacrifices many of them surely had to make, must have been tremendous. I so wanted to perform well for them, or at least comport myself well." Elder missed the cut after rounds of 74-78, and 22 years later, he got a speeding ticket on the way to Augusta to see 21-year-old Tiger Woods before he went out to play the final round of a tournament that transcended sports. "I'd been the first African-American to play there," Elder said, "but I wanted to see the first African-American win the Masters." He'll return once more to Augusta National in 2021 when he joins Jack Nicklaus and Gary Player as an honorary starter for this year's tournament.
No. 10: Bubba Watson's shapely pitching wedge (2012)

How do you know when something deserves being tagged a "defining moment"? In the case of Watson's stupefying second shot to the 10th hole, it's the fact that ever since the loveable lefty pulled it off en route to securing his first Masters title in a playoff over Louis Oosthuizen, spectators routinely seek out the spot in the trees to the right of the fairway, pretend to play the shot themselves and have their minds blown all over again. A 52-degree wedge? From 144 yards? Hooking 40 yards? To 15 feet of the hole? Few would have even thought of the shot let alone been able to pull it off. Somehow, Watson made it look routine.
No. 9: Nicklaus leaves Bear tracks (1975)

It's one of the most iconic images in golf: Jack Nicklaus leaping, his putter thrust skyward, after he dropped a 40-foot birdie putt at the par-3 16th in the final round as leader Tom Weiskopf and Johnny Miller watched helplessly from the tee. That was the dagger that gave the Golden Bear his fifth Green Jacket, outlasting Weiskopf and Miller by a stroke. "Hear it?" Miller said of the roars after Nicklaus' putt. "I saw the Bear tracks all over the place." Added Weiskopf, a runner-up at Augusta for a fourth time: "If I made that putt, I'd be dancing around, too."
No. 8: One giant leap for Lefty (2004)

"It's been one of the greatest days in Masters history, plain and simple," said Jim Nantz as Phil Mickelson lined up an 18-footer that would give him the victory and his long-awaited first major title. Things got even better moments later. As Mickelson's putt made its way to the hole Nantz uttered the now-classic, "Is it his time?" two feet from the hole and an emphatic, "Yes! At long last!" after it snuck in the left side, sending Mickelson on a leap that has been mocked for its lack of lift, yet remains iconic. The scene afterward was nearly as good. From Mickelson's joyous celebration on the green to lifting daughter Sophia and saying: "Daddy won. Can you believe it?" to the patrons simply not wanting to leave, Mickelson gave the tournament one of its most popular champions in a year Arnold Palmer played in it for the last time. A great day indeed.
No. 7: A hometown hero's stunning hole out (1987)

The heavyweight battle was all set with Seve Ballesteros and Greg Norman tied after 72 holes. Then Augusta native Larry Mize birdied his final hole to join them at three-under 285. The unheralded interloper had no chance, but Ballesteros bogeyed the first sudden-death playoff hole, the par-4 10th. He had to trudge back up the steep hill while Norman and Mize played on. Norman found the edge of the green at No. 11. Mize missed right, well off the putting surface, 140 feet from the cup, leaving a perilous chip shot to a green running away from him towards water. It was almost impossible to get close. So Mize knocked it in. He leapt in the air, losing his visor, and thrust his wedge in the air. Then he jogged towards the green, still celebrating and trampling Norman's spirit.
No. 6: 'What a stupid I am' (1968)
After opening with an eagle and finishing with a bogey for a final-round 65 on his 45th birthday, Roberto de Vicenzo of Argentina signed a scorecard kept by playing partner Tommy Aaron that noted a 4 rather than the birdie 3 that De Vicenzo made on the 17th hole. The resulting official score of 66 caused De Vicenzo to finish one stroke behind Bob Goalby. De Vicenzo's subdued but agonised reaction — "What a stupid I am to be wrong here" — is among the most memorable sports quotes of the 20th century. As Jaime Diaz recalled in a 2006 Golf Digest profile, De Vicenzo remained so gracious in the aftermath that he was awarded the William D Richardson Award in 1970 for his outstanding contribution to golf. In his acceptance, he again charmed the multitudes when he noted: "Golf writers make three mistakes spelling my name on trophy … maybe I'm not the only stupid?"
No. 5: 'In your life!' (2005)

Locked in a final-round battle with Chris DiMarco, Tiger Woods found himself in an awkward spot up against the collar of the rough after missing the 16th green long and left. But he conjured up arguably the most magical shot of his career and certainly the most replayed shot in golf history, a chip aimed some 20 feet above the hole that funnelled — and trickled — down the slope and into the hole for an improbable birdie. Tiger's golf ball was in motion for a full 16 seconds, including a brief, dramatic pause before dropping into the cup and producing Verne Lundquist's famed call: "OH! WOW! IN YOUR LIFE HAVE YOU SEEN ANYTHING LIKE THAT?!" Almost as stunning is the fact that Woods followed the spectacular shot with a pair of bogeys to blow his two-shot lead. But while his birdie putt on the first extra hole (No. 44 on our list) gave him a fourth Green Jacket, it's this shot on No. 16 that everyone will remember.
No. 4: The shot heard round the world (1935)

It's not only that it's perhaps the greatest shot in golf history, but the story behind it makes it even better. Three strokes behind Craig Wood in the final round of the second edition of the Augusta National Invitation Tournament, Gene Sarazen was considering club selection in the 15th fairway when Walter Hagen's booming voice pierced the air: "Hurry up, will ya?" Hagen called. "I've got a date tonight." Sarazen, choosing his 4-wood, sped things up dramatically by holing the shot for a tying albatross 2. "I never realised it went in the hole until I saw people jumping," Sarazen told Peter Kessler on Golf Talk Live in 1996. "There was only about 25 people up there." Among them, according to Sarazen, was Bobby Jones. Sarazen would go on to defeat Craig Wood in the tournament's only 36-hole playoff, but it was the albatross that endured over time. "That shot was the greatest thrill I've ever had on a golf course," Sarazen said years later.
No. 3: Tiger's return to glory (2019)
One might argue that for Tiger Woods, his final round of the 2019 Masters was defined by its absence of boldfaced, capital "M" moments. Woods birdied three holes in a four-hole stretch, including a kick-in on the par-3 16th. But mostly it was a vintage example of Woods at his cautious, most calculating, best, patiently waiting out the mistakes of others. But then it was over, and the restraint Woods exercised over the final round was replaced by an emotional release remarkable in its resonance and duration. Woods' jousting his arms in the air after the final putt. Woods wrapping his caddie, Joe LaCava, then his son Charlie in powerful embraces. Woods whooping and smiling all the way to the scoring area, he and everyone else celebrating a decade-long journey reaching a fitting, triumphant conclusion.
No. 2: Tiger's original glory (1997)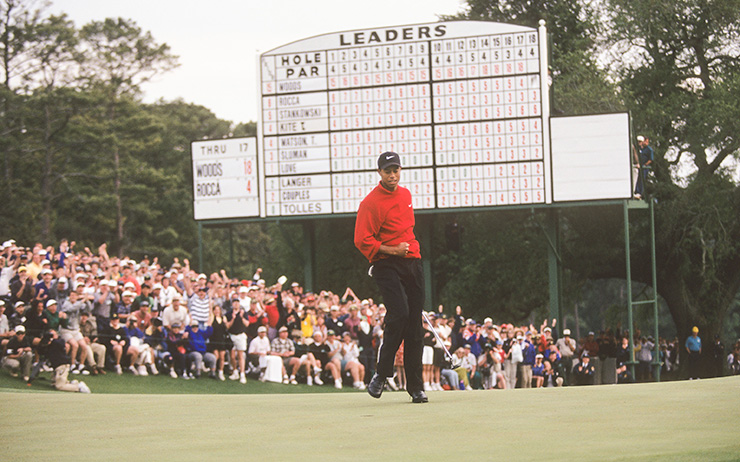 There was never a question of the outcome, Woods starting the final round in his first major championship as a professional with a nine-stroke lead. The 18-hole trip around Augusta National, completed in 69 strokes, was every bit a coronation for a golfer whose talent and bravado was about to inspire a generation of boys and girls to take up the sport. Only instead of receiving a crown, Tiger got a bear hug. Earl Woods had been waiting for this day longer than his 21-year-old son. To see him break the then Masters' 72-hole scoring mark with his 270 total, to win by a record 12 shots, to become the first African-American to win a major, to quiet the naysayers before they could even finish their thought … well, you'd be crying to. If the fist pump after the final putt was all Tiger, the hug behind the green was a collective jubilation. That tearful embrace would become even more poignant 22 years later, when it was Tiger, victorious once more at Augusta National, embracing his own son.
1: 'Yes, SIR!' (1986)

It was crunch time, and the player and his caddie — father and son — disagreed. Jack Nicklaus, at 46 tied for the lead in the final round of the Masters and going for a record sixth Green Jacket, had hit his approach to 12 feet on the 17th. "It's hard to appreciate on TV how hard that putt was," Jackie Nicklaus told Golf Digest in a series of interviews on the 20th and 25th anniversaries of golf's ultimate moment. "The hole was on a crest where the ball could break either way. I took a look and told Dad I thought the ball would break a little to the right. He overruled me." Jack's take: "Rae's Creek will pull it back to the left or straighten it out." CBS' Verne Lundquist, speaking to GD in 2017, picks it up from there. "For the 14 seconds it took Jack to hit the putt and for the ball to roll to the hole, I said nothing. I then said, 'Maybe … ' Then, when the ball dropped: 'Yes, SIR!' … I'd never used that expression before. Just a few years ago, Peter Kostis alerted me to the fact that Ben Wright had used the same expression earlier in the telecast [after Nicklaus' eagle at 15]. I'm sure the phrase was bubbling in my subconscious and just came out. The only conscious thought I had was to keep my reaction simple. Well, you can't get much simpler than 'Yes, sir!' " Nicklaus went on to par the 18th to complete a back-nine 30 for a final-round 65, holding off Greg Norman and Tom Kite by a stroke. "In the years after that, Dad and I stuck tees in the ground at the spot where the hole was, trying to make that putt again," Jackie says. "We haven't made it — not once."
Contributors: Ryan Herrington, E. Michael Johnson, Alex Myers, Mike O'Malley, Christopher Powers, Daniel Rapaport, Dave Shedloski, Sam Weinman